Alan's May 28, 2005 Vintages Release Tasting Notes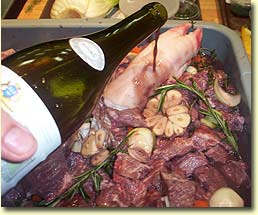 I have a few observations on some of the wines due to be released in June. However first.................................

A long time ago in a wine region far, far away, two skillful winemakers were deftly working with perfectly ripened fruit recently harvested from vines located somewhere in the heart of the galaxy. Back then, the year was 1995, neither of these two guardians of primary fermentation and assemblage had any idea, that in many years to come, the fine fruit of their labours would meet face to face to clash.

Louis Latour, Criots Batard Montrachet, 1995

This immediately steps forward to release aromas of toasted honey oat cereal, raisons, créme brulee, banana skin, baked apple and dried tangerine peel. The wine's colour shows there is much life left in this soldier, judging from the depth of green/yellow in the centre to the slight gold hue at the rim. A second glass exudes notes of Seville orange, melon liquor, toasted almonds and over ripe kiwi. On the mid palate it first appears steely, yet a bold streak of white peach and pear stands out. There is no sign of oak, yet the texture of the wine is viscous and creamy. It just keeps on getting better as it sits in the glass. The finish is now showing notes of almond biscotti, vanilla custard and super mature fruit. Recently I made a comment to a friend that if I don't drink a Chardonnay all summer, I won't be missing much. Wrong!!!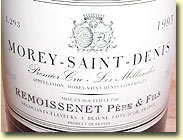 Remoissenet, Morey St Denis, Premier Cru, Les Millandes, 1995

It hardly seems fair to pit this wine against such a magnificent Grand Cru from the Cote du Beaune, but sadly the number of Burgundies in my cellar has all diminished save for one or two. As my long time friend, Marty Frietas, was visiting, and Marty had been good enough to open the Montrachet, I felt the need to pop the cork on a Burgundy.

Trying to pry the cork from this puppy is scary. It smells like it is rotting. A dank and off-putting aroma emerges as soon as the stopper is free. However, once in the glass, while the wine struggles for air, it soon recovers to toss away any offensive qualities it may have sustained from its dilapidated cork. The colour is quite amber at the rim, but there is a nice solid brick red hue focused in the centre of the glass. The multidimensional nose is more than just interesting. It gives off leathery whiffs of cooked beet, porcini mushroom powder, and mushroom compound. There is fruit; it just takes a while to clamber out. Soon the layers of dark cherry, cooked strawberry and red currant are apparent. On the palate it is best described as elegant and opulent. It of course lacks the power and distinction of the latter wine, and the finish does not linger as long, but nonetheless, it is delicious. A second glass shows more fruit, a little tar and a fleshy texture is apparent. The newly developed flavours on the palate, other than the fruit, are aniseed ball, pine needle and earth.

With the third glass, the tannins are becoming more muscular and the finish is showing glycerin, simple syrup, cloves, stale back pepper and alcohol. Sadly, it is obvious the fruit is fading fast. All that is left is alcohol and a powdery texture on the palate. If I had more of this I would drink it, and drink it quickly.



~ Notes on wines slotted for May 28th release ~


652875 RIDGE 'THREE VALLEYS' 2002 $31.95, Sonoma County.

This is a relatively new addition to Ridge's already extensive portfolio that sources fruit from 'Three Valleys': namely Dry Creek, Alexander and the Russian River Valley. Plum, raspberry and cedar aromas are the backbone of this heady nose. On the palate it appears to be quite tight and full of glycerin. The tannins render a dusty texture that captures all the refined qualities of milk chocolate. The berry fruits flow through to the lip smacking finish. It is costly in comparison to the shelf price in the US, I have seen this for $17.99, but regardless of that, I will put a bottle or two away when it hits the shelf.

713453 ROSENBLUM CELLARS ZINFANDEL CONTINENTE VINEYARD 2003 $34.95

I often find Rosenblum's Zinfandel, in a positive way, to be forceful and fleshly. Not this one. It has notes of coffee, balsa, bubblegum and cooked fruit. There's a creamy texture on the palate, the alcohol is noticeable, but not offensive. The balance is fine except for a touch of heat to the finish.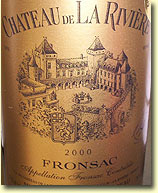 653147 CHATEAU DE LA RIVIÉRE 2000 $39.95, Fronsac

This opens with rich and ripe aromas of blackberry, plum, coal dust, mocha and currant. It is a mouthful of Merlot that is showing very well right now and although the tannins are silky and quite desirable, I think a little more time will turn this into a winner.

650598 VIEUX CHATEAU DES JOUANS 2000 $23.95, Saint-Émilion

Wow, this could be a candidate for the best value wine of the release. It is solid and packed with aromas of cooked lamb, Thai basil, chocolate, blackberry, cassis, cedar, thyme, coffee grounds, and to round it all out, that perfect little whiff of poo. It will need some time to let those tannins in the finish allow the layers of fruit shine through. When it does, this should be some highly impressive, especially given the price.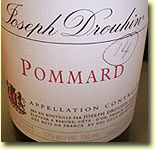 984013 JOSEPH DROUHIN POMMARD 2002 $42.95

Here is a lovely and enticing glass of perfectly balanced flavourful Pinot. It has the perfect blend of ripe freshly picked berry and cherry fruit, a trace of barnyard, some crimini mushroom, cinnamon and violet. The acidity is quite delightful.



590570 CHATEAU CESSERAS 2001 $18.95, Minervois la Liviniére

I am currently sampling one of the most disjointed wines of the day. It is tarry, and leathery on the nose, and other than dark fruit, bitter chocolate and white pepper, little else is showing. Nonetheless, on the palate it proves to be a fruit bomb with flavours of plum, blackberry, damson and blueberry that explode across the tongue. It is clumsy right now, but just wait a while and see what happens.

655878 QUPÉ SYRAH 2002 $23.95, Central Coast, California

I like this. There is more to it than just fruit. I find hints of sage, black pepper and dried Chinese mushroom and there be plenty of black and red fruit that lingers in the background. The acids are refreshing and the finish has decent length.

937128 FORIS PINOT NOIR 2001 $24.95, Rogue Valley, Oregon

Disappointment is my foremost thought. This has plum and stewed fruit aromas, yet it just does not taste like a Pinot should. It is tannic, hard and has a finish of slate, mineral and cola. Possibly a bad bottle or just a style I am not used to or simply don't like.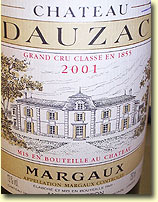 940106 CHATEAU DAUZAC 2001 $49.95, Margaux

Here is a lovely nose of aquarium; tar and salt cured black olives, which comes complete with a massive attack of blackcurrant and dark sweet cherry fruit. The acidity is fine, it is rich and chewy, tannins are present, but not offensive by any means. There is a good solid finish that really projects its fruit.

994343 CHATEAU DE SAINTE-GEMME 1995 $34.95, Haut-Médoc, Cru Bourgeois

This starts of well to show some nice spicy notes of raspberry, currant old cigar box and cedar. On the palate it really seems to lack the acidity to keep it lively and in fact it is quite dull. The finish does little to compensate and it quickly diminishes.

656603 CHATEAU LANESSAN 1995 $44.95, Haut-M'doc

This gets away from the starting block nicely by showing aromas of Szechwan peppercorn, cooked fruit, roasted beet and rhubarb. However, there is a dull, acid deprived, layer on the palate that leaves it neutral and flat. The fruit, to me, seems to really fade on the finish.

961847 CHATEAU PUY-BLANQUET 2001 $32.95, St-Émilion Grand Cru

This is much better. It shows loads of red currant fruit, liquorish, forest floor, blackcurrant and pepper. There is a rich and creamy feel to the mouth. It is solid and well balanced. The finish is a touch of a let down when it comes to length, but I do like this.

656595 CLOS DU MARQUIS 1999 $63.95, St-Julien

As this is the second wine of L'oville-Las Cases, I expected a little more oomph. It does show off well the harmony between its fruit and the earth the fruit was grown in. There are notes of geranium, lead pencil and a decent layer of dark and mature blackcurrant that carries through to the finish.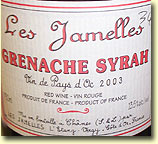 652164 LES JAMELLES GRENACHE/SYRAH 2003 $11.95, Vin de Pays d'Oc

As far as price goes, there can be no complaint from me on this one. It is fruit forward and then it kicks in with more fruit just to make a point. It is ripe, meaty, fleshy and rather sweet, but the well-proportioned acids do their best to balance. Although it's a little out of sorts right now, a case of this for late night barbies, in the warmer weather, should prove an excellent investment.

641548 DOMAINE PERRIN COUDOULET DE BEAUCASTEL 2001 $29.95, Côtes-du-Rhône

Wow, this is impressive. It offers heady notes of tar, bacon, cassia, star anise and black pepper. The mid palate demonstrates just how packed with fruit this wine is. The long full finish echoes layer after layer of lavender, liquorish candy and blackberry.

652206 BEAUMES DE VENISE ROUGE 2000 $19.95, Côtes du Rhône-Villages

Once the tightness of this nose diminishes, it starts to release aromas similar to that of walking into a florist, along with damson and blackberry. It is quite elegant showing good balance, refreshing acids and some silky chewy chocolate. The finish is a touch on the spicy side and Mr. Tannin does make his presence known. A year or two in the cellar and this will be interesting.

Cheers
CZ
Alan Kerr's Home Page and Main Index