Alan's May 2003 Vintages Release Tasting Notes
Release dates May 10th & 24th, 2003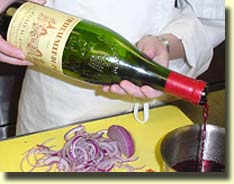 It seems no mater what time I arrive at any Vintage's pre release tasting, I am either too early or too late. I had a couple of hours free in the morning for this session, so I arrived at the crack of dawn eagerly anticipating a full array of wines to taste, only to find the whites were not yet opened. Also, there was a guest speaker on site. Ann Sperling, Malivoire's managing winemaker gave a presentation on her current portfolio and updated the recent growing conditions on Niagara's Beamsville Bench. At the same time she poured several of her wines, including the delicious summer sipping 2002 rose featured on the second allotment of May's release. Highlight was when Ann kindly popped the corked on the '99 Moria's Vineyard Chardonnay. In my humble opinion, this wine is only now entering into its peak. It clearly has to be one of the finest Ontario Chardonnay consumed by yours truly in a long time! I believe it is only available at the winery and carries a price tag of $54.00.
There were several more 2000 Bordeaux wines that will find their way onto the shelves including a couple of the 'second wines' of the 'big boys'. Time however did not permit me to try any wines from Australia, Chile or Argentina and post tasting rumors told me I missed some beauties especially those from the South American submissions. There are still tickets left for the May 21st Classics Catalogue tasting extravaganza at the London Club located on the corner of Queen and Richmond. The cost of admission is $95.00 and considering the caliber of wines that will be available, it is well worth the price. Best way to get hold of tickets is to call 1-800-266-4764 or go directly to the Vintages web site.
It is my understanding that June's release is to include a special offering of Zinfandels!
Wines from the May 10th Release
573212 MERITAGE 2000 $ 19.95, Niagara Peninsula, Lakeview Cellars.
Dark ruby colour, showed a variety of black fruit, peat, wild mushroom, coffee and game. Solid layer of tannin suggested good ageing potential and previous experiences with older wines from this producer have always been rewarding.

987420 CABERNET SAUVIGNON 1999 $ 32.95, Napa Valley, Beaulieu Vineyard.
Quite dark and rich in the glass, profile on the nose was strange, coffee, nutshells, black fruit and shoe polish! The fruit was sweet; the wine was viscous but very heavy on the tannin. The fruit dropped quickly on the finish.

718452 CABERNET SAUVIGNON 1999 $ 62.95, 'Calistoga Cuvee', Napa Valley, Chateau Montelena.
This really was quite lovely; the ruby purple tone showed density and richness. Enticing nose offered up stewed plum, cherry, blackcurrant, liquorish candy and dusty chocolate. Lovely concentration on the palate with the chocolate tones being the most expressive. Good degree of tannin but certainly enjoyable in its present state. I just wish the asking price of this wine were more realistic. The LCBO, when compiling the catalogue, often quotes prices advertised by US retailers when they offer wines in Ontario for a lesser price than those south of the border. However, a quick scan at wine-searcher.com revealed several US merchants who favour a price tag of between $30.00 and $35.00 US, which equates (especially given the recent surge of the Canadian dollar)J to considerably less than the $63.00 commanded by the board. It is also interesting to note that in April of last year the 98 Montelena Estate Cab, the wineries premium wine, was available for a mere $74.90.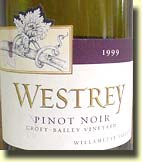 708172 PINOT NOIR 1999 $ 34.95, Croft-Bailey Vineyard, Willamette Valley, Westrey, Oregon.
Murky dark plumy colour, this did not initially jump out as a Pinot but it was delicious. Rich and concentrated nose of black sweet cherry, flint, potato peelings, mint and blackcurrant. As the wines for this tasting were shipped only the day before, I believe this suffered from transportation and could have used time to settle down. All the aromas followed through onto the palate but the wine appeared disjointed. I would love to try this after a couple of years of cellaring.

972596 CHÂTEAU D'ARSAC 2000 $ 36.95, Margaux, Cru Bourgeois.
Quite an inky hue, faint hint of lead pencil enhanced the layers of blueberry, cherry and blackcurrant. Very tight right now.

935718 LE BAHANS DU CHÂTEAU HAUT-BRION 2000 $ 99.95, Pessac-Léognan. This is the second wine of Haut Brion. Well let me see, very spicy, surprisingly herbaceous and smoky. The mid palate was thick, rich and very chewy. Fruit was mostly plum and an unpleasant plum skin bitterness took control of the finish. I really did not find too much to enjoy but I am sure my inexperience with drinking recently bottles of potentially brilliant young Bordeaux took its toll.

948190 VOSNE-ROMANÉE 2000 $ 63.95, 'Aux Réas' A.-F. Gros.
Classic Pinot, showed lots of flint and mineral, both red and black cherry, raspberry and sweet violet. Medium body, nicely balanced and quite floral on the finish.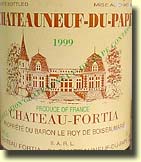 959999 CHÂTEAUNEUF-DU-PAPE 1999 $ 33.95, Château Fortia.
A loverly fruit driven meld of red berry and blackberry, followed by an herbaceous layer of lavender and garrique. Coffee and black liquorish made their way through to add to the complex nose. The palate showed a noticeable sweetness from the fruit but the finish was totally refreshing. Great wine that I think is wonderful now but it should hold really well for a while. Clearly a bargain for the fans of the Southern Rhone.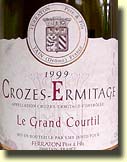 944959 CROZES-ERMITAGE 1999 $ 29.95, 'Le Grand Courtil' Ferraton Père & Fils.
This rocked. Its nose was a cross between freshly milled pepper and bacon. I noticed an aroma of what I thought to be 'Michelin' tire but it was not offensive. The flavour profile was rich and smoky, full of enticing blackberry, black raspberry and currant. Long and fleshy finish showed the presence of its tannin and aging potential.

934521 BARBARESCO 1997 $ 37.95, 'Gallina' Agr. Ottavio Lequio.
Notes of leather and plastic combined with hay, nutshell cedar, plum, cake fruit peel and coffee. It was really hard to find much other than tannin and acid on both the palate and finish. Maybe this just needs some time. If so then lots!

745638 'PROMIS' 2000 $ 46.95, Ca'Marcanda/Gaja.
Beautiful depth to the rich red ruby colour. Complex layers of iodine, blackberry, toffee, liquorish, red liquorish sticks and candied fruit. Very elegant and silky on the tongue. Super length to the finish.

941369 'RUBESCO' 1995 $ 39.95, 'Vigna Monticchio' Cantine Lungarotti.
This had started to take on a little red brick at the rim of the glass, with quite ripe aromas (in fact a little pruney); palate full of stewed fruit and lots of solid red cherry and
plum. Silky tannins held the wine together well.

969741 'EL ZUITER' ROSSO 1999 $19.95, Veneto Montelvini, S.p.A.
This was interesting; the nose was floral, perfumed and tarry. Lovely flavours of raspberry, cola and black fruit ran through the clean and refreshing finish.
May 24th Release
729566 'LAURA'S BLEND' 2000 $ 15.95, Niagara Peninsula, Creekside Estate.
When I tasted this at the winery last year, I remember it being so much more fruit forward. Presently the colour still exhibited a nice ruby garnet tone but all the fruit was over powered by an overwhelming funky, earthy barnyard thing that I did not particularly like. Sage and thyme were noticeable but the funk dominated the traces of red fruit and black olive. It reminded me of the aromas I didn't like in the 99 variation of this wine.

953562 MERLOT 1999 $ 44.95, Napa Valley, Robert Mondavi.
Although this was highly enjoyable, it paled slightly in comparison to Arrowood's rendition. Nonetheless it was choc full of fruit, blackcurrant coulis, blackberry and raspberry being the most noticeable. Long and creamy finish showed tones of chocolate and just a subtle hint of sweetness.

964189 MERLOT 1999 $ 66.95, Sonoma County, Arrowood.
Dick is back in form with this one! So incredibly structured it went deeper and showed more ripeness than its counterpart, the Mondavi. Beneath the complex nose of plum and intense black fruit lay enticing hints of coffee, pipe tobacco, clove and cinnamon. All the fruit echoed through the tightly wound finish demonstrating time will allow it to show its best.

747493 ZINFANDEL 2000 $ 31.95, Oakley Vineyards, San Francisco Bay
Rosenblum.
Bright and shiny ruby colour, explosive aromas of ripe Zin berry, plum, damson, cinnamon and white pepper. It had the right amount of sweetness to render a lush and chewy texture. Seemed to be drinking nicely in its present state.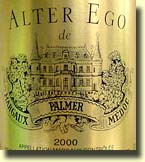 942078 'ALTER EGO' 2000 $ 85.00, Margaux.
This is the second Wine of Château Palmer (SCI Château Palmer); the dark ruby garnet rim was evidence of the power and structure that it contained. The lovely layers of rich ripe fruit were intermingled with whiffs of meaty smoked bacon, dark chocolate and mint. The flavour profile was mostly dark cherry and chocolate. There was just so much more to this wine but the rich milky chocolate layer of tannin masked it. Should be a classic wine given time.

720326 CHÂTEAU LANESSAN 2000 $ 39.95, Haut-Médoc.
A medium ruby garnet colour, showed nice sweet blackcurrant, black berry, mushroom and spice. Long inky finish showed much tannin but the fruit desperately tried and eventually succeeded to pull through.

983288 CHIROUBLES 2001 $ 17.95, Beaujolais, Domaine Cheysson.
This medium bodied Gamay offered dusty aromas of plum, raspberry and white pepper. Pleasant mouth feel, clean, crisp finish of sweet liquorish root and red currant.

981399 MONTEPULCIANO D'ABRUZZO 2000 $ 11.90, 'Terra d'Aligi' Spinelli.
Possibly the number one QPR wine of the release. It was simple, full of fuzzy red berry, blueberry and simple tannins. Gonna be fabulous to quaff with simple summer barbies

965525 BRUNELLO DI MONTALCINO 1997 $ 54.95, Col d'Orcia.
The nose showed a pleasing degree of mocha, vanilla, balsa and violet. On the palate the fruit was there but did little to titillate the taste buds. An extreme amount of astringent tannin on the finish simply overpowered any of the pretty components that this wine may have.

930966 CHIANTI CLASSICO RISERVA 1999 $ 27.95, Rocca delle Macìe.
Dark and earthy, aromas of plum, cherry, spearmint and mushroom. It was chewy, quite tannic but it finished with a pleasing duo of ripe fruit and aniseed.

977272 VINO NOBILE DI MONTEPULCIANO RISERVA 1997 $ 32.95, 'dei Padri Serviti' Cantina Gattavecchi.
This wine started off by offering aromas of spice, fruit flavoured cough medicine and liquorish. After a few minutes in the glass pretty notes of blueberry, blackberry jam and lavender took over. Lovely balance on the palate and the super floral/berry finish was long and exciting.

713412 AMARONE 1998 $ 36.95, delle Valpolicella Classico Az. Vini. Farina.
Very pretty and polished. Aromas of liquorish, vanilla, toffee, mocha, and a multitude of berry fruit. Velvety on the palate, finish was mind blowing.

745794 'HOCHAR Père ET FILS' 1998 $ 23.95, Bekaa Valley, Lebanon, Château Musar.
Oh dear, I found this to be most unpleasant and one dimensional in a medicinal sort of way.

559088 ROSÉ 2002 $ 15.00, Niagara Peninsula, Malivoire.
Classic wine for summer patio libations. It had none of the excessive sweetness that many 'pink' wines often carry. It reminded me of a Rose from Tavel. Pretty fruit aromas of strawberry and raspberry, lemon rind and mineral ran through to the finish.

Cheers,
CZ
Alan Kerr's Home Page and Main Index