Alan's May 2002 Vintages Release Tasting Notes
Release dates May 4 and May 18, 2002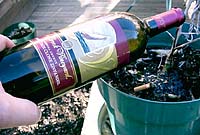 The tasting this month just happened to be scheduled slam bam in the middle of exam week. I barely had forty minutes in between tasting the results of student practical evaluations to slip out and taste the wine. Student graduation dinners and "schools out" celebration parties also took their toll on me both physically and emotionally. This year's graduating hospitality students were amazing and I will miss them. Given that I had already spent four hours tasting food in exams, the notes that follow are merely speedy opinions and observations of the release. To note, the Lindermans Padthaway 1998 Shiraz is on sale at $13.95. This equates to a four dollar saving from the original $17.95 price tag. There is apparently too much of this wine in the system and it is not moving. The importer has to absorb the price dive and move the wine out otherwise they could loose the listing. It is full of ripe, blackberry fruit, traces of coffee, plum and earthy tannins much of which has accumulated in the bottom of the bottle. If you are influenced by numerical ratings, it recently acquired an 88 point rating from the Wine Spectator. This month the board is trying a pilot project that breaks the release into two different dates. Why I am not sure. It just means some wines are available on May fourth and the rest will be in the stores on the eighteenth. For those of you that leave things to the last minute, like myself, there are still a few spots available for the classics 2002 spring/summer edition catalogue at the "London Club" on Wednesday, May 8. For tickets call VINTAGES Customer Service at (416) 365-5767 or toll free at 1-800-266-4764.
MAY 4, 2002 RELEASE
422808 CABERNET SAUVIGNON 2000 $ 14.95, Niagara Peninsula, Vineland Estates.
Clean and pretty, plum flavours, light tannins, soft and silky.
706994 PINOT NOIR 1998 $ 54.95, Carneros, Robert Mondavi.
Lots of oak, some cherry, red fruit and spice, lean on the mid palate, a little chunky.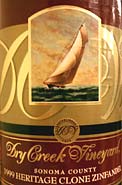 574491 ZINFANDEL 1999 $ 29.95, 'Heritage Clone', Sonoma, Dry Creek Vineyard. Full bodied, packed with strawberry, spice, bright cherry, raspberry, peppercorn and a touch of coconut. Very luscious without being overly sweet. Loved it!
719716 'MANSO DE VELASCO' 1998 $ 34.85, 'Viejas Viñas', Curicó Valley, Chile, Miguel Torres.
There are two single vineyard released from Torres this month, the second, 'Cordillera', 731109, is in the May 18th segment of the release. Manso de Valasco is the tighter and currently the less revealing of the two. Full of blackcurrant, vanilla, coffee, ripe plum and hints of rosemary and green pepper. Long finish of chocolate, fruit and tea. This is a keeper and I would love to try it in a few years.
701359 CROZES-HERMITAGE 1999 $ 19.95, 'Les Launes', Delas Frères.
Nice flavours of cherry, currant, a slight sweetness with traces of mineral. Clean and simple.
958843 CROZES-HERMITAGE 1998 $ 19.90, Les Hauts du Fief', Cave de Tain l'Hermitage.
Definitely the better of the two Crozes Hermitage. Full of dark fruit, coffee, a touch of gaminess, salt cured olives and white pepper. Quite tannic, long finish. Good stuff
974964 'SER GIOVETO' 1997 $ 33.30, Toscana, Rocca delle Macìe.
A monster, full of astringent tannins, black pepper, cherry, plum skins, coffee, tea, licorice, dark bitter chocolate and wet moss covered stones. Great wine but the 97 vintage, released February 2001 could be had for $25.75. Quite the hefty increase.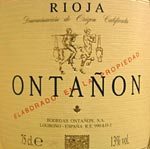 725895 'ONTANON' RESERVA 1995 $ 27.85, Rioja DOC, Bodegas Ontanon.
Quite lovely showing, blueberry, stewed red fruits, coconut candy, refreshing acidity and drinking beautifully.
WINES RELEASED MAY 18, 2002
594325 'EXP' SYRAH 1999 $ 19.95, Dunnigan Hills, RH Phillips.
Great value, packed with raspberry, cherry combined with a leathery texture, mouth filling chocolate, well balanced acidity, red currant and plum in the long and tightly wound finish. Lovely now but would benefit from a little aging.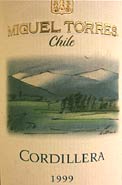 731109 'Cordillera' 1999 $ 25.70, Curicó Valley, Chile, Miguel Torres.
This is the other Chilean offering from Torres, Cordillera tenders, plum, blueberry, blackcurrant and sweet baking spices, Dusty tannins are noticeable in the lengthy finish but it is currently drinking well.
982892 SYRAH/CABERNET SAUVIGNON 2000 $ 14.00, Maipo Valley, Viña Errázuriz.
Floral, lavender, raspberry and pepper. Very pretty, clean and refreshing.
731364 CHÂTEAU PIPEAU 1998 $ 29.95, Saint-Émilion Grand Cru.
Good deal at this price, full-bodied, plumy, red and blackberries, forest floor, hints of cured meat.
SOUTHERN RHONE RELEASE. MAY 18
990366 CHÂTEAUNEUF-DU-PAPE 1999 $ 28.95, Le Bois d'Amaurel', Clos St. Jean.
Extremely fruit forward, layers of cherry, raspberry, cola, tobacco leaf and clove. Lovely cloying mouth-feel, good length at a great price.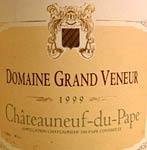 989061 CHÂTEAUNEUF-DU-PAPE 1999 $ 29.85, Domaine Grand Veneur, Alain Jaume et Fils.
Appeared closed down, quite tannic, hints of mushroom, barnyard and garrique. Fruit on palate mostly plum and cherry.
956326 CHÂTEAUNEUF-DU-PAPE 1999 $ 29.95, Domaine Monpertuis, 'Classic', Paul Jeune.
Forest floor, chocolate, red berries, cherry and spice. Full bodied, clean acid and really enjoyable.
729962 CÔTES-DU-RHÔNE 1999 $ 12.95, Saint-Esprit, Delas Frères.
Fabulous price for an every day drinking wine. Fruit focused, pleasurable chocolaty tannin, simple and clean.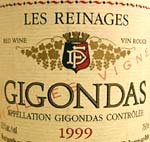 989657 GIGONDAS 1999 $ 29.90, Vieilles Vignes, 'Les Reinayes', Delas Frères.
A powerhouse, big and bold, pepper, prune, damson, bacon and leather. Needs time.
974733 RASTEAU 1999 $ 23.90, Domaine de Grange Blanche, Côtes-du-Rhône-Villages, Gabriel Aligné.
Ribena, currants, plum, baking spice and pepper. Full round luscious mouth feel, anise, fruit and coffee in the ultra long finish. Truly a great wine
Cheers,
CZ
Alan Kerr's Home Page and Main Index