Alan's March 6th and 20th, 2004 Vintages Release Tasting Notes
The board shipped some great wines from March's release. However, by the time I arrived most of the wines I tasted had been open for six hours, so do please bear that in mind. Sadly the Wolf Blass Platinum Syrah was seriously defective, but I did get the chance to take a sip of their somewhat excessively priced, but rather delicious Cabernet Sauvignon. Even the Gaja Barberesco was shipped, but by the time I arrived, it was void of its content. However, once again I was duly impressed with the Italian selection of wines. I am slowly learning to appreciate the broad range of tastes and styles Italy has to offer.



March 6 Release


927525 SAUVIGNON BLANC 2002 $21.95, Marlborough, South Island, Nautilus Estate.
This is full blown, grassy and holds well-harmonized citrus notes that stretch right through to the lengthy finish. It is tart and tangy, but the fruit flavours are clean and racy.

933424 SAUVIGNON BLANC 2002 $18.95, WO Stellenbosch, Mulderbosch, South Africa.
If there is only one white wine I will buy this month, this is it. It's so full bodied and beautifully balanced, it leaves the palate wanting more. There is mineral, slate, stone, citrus and gooseberry, the latter being the most noticeable on the finish.

922658 POUILLY FUMÉ, 2002 $26.95, 'Les Pierres Fines' Joseph Balland Chapuis.
Another wine that shows earthy mineral notes, only there is an addition of roasted chestnut and tart honeydew melon to the nose. Not a monster by any means, but very pleasant to sip.



White Wines, March 20 Release


735506 'ESPRIT DE BEAUCASTEL' BLANC 2001 $39.95, Paso Robles, Tablas Creek.
This intoxicating nose features leafy herbs, mint, canned mandarins, tangerine peel, dried apricots and white peaches. The palate comes across much softer than the nose suggests. It is well balanced and quite lovely to drink. It finishes with good clean acidity, and peach, pear and candy apple flavours.

742866 SAUVIGNON BLANC, 2002 $22.95, 'Whalesback', Awatere Valley, Marlborough, South Island, Koura Bay Wines, NZ.
I noted a faint hint of roasted nutshell and limestone tucked behind the huge portrayal of green apple. Its acidity, at first seems to over power, but it changes into a ripe and creamy finish.

925099 PERNAND-VERGELESSES, 2001 $30.95, Chartron et Trébuchet.
As I sipped this, I thought to myself, "here is a nice harmonious blend of pure Chardonnay fruit aromas". It is refreshingly bright, offering apple, ripe pear and a touch of lemon zest that rounds out well on the palate. There is just a little spicy heat on the finish that should soften with time, but otherwise a nice wine.

933119 SANCERRE 2002, $32.95, Domaine Vacheron, Loire Valley.
Imagine squeezing a freshly cut pink grapefruit into your glass and this would be the aroma you would encounter. It does have other attributes to round out the nose, but the gooseberry, green apple and unripe peach are all subdued. The acid is lively, yet the fruit declines too quickly on the finish for my liking.



Red wines from March the 6th


434605 ZINFANDEL 2001, $19.95, 'Sonoma Heritage Vines', Sonoma County, Rancho Zabaco.
This is pleasant, and being priced just under twenty bucks, it is, I suppose, quite reasonable. Its predicable profile has lots of fleshy blackberry and cherry fruit, a touch of cola and a hint of sweetness that coats the palate on the finish.


968297 CABERNET SAUVIGNON 2000, $79.95, 'Platinum Label', Clare Valley, South Australia, Wolf Blass.
There is none of the huge oak that I anticipated on the nose of this wine. Instead it offers up a solid core of dark and red fruit, some dried vegetation, wet fur, spearmint and plum. It is well balanced and although tannic, the tannins are silky, rendering a wine that is already showing well in its youth.

919597 SHIRAZ 2001, $20.90, 'Golden Triangle', Stellenbosch, Stellenzicht.
An odd mix of coffee crisp candy bar, sweet tobacco, green olive and red fruit combine to render a pleasing nose. On the palate it is creamy and full of red fruit while the finish echoes plum and black raspberry jam.

910851 SHIRAZ 2002,$14.90, Capell's Court, WO Wellington, Linton Park Wines, South Africa.
This is toasty, with a solid core of ripe creamy fruit and a long cherry laden finish. It certainly falls into the realm of being a decent quaffer.

922237'KADETTE' 1999, $15.95, Simonsberg-Stellenbosch, South Africa.
A dark and enticing wine with an aroma that puts it into the guise of an elderly Bordeaux. It has tobacco, plum, blackcurrant, sweet Moroccan spices and a pronounced vegetal earthiness on the nose. The fruit is dark, clean and the acids are in balance. A nice wine, I liked it.

938639 CHÂTEAU BEAU-SITE 2000, $37.95, St-Estèphe, Bordeaux.
A difficult wine to assess, as the tannin is in total control and the fruit is totally masked and pales. The most noticeable point to the aroma is coffee and vanilla. I guess one assesses this based solely on the reputation of the vintage; it should be good, but it would be a gamble given the price.

994178 CHÂTEAU FAURIE DE SOUCHARD 1998, $59.95, Saint-Émilion.
I believe this was one of my favourite wines of the day. First of all it captures a bold array of cassis, dark berry jam and plum. There are underlying scents of mocha, cola, dried bark, moss and dried mushrooms. The finish still has some grip, but I would say this is just entering into its prime. A lovely wine.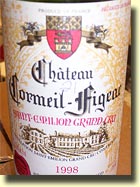 480046 CHÂTEAU CORMEIL-FIGEAC 1998, $38.95, Saint-Émilion.
Although this is not close to coming around, it is showing a lovely sensation of ripe stewed fruit. There is a nice creamy vanilla sensation on the mid palate. The finish has layers of chocolate, black cherry and tannin. I really think this will be great, but I would leave it alone for a year or two.

960641 CHOREY-LèS-BEAUNE 2001, $32.95, Domaine Maillard Père & Fils.
This has a pretty and perfumed nose of violet, red sweet cherry and raspberry. There is a hint of barnyard earthiness, but nothing that may offend. The balance is good and the finish has good length.

926691 SAVIGNY-LèS-BEAUNE 2001, $37.95, Patrice Rion.
Although this has fruiter profile to the nose than the previous wine, its degree of red currant acidity is a little to high for me. The red fruit is by no means unpleasant, but I would save five bucks and get the Chorey instead.

998575 'SITO MORESCO' 2000, $27.95, Langhe, Gaja (375ml).
A fruit driven blockbuster. It has layers of plum, cherry, and black berry on the nose. Beneath the fruit lurks smoky bacon, anise, nutmeg and toast. Although this is tannic, and needs time, I did enjoy it in is present state of evolution.

994327 BAROLO 1997, $42.95, Neirano.
The lovely red/red brick to amber rim is deceiving. There is a kick of tannin right up front. Its nose gives out toffee, caramel, red currant and cranberry aromas. The mid palate shows a degree of elegance. It even appears to be quite light in its texture, but there is a layer of milk chocolate tannin that overrides the fruit on the finish. Having said all that, I do like it!

22054 BRUNELLO DI MONTALCINO 1998, $52.95, Tenute Silvio Nardi.
This is full of dark fruit, tar, mineral and a strange aroma that reminds me of a stagnant green pond! It is fleshy on the palate and the dark berry fruit is the prominent flavour.

998567 'PROMIS' 2001, $45.95, Ca'Marcanda/Gaja, Tuscany.
Lots of funky aromas like cigar leaf, coffee grounds, dried leaf and forest floor. The mid palate is full of cherry, plum and black berry. The dark chocolate and led pencil tannin on the finish suggest time is of essence.


926865 MERLOT 2002, $19.95, Umbria, Falesco.
Oh wow, solid as a rock! Fruit is abundant, but so is the tannin. It is smoky and full of stewed plum, blackcurrant and cherry. It's very well balanced with just enough acid to counter the ripeness. In a year or two this will be great.

914853 RECIOTO DELLA VALPOLICELLA, 2000 $49.95, 'Campo Casalin I Castei', Michele Castellani.
Another wine that I am not so sure about. Its nose offers mint, dark berry, Kirsch and cherry brandy. On the palate, there is an overpowering sweetness that is not my cup of tea. However, I am sure many people will appreciate its concentration and ripeness.



Red Wines March 20 Release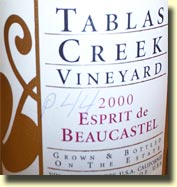 735654 'ESPRIT DE BEAUCASTEL' 2000, $41.95, Paso Robles, Tablas Creek.
I liked this wine, but I have to question, given the price, whether I would simply invest in a well made southern Rhone instead. Regardless of that, I did like the ripe and well integrated flavours of blackberry, strawberry and black raspberry. It shows some lovely spice notes that really come to life in the finish.

994475 PETITE SIRAH 2000, $36.95, Napa Valley, Markham Vineyards.
An interesting nose of plum, lavender, thyme, clove and Szechwan peppercorn. It is chewy rich and the degree of spicy tannin suggests time in the storage bin.

959627 CHÂTEAUNEUF-DU-PAPE 2000, $34.95, Chateau Mont-Redon.
A mix of sweet and sour fruit, a touch of liquorish and cured meat. It feels quite full in the mouth and finishes nicely with a feature of ripe plum and chocolate.

910570 'SOL DE LANDOC' ROUGE 2002, $20.95, Vin de Pays de l'H³rault, Moulin de Gassac.
This is very sweet and fleshy on the nose, almost to the point where I thought it might hail from the land down under. The mid palate is full of fuzzy red berry, cassis and maraschino cherry.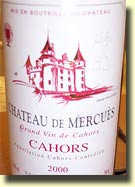 925479 CHÂTEAU DE MERCUES 2000, $19.95, Cahors.
Despite the weird aromas of boot polish, black liquorish, spearmint and coal dust, this has a lovely mid palate of mixed fruits, with a rich creamy toffee texture and tons of dark chocolate on the finish. I like this a lot and may put a bottle or two away.

909234 CHIANTI CLASSICO RISERVA 1998, $24.95, Castello di Meleto/Viticola.
A clean and well-focused Chianti that shows lots of red berry, cherry, cinnamon, fennel and cherry cola. Good concentration of fruit and a decent degree of acid.

956391 BRUNELLO DI MONTALCINO 1997, $56.95, Castiglion del Bosco.
This has lost its natural darkness and is just showing a faint amber tone at the rim. The aroma spectrum shows cigar leaf, peat, damp soil, black raspberry and fennel seed. It has a surprisingly light texture to the palate, but the finish has solid fruit along with a chalky chocolate texture.

924712 SAGRANTINO DI MONTEFALCO 1999, $39.95, Umbria, Cantina Terre de'Trinci.
If you like the aroma of rancid bacon fat and backed up sewers then this might be the wine for you. Yes there is fruit, but it is buried beneath a monstrous layer of tannin. A little too funky for me, and certainly not my style of wine.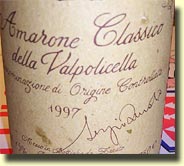 928036 AMARONE CLASSICO 1997, $89.95, della Valpolicella Riserva DOC,'Sergio Zenato'.
A nose of roasted beet, morel mushrooms, cassis, blackberry, marzipan and chocolate coated almonds. Excellent balance of sweet and sour flavours. A big wine that still has years ahead.

961086 'GRANDARELLA' 2000, $28.95, 'Appassimento', delle Venezie, Masi.
An aroma of sweet perfume, red fruit pie and cherry. Although it is a pretty wine, in comparison to the 99, I found this to be not as intense.

928226 'CREARO DELLA CONCA D'ORO' 2000, $28.95, Rosso del Veronese.
This has loads of toasty oak along with damp earthy moss, coffee, lavender and nutmeg. Its low in acid and the principal flavour on the finish is chocolate. I struggle to find the fruit!

963348 'CONDADO DE HAZA' 2001, $21.95, Ribera del Duero, Condado de Haza .
This is very meaty, I actually scribed porky smelling, with strong notes of lavender, dark couvature, black berry and plum. It needs some time to come together, but when it does, it should be fun to drink.

Cheers
CZ


Alan Kerr's Home Page and Main Index