Alanís March 5th and 19th, 2005 Vintages Release Tasting Notes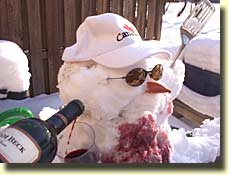 With all the snow that has fallen this week, one has a hard time believing this is March. Hopefully soon, the snow will melt, the evenings will turn warmer and I will be able to sip a few of the nice wines I found on this month's release outside. Dream on!

Last week I received an email that asked "why I never or rarely post notes on whites wines". Unfortunately as much as I would love to scribe notes on the whites, the day that is set aside for the tasting is always one when I am at school. I actually have to taste in between classes. Consequently, I have to leave the tasting long before the white wines are even opened, otherwise I am late for class and that just will not do. However, my summer class schedule comes into effect in May and that should change.

The board has been releasing several wines a month from Bordeaux's stellar 2000 vintage. Oddly enough, I have noticed some of these wines end up being reduced in price only months after being released. Not that I am complaining please note, but in January I purchased a couple of bottles of Ch. Fourcas Hosten, for $25.00, down from its original shelf price of $31.95. The strange circumstance here is that the same wine was back in Vintages last month at the price it was when first released. My excitement at finding this relative bargoon was short lived once I read an email that came from Century Liquor, my favourite place to shop in Rochester New York. The email proclaimed they have some two hundred, two thousand vintage, Bordeaux wines available on their shelves. How many does the LCBO carry? Oh well, mustn't grumble. On to the wines.............



Wines from the March 5th release


942599 RAVENSWOOD LODI ZINFANDEL 2002 $22.95, 'Old Vine', Sonoma, Ravenswood
This Lodi Zin exhibits notes of sweet blackberry, cherry cola, nutmeg and pie spices. It is silky on the palate, but just a touch too sweet for my tastes.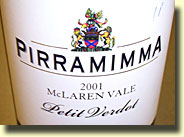 986752 PIRRAMIMMA PETIT VERDOT 2001 $24.95, McLaren Vale, South Australia
This is a dense wine, both in its colour and across the palate. It is full of ripe red fruit, violets, black pepper and enough tannin to warrant a few years rest. Although the fruit is very tart on the finish, there is an interesting balance to the wine that should show nicely once the tannin softens. Good stuff.

595702 HILL AND DALE CABERNET SAUVIGNON/SHIRAZ 2002 $12.95, Stellenbosch, Stellenzicht Vineyards, South Africa
I imagine it would cost more than $12.95 to mail this all the way from South Africa! There is a lot of oomph and structure to especially considering the meager asking price. It shows aromas of plastic coating chocolate, pinecone and moss. Behind the organic matter sit layers of fruit, blackberry and blueberry that really accelerate on the palate. It is creamy and rich. This blend of 50% Cabernet Sauvignon, 32 %Shiraz and 18% Merlot is ready to drink, just bring on the warmer weather and the Barbie!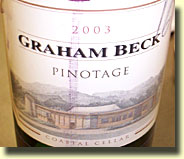 593459 GRAHAM BECK PINOTAGE 2003 $16.95, Graham Beck Wines
I rarely enjoy Pinotage, then again this is an exception. It is not a typically gamey example; instead aromas of plum, damson, vanilla bean, red currant and lavender step forward to control the nose. There is no discernible tannin. It is chewy and ripe on the palate with a clean and pleasing finish. Nice!

590737 CARMEN SYRAH RESERVE 2002 $19.95, Maipo Valley, Vi

Ů

a Carmen
If you are a fan of Welch's grape juice then this might be the wine for you. This is fruit driven, but the fruit is grapey and one-dimensional. There are lots of thick and chewy tannins. Maybe nice things will happen to this given time.

989582 CH

¬

TEAU L

…

OVILLE POYFERR

…

2001 $79.95, St-Julien
I should quit now and just sit and drink this for the rest of the day. It is fleshy, full of fruit with just a touch of meatiness. There are modest notes of thyme and mint that pop up on the nose. The balance is stellar and even the milk chocolate tannin renders a warm silky coating on the palate.

593673 LES HAUTS DE PONTET-CANET 2000 $36.95, Pauillac
Maybe I am still glowing from the Poyferre, but I find little to excite me with this wine. Admittedly it is the second wine of Pontet Canet, and I have had some nice bottles of older stuff from this Chateau, but this baby brother is one tough puppy. The nose shows green tea, earthy compost, coffee and a trace of red fruit. The degree of tannin shuts the palate down instantly. Maybe it just needs some time to evolve, I just fail to find the fruit.

986406 JOSEPH DROUHIN SAVIGNY-LES-BEAUNE 2002 $31.95
A pretty Pinot based nose showing red liquorish, red currant, cooked plum and pureed strawberry. It has decent structure; nice acidity and a good clean well balanced finish.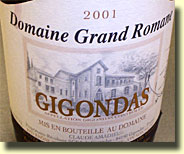 968693 DOMAINE GRAND ROMANE GIGONDAS 2001 $27.95, Pierre-Amadieu
When I first tasted this last year, I thought lack of acid rendered a slightly fat and unbalanced wine. Holy cow, it has changed considerably, or my taste buds have, to deliver a monumentally structured, rich and opulent bottle of wine. The nose is pure black fruit with notes of dried porcini mushroom, black pepper, smoked bacon and whiffs of freshly extruded horse dropping. The acids harmonize wonderfully with the thick, mouth coating, black fruit flavours. I must buy this wine!

928028 FATTORIA DEI BARBI BRUNELLO DI MONTALCINO 1999 $46.95, Fattoria dei Barbi
This too has pretty notes of poo on the nose, along with toasted hazelnut, red berry, blackberry, clove and iodine. The palate is surprisingly delicate, yet the finish is rich with ripe fruit, coffee, chocolate and a kick of red berry acid.

720177 VIVAIO DEI BARBI MORELLINO DI SCANSANO 2000 $16.95, Fattoria dei Barbi
This well priced Tuscan has a nose of roasted chestnut shells, fleshy meat, blackberry, plum, sage and thyme. The palate is not really reminiscent of its aroma. Instead I find rich flavours of black cherry, star anise and dark liquorish that flow across the tongue nicely. I like this a lot.

239277 MONTECILLO GRAN RESERVA 1995 $31.95, Rioja, Bodegas Montecillo
Considering this wine is soon to celebrate its tenth year of being, it is more than reasonably priced. It offers up aromas of wet leaves, Asian spice, cinnamon, green tea, forest floor and proscuitto. The palate is rich, fruit laden, silky and seductive. It might age longer, but no need, it is quite lovely right now.



Wines from the March 19th release


746610 ROSENBLUM EAGLE POINT VINEYARD ZINFANDEL 2001 $39.95, Mendoncino County, Rosenblum
This is clearly a candidate for my wine of the day. It displays immense concentration of dark fruit, sweet spices and dark chocolate aromas. I find an agreeable degree of sweetness as the thick and viscous liquid runs down the back of my tongue. It finishes with a kick of tannin on the palate that suggests it will hold well for a while. It is both muscular and refined. The balance is brilliant. A tough wine to spit!

954628 RICHARD HAMILTON COLTON'S SGM 2002 $17.95, Shiraz/Grenache/Mourv

Ť

dre, McLaren Vale, South Australia
This triple fired blend exudes notes of green peppercorn, blackberry, liquorish and caramel/toffee. Its texture on the palate is rich, quite creamy and sweet.

904839 STELLA AUREA CABERNET SAUVIGNON 2001 $18.95, Maipo Valley, Vi

Ů

a Quebrada de Macul
Holy blackcurrant batman! Enough said.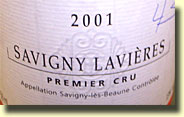 988535 DOMAINE TOLLOT-BEAUT SAVIGNY LAVI

»

RES 2001 $49.95, 1er Cru, Domaine Tollot-Beaut
This is a Pinot that puts a rise in the Levis. It is simply gorgeous. Right from the start, the ripe aromas of red currant, red liquorish, red cherry, red currant and plum combine to produce a sensual wave of pure fruit. There is a layer or two of earthy mushroom scents, but they pale. The flavours echo the fruit; it is harmonious and quite lovely.

727503 E. GUIGAL CH

¬

TEAUNEUF-DU-PAPE 2001 $54.95, E. Guigal
This nose is very tightly wound. It teases with notes of cocoa powder, red and black fruits, cinnamon and cola. The palate also gives few hints of what might develop with age. It is surprisingly lighter in texture than what I expect. The finish however, is dusty and quite thick. There is fruit to this wine, but as it is in hibernation mode right now, I don't know how much.

653006 F

…

RAUD-BRUNEL RASTEAU 2000, $23.95, Feraud-Brunel
I might be tempted to acquire a couple of these and leave the Guigal to those that seek the name brand wines. A most impressive Cotes du Rhone that's full of Dutch liquorish, milk chocolate, dark fruit and coal dust. Its structure is solid and so well balanced.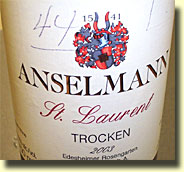 590539 ANSELMANN ST. LAURENT TROCKEN, 2003 $13.95, Pfalz, Edesheimer Rosengarten, Germany
There is a first time for everything. Not only am I going to buy German wine, it is a red wine to boot. This is my first experience with the "St. Laurent" grape, and I must confess to being more than just pleasantly surprised. It has warm and fuzzy aromas of raw macerated fruit with white chocolate and mint. The palate is quite viscous. The fruit laden finish is marred slightly by a touch of bitter wood. Well worth chilling down for that warmer outdoors season that is, hopefully, just around the corner.

708552 CHATEAU MUSAR 1997 $49.95, Bekaa Valley, Gaston Hochar, Lebanon
I have been privy to many older vintages of Musar, yet rarely have I tasted one so young. Yes 97 is young for this wine. It can, and more often than not, does age gracefully for many a decade. Right now I feel it is in an awkward stage of its evolution. It has an aroma of red fruit vinegar, not a derogatory statement by the way, marzipan, apricot, red currant and prune. Its palate is tarry and fleshy and the finish is pure red currant conserve. Although the tannin takes backstage, I really think this is a long way away from its best before date.

725895 'ONTA

—

ON' RESERVA 1998 $29.95, Rioja, Bodegas Ontanon
Once the wine is swirled around a bit it displays a nose of forest floor, spent coffee bean, toasted walnut and polished fruit. It is well balanced, the fruit on the palate is lively and the finish closes with more fruit and a taste redolent of flat cola.

Cheers
CZ

Alan Kerr's Home Page and Main Index