Alan's March 2003 Vintages Release Tasting Notes
Release dates March 8th & 22nd, 2003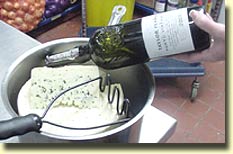 After surviving the sheer hell of this brutal and frigid winter, it was a pleasure to taste March's double-edged release. This month traditionally brings hope of warmer weather and I am happy to say it offers many great wines too. I managed to get a full ninety minutes tasting time, including the 2000 ports, which were cracked earlier in the day. I didn't taste a single white all afternoon but from what I understand, with the exception of a few, I missed little. However, I did hear good things about the 304469 SAUVIGNON BLANC 2002 $ 28.95, Marlborough, South Island, Cloudy Bay, but that is nothing new really. Cloudy Bay is only to be available in select Vintages locations, which, with the exception of one store in London, are located where the countries politicians either work or reside. Yep you guessed it Toronto and Ottawa! Oh well I wasn't planning on getting any anyway, as my money will be going on several of the wonderful reds I sampled and maybe just maybe a port or two to tuck away for a rainy day.


March 8 Release

316943 CABERNET/MERLOT 1999 $ 18.95, Niagara Peninsula, Cave Spring Cellars.


I liked this last November when the board first released it and I still feel the same way tasting it again. In fact I think the rich cassis, raspberry ripple, coffee and chocolate tones have intensified. There was still plenty of tannin too to carry for a while longer.

591404 PINOT NOIR 2001 $ 19.95, Niagara Peninsula, Lailey Vineyards.

Although this held a light and somewhat faded ruby colour, its flavour profile was quite pretty. The nose is slightly spicy, fragrant, full of perfume and violet finishing with a nice layer of strawberry and raspberry. Good varietal character. Not big by any means; in fact the nose out shone the palate. Some noticeable acidity on the finish makes it a good food wine.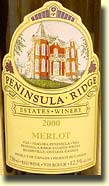 592261 MERLOT 2000 $ 21.95, Niagara Peninsula, Peninsula Ridge.


Not a typical Canadian Merlot, lots of big black raspberry, blueberry, whiffs of coffee, smoked meat, cola and dried tangerine peel. It was quite spicy too on the nose and the mid palate was mostly fruit focused. Some astringency on the finish but nothing a year or two of sleep won't soften.

421990 CABERNET SAUVIGNON 1999 $ 29.95, Sonoma County, St. Francis.


A so-so wine at a not so so-so price!

979252 CHAMBOLLE-MUSIGNY 2000 $ 51.80, Alain Hudelot-Noellat .


I was excited when the sweet nose of strawberry, cherry and stewed rhubarb arose from my glass. The mid palate was pleasing but came across as being acidic, which equated to sour cherry on the finish. It seemed like it was holding back on releasing its true potential and could be much better in a few years. I would really hope so given the steep price tag.

748814 'LES GARRIGUES' 2000 $ 14.95, 'Terroir de la Méjanelle', Coteaux du Languedoc, Domaine Clavel.


This Mini Me rendition of Copa Santa, its bigger brother due for parole on March 22nd, was a powerhouse of a wine especially considering the price. Layers of sweet mouth coating blueberry, black fruit and dusty chocolate tannin. Underneath the fruit were traces of lead pencil and other expected Southern French basics but nothing compared to what I remember from the previous vintage.

959627 CHÂTEAUNEUF-DU-PAPE 1999 $ 34.85, Château Mont-Redon.


After coming down from a Copa Santa fix, this was not the easiest wine to taste. Initially I thought it to be light and lackluster but it soon developed nicely in the glass. It was floral, showing a sweet tone of cough candy, coffee, blackberry and red fruit. Mid palate was attractive and showed great structure. An alluring hint of earth coupled with red fruit and chocolate made the finish a winner. Drinking really well in its present state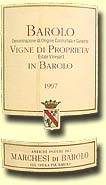 708735 BAROLO 1997 $ 69.95, Estate Vineyard, Marchesi di Barolo.


Holy Toledo Batman, just when I thought I was getting to understand Piedmontese wines, this Barolo appears in my glass. The light rust colour fooled me into believing it was old or even over the hill. The nose was intense, brimming with aniseed balls, dried apricots, red berries, cherry, cardamom seed, tobacco but no sign of tannin. Palate was lovely echoing many of the aromas plus a lovely streak of red currant with toffee and liquorish. The tannins awoke on the finish but they were gentle and still quite sleepy. I wish this were cheaper as I did like it a lot.

939397 BRUNELLO DI MONTALCINO 1997 $ 79.95, Fattoria dei Barbi.


A very dense wine. Although rough and hard as nails beneath the tough exterior I found a rich and ripe layer of chewy fruit and flavours of a wet damp forest floor. The finish offered up solid plum and mineral flavours along with some seriously gripping tannins. Should be lovely but who knows when.

978056 CHIANTI CLASSICO RISERVA 1999 $ 34.65, Podere Olmo.


Another classic, sweet aromas of coffee, truffle and violets married with dusty tannin and chocolate. All the latter teased the taste buds assisted nicely by the layer of "really ripe" red fruit.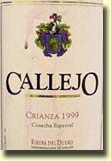 983411 'CALLEJO' CRIANZA 1999 $ 22.70, 'Cosecha Especial', Ribera del Duero, Bodegas Felix Callejo, S.A.


Absolutely stunning. A leathery nose of blackberry, oven baked blueberry pie and dark bitter chocolate. Underneath the rich fruit I hit aromas of boot polish, suntan coconut oil, and cola. The fabulous balance finish echoed the black fruit, mineral and chocolate. One solidly constructed Tempranillo.


March 22 Release

325779 CABERNET SAUVIGNON 1998 $ 38.65, Napa Valley, Clos du Val Wines.


Nothing to jump up and down or get too excited about with this wine. I actually got some funky muddy stagnant water on the nose that I did not like at all. It was also quite dusty showing a little lead pencil, currant and coffee.

943191 PINOT NOIR 2000 $ 24.80, Estate, Santa Maria Valley, Cambria Estate.
Lots of leafy, tobacco, some red fruit and cedar on the nose. Good weight, sweet fruit, flat cola and a plastic feel on the finish.

711051 ZINFANDEL 2000 $ 37.80, Rustridge Vineyard, Napa Valley, Rosenblum.


One great wine, deep ruby garnet colour with a sweet plush fruit laden nose full of ripe fleshy plum, blackberry, mushroom and eucalyptus. Just the right amount of oak and enough tannin to let it rest for a few years. Mouth coating but not over the top like I find some Rosenblum's can be.

942599 ZINFANDEL 1999 $ 26.95, Lodi, Ravenswood Winery.


Clean, simple and nicely constructed Zin. Little hot a first but there was ample blackberry fruit to mask the heat. A tough wine to pour after the Rustridge!

555599 ZINFANDEL 1999 $ 37.90, Frei Ranch, Dry Creek Valley, E. & J. Gallo.


Not impressed at all, seemed quite disjointed; layers of cedar and lead pencil masked the plumy fruit. Quite tannic and tight on the finish.

510628 SHIRAZ 2000 $ 27.90, 'Reynell', 'Basket Pressed' McLaren Vale, Australia.


I rescued a quick sip of this just as it was making its way to the sink. A well balanced and most agreeable fruit bomb with hints of floral and earth tones.

715045 CÔTE DE NUITS-VILLAGES 2000 $28.65, 'Le Vaucrain' Domaine Daniel Rion.


Lovely perfume, violet, cake spice and lavender led the way to a palate of bright cherry and plum.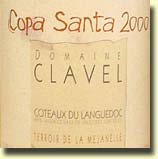 702886 'COPA SANTA' 2000 $ 23.85, 'Terroir de la Mejanelle', Coteaux du Languedoc.


This was really heavy upfront on the vanilla bean and what I perceived to be young oak. It expressed little terroir, or maybe the monster black fruit preserve aromas just masked everything else. This was not the style of Copa Santa I was expecting but I did like it and will buy whatever I can find. The huge finish offered up pepper, toffee, hints of liquorish, fruit and pure vanilla extract. I truly think this "Californian" styled wine will need time to round out.

961086 'GRANDARELLA' 1999 $ 28.55, Appassimento, Masi.


Possibly the most enjoyable Masi wine I have ever drunk. It was very different and simply delicious. The nose was that of ripe blueberry, moss, chocolate wild mushroom and black raspberry puree. The palate was equally exciting. I think I may have to make room for more Italian wines in my storage space

700872 AMARONE 1997 $ 46.65, della Valpolicella, Az. Agr. Le Ragose.


Wow, dried cherry and cranberry fruit, dark couvature chocolate, Xmas pud spice, hazel nut, rich ripe fruit and a wonderful blend of sweet fruit and silky cocoa on the finish. It would be so much more convenient if I were paid in Lire! I would by a case immediately.


The 2000 Vintage Ports

Until this afternoon I must confess to being a just in the bottle port virgin. However, with help from my friend Kirk, a local consultant, who happens to be featured in the catalogue's 'employee of the month" section, I made my way through. Kirk loves his vintage ports and tasted them three times during the day. He was kind enough to suggest in which order I should sample them.

633057 'DOW'S' VINTAGE PORT 2000 $ 77.60.


Although Dow's was the least concentrated of the group, its alcohol showed a burning sensation that was both hot and spicy. However, at the time I put this down to its youthfulness. Nonetheless the other ports did not seem to have the same harshness. The nose did show lovely blackberry, licorice toffee, black shoe polish and coffee. Lovely chewy tannin and good length to the finish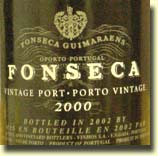 733543 VINTAGE PORT 2000 $ 117.75, Fonseca Guimaraens.


Colour reminded me of a mix of borscht and dark blackberry coulis. Fortunately that was not reflected in the flavour. Aroma of chocolate, matchstick, cake spice and plum. Mid palate was chewy but surprisingly harmonious. Chocolate on the finish was silky and so long.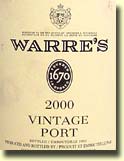 633248 VINTAGE PORT 2000 $ 77.60, Warre.


The Warres had a sweeter and softer nose, milk chocolate, mineral and flint. A layer of rich blackberry and cassis over powered the mineral components. Lot of heat on the finish.

633115 QUINTA DO VESUVIO VINTAGE PORT 2000 $ 89.00 Symington's.
Leathery liquorish aromas, lots of prune, full and very round. Finish left a taste of roasted hazelnut and was the driest of the group.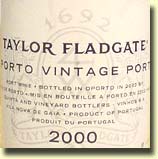 951962 VINTAGE PORT 2000 $ 126.85, Taylor, Fladgate & Yeatman.


Certainly the most complex nose of the group, Szechwan peppercorns, Asian tea leaves, fall leaves, and tobacco leaf. A monster dose of red and black fruit, thickly textured and the longest finish of the group.

F_ck_ng _m_z_ng! Anyone need to buy a vowel?

738153 VINTAGE PORT 2000 $ 58.90, Niepoort.


Based solely on QPR, this would be the port to acquire. Very dusty, mineral based nose but there was a backdrop of raspberry, blueberry, chocolate, cloves, black pepper and an enticing leafy earthiness. Well balanced and although quite tannic, it was showing well.

726885 LATE BOTTLED VINTAGE PORT 1996 $ 24.95, Traditional, Bottled 2000, Quinta de la Rosa.


Ok so this is not a vintage port but it deserves a mention. If you are worried about buying green bananas then leave the long term aging vintage stuff alone and get some of this. Maybe it lacked in intensity but it had all the character of the big boys. Rich aroma of nut, maraschino cherry, black pepper, dark chocolate, tobacco leaf, raspberry and aniseed.

Cheers,
CZ

Alan Kerr's Home Page and Main Index