Alan's June 12th and 26th, 2004 Vintages Release Tasting Notes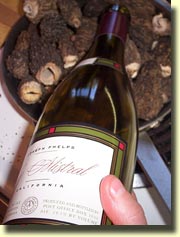 Well the bad news is I barely had an hour to taste the wines that will be available in June. The good news is that I enjoyed most of what I did try. Some even better news is that Ontario is finally making an attempt to climb into the twenty first century, by introducing a bill that would allow me, and other wine geeks, to bring wine into a restaurant, providing we pay a corkage fee. There are a number of restaurants across this province that carry mediocre wines and sell them for an overly inflated price. This simply gauges the dinner. Fortunately there are many eateries that apply a fair and reasonable mark up to their wine list, and therefore charging the consumer a corkage fee should compensate for the loss of revenue. It is of my opinion that this move will encourage the public to dine out more often, which in turn will result in an increase in food sales revenue for the restaurants.

Furthermore, as Zinfandel is so poorly represented on both the LCBO's and the Vintages' shelves, for me, this is the best news I have heard in a while. It will now be possible for me to venture into the depths of my collection and select a fine bottle to enjoy with my meal. Rumor has it that the brown bagging BYO plan could be implemented as early as this summer.



Wines from the June 12th. Release



986737 CHARDONNAY 2001 $35.95, Mitsuko's Vineyard, Napa Valley, Clos Pegase.
The principal aromas of this appealing and spicy nose are cinnamon and almond. There is a decent concentration of apple and tree fruit on the palate. It seems low in its degree of acid and its finish is creamy.

989152 CHARDONNAY 2002 $17.95, Santa Barbara County, Santa Barbara Winery.
This has more allure to me, given it is half the price of the Clos Pegase. Its nose is composed of canned pineapple, melon, kiwi and coconut, with the latter nuance being maybe a trifle over the top. It is fairly full on the palate with crisp acidity and a touch of sweetness on the finish.

948620 SAUVIGNON BLANC 2003 $12.95, 'Coastal Cellar', WO Coastal, Graham Beck, South Africa.
There will be a more than just a few bottles of this wine going in and out of my fridge this summer. At first, I note a muddy earthy tone to the nose, but the honey, citrus, apricot and under ripe melon aromas quickly take center stage. It is refreshing; it has good concentration of clean fruit flavours and carries a long finish especially given the price.

350827 MEURSAULT 2002 $37.95, Chartron et Trébuchet.
This has a tempting bouquet that features mineral, gravel, fig, peach and pear. It is ripe and chewy on the palate. The finish is well balanced and quite long.

189795 CABERNET SAUVIGNON 2001 $84.95, Napa Valley, Joseph Phelps.
The bottle of Phelps "Insignia", also on this release, was drained by the time I arrived, but I did get to try a sip of its baby sibling. It is heady and concentrated. The balance of dark currant, blackberry and oak is superb. It has teasing aromas of tobacco, mineral and cocoa that elevate this from being just another high priced fruit bomb. Its finish is rich and chewy and shows a high degree of tannin.

671156 'LE MISTRAL' 2000 $39.95, California, Joseph Phelps Vineyards.
It is too bad that this wine is seriously overpriced. A quick scan at wine-searcher.com shows retailers south of the border offer the same wine from $15.95 US and up. It's full of blackberry fruit, Dutch salty liquorish, cake spice and milk chocolate. It lingers long on the palate showing a creamy finish of vanilla, coffee and ripe berries. It is a blend of 46% Syrah, 22% Grenache, 10% Mourvèdre, 6% Petite Sirah and 6% Alicante Bouchet.

700815 SHIRAZ 2002 $19.95, Bendigo, Victoria, Water Wheel Vineyards.
This has an almost Port - like aroma of dark chocolate, blackberry pie and stewed plum. It exhibits a rich fruit laden mid palate enhanced with a little kick of mint.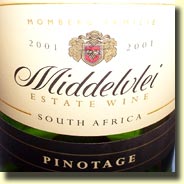 977819 PINOTAGE 2001, $16.95, Devon Valley, WO Stellenbosch, Middelvlei Estate, South Africa.
Here is a fruit - loaded Pinotage that ejects aromas of shoe polish, toffee, red raspberry, blackberry puree and cream soda. Its finish is full of lively and refreshing black fruit acidity and lasts for quite some time.

938720 CARMENÈRE RESERVE 2002 $14.95, 'Terrarum', Maipo Valley, Viña Morandé.
The rich and forward layer of plum, currant and violet on the nose is trodden by the overpowering degree of sweetness on both the palate and its finish.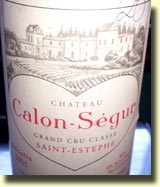 746313 CHÂTEAU CALON-SÉGUR 2001 $69.95, St-Estèphe.
Although still youthful, this wine is a pleasure to drink right now. It's packed with dark cherry and currant that are well supported with hints of mocha, thyme, lead pencil and wet stones. The balance is stellar and the finish is packed with mineral and ultra ripe fruit.

937474 SAINT-JOSEPH 2001 $29.95, 'Offerus', J.L. Chave.
This is clearly so much better than the vintage 2000 released last year. It has a nose of spicy mustard greens, black cherry, blackberry and morel mushroom. It is fruit focused on the palate and carries excellent composure right through to the finish.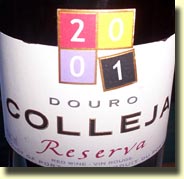 627224 'COLLEJA' RESERVA 2001 $16.95, Douro, Vinhos do Douro Superior, Portugal.
A sweet little wine that is full of black fruit candy, pepper, flint and black cherry. It is a bit of a fruit bomb; it is also tannic, but full of interesting earthy flavours.




Wines from June 26th



304469 SAUVIGNON BLANC 2003 $31.95, Marlborough, Cloudy Bay.
I am happy to see Cloudy Bay employing the use of a screw-top enclosure, rather than a cork. I remember opening a bottle of said wine in a hotel room in Detroit only to find it was horribly corked. And of course the store at which we had acquired it, barely an hour before, had closed by the time we went to return it. Fortunately this bottle is full of intense citrus fruit, melon, yellow plum, Key lime pie, parsley, cilantro and Thai basil aromas. It is full-bodied, clean and has some spicy heat on the palate.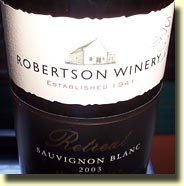 933085 SAUVIGNON BLANC 2003 $11.95, 'Retreat', WO Robertson, Robertson Wine, South Africa.
This nose is redolent of arugula, lime Jell-O, fig and lime peel. It is lower in acid than I would normally expect from a Sauvignon Blanc and actually finishes with a creamy note, but given the price, I will stock up on this.

627976 CHABLIS PREMIER CRU 2000 $34.95, Montmain, La Chablisienne.
Here is another delicious wine that has an aroma of freshly baked pear tart with a back up of mineral, smoke and citrus. The finish is beautiful, it's clean and lingers long.

942151 ZINFANDEL 2001 $27.95, Sonoma County, Seghesio.
This gives me a warm and fuzzy feeling in my mouth. It is sweet, but far from cloying, full of black raspberry, blackberry jam, cherry cola and pretty notes of sage and root beer float. I know it sounds more like pop than wine, but all in all it is a pleasing glass of wine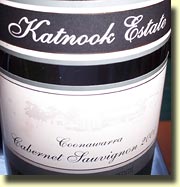 590471 CABERNET SAUVIGNON 2001 $29.95 Coonawarra, Katnook Estate.
This is divine; its intense aroma of cassis and blackcurrant is supported by mineral elements, leather and cardamom seed. Its structure is solid and lasts right through to the finish. The balance is brilliant and there is just enough tannin to allow this to hold for a year or so.

717256 CLOS TRIGUEDINA 2000 $26.00, Cahors, Jean-Luc Baldès, Triguedina.
Holy ink spot, Batman! There is no other way to describe the colour of this wine other than to say it is black. The nose presents an array of black cherry, blueberry, plum and lavender. Its palate concurs with the intensity of the nose. It is rich and chewy and full of red liquorish, iron dust, fruit compote and dry bakers chocolate. This is one to put away for a while.

994616 MONTEPULCIANO D'ABRUZZO 2000 $14.95, Abruzzi, 'Tatone', Terra d'Aligi.
This silky and sleek wine hits me with a blast of blackberry fruit united with leather, anise seed and plum. It is simple yet elegant in its own way. It is a most pleasant wine at this price.

923664 BAROLO 1998 $59.95, Giacomo Borgogno & Figli.
I am struggling to find friendly descriptors for this somewhat dried out and tannic Barolo. Its colour shows age. It's light ruby to brick red and its viscosity is quite wishy-washy. It has an interesting nose of liquorish, stewed plum, thyme and cocoa. However, all I can get on the palate is some cherry, a steel bitterness, clove and dry tannin.

964221 'LE VOLTE' 2001 $23.95, Toscana, Tenuta dell'Ornellaia.
This is a fine example of wonderfully blended Euro terrior and fruit. It radiates dark silky chocolate, coffee, moss, wisps of cured meat and bushels of freshly picked raspberries and blackberries.

Cheers,
CZ


Alan Kerr's Home Page and Main Index