Alan's June 25th & July 9th, 2005 Vintages Release Tasting Notes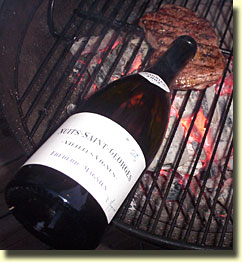 July's release offers several treats, particularly some impressive and well-priced reds from Portugal, a few revering roses and one or two to cellar. One of the wines of the month is really rather tasty. It hails from the Okanagan, making me think I might want to go back sometime this summer to further explore the Valley. And of course there are some wines that are conducive to summer sipping while sparking up the Barbie!



Wines released on June 25th


989269 JACKSON-TRIGGS 'DELAINE VINEYARD' CABERNET/MERLOT 2002 $29.95, Niagara Peninsula
I am always impressed with the fruit from the Delaine vineyard, a plot of land that takes it name from J.T's. co-owner Donald Triggs and his wife Elaine. 2002 turned out some super ripe fruit in Niagara and this bottle confirms how good these wines can be. Right now it is full of dark fruit, coffee, vanilla, black olive and tobacco. Although it is quite approachable now, I think this will lie down for years to evolve into a stunner.

922286 JACKSON-TRIGGS 'DELAINE VINEYARD' PINOT NOIR 2002 $24.95, Niagara Peninsula
At first I find a lovely layer of black cherry fruit, a touch of blackberry and chocolate. It is pure Pinot across the palate. On the finish, there appears a slight bitterness from the tannin that over powers the fruit. Again, I think time will allow this aspect to soften.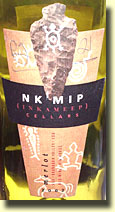 626416 NK'MIP CELLARS MERLOT 2002 $16.95, Okanagan Valley
Nk'Mip Cellars is located in the Southern stretch of the Okanagan Valley and having traveled this barren and sun baked region last year, I wish this winery had been part of my itinerary. It is fairly full bodied, packed with plum, currant and blueberry fruit. It has a hot dusty warm climate finish that carries the fruit along with it. As it is the wine of the month, there will be plenty to go around.

677534 AU BON CLIMAT PINOT NOIR 'LA BAUGE-AU-DESSOUS' 2001 $44.95, Santa Maria Valley
This punchy wine has an alluring nose of ripe strawberry, dark cherry and leather, combined with great structure and balance. The finish is silky, pure and unadulterated. A great wine.

961797 CHATEAU MAZERIS 2001 $27.95, Canon-Fronsac, Bordeaux
I know this bottle has been open for at least three hours, but it seems to be drinking nicely right now. It gives pleasing aromas of berry fruit, a touch of crimini mushroom and forest floor. There is a buttery texture on the palate and the finish carries good length.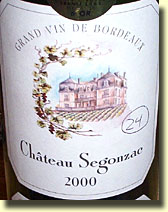 653709 CHATEAU SEGONZAC 2000 $32.95, Premi

è

res C

ô

tes de Blaye, Bordeaux
The nose here is somewhat tight as it struggles to liberate notes of hay/ underbrush, wet fur, coffee and blackcurrant. It appears on the palate to show nice fruit, yet the degree of tannin on the finish suggests resting time is of essence.

981175 DOMAINE DE LA MADONE BEAUJOLAIS 'LE PERREON' 2003 $13.95
A cheap and cheerful Gamay that is medium bodied, with nice floral, damson, plum and peppery notes. A perfect distraction as the burgers burn.

586859 REN

É

BOUVIER MARSANNAY LONGEROIS 2002 $44.95
Judging from the rave reviews the Vintages tasting panel awarded this wine, they just may be some serious bottle variation amongst this shipment.

They say "A terrific Marsannay Pinot Noir. The deep colour leads to a nose of black cherry, black raspberry, beetroot, chocolate and smoky wood tones. Dry, rich, ample and ripe. A truly tremendous wine. "

I say. "Dark ruby colour, a nose of cooked beet and old damp wood. The fruit tastes stewed and somewhat acidic. The finish is bitter focusing on lead pencil and red currant". Go figure, huh?
586826 FREDERIC MAGNIEN NUITS-SAINT-GEORGES 2002 $49.95, Vieilles Vignes, Burgundy
Wow, stand back, this nose is explosive. It is filled with gorgeous whiffs of violet, cedar, liquorish, plum and mocha butter cream. The palate is ripe and seductive while the finish echoes all the fruit, further complimenting it by donating a layer of silky milk chocolate. Fabulous Pinot.

592659 LA BUXYNOISE PINOT NOIR 2002 $16.95, Burgundy
This is hard to evaluate after the magnificent Magnien, but it should not be over looked. It is of course much lighter in style, yet all the persona of Pleasing Pinot is found. Clean, sweet red berry based fruit and nice acidity on the finish.

319376 MAS CHICHET ROSÉ 2004 $12.95, Vin de Pays de C"tes Catalanes, Midi
Time for some summer Rosé! This is pleasant and priced not to break the bank. It has pretty aromas of rose petal, candy floss and fruit Kool Aid. The palate has a touch of sweetness that seems to dominate the low fruit finish.

590547 'PRAZO DE RORIZ' DOURO TINTO 2003 $19.95, Douro, Portugal
Here is a concentrated nose of brambleberry, liquorish toffee and blueberry. It is soft, but chewy on the palate. The acids are fine and balance the slightly sweet component I find on the finish.

933101 QUINTA DE LA ROSA TINTO 2002 $19.95, Douro, Portugal
It is tough to decide which is better, this or the Prazo de Roriz. The one currently in my glass has better structure and the depth of fruit is seemingly more concentrated. The finish has layers of blackberry, blueberry and coffee. Looks like I like this a little better.

680934 BAJOZ ROSADO, 2004 $10.95, Toro, Spain
Once again, it's back to the summer wine, and here we have a glass that exudes strange, but pleasant aromas of arugula, dandelion, thyme and red fruit candy. It is medium bodied; the palate has decent fruit and lots of mineral and herbaceous flavours.


Wine to be released on July 9th


655092 CHATEAU DE FONBEL 2001 $32.95, Saint

É

milion Grand Cru
Vintages is releasing the 2000 and 2001 vintages of this wine.
The 01 offers aromas of plum, cedar, mocha and an enticing layer of dark blackcurrant. It is far from being a well-structured wine, yet it is balanced and drinking quite well, even at this early stage of its life.

655100 CHATEAU DE FONBEL 2000 $42.95, Saint

É

milion Grand Cru
Ten more bucks get the same proprietary juice, only this is from the legendary and highly touted 2000 vintage. It certainly exhibits more guts and structure than its younger bro. The quintessential Bordeaux trait of forest floor, lead pencil, wet leather and a dollop of poo currently mask the fruit. It has a creamy mid palate that shows some pleasing blackcurrant and plum. This is certainly made to last longer judging from the slightly tannic, finish of dark bitter chocolate and the tightly wound flavours.

652313 CHATEAU PESQUI

É

'LES TERRASSES' 2002 $14.95, C

ô

tes du Ventoux
This starts with a nose of moss, black pepper, wet soil, dark fruit and Asian spice. It lacks oomph on the palate and the finish is a trifle hot.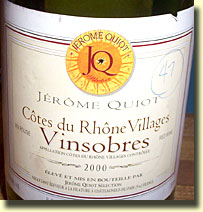 728873 JEROME QUIOT VINSOBRES 2000 $17.95, C

ô

tes du Rh

ô

ne Villages
Another strange nose, only this one bears mud, coffee grounds, blackberry and green peppercorn. The fruit stands out on the palate although there is a note of stemminess on the finish.

319384 PRESQU'

Î

LE DE ST-TROPEZ 'CARTE NOIRE' ROS

É

2004 $12.95
C

ô

tes de Provence
Another agreeable summer sipper full of red berry aromas and floral notes. It is chunky on the palate and it carries slight degree of sweetness with a toffee textured finish.

219840 CHATEAU BELLEVUE LA FORET ROS

É

2004 $12.95, C

ô

tes du Frontonnais
For the last of the summer wine, this Ros

é

, in my opinion has the best balance. It has good fruit flavours, a crisp mid palate and a desirable touch of sweetness.

987586 ANTINORI SOLAIA 2001 $169.95, Tuscany
An aromatic nose of chestnut, truffle, pinecone and plum. It shows surprisingly light on the palate, while the tannins on the finish are barbaric, totally overwhelming anything that closely resembles fruit. Lay this away for a long time.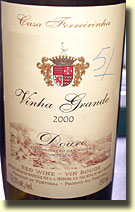 559526 CASA FERREIRINHA VINHA GRANDE 2000 $16.95, Douro, Portugal
This meaty/fleshy wine really makes a point of bearing its wares right now. It is laden with mineral, Thai basil, dark fruit and spicy oak. After its fifth year the tannin is taking on a velvety texture, the acids are soft and the fruit hits top gear as it motors through the finish. Really tasty stuff.

357962 J.M FONSECA QUINTA DE CAMARATE 2001 $13.95, Vinho Regional Terras do Sado, Portugal
Another well priced Portuguese quaffer, this time with a nose of cooked beet, lavender, hay, strawberry and red currant. The palate is balanced and pure. The finish is creamy and slightly sweet. Good for the money.

Cheers
CZ

Alan Kerr's Home Page and Main Index