Alan's July 10th and 24th, 2004 Vintages Release Tasting Notes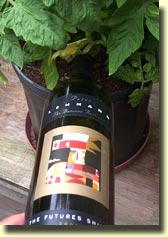 I made a comment last month on the joyous news that Ontario's wine drinkers would have the chance to enjoy the privilege of "BYOBing" at their favourite eateries. Unfortunately it looks like my celebration was premature. Ontario's parliament will not look at the bill, never mind pass it, until, at the earliest, the fall. Each political party of course blames one another for the delay. It is so annoying having a carrot dangled in front of ones face only to have it yanked away at the last second.

July's Vintages publication does bring better news. It is not a great release, great wines are in limited quantity, but there are a few worth seeking out. One of the best reds I tried is Canadian. France, Italy, Australia and Portugal all have a couple of solid contributions. I tried the wines from Lebanon and Georgia and that's all I have to say about that! I do like to "whine" when Vintages prices are considerably higher compared to those in the US. However, there is a wine that is priced really well in contrast with the US market released on the 10th. The 2000 Geyser Peak Sonoma Cabernet Reserve is a deal at $22.95. Unfortunately I did not get the chance to taste it, but I might just grab some when it comes out.



White wines from July 10th


981662 RIESLING 2000 $21.95, Alsace, 'Les Princes Abbés', Domaines Schlumberger
This offers a trace of petrol aroma combined with rose petal, lemon seed and apple. It is well balanced on the mid palate and reflects the flavours on the nose. The finish is long, crisp, and in fact quite tart. Good stuff!

723007 DOMAINE DE FUSSIACUS 2001 $27.95, Pouilly-Fuissé, Vieilles Vignes, Jean-Paul Paquet
Beneath the primary aroma of baked pear and apple, I found a pleasing layer of mineral and flint. It is low in acid, but not at all flabby. Although the fruit is subtle, it takes control right through to the harmonious finish.

617415 SAINT-AUBIN 2002 $39.95, 'La Fontenotte', Domaine Marc Colin et Fils
The aroma here is like having a dessert combination of hot baked pear flan and a slice of tart au citron. The buttery mineral quality and solid citrus fruit flavours make this an interesting wine.

699942 SANCERRE 2003 $23.95, Domaines des Buissonnes
I find the nose of spearmint and canned green bean unappealing. It too is low in acid and has a slight bitter/metallic taste that overwhelms the pretty citrus and apple based fruit.



Some red wines from the British Columbia release July 10th


545012 PINOT NOIR RESERVE 2002 $17.95, Okanagan Valley, Mission Hill
Here is a well-priced wine that boasts aromas of cooked black cherry, fruit compote, plum and strawberry. A Secondary layer shows hints of earthiness combined with tar and pepper. Its flavour profile is pretty and really focuses on the fruit. I note some degree of tannin, but I could enjoy this tonight!


643460 MERITAGE 2001 $24.95, 'Proprietors' Grand Reserve', 'Okanagan Estate', Jackson-Triggs Okanagan Estate
This is about as concentrated and dense as any Canadian wine I have drank in a while. Its nose exudes aromas of blackcurrant, blackberry, licorice root, coffee grounds, roasted meat, forest floor, lavender and cherry cola. Its balance nears perfection. It is full of dark chocolate tannin and needs some time in the cellar. Really good stuff.

530717 CABERNET FRANC 2001 $18.95, Okanagan Valley, Tinhorn Creek
This is clearly too funky for my taste. The nose has an odd combination of earth, damp wood, dried leaves and coffee. There is a little fruit on the palate, but the finish closes with dried herb and pepper.



Red wines for July 10th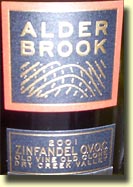 603696 ZINFANDEL 2001 $29.95, OVOC, Dry Creek Valley, Sonoma County, Alderbrook
This wine is full of plush ripe, sweet berry/blueberry coulis, blackberry and vanilla. There is a fair amount of tannin to its structure. The degree of acidity is refreshing. Again a year or two downstairs and this will be quite lovely. OVOC in case you were wondering stands for Old Vines, Old Clones.

606780 'THE FUTURES' SHIRAZ 2001 $29.95, Barossa Valley, South Australia, Peter Lehmann
I really would love to describe the wonderful merits of this wine, but this time I really did lose my notes. Trust me when I say it is a great bottle of wine and I will be picking some up.

994392 CHÂTEAU LA CHAPELLE MAILLARD 2000 $19.95, Bordeaux
I can't find the "plethora of aromas" as documented in the Vintages catalogue. In fact the nose is really light and seems to lack the expected fruit. It is simple and clean, showing flavours of plum and dark chocolate.

743377 CHÂTEAU LES CABANNES 2001 $24.95, St-Émilion
This is drinking quite well already. It shows some sweet blackberry fruit, roasted coffee bean and chocolate raisins. It is light, but by no means lean. The balance is fine and the finish is clean. Hey, a budding poet in the works! (Editor's note: don't give up your day job, Mr. Kerr.)

731380 CHÂTEAU ROUSSET GRANDE RESERVE 2000 $19.95, Côtes de Bourg
If I am to buy Bordeaux this month, this will be it. The aromas of cigar box, green leaf, cassis and bitter chocolate are quite fulfilling. Right now, the mid palate seems lighter than it should be, but the warm and fuzzy fruit kicks in on the finish.

949222 'CUVÉE DES ARDOISES' 2001 $15.95, Château des Erles, Fitou
This mid priced Midi radiates aromas of mint, thyme, coal dust, sweet cherry and strawberry. It is medium to full bodied, quite tannic and very long in the finish.

955666 'NECTAR' LE GRAND CROS 2001 $19.95, Côtes de Provence, Domaine du Grand Cros
This fruit driven wine has a creamy texture; it is spicy and also packs a whack of tannin. The fruit is mostly plum and black currant. Its chewy texture lasts right through the lengthy finish.

729962 CÔTES-DU-RHÔNE 2001 $16.95, 'Saint-Esprit' Delas Frères
Most of my top value wines this month do seem to hail from France. This one is full of red licorice, red cherry, lead pencil and green peppercorn. It shows a light level of tannin and the degree of acid is perfect.

971689 AGLIANICO DEL VULTURE 2000 $22.95, Basilicata, 'Donato d'Angelo'
This thick and viscous wine has a heady nose of an acceptable level of acetate, combined with sweet maraschino cherry, cigar leaf, mushroom and blackberry. It is quite lovely on the palate as the fruit is allowed to shine through. Although I enjoy drinking it now, I think with time it will only improve.

617456 'MAS LA PLANA' 1998 $39.95, Cabernet Sauvignon, DO Penedès, Miguel Torres
Another chunky wine laden with aromas of sage, Thai basil, rich ripe blackberry and dark fruit jam. There is also a healthy dose of oak. On the palate there is a meaty texture, but sweet fruit does shine. It is opulent and racy. It is a wine that does need time as oak and tannin dominate the finish.



White Wines for July 24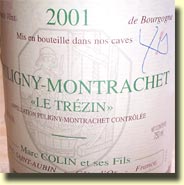 617407 PULIGNY-MONTRACHET 2001 $68.95, 'Le Trézin' Domaine Marc Colin et Fils
Once this opens up, it displays a multidimensional nose of ripe melon, pear, guava and white peach. There is a layer of spice and earthiness that lurks beneath the fruit. The amount of oak administered is perfect allowing a faint tease of vanilla to peak through. The mid palate is harmonious and nicely balanced. The finish shows ripe fruit and stone. A lovely bottle of wine that I think will only get better if it sits for a few years.

700542 'DOMAINE DU TREMBLAY' 2003 $18.95, Quincy, Cuvée Vieilles Vignes, Jean Tatin, Loire Valley
Another well balanced French wine that offers tempting aromas of stony mineral, laurel leaf and white peach. It appears dry on the mid palate as the fruit really opens up, yet the finish comes across as being slightly sweet.

626556 SAUVIGNON 2003 $10.95, Touraine, de Neuville
This is possibly a candidate as the deal of the month. If it has a fault, it comes across as being a little fat. However, the melon and peach aromas carry right across the palate to combine with citrus notes on the finish.

699900 MOSCATO D'ASTI 2003 $16.95, 'Ceirole', Az. Agr. Villa Giada
I really enjoyed the fresh aromas of lavender, candied lime, and nasturtium flowers. It has a lively mid palate that jumps between tingling acidity, spritzyness and a perfect amount of residual sweetness.

640797 'FRANSOLA' 2002 $24.95, Sauvignon Blanc, Penedès, Miguel Torres
This full-bodied Sauvignon Blanc pours out aromas of baked bread, cut grass, arugula and cress. It is well rounded, has good balance and finishes long.



Red wines for July 24th


606715 CABERNET/MERLOT/PETIT VERDOT 2002 $15.95, Mildura, Victoria, Zilzie
This is far from the sweet and plush Ozzie wine one often finds for this price. 'Zilzie's' aroma has a blend of salt licorice, seaweed, flint, blackberry, stewed rhubarb and coffee. It is medium bodied, has good acidity and decent length to its enjoyable finish.

732115 CHÂTEAU RAMAGE LA BATISSE 2000 $34.95, Haut-Médoc, Cru Bourgeois
To me, classic Bordeaux has a mix of lead pencil, leather, mineral earth and leather mixed in with a massive layer of ripe rich red and black fruit. This has all that. Its balance is superb and the tannins suggest time will be a factor.

951848 'SYRAH SIRRAH' 2002 $15.95, Domaine des Blagueurs, Vin de Pays d'Oc, Bonny Doon
At first I found the nose to be shut down, but it soon opens to offer creamy root beer, smoked bacon, blackberry and beet root. It is full on the mid palate and perhaps a little fat on the finish.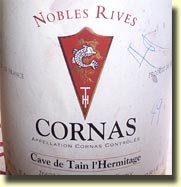 972117 CORNAS 2000 $35.95, 'Nobles Rives' Cave de Tain l'Hermitage
Although this is a generic cooperative wine, I really think it gives good value for the appellation. There is ample blackberry, cassis, tar, pepper, and licorice root on the nose. The mid palate is tight and almost astringent showing cooked raisiny fruit and bitter chocolate tannin. Give this time and I think it should be quite lovely.

928440 DOLCETTO 2002 $21.95, Dolcetto d'Alba, Pio Cesare
This nose is full of dark fruit, dried lavender, raspberry ripple, milk chocolate and pepper. Most of these aromas are noticeable on the tongue. The fruit is mostly plum and it finishes with more chocolate and chalky tannin.

617449 'CYGNUS' 2001 $28.95, Sicily, Tasca d'Almerita
I would pick this to be an Australian wine. Its profile features sweet spearmint, blueberry coulis and blackberry jam with secondary notes of eucalyptus, sage and thyme. The acids are precise; the flavour shows mostly cherry and dark fruit. I love it except for the noticeable metallic quality it leaves on the back of the tongue. I will try this wine again.

726463 'VIGORELLO' 2000 $59.95, Toscana, San Felice
This wine initially shows an intense layer of sweet oak with lots of currant, dark fruit and chocolate lurking behind the cloak. The heavy oak does subside as the wine sits in the glass. It is a very tannic wine that will require several years of slumber.

603761 'TRÊS BAGOS' 2001 $17.95, Douro, Lavradores de Feitoria Vinhos de Quinta
Last, but by no means least, here is a dense nose full of game, leather, salted meat and a nice mix of red and dark fruit. It comes across on the palate as dusty and full of mineral flavours, but the fruit, mostly plum, cassis and cherry does control the finish.

Cheers,
CZ


Alan Kerr's Home Page and Main Index