Alan's July 2002 Vintages Release Tasting Notes
Release dates July 6 and July 20, 2002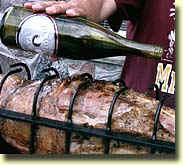 The combination of Chicago blues, booze and Bree's Ridge bash in California got the better of me last month and consequently I missed the tasting for June. Well this month I am back but unfortunately I am sad to report there is little to get excited about in July's release. As usual I was pushed for time to taste all that was sent to London but thanks to the crew assembled, I was able to steer clear of most of the nasty stuff and maneuver my glass to the better picks of the bunch. There were several nice reds from Chile, good summer sippers from Southern France, Spain and Portugal and one or two stunners from California. I chose to bypass the fruit wines, as I am not fan, and ran out of time to hit most of the whites. In case you are unaware, Vintages now splits the release in half making them available on two separate dates.
July 6 release.
349746 CABERNET SAUVIGNON 1997 $ 19.95, Barrel Select, North Coast, Fetzer.
Quite a lot of upfront blackcurrant jammy aromas. Hints of forest floor and walnut shell are just below the aromas of the fruit. Oak was on the sweet side. Not a bad wine for the price but the fruit seemed to fade quickly leaving a touch of astringency on the slightly tannic finish.
732503 ZINFANDEL 1999 $ 28.40, Amador County, Ravenswood.
Deep ruby/garnet colour, lovely sweet aromas of ripe plum, caramel, red currant and raspberry coulis. Sweet spice and red fruits were the principal flavours. Excellent balance, full bodied and a pleasure to drink.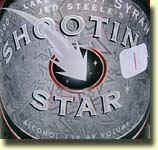 729715 SYRAH 2000 $ 24.70, 'Shooting Star', Lake County, Steele Wines.
This was possibly one of my favourite wines of the day. Lovely rich deep purple/inky colour, aromas of black toffee candies, layers of licorice, fennel seed and plum. All of these aromas echoed on the palate along with a dollop of ripe rich blackberry fruit. The long finish was rich and full of dusty tannins, pepper and pure fruit. Just the perfect wine to accompany a couple of lambs on the Barbeque.
975177 MERLOT 1999 $ 17.95, Limestone Coast, Heathfield Ridge, Oz.
There was a debate as to whether or not this wine was corked. I sided with those that thought it was not but nonetheless; there was something unpleasant about it. Initially, there was a noticeable touch of mustiness to the nose but an overblown mint character soon overshadowed that. Some pleasing flavours of cherry and redcurrant but the bitter finish overpowered them. Possibly a flawed bottle
598128 SHIRAZ 2000 $ 16.95, South Australia, Barossa Valley Estate.
A wine of the month that I enjoyed! Pinky purple colour, quite viscous on the palate exuding flavours of black raspberry, red currant and mint. Good length and refreshing acids.
746651 MERLOT RESERVE 2000 $ 16.75, Casablanca Valley, Viña Casa del Bosque, Chile.
Dark and dense in the glass. The sweet aromas of blackberry and raspberry gave way to some pleasing milk chocolate and mineral tones. Quite full on the palate, little tarry, clean acidity with a touch of bell pepper on the finish. Good stuff. Maybe needs a little time for the fruit to really focus.
950154 PRIVATE RESERVE 1999 $ 18.65, 'Last Edition', Maipo Valley, Viña Tarapacá, Chile.
Another really dark thick wine throwing out aromas of prune, leather, chocolate, plum and a faint touch of cracked black pepper. Quite rich, plush and chewy in the mouth. Layers of blackcurrant and blackberry were forward but there were hints of mushroom and game that carried well into the finish. I tried this twice and my only negative point was the finish dropped of sooner than I expected. However, a good wine indeed.
981118 CHÂTEAU CRUSCADES HORTALA 1998 $ 10.95, Corbières, France.
An affordable wine, best bought in large quantities to be opened whenever need arises. There were tons of blackberry, blueberry and redcurrant flavours all packed into this very drinkable wine.
983643 CHÂTEAUNEUF-DU-PAPE 1999 $ 32.80, Domaine Lucien Barrot et Fils.
Med to full bodied, juicy and ripe. A lovely mélange of plum, pepper, lavender and red berries. Quite tannic in its current state but judging from the long and chewy finish, it should be lovely in a year or more.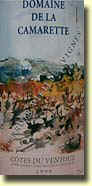 991976 DOMAINE DE LA CAMARETTE 1998 $ 15.95, Côtes du Ventoux, Christiane & Pierre Gontier.
This wine should carry a warning label advising the purchaser not to remove the contents from the bottle for years. All of my previous encounters with wines from this appellation have been simple but good value wines that I figured are best consumed in their youth. This was certainly an exception. Almost black in the glass, packed with layers of plum, cherry, blackberry, chocolate, morels and pepper. Oddly enough, it shut down on the mid palate just before the massive concentration of tannin exploded on the finish. If the fruit can outlive the tannin, this will be a classic especially given the price tag.
728469 DOMAINE SAINT-DAMIEN 1999 $ 24.60, Gigondas, Povidis.
Dark garnet colour, some sweet cake candy aromas, pleasing cherry, plum and damson flavours. Well rounded with a decent finish.
988477 LIRAC 1999 $ 17.85, Domaine Duseigneur.
Not sure about this one. A touch of must on the nose and a "nail polish remover" edge as well. Flavours were mostly that of coffee, rhubarb and sour cherry. Not my fav of the day for sure.
972695 CHIANTI CLASSICO 1997 $ 23.95, 'Panzano', Castelli del Grevepesa.
Lots of dusty cloves, cinnamon spice and tobacco leaf on the nose. Sweet red berry and blackberry flavours mixed well with the lively acids. Still quite tannic, but very pleasant.
707208 'SASSELLA' RISERVA 1996 $ 21.80, Valtellina Superiore, Cantine San Carlo.
The catalogue lists this as a "Vintages discovery" but I have been buying this wine from them for years. This mostly Nebbiolo based wine has always offered a solid wine than can age quite well. Complex bouquet of red berries, blackcurrant, tar, cloves and mineral laden soil. The fruit took over on the palate to show lovely blackberry, currant and fresh raspberry notes. Earthy white peppercorns and blackberry on the finish. Good Juice.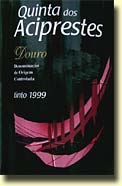 703561 QUINTA DOS ACIPRESTES 1999 $ 19.95, Douro, Companhia Velha, Portugal.
Nice dark garnet colour, hints of plum, berries, sawdust and a tiny touch of poo on the nose. Medium to full bodied, fruit became really focused on the mid palate and carried well into the long finish. I really was impressed with this wine.
29728 'CORONAS' 2000 $ 11.50, Tempranillo, Catalunya, Miguel Torres, Spain.
A bargain basement wine full of coffee, dusty chocolate, blackcurrant and raspberries. Buy lots!
July 20 release.
557272 MERITAGE RESERVE 1998 $ 16.95, Niagara Peninsula, Inniskillin, Ontario.
A solid wine at a reasonable price that exhibits the concentration and depth of flavour that Niagara wines are capable of producing. Its nose was full of smoke, game, tobacco, cocoa powder, cedar, lead pencil and black fruits. The lovely mid palate opened up the blackcurrant and berry components. I did detect a green tea element on the finish that did leave a slight bitter taste but I was alone on that assessment. Well worth putting a bottle or two away for a while to see what how they evolve.
732735 CABERNET SAUVIGNON 2000 $ 21.65, McLaren Vale, Dowie Doole, Oz.
Full of charming and fully mature fruit flavours, perfect acidity and a good long finish of blackberry, mint and blackcurrant.
746693 CABERNET SAUVIGNON RESERVE 2000 $ 16.75, Casablanca Valley, Viña Casas del Bosque, Chile.
Not a fan, overblown with essence of cassis and hints of minty mouthwash.
960542 CARMENÈRE RESERVA 2000 $ 14.90, Colchagua Valley, Viña MontGras, Chile.
Deep red ruby colour, hints of barnyard/straw flowers and fruit. Sweet blueberry and cherry on the palate with a touch of mint on the finish.
728097 'QUE SERA SIRAH' 1999 $ 11.60, Syrah, Vin de Pays d'Oc, Paul Mas.
Another decent quaffer that is well priced. It had that fuzzy texture and it was full of cherry and sweet blueberry flavours. A Light clean finish and drinking well.
738278 DOMAINE FORCA RÉAL 2000 $ 14.40, Côtes du Roussillon Villages, J.P. Henriquès.
Deep ruby/purple glaze, quite thick and silky, hints of garrigue, and Provencale herbs coupled with dense raspberry and plum aromas. Touch of licorice mixes with the clean fresh fruit flavours. Nice stuff.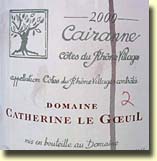 973008 CAIRANNE 2000 $ 15.80, 'Cuvée Léa Felsch', Côtes-du-Rhône Villages,

Domaine Catherine le Goeuil.
Looks like most of my money on this release is going to support the winemakers of the Southern departments of France. I really enjoyed the balance and structure this wine offered. Pure fruit driven nose, touch of game and lavender. Rich and chewy on the palate with flavours of blueberry, plum and black raspberry.

953703 MOSCATO D'ASTI 2001 $ 15.95, DOCG, 'Bricco Quaglia', La Spinetta - G. Rivetti, Vitic.
I wish more of my friends appreciated Moscato as I love it as an aperitif but two glasses is enough so I rarely open a bottle. Slightly sweet, spritzy just like drinking an apple/peach slushy with attitude.

598136 CHARDONNAY 2000 $ 15.95, Barossa Valley Estate, Oz.
I did like the July's red wine of the month but this tropical two by four did little to impress me. Pineapple, kiwi lingered on the palate but were quickly over shadowed by the oak.

430546 SAUVIGNON BLANC 2001 $ 13.95, Niagara Peninsula, Henry of Pelham, Ont.
This was pleasant wine but the memory of the fabulous 2000 bottling lingered longer than the fruit from this vintage. It was decent with all the elements of grapefruit, candied lime peel and tart fruit one expects from Sauvignon Blanc but it was light to med bodied at best and the finish left too soon.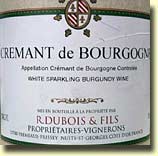 957746 BLANC DE BLANCS BRUT 2000 $ 17.35, Crémant d'Alsace, Jean Geiler.
A Nice crisp clean and pleasing sparkler with lovely apple, pear and peach notes that danced across the palate. Little toasty and just fine for a hot afternoon before the Barbie.
Cheers,
CZ
Alan Kerr's Home Page and Main Index