Alanís
January 8th and 22nd, 2005 Vintages Release Tasting Notes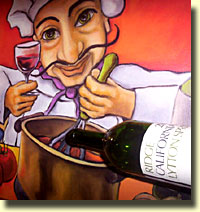 It's 2005, Happy New Year! Once again, my resolution will be to broaden my horizons, by tasting more than just red wines from "name brand" Europe and California. This month sees me off to a good start, as there are special releases of wines from Chile and the unfamiliar, lesser-hyped regions of Italy. Although January traditionally offers less when it comes to quantity, the quality is there with many of the wines.

Well, it appears Ontario has finally joined the rest of the civilized world by allowing diners to B.Y.O.B it into their favourite eateries. Although the legislation was passed last month, as far as I know, restaurants, at least in the London area, have not received information or instruction from the powers that be on how to implement the change.

Apparently it will be up to the licensee whether or not he or she decides to adopt the program. Should they choose to say yay, the amount of corkage charged is to be set by each individual establishment. Having dined in restaurants in the USA that offer corkage, I have paid fees as low as nothing, at a funky little Thai restaurant in Chicago, where water tumblers and a cork screw are simply placed on the table as soon as one unbags the bottle. At the other end of the scale, I have heard tales of people paying $125.00 for the same privilege at Charlie Trotters, in the same city. The latter charge is obviously in place to encourage patrons to select from Trotters extensive wine list.

Oddly enough, the plan in Ontario is to allow diners to take home any unfinished, but re - corked bottles of wine. I was always under the impression that open booze in a car was a bit of a no - no in this Province. I know several restaurant owners are quite confused over this situation.

From a personal standpoint, it will be wonderful for me to be able to go down stairs and pick the wine I want to have with dinner. However, I can see how it could become annoying from the owners' point of view if customers wander in the door with a bottle of wine plucked from an L.C.B.O. shelf moments prior, with the intent of saving some money. This could be further frustrating if the establishment has gone to great lengths to offer a well thought out, and reasonably priced wine list, rationally composed to match their menu. Hopefully too, the servers will not suffer. If the service is worthy, then the gratuity should be based upon the bill including the potential selling price of the wine and not just the food alone.

There are several restaurants in every city whose wine prices are grossly inflated. They may or may not to choose to implement this new program, as they would probably loose revenue by not being able to charge a fee high enough to recover the gross profit they pull from the wine list. Conversely, those restaurants that have always extracted a fair and reasonable profit from their list should not suffer. I for one am happy to pay a corkage fee to the restaurateur to compensate for their loss in revenue. Hopefully those restaurants that apply a reasonable fee will notice an increase in business from customers that truly appreciate wine and take advantage of Ontario's new law, once it is in place that is!

On to the wines.

January 8 Release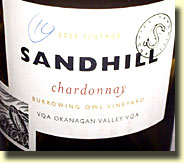 541193 CHARDONNAY 2003 $15.95, Burrowing Owl Vineyard, Okanagan Valley, Sandhill Wines, British Columbia
I have been eager to try this wineries "small lot program" wines and based on my impression from this well priced and pleasing bottle, I think I am in for a treat. It's round, rich, medium to full bodied, showing a buttery texture on the palate, with no over blown ripeness. There are flavours of melon, vanilla, cooked apple, lime and mint stalk. It is nicely balanced, drinking well and sure to please. Bring on the spring.

984153 CHARDONNAY 2003 $25.95, Paragon, Edna Valley, San Luis Obispo County, Edna Valley Vineyard, California
In comparison to the latter wine, this exudes tons of vanilla extract and sweet oak. Nonetheless the full-blown flavours of ripe pear and honeydew melon do soften the extracted woody notes. The balance is nice on the palate, but it comes across as being a trifle fat on the finish.

983882 CHABLIS 1ER CRU 2002 $31.95, Montmains, Domaine Jean-Marc Brocard
Here is a pure and enticing Chardonnay that carries an array of aromas including citrus zest, soapstone and lotus root. It's mineral flavours hit the palate and are soon followed by some lovely notes of flower petal, apple and parsley stem. The balance is in tune.

597500 PINOT GRIS TROCKEN 2002 $14.95, K

Ų

nigschaffhauser Vulkanfelsen, Winzergenossenschaft, K

Ų

nigschaffhausen, Baden, Germany
Holy cow, it's no wonder I have never been really big on German wines; how is anyone supposed to memorize or even pronounce a name like this?! Oh well, despite my shortcomings, this wine provides a nose of marzipan, sweet pastry, vanilla and applesauce. The aromas suggest a sweet wine, but the palate and finish do not concur. It is full of tart underripe kiwi and gooseberry flavours that are bold and fairly pronounced. A nice wine, but better I think, with some food on the table.



A few wines from the "Hidden away in Chile" release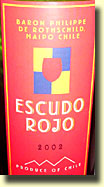 590331 'ESCUDO ROJO' 2002 $18.95, Maipo Valley, Baron Philippe de Rothschild
A wine of the month that delivers a forceful nose of cooked fruit, smoked meat and cigar box. It's rich, almost sweet taste shows more fruit, mostly cherry with an added touch of funky forest floor. It finishes with licorice toffee, red currant and caramel.

398800 CABERNET SAUVIGNON RESERVA 2002 $15.95, Estate Bottled, Rapel Valley, Casa Lapostolle
This rich dark opaque wine shows tons of lovely integrated fruit, with pretty herbaceous notes and a long finish of blackcurrant and dark silky chocolate. It is tannic and although nice now, I think a year or two will allow it to really express its fruit.

432971 CABERNET SAUVIGNON RESERVA 2002 $13.95, Colchagua Valley, Vi

Ů

a MontGras
This bargain basement rich and chewy wine is full of currant, slate and mineral with a deftly added dose of oak. The acids are lively; the fruit on the finish, mostly plum and blackberry, comes across as being forceful and clean. I would buy all three of these wines, as they are decent and priced well under twenty bucks.

940387 TANNAT DE RESERVA 2002 $11.95, 'Castel Pujol', Bodegas Carrau
Here is a nose of coal dust, cough syrup and coffee bean. Its flavour profile is that of cooked fruit and an appealing floral note. The finish drops the red fruit leaving behind a cheek puckering kick of acid. Not my favourite of the day, but maybe with a rich winter stew, that acid might find its rightful place.

642462 QUINTA DAS BACELADAS 1999 $31.95,Vinho Regional Beiras, Single Estate, Caves Alian

Á

a
This offers up a nose of tar, leather, plum, essence of currant and sweet oak. It's a concentrated wine that delivers ripe blackcurrant, plum and rich chewy chocolate tannin. The finish is a little hot and shows lots of acidic red fruit.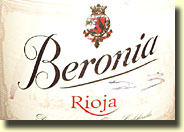 940965 'BERONIA' GRAN RESERVA 1995 $32.95, Rioja, Bodegas Beronia
This wine had been open for hours before I got to the tasting. Maybe that is the reason for the slight oxidized note in the glass. Beneath the nuttiness lies a layer of fleshy/meaty almost gelatin like aroma, along with coffee bean, dill and dark fruit. There is a slight woody/creamy taste to the wine, but it is covered up by plum, strawberry and cooked rhubarb flavours. I would like to re - taste this wine, as it was either an off bottle or it had been open too long.



January 22 Release


596981 'SIGNATURE' CHENIN BLANC 2003 $21.95, Coastal Region, Jean Daneel Wines, South Africa
An alluring nose of nettle, peppery salad greens, crab apple and almond oil. The palate is full and features white peach, sweetened rhubarb and gooseberry. The finish shows an elegant mix of tasty fruit, aromatics and acid. A pleasant alternative for ABC seekers.

650937 MERITAGE 2000 $16.95, Niagara Peninsula, Inniskillin Wines
Not a blockbuster by any means, but this simple wine has nuances of maraschino cherry, raspberry and plum with a secondary layer of leafy underbrush, dried oregano, nutmeg and coffee. It is ready to drink and quite pleasing.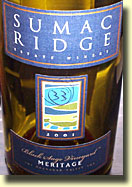 650879 MERITAGE 2001 $24.95, Black Sage Vineyard, Okanagan Valley, Sumac Ridge
I tasted a couple of wines from this highly touted appellation last summer and loved them. This is relatively lighter than most of the wines I tasted from this section of Okanagan, but it expresses the potential of the Black Sage appellation nicely. It starts with a measure of balsawood, red currant, dill, clove, tobacco and plum. The fruit is not massive on the palate, but it is nicely harmonized with milk chocolate, licorice root and thyme. A nice wine except it is a little hot on the finish.

585760 PINOT NOIR 2002 $18.95, 'Limited Release', Okanagan Valley, Quails' Gate Estate Winery
A spicy and alcoholic nose, with hints of cola, tar, cooked fruit, cherry jam and strawberry coulis. The fruit battles with a funky cigar and earthiness, but they blend nicely to soften the heat on the finish.

723072 'GEYSERVILLE' 2002 $44.95, Sonoma County, Ridge Vineyards
An dynamic nose of ripe blueberry coulis, white pepper, green tea leaves, raspberry and cherry cola. After a minute or two in the glass I detect a floral component along with lavender, Pina Colada, dried porcini and a massive layer of ripe dark fruit. Its texture on my tongue reminds me of blackcurrant ripple, a creamy treat given to well behaved kiddies, such as me, in the UK. It is rich and quite powerful. The black fruit acids are sufficient to keep it lively although the dusty tannin does leave a dry coating on the back of my tongue. If I invest in this wine, it will be a long time before I open it. It is nice to see the price drop from previous releases. (Editor's note: For Bastardo's take on this wine, click here.)

595512 'HOME RANCH' 2001 $94.95, Santa Cruz Mountains, Ridge Vineyards
This is my first encounter with this particular Ridge and I must say I like it, although the asking price is leaning towards the scary side. The depth of darkness suggests it is a youthful wine. I get huge blasts of Ozzie like mint, almost like that of an "After Eight" mint chocolate, exuding from the nose. This tones down after a while to reveal flint, slate, plum, chocolate, violet and plenty of sweet oak. Its texture is creamy and features flavours of blackcurrant and blackberry, the mineral and earthy elements are present, but they pale somewhat. Having tasted the Santa Cruz appellation Cabernets from Ridge on many occasions, I find I prefer the extraction of terrior and other mineral elements the Santa Cruz series carries. Having said that, this is a youthful wine that I am sure will evolve nicely over time. (Editor's note: For Bastardo's take on this wine, click here.)

982413 LYTTON SPRINGS 2002 $44.95, Dry Creek Valley, Sonoma, Ridge Vineyards
I get a musty/iron aroma with a faint trace of corkiness on the nose (Where are you Kim when I need you). There are other notes of Wrigley's spearmint and dark fruit to note; yet the anticipated sweetness of Draper perfume is not there. A taste confirms my worst fear. The fruit is there, yet it is dryer and comes across as being slightly bitter. How sad! (Editor's note: For Bastardo's take on this wine, click here.)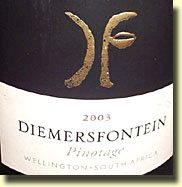 995241 PINOTAGE 2003 $21.95, Wellington, Diemersfontein Wines
Hey, well what do you know, here is a Pinotage that bowls me over. The colour is dense. The nose gives of whiffs of coal dust, sawdust, sweaty fur, white mushroom, mint, cake spice and violet. The flavour is a mix of blueberry and blackberry along with bacon, toffee and lavender all lurking just beneath the surface. The finish is tarry, sweet, creamy and rich. I will buy me some of this.


735407 CHATEAUNEUF-DU-PAPE 2001 $58.95, Ch'teau la Nerthe
Now this mystifies me. I really expected so much more from it. I imagine it is either closing down or already has. The colour is far from being "serious, dense, dark ruby/purple-colored" as noted by the eminent Mr. P. It is surprising light and hardly suggests a full-bodied wine. It is a pretty and extremely elegant bottle showing floral and a stewed fruit aroma with vanilla and cake spice. The fruit is integrated, but really subdued. I am not really sure what to make of this.



Some wines from the "Italian Boot" release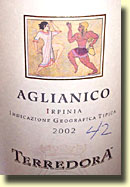 602284 AGLIANICO 2002 $15.95, Irpinia, Terradora di Paolo, Campania
Here is an interesting nose of burnt coffee grounds, strawberry, plum, anise and milk chocolate. The balance is fine, only the tannin does take control of the finish. I would let this rest for a year or even two just to see what will develop. It should be tasty.

717959 'MAIANA' 2001 $12.95, Salice Salentino, Leone de Castris, Puglia
Tons of rich blackcurrant fruit, stale ground pepper, a touch of cherry cola and leather on the nose. The fruit on the palate appears to be of the stewed variety and it mingles easily with some of the earthy tones. This is quite a deal at this price.

971689 AGLIANICO DEL VULTURE 2000 $22.95, Donato D'Angelo, Basilicata
Composted grass, dried mushroom and dried leaves take the lead in this rustic and slightly austere nose. Nevertheless, there is a secondary layer of lovely ripe red and dark fruit that struts its stuff on the tongue. The fruit leads the way to the finish, but the dusty, dark chocolate tannins leave their mark. The balance is fine and although a little time might be advantageous, I would have no problemo drinking this now.

900274 'SEDARA' 2002 $14.95, Tenuta di Donnafugata, Sicily
Now this wine starts with a layer of muddy wet clay then shows notes of coffee and treacle. The fruit is subdued on the nose, but on the palate I find a warming film of ripe blackberry and plum. Although it is a little fleshy on the finish, at this price I can handle that.

725853 TINTA RORIZ/MERLOT 2003 $14.95, Vinho Regional Estremadura, DJF Vinhos
This fruit forward puppy displays heaps of damson, blackberry essence, black fruit cordial and toffee. The palate is singular, showing only the black fruit. The finish echoes this and there is an additional trace of caramel left on the tongue.

Cheers,
CZ


Alan Kerr's Home Page and Main Index