Alan's January 2003 Vintages Release Tasting Notes
Release dates January 11 and January 25, 2003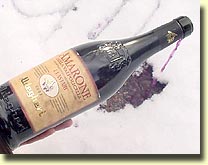 Once again I had to use the old wine and dash method to taste this month's release as I was stuck at school. So with barely an hour to spare, I hit the table and power tasted through what I could in the time permitted. Sadly I missed the wines from the Pacific North West release and much to my shame, the 99 Ridge Petite Syrah had made its way into London's sewer system long before I had a chance to try it. Oh well!

January 11 Release


453472 GEWÜRZTRAMINER 2000 $ 14.95, St. Davids Bench, Niagara Peninsula, Château des Charmes.


The only white that I had a chance to try. All I'm gonna say is don't miss this one.

235051 MERLOT 1999 $ 15.95, Niagara Peninsula, Cave Spring.


An improvement from when I last tasted this wine in September 2002 release. Flavours are still simple but the initial sourness has now softened. Colour though has really faded, showed simple tones of cherry, tobacco, coffee and cake spice. Pleasant but still nothing special.

222877 CABERNET SAUVIGNON 1999 $ 99.95, Napa Valley, Caymus Vineyards.


I braced myself for the much anticipated whack on the back of the head from a solid piece of two by four, but it never arrived. Instead I found a pleasing bouquet garni of sage and thyme, solid blackcurrant, plum and complimentary Asian spice. Lovely texture in the mouth and just a kiss on vanilla in the finish.

And hey, the nice thing is, one even gets a nickel back from a hundred dollar bill!

985408 CABERNET SAUVIGNON 1998 $ 68.90, Sonoma County, Arrowood.


Although the 98 was a tough vintage, there was a noticeable lack of "Dick" in this wine. The nose was hot and tannic, the texture was rich but full of oak. Tough to discern the fruit and I am going to pass on this one.

733758 SYRAH 2000 $ 18.50, California, Cline Cellars.


Came across as being a little sweet but that can happen when you power taste and skip from region to region. Lovely luscious aroma of pure polished black fruits, solid on the palate with a strong good finish. Nice acid fruit balance. Worth trying and as it is one of the "wine of the month" selections, there should be plenty around.

942581 ZINFANDEL 2000 $ 25.65, 'Sierra Series', California, Renwood Winery.


This had sweet aromas of blackberry, a touch of licorice, pepper, milk chocolate and star anise. Quite elegant and silky but the fruit comes across as like a stewed fruit compote. I liked it but having seen it advertised for $9.00 in the US, I will leave it alone!

713024 SHIRAZ 2000 $ 29.95, Barossa Valley, South Australia, Elderton Wines.

I did like this a lot, heaps of blackberry, dark chocolate, mineral and black licorice. Any sweetness present was balanced by the pleasing streak of acidity that carried through to the finish. Hmmm, not to sure about the steak and kidney pie match listed in the flyer though.

979120 'COUDOULET DE BEAUCASTEL' 1999 $ 26.95, Côtes-du-Rhône.


Sadly this was my disappointment of the day. Especially when a certain Mr. Parker bestowed a ninety point rating upon it. Nose had a little sawdust, mushroom, pepper and leather, all very nice but in such limited quantities. Medium bodied at first, but a lean mid palate lessened the potential pleasure. Mostly red fruit on the finish along with metallic acidity and excessive heat. Bummer.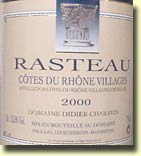 987651 RASTEAU 2000 $ 16.65, Côtes-du-Rhône Villages, Domaine Didier Charavin.


Full of rich plush fruit, white pepper, tar, garrigue and dried mint. Finish was vibrant showing lovely blackberry and just the right amount of refreshing acidity. Now if you can just whip up a quick saddle of rabbit in olive jelly with tapenade dumplings as the manual suggests, you'll be set for a great evening.

987255 CHIANTI CLASSICO 1999 $ 27.80, Castello di Cacchiano, G. Ricasoli - Firidolfi.


Quite complex, it offered up aromas of plum, cherry, lavender, black toffee and anise all of which carried through its flavour profile nicely. Acids were noticeably but not unpleasant, good finish of red currants, plum cherry and earth.

709527 CHIANTI CLASSICO RISERVA 1995 $ 26.30, 'Castelgreve'Castelli del Grevepesa.


Judging only from the rim of the glass, I would say this was not showing its age at all. However, the flavours on the palate, sweet cinnamon, red cherry, coffee and raspberry, were fast to fade. It was pleasant but should be drunk up soon.

716050 AMARONE 1998 $ 38.95, della Valpolicella Classico, Az. Agric. Brigaldara.


The initial dose of raspberry, cassis, and couveture chocolate was nice until the oak introduced itself and completely took over. Huge tannins on the palate covered the fruit and the finish echoed the bitter dark chocolate and bitter oak.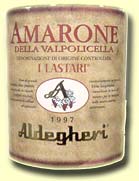 987305 AMARONE 1997 $ 44.40, della Valpolicella, 'I Lastari', Cantine Aldegheri, snc.


What a difference here! Dark, inky and thick. Enticing aromas of forest floor, wild mushrooms, toffee, stewed rhubarb compote, blackberry, coffee and currant. Quite a mouthful indeed, tannins were tight but the fruit and other flavours took over. Lovely long chewy finish. Quite stunning.

987701 CABERNET SAUVIGNON 1999 $ 12.45, IGT Veneto, Maculan.


Simple, clean and pleasant, good Cabernet flavours of blackcurrant, sweet cherry and cola. Medium body, good quaffer.




January 25 Release


727446 CABERNET SAUVIGNON 1998 $ 29.30, Napa Valley, Andretti Winery.


I came I drank I spat. Not because I didn't like it but I was down to the wire. It appeared to be full bodied, relatively tannic, somewhat complex, loaded with cassis, plum and well integrated oak. I would really like to tackle this one again.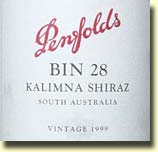 422782 'KALIMNA' SHIRAZ 1999 $ 29.95, 'Bin 28', South Australia, Penfolds.

Just another quick impression here but this one stood out. Lovely concentration of plum, damson, dark cherry and subtle touches of mint. Quite powerful and amazing balance to the rich, long and chewy finish.

738237 MOURVÈDRE 'LES JAMELLES' 2000 $ 9.95, Vin de Pays d'Oc, Les Jamelles.


My first impression of this wine was a good one. Nice tarry aromas mixed in with some black cherry and red currant. Then I was influenced by the rumors of acetone infection that were floating around the room and I began to wonder. Power of suggestion, damn it. Oh well, at this price I am eager to try another bottle.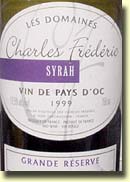 959288 SYRAH 1999 $ 13.30, Grande Réserve', Vin de Pays d'Oc, Domaine Charles Frédéric.


If you have read this far you have found the deal of the release. A combination of blackberry, plum, subtle streaks of licorice, creamy toffee, saddle leather from the start through to the finish. Buy some.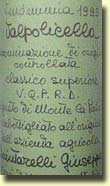 986117 VALPOLICELLA CLASSICO SUPERIORE 1995 $ 59.95, Guiseppe Quintarelli.


I noticed some excess alcohol on the nose but according to the label its contents is a mere 13.5%. Lovely whiffs of cigar leaf, blackberry, dark chocolate and morel mushrooms. Pleasing mid palate, quite chewy, finish of coffee and sweet Asian spices. Damn, when I saw the price I nearly…………………..

723841 SCHWARZE MÄDCHENTRAUBE 2001 $ 9.75, Vampire's Taste', Murfatlar, Murfatlar S.A, Romania.


I would sooner nail my bollocks to the mast of a sinking ship than drink a full bottle of this.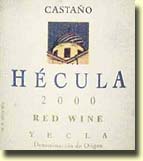 718999 'HECULA' 2000 $ 12.80, DO Yecla, Bodegas Castaño.


This wine took time to open up and reveal its plush red fruit, blackberry and sandalwood aromas. It was medium bodied with lots of sweet cherry, damson, thyme, and trace of coffee that all lingered long and echoed right through the considerably long finish. I will buy some and if you wish to, do not wait. This wine deservedly will not get squatters right on the liquor store shelves.

Cheers,
CZ

Alan Kerr's Home Page and Main Index