Alan's January 2002 Vintages Release Tasting Notes
Release date January 12, 2002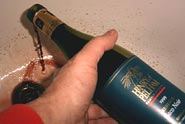 As if being in London, Ontario when It's cold, over cast and bleak is not bad enough, to add salt to the wounds, head office of the L.C.B.O chose not to send the Ridge wines, or most of the high end stuff for that matter, to London's pre-release tasting! I imagine they feel only Toronto has the sophisticated cliental that will show interest in acquiring such wines so why waste sending premium stuff to London. Once again I have to trust the first-rate palates of my friends south of the border who tell me the Geyserville is even better than the Lytton Springs, another Ridge product noticeable by its absence from last month's tasting. In all honesty I think, with the exception of the 96 Gallo Dry Creek Cab, the Ontario wines showed best of all on this release. Tasting the five single vineyards Chardonnay offered from Inniskillin revealed the variance of flavours found in the terroir of Niagara. They are reasonably priced and offer a potentially fun phenomenon for wine geeks to undertake without costing a fortune. Daniel Lenko's Late Harvest Vidal is stunning while Henry of Pelham's 99 Baco Noir, one of my favourite wines of the day, is a fruit laden monster that should provide pleasure for many years to come.
558015 CHARDONNAY 1999, $16.95, Montague Vineyard, Niagara Peninsula, Inniskillin Wines
This tied for first place among the group with the Schuele Vineyard. This was the finest balanced wine of the batch. Nice deep straw/yellow colour. Subtle oak and lovely fruit flavours featuring cooked pears, juicy mango and ripe melon. Good degree of spice in the long polished finish.
558049 CHARDONNAY 1999 $16.95, Seeger Vineyard, Niagara Peninsula
Inniskillin Wines
Lighter in colour then the Montague and the most Chablis styled of the batch. Higher degree of acid, a solid dose of mineral yet plenty of good fruit apple and pear flavours to harmonize the firm and well rounded finish.
557405 CHARDONNAY 1999, $16.95, Klose Vineyard, Niagara Peninsula
Inniskillin Wines
The Klose had the deepest colour of the group that leaned towards a yellow/green tone. The fruit seemed masked in this wine by the aromas of hazelnut and mineral. However it delivered a pleasant mix of flavours in the mid palate mostly those of citrus fruit, baking spices and apple. Medium finish.
557397 CHARDONNAY 1999, $16.95, Culp Vineyard, Niagara Peninsula
Inniskillin Wines
I found this to be the least interesting of all, both its colour and viscosity appeared lighter, but nonetheless, still an agreeable Chardonnay. Mix of tree fruits and melon on the nose. Good clean fruit flavours that showed good varietal character. Pleasant finish of lime peels, melon and baked apples.
558023 CHARDONNAY 1999, $16.95, Schuele Vineyard, Niagara Peninsula
Inniskillin Wines
Another yellow/straw tinted coloured wine. The initial blast of oak was tamed by the citrus, banana peel, pineapple, mango and ultra ripe cantaloupe that all melded nicely on the nose. All of the aromas followed through in the lovely toasty mouth feel while the excellent degree of acidity kept the lengthy finish interesting.
737908 SELECT LATE HARVEST VIDAL 1999, $15.95, Daniel Lenko Estate Winery
The lovely depth of orange and rust colour of this made me drool simply from its appearance. Its intriguing aroma whisked me back to my mother's kitchen filled with the aroma of Servile orange marmalade simmering in her copper cauldron. The acid levels are just high enough to balance the concentration of sweet apricots, peaches and grapefruit zest. This is truly a great deal at this price. However, should you follow the advice of the catalogue and serve this with lightly grilled Foie Gras, make sure you have your fire extinguisher at the ready as a flare up is guaranteed. Pan seared Foie Gras or a terrine, now those I could see!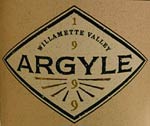 946640 CHARDONNAY 1999, $18.90, Willamette Valley, Oregon, Argyle Wines
This was very a most pleasing fruit focused wine. Medium body, lots of poached pear, chalk and apple flavours mingling well with the gentle hit of vanilla. Low in acid but not low enough to make it dull. Just a trace of sweetness in the finish.

366542 CHARDONNAY 1999, $18.95, Grand Estates, Columbia Valley, Columbia Crest
Full bodied, lots of butterscotch, toast, peach, vanilla and fig. A pleasing and not overly blown mouth feel. Finishes nicely with a good mix of fruit and oak.
732024 SAUVIGNON BLANC 2000, $16.75, Marlborough, South Island, NZ, Wairau River Wines
The catalogue lists this as being a light bodied wine to which I have to strongly disagree. It exhibits all the zest, perfume and power that one expects from a well fashioned Kiwi Sauvignon. There is lime zest, gooseberry and grapefruit evident in both the nose and palate. A lasting, crisp and slightly herbaceous finish.
426940 CHARDONNAY 2000, $10.45, Mendoza, J & F Lurton
Apple peeling on the nose, good simple apple and pear flavours, Stale wood dominates the simple finish
395855 CABERNET/MERLOT 1998, $29.95, Niagara Peninsula, Henry of Pelham
An abundance of flavours, inky tannins and dark bitter chocolate all collide on the nose. It also offers hints of smoke, thyme, coffee and cedar to add to its complexity. Although the mouth feel is that of a chocolate and raspberry mousse, it is still a candidate for the cellar. The fruit content is substantial and multi layered showing mostly blackcurrant and various red berries.
573212 MERITAGE 1999, $22.95, Niagara Peninsula, Lakeview Cellars
I am not sure how much, and if, I liked this wine in its present state of maturity but a bottle or two will be laid down to rest as I think the potential to be an exciting wine in several years is apparent. I have always enjoyed Lakeview's wines for their depth of flavour and extraction of colour and have found them to be most age worthy. The reason I hesitated now with this wine is I found it a touch on the acidic side especially through into the finish. Even so, it is packed with plum, red fruit and licorice flavours that once evolved, should reward the patient investor with a solid return.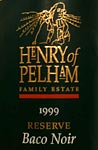 461699 RESERVE BACO NOIR 1999, $21.95, Henry of Pelham
I purchased several bottles of the 98 Pelham Baco Noir and I would say they are not even close to maturity. I will do the same thing with the 99 vintage. It is a densely coloured monster packed full of enticing aromas. At first I detected scents of Basset's (UK) licorice allsorts candies until the gamy, smoked bacon and cola aromas emerged and dominated the glass. Couvature chocolate, plum, damson and cigar box all lurked in the background. First sip displays a power and forcefulness allowing all the elements of the nose to be transformed onto the palate. Wow!

713743 CABERNET SAUVIGNON 1996, $27.95, Family Selection, Limited Release, Cuvée #5, Dry Creek Valley, Sonoma County, E & J Gallo)
If not for the massive amount of tannin still present in this wine, it might have been my favourite of the day. I found a touch of mustiness in the nose that fortunately didn't seem to carry through onto the palate. It had wonderful concentration of aromas and a deep inky colour. The fruit showed some prune, dense plum and ripe blackcurrant. It finished with toffee, black fruits and a touch of sweetness. Then there is that sheet of titanic tannin that may or may not decline!

983577 ZINFANDEL 1999, $24.95, Sonoma County, Kenwood Vineyards
It is rare that I do not enjoy a Zin from Kenwood and this example does not break my pattern. It is full and fleshy; the core of medicinal red berry fruit is topped with dollop of silky tannin. The finish is reminiscent of cooked fruit preserve balanced with a refreshing streak of acidity

721530 ZINFANDEL 1999, $28.80, Old Vines, Dry Creek Valley, Sonoma County, Rosenblum
I did not find this to be typical of Rosenblum's Zinfandels. Not only did it deliver lots of the expected sweet and luscious Zin berry fruit, it had mineral, blackberry and dark cherry flavours too. It finished with good spice and depth of flavours. My favourite of the two Rosenblum wines on the release

747493 ZINFANDEL 1999, $26.95, Oakley Vineyards, San Francisco Bay, Rosenblum
This too is a good Zinfandel only it needs time to get focused. Plenty of crisp clean acid and globs of sweet fruit but at present both are noticeable as separate components of the wine. I think this just needs a little time to harmonize.

960468 'BLACK LABEL' 1997, $67.55, South Australia, Wolf Blass
If I only paid twenty bucks for this I would still be disappointed. Especially after trying to recover from the discharge of oak that was comparable to being whacked in the face by a large piece of two by four! Maybe I am missing something here! Maybe time will allow some fruit to surface but in its current state, having more wood than a sixteen year old on an overdose of Viagra, it may never soften.

Wine of the Month

965095 SHIRAZ 1998, $16.60,

Estate Grown, 'T-Trellis', Padthaway, South Australia, Brown's of Padthaway
Once I got past the plastic mouth feel of this wine, I found some pleasant berry fruit, cola, mint and anise flavours. The thick viscosity gives a lamp oil texture to the wine but all in all it is quite pleasing

969717 CABERNET SAUVIGNON 1999, $12.80, 'Oak Cask', Maipú, Mendoza, Bodegas Trapiche
Not much to this other than acid and some sweet berry fruit.

275594 CABERNET SAUVIGNON 1999, $17.80, Medalla Real, Vallé del Maipo, Viña Santa Rita
This is worth buying a bottle or two. It is densely coloured, full of fruit and lots of forest vegetation on the nose. It flavour profile is loaded with dark cherry, blackcurrant, chocolate and silky tannin all carrying through into the lengthy finish.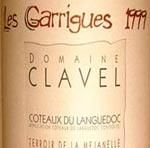 748814 'LES GARRIGUES' 1999, $13.00, Domaine Clavel, Terroir de la Méjanelle, Coteaux du Languedoc, Pierre Clavel
If I was to only purchase one wine from the release or was subjected to extensive wine probation from a loved one, this is the one wine I would acquire. It is very tannic now but the tannin does not come close to masking the sheer concentration of fruit. The fruit aromas are backed up with traces of wild mushroom, coffee and leather. A lovely wine that echoes all the aromas on the palate. It finishes strong and is beautifully balanced. Maybe even better I think than the equally pleasing 98 vintage.
716449 CHÂTEAU DE COMBEBELLE 1999, $16.95, Prestige', Saint-Chinian
Another wine showing complexity in its youth. Cherry and plum fruit flavours dominate the nose but it finishes with tons of mineral and spice.
938282 'RÉSERVE LES GRIOTTES' 1998, $17.95, Côtes du Luberon, Château Val Joanis-Fam
A new wave French fruit bomb with undertones of game, cheese rinds, coffee and wet leaves. Decent level of acidity renders a good clean fruit based finish.
964221 'LE VOLTE' 1998, $19.90, Toscana, Tenuta dell'Ornellaia
This had an enticing floral and berry-based nose. A good concentration of blueberry and red berry fruits but to me it fell a little flat in the finish. Most of the other tasters present did give high accolades to this wine. Possibly my palate was tiring.
737981 LBV 'TRADITONAL' PORT 1994, $21.90, Late Bottled Vintage, A. A. Cálem & Filho S.A.
Port lovers should enjoy the LBV offering although I did prefer the Quinta Noval of the two. That is not to say that this is not worth grabbing a bottle or two for those cold winter months ahead. It is pretty much how the catalogue describes it. Prune laden with licorice and mint. Good berry flavours and is sweet without being overly cloying.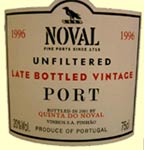 744011 LBV UNFILTERED PORT 1996, $22.80, Late Bottled Vintage, Quinta do Noval
A little more complexity in the nose but the alcohol did appear to be more noticeable than in its partner. Overall the concentration of flavour here was more pronounced and the finish, full of dark baking chocolate and black raspberry, was the longer of the two. Both are decent values
Cheers
CZ
Alan Kerr's Home Page and Main Index