Alan's February 5th and 19th, 2005 Vintages Release Tasting Notes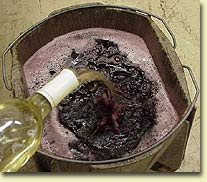 As per usual, Vintages is releasing this month's wine on two separate dates. What makes the premier part of this month's release different is that it is dedicated exclusively to French wine. The Vintages catalogue not only hypes up these wines, as one would expect them to, but in doing so, offers clear and precise information on the regions wine styles that does not bore or overwhelm the reader. This really is a release loaded with decent and value priced wines. Having tasted as many selections of the French release as I could, a large portion of this month's paycheck is going to strengthen the Republic of M. Charac's economy.

Things are moving slowly on the path to freedom, for those who wish to take advantage of Ontario's newly introduced BYOB program in their favourite restaurants. Apparently things may not be as simple on either side of the fence as they maybe should be. To start, the restaurateur has to apply for an amendment to their license in order to allow the right for customers to BYOB. Many operators' question, understandably, why they should pay money to amend their license, when they feel it could potentially reduce income from their wine list. Apparently there is no charge for the first year to amend ones license and people are unclear how much the cost will be twelve months down the road.

Furthermore a restaurant has to purchase the "proper" equipment to enable them to re-cork any bottle that patrons fail to finish. Part of this new legislation allows the customer to take any unfinished wine off the premises and, the license must assume, home with them. To me, this does seem ludicrous. Having been in the hospitality industry for all my working life, I cannot recall ever seeing diners leaving unfinished wine in the bottle because they have simply "had enough". I believe, once purchased, these re-corking devices will simply sit on a shelf and collect dust. There is still confusion about whether or not the licensee is responsible for their customer's actions after taking the unfinished bottle off the premises.

Simplicity is not a word one finds in the chronicles of the LLBO's (Ontario's Liquor licensing board) operating techniques guide and consequently, of the more than 17,400 licensed eateries across this great Province, as of the end of January, one week after the legislation came in to effect, only a dozen had applied to LLBO for the license. So far none that applied have been approved. There are times when Ontario's provincial government make situations overly complicated. This is clearly one of those times.

On to the wines.


February 5th
France - Bordeaux


603993 CHATEAU CLOS DUBREUIL 2001 $74.95, St-

É

milion
This is not what I would call a value priced wine, but nonetheless it is really very good. Right off the bat the nose shows concentrated aromas of liquorish, balsa, sweet oak, lavender, blackcurrant, cherry and coffee. It echoes the elements of concentration on the palate. Its finish delivers enough tannin to warrant time in the cellar. A very nice start to my morning.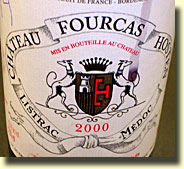 960740 CHATEAU FOURCAS HOSTEN 2000 $31.95, Listrac-M

é

doc
Now this is what I would term a value-priced Bordeaux. It has a wonderful nose of Dutch black liquorish, dark fruit, couvature and a faint, but by no means unpleasant, hint of skunk. The solid core of fruit is simply delicious. It's beautifully structured and pay dividends to the patient collector in years to come.


606996 CHATEAU MALESCASSE 2000 $49.95, Haut-M

é

doc
This intensely dark coloured wine offers up lots of appealing clove, coffee, blackcurrant and dark cherry notes along with a little wet fur, cured meat fat and mineral. It is at this time rather chunky and awkward, but I think there is enough fruit to take the lead as the astringency subsides.


France - Burgundy


700187 BEAUJOLAIS CHATEAU DES JACQUES 2001 $28.95, Moulin-

à

-Vent, Louis Jadot
This oozes pretty floral notes, along with cooked fruit and raspberry soda. It is clean, with a lip-smacking layer of red fruit acid. It is nice, but there are better Gamays to be had on this release so don't touch that dial!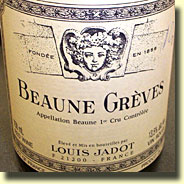 680413 BEAUNE LES GREVES 1ER CRU 2002 $52.95, Domaine des H

é

ritiers Louis Jadot
This is a well-structured honest pinot that shows notes of leather, cherry, prune and clove. There is a noticeable degree of tannin, but it does not blanket the fruit. Nice stuff.

694075 CHASSAGNE-MONTRACHET MORGEOT-CLOS PITOIS 1ER CRU 2002 $39.95, Monopole, Roger Belland, Vitic.
Not only is this wine thirteen bucks less than the Beaune Les Greves, I think it is by far, a better wine. It shows the usual cherry/red fruit on the nose along with a secondary layer of tar, blackberry, shoe polish and beet. It is built to go places and I wanna be there when it gets there.

966200 LADOIX 2002 $26.95, Joseph Drouhin
Having heard great things about 2002 Burgundies, I might have to put a couple of bottles of this down too. It is by no means in the same league as the Chassagne - Montrachet, yet it delivers some relatively intense red berry fruit, mineral and cherry cola flavours. I think it will hold for a few years, but I really like how pretty it tastes right this minute.

592873 SANTENAY 2002 $27.95, Joseph Drouhin
Chuck in an extra buck and try this wine too. It actually has more concentration of plumy fruit than the Ladoix plus there are hints of mushroom and cola notes. The juicy finish is redolent of fresh pureed strawberry coulis.


France - Loire & Sud


694018 DOMAINE D'ARTOIS ROUGE 2002 $11.95, Touraine-Mesland, Guy Saget
Here is a wine that has both earthy green pepper notes and some blackcurrant fruit. It is light bodied, but so is the asking price. I think this is one of those wines that need a little grilled meat to take the edge off of the vegetal quality. The catalogues suggestion of pizza or a hamburger to accompany this is spot on. A decent quaffer.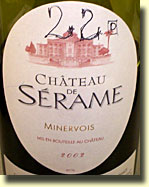 651125 CHATEAU DE S

É

RAME 2002 $18.95, Minervois
Oh, this creamy toffee and black fruit laden nose tilts the kilt. It is spicy, full of vanilla, dark cherry and blackcurrant. Its texture on the tongue is rich and chewy. Although I think this can sit for a number of years, the sweet creamy fruit is really nice right now.

979427 'DEVOIS DES AGNEAUX D'AUMELAS' 2000 $19.95, Coteaux du Languedoc, Elisabeth et Brigiette Jeanjean
Another wine built in the North American fashion. This boasts sweet blueberry fruit, blackcurrant jam, milk chocolate and sage. The fruit is really forward on the palate and it too finishes with a rich creamy layer of oak, fruit and chocolate.

738237 MOURVEDRE 2001 $11.95, Vin de Pays d'Oc, Les Jamelles
A bargain basement wine full of warm fuzzy fruit that I feel should be consumed slightly chilled and in large quantities as soon as it is warm enough to sit outside.


France - Rh

ô

ne


695841 CHATEAU D'AQU

É

RIA 2001 $18.95, Lirac, Civile Agricole Jean Olivi
At first approach, this wines seems a little hot. It offers some peppery qualities along with tar, cake spice, plum and dark fruit. On the palate it comes across as having balance and good structure. The finish is quite tannic and that little bit of heat from the nose is discernable.

641720 CHATEAU DE LA TUILERIE 2002 $20.95, Vieilles Vignes, Costi

è

res de N

î

mes, Chantal Comte
Beneath the solid core of raspberry and blackberry fruit on the nose, I find pleasing little hits of mushroom, lead pencil, dried leaves and green tea. Although it is nice now, the hit of vanillin on the finish suggests a year or two to let it tame.

728014 CHATEAUNEUF-DU-PAPE 2001 $41.95, Domaine Bois de Boursan
This multilateral fruit bomb is eager to share its aromas of pepper, cigar leaf, Thai basil and juniper berry. The palate is silky featuring a warm rich layer of red berry and blackcurrant that sails on through to the finish. A really nice bottle of wine.

608786 DOMAINE DES COCCINELLES 2002 $15.95, C

ô

tes-du-Rh

ô

ne, Le Guillaumet
This is a simple and clean wine showing notes of lavender, blackberry and flower stems. There is not a lot of oomph here. Delicate is the best descriptor that comes to mind. It is light on the finish.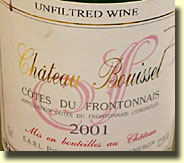 693986 CHATEAU BOUISSEL 2001 $12.95, C

ô

tes du Frontonnais, Pierre Selle
This wine has much to offer. The colour is intense, given the comparatively low price. The principal grape used in Frontonnais is known as N'grette, one I am not overly familiar with, but I will do my best to change that. Its alluring nose has herbal notes of lavender and sage followed by earth and mineral as well as a generous serving of ripe dark fruit. Pop this away for those warm and humid nights around the Barbie and you will give yourself a pat on the back!


February 19th Release


585968 MARECHAL FOCH 2002 $14.95, Thomas & Vaughan, Niagara, Ontario
This funky and chunky wine carries an opaque purple robe. It is rich and creamy on the palate, full of sweet raspberry and blackberry fruit. There are some mineral, flinty notes and a touch of violet. Not being a huge Foch fan, I am quite taken with this.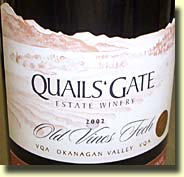 639625 FOCH 2002 $19.95, 'Old Vines', Limited Release, British Columbia, Quails' Gate Estate Winery
Enter another Foch moment, and I like this one too. It has even deeper aromas of meaty game, black fruits, leather, coffee, chocolate fudge, vanilla, pepper and mushroom pate. Its rich texture hangs on tightly to the palate leaving an impression of being full and round. The finish is strong and focuses on blackberry fruit and well-hung game.

590679 GAMAY NOIR 2002 $29.95, Family Reserve, Okanagan Valley, British Columbia, Quails' Gate Estate Winery
I am the first to admit this is a lot of money for a Gamay, but this a lot of wine for the buck. Its nose has so many diverse and interesting aromas, coffee bean, violet, geranium, lead pencil, cooked plum, white pepper, milk chocolate and wet stone to note a few. It is full-bodied on the palate. The finish is packed with fruit and leaves a warm and fuzzy feeling on the tongue.

680835 CABERNET SAUVIGNON 2000 $19.95, Paso Robles, Central Coast, Eberle Winery
I have not been buying Californian Cabernet lately, but I might grab me a few bottles of this. It has pretty notes of plum, currant, cedar and dried mint. There is tannin, but it has a silky nature that makes it really palatable right now.

642207 CABERNET SAUVIGNON 2000 $24.95, Sonoma County, Dry Creek Vineyard
The nose exudes notes of clove, currant, green tea and dried cherry. It has a nice dusty feel on the tongue. It is well balanced and certainly not short on fruit or flavour.

343996 ESTATE CABERNET SAUVIGNON 1999 $89.95, Northern Sonoma, E. & J. Gallo Winery
A Pauillac styled Californian wine with a Pauillac style of pricing. It does have a lovely ripe nose full of lead pencil, mineral, wet stone, blackcurrant and damson jam. It is pretty solid in the mouth and the mineral elements are clearly notable. Nice wine.

975920 MERITAGE 2000 $35.95, Alexander Valley, Estancia Estates
The aromas of green tea, nasturtium leaf, blackcurrant and sweet creamy oak are enticing. The balance is all there, the palate is fruit laden and the finish has a few funky notes of coffee, tobacco and toast.

982744 MERLOT 2001 $22.95, 'Estate', Santa Ynez Valley, Central Coast, Firestone Vineyard
The nose is jammy, but the palate is far from sweet. It also offers up dark chocolate, red cherry and blackcurrant. The finish has good length.

919647 MERLOT 2000 $39.95, Napa Valley, Beringer
This has good concentration, some notes of coffee, black raspberry and fennel. The palate starts out creamy yet there is a chunky note to it. The finish does disappear to fast for me.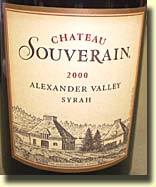 590323 SYRAH 2001, $32.95, Alexander Valley, Chateau Souverain
Some serious juice here. Hiding beneath the coat of ripe dark fruit are layer after layer of dried morel, wet moss, Thai basil, potato peel, dark chocolate and coffee. The wine slides across the tongue while teasing with little hits of this and little hits of that. It is one big wine and has the tannin to last, but damn it, that is going to be hard to do.

732503 ZINFANDEL 2001, $23.95, 'Old Vine', Amador County, Sierra Foothills, Ravenswood
Here is a mix of dark and red fruit, root beer, plum and underbrush. I expected this to be a little over the top, but it is beautifully balanced, not overly sweet, has great concentration and the acids are clean. I will buy a bottle or two of this, even though I know it can be found for under $14.00 south of the border.

965756 PINOT NOIR 2000 $22.95, Willamette Valley, Amity Vineyards
This has subtle aromas of sweet cherry lozenge, strawberry and stewed rhubarb. It is light on the palate, but it reflects true Pinot character.

589697 PINOT NOIR 'ESTATE' 1999 $43.95, Single Vineyard, Willamette Valley, Amity Vineyards
Now this bottle of Amity's Pinot is the total opposite of its younger brother. I detect a mix of liquorish root, blackberry, cherry cola, lavender and Brio (A soft drink found on the shelves of Italian corner stores) The palate reflects all of these notes and adds tones of stewed tomato and plum. It is rich and chewy without being over the top. It still needs some time.

Cheers,
CZ


Alan Kerr's Home Page and Main Index