Alan's February 7th and 21st, 2004 Vintages Release Tasting Notes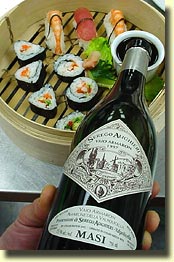 Oh, how I hate this winter! Driving to the tasting was such a challenge! With overly cautious winter drivers, near blizzard conditions, black ice and sub zero temperatures, it was cold enough to freeze the balls off a brass monkey! However, once I arrived and was fully defrosted, I tasted several really great wines, plus a few quality quaffers from Spain, South Africa and the Midi region. February features several of Masi's sweet and luscious reds, along with an array of pretty good wines from Italy's principal growing regions. My winter Classics Catalogue arrived this week. I did my usual browse through, and focused in on the 2000 vintage Bordeaux. I did some surfing to compare the prices with their counterparts on shelves across the U.S. Although I really want to put a few of these highly touted wines away, I have a problem paying the asking prices, knowing that one can purchase them at such a lower cost, even after taxes and currency exchange, in America. Even the sections from the Midi and Provence are meager, and Rosenblum has a sole representation on the Zinfandel page. Oh well, I think money will be better spend on some of the deals from February's release.

February 7 Release


990713 ZINFANDEL, 2001, $ 33.95, Napa Valley, Robert Mondavi Winery.
This is has little similarities to the Zinfandels I am familiar with. It has decent concentration of red berry fruit, but I note a musty/mineral tone that I think is out of place. It is quite tannic, and consequently shows little of its potential. However, the mustiness could just be from an off bottle.

726737 PINOT NOIR RESERVE, 1999, $74.95, Napa Valley, Robert Mondavi.
The nose comes across as being big and fruity. On the palate, it resembles the style of a Burgundian wine, and has a Burgundian price to note. It possesses a nice firm core of plum and dark cherry with traces of mineral, cinnamon, wet forest leaves and a deftly added dose of vanilla.

996439 'PASSO DOBLE' ROSSO, 2000, $16.95, La Arboleda, Tupungato Valley, Mendoza, Masi Tupungato, Argentina.
Masi is playing around with Argentina's claim to fame, namely the Malbec grape, and blending it with something a little closer to home, Veneto's Corvina. I thought it was actually very good, and I must confess that, at the time, I did not realize that it was from half way around the world. It has all the ripe sweetness one expects from Masi's wines. It begins with a wave of raisin, plum, cassis and mocha. These are followed by several earthy spice notes, which include: rotting hay, canned green peppercorn, and just a subtle trace of barnyard poo. The harmonious mid palate falls off in the finish, leaving a slight metallic taste on the tongue. Other than that it is good stuff and reasonably priced.

193102 CHÂTEAU ROQUETAILLADE LA GRANGE, 2000, $18.95, Graves.
I was not initially impressed with this wine until I got home, checked the manual and found its asking price. For fewer than twenty bucks I think it should reward the patient investor quite nicely. Beneath the twiggy stem notes I first detected, there were some solid stewed plum, damson, baker's chocolate and black olive notes. The nose is better than the palate, but only because the tannin is currently masking the fruit. If you want this, it will move quickly, as it is a ninety plus rated bottle, according to the Wine Spectator.

910687 MAS DE DAUMAS GASSAC 2001 $ 47.95, Vin de Pays de l'Hérault .
Having consumed many older vintages of this southern French red, I was eager and excited to see how the 2001 would compare. I was not disappointed, but the price is getting up to the premium level. Its nose focuses on a deep layer of blackberry, followed by licorice, pig poo, wet moss, wild mushrooms and coal dust. There is plenty of dark fruit, but as of yet, it is not really showing. Its texture is rich and leathery. After a few swirls the barnyard notes do tend to take over. Good stuff

747030 'LA VITE LUCENTE' , 2000, $39.95, Tuscany, Marcheis de' Frescobaldi/Robert Mondavi.
The partnership of Frescobaldi/ Mondavi has produced a second wine to their 'Luce'. It is by no means as powerful as its big brother, but its profile of dark berry compote and blackcurrant is nicely enhanced by pine needle, milk chocolate and wet leaves. The finish is big, full of fruit and the tannins are relatively soft, making it fairly approachable at the present time.

47440 CENTINE, 2001, $, 17.95, Tuscany, Banfi.
This offers lots of sweet cooked jam aromas, with a sprinkle of cinnamon and butterscotch. It is very new world in its style, and anyone who has fond memories ruining their teeth on UK candy, fondly known as a gobstopper, will take delight in tasting this wine. I feel the finish is lacking a bit of guts. Otherwise it is a decent bottle of wine.

933333 'VERSATO', 2001, $, 16.95, Merlot, Veneto, Santa Margherita.
Here is a simple, clean, and fruit forward wine hinting at red berries, blackcurrant, rhubarb and beet flavours. Well balanced acidity and a pretty finish.

476598 'LA GROLA', 1999, $29.95, Veronese, Agr. Allegrini.
The lovely dark garnet colour shows good depth. It has a rich and almost creamy nose of toffee, tobacco, green tea, prune and lavender. The tannins are discernable and dry, but offer good structure. On the finish I note bitter lead pencil, but the ripeness of the fruit covers it. It is full bodied and dense.

462812 'VAIO ARMARON' 1997 $65.95, Amarone della Valpolicella, 'Serego Alighieri', Masi.
The overpowering aroma of acetone simply pushes every other budding aroma back to the bottom of the glass. It blows off I think, or the other flavours intensify, whatever, revealing crushed black berry, black raspberry, spearmint, sweet cinnamon, cigar leaf and licorice root. It has a "thickness" in the mouth that I do not enjoy. The fruit flavours combine with dark chocolate on the finish to produce an "After eight' mint and vanilla laced fruit coulis effect. It is overall too hot for me. Maybe it just needs more time as it is quite disjointed. I just can't get past that nasty nail varnish thing on the nose.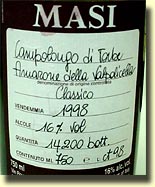 548677 'CAMPOLONGO DI TORBE' 1998, $88.95, Amarone della, Valpolicella, Classico, Masi.
The colour is inky, dark and opaque. The nose is so much more subdued than the Armaron. It shows off a bouquet of black peppercorn, stewed plum and dark couvature chocolate. Although it is hitting sixteen degrees of alcohol, the intensity of the fruit overshadows its presence.

738955 MEZZANELLA, 1999, $, 57.85, Recioto della Valpolicella, Masi.
Another dark and enticing coloured wine that has the sweetest nose of the three. It's comparable to biting into a chocolate filled with cherry brandy. Its mid palate offers sweet balsamic notes, tons of chocolate and sweet vanilla candy. It seems low in acid, giving it a dulling/flabby sensation across the tongue. The finish has a strange woody/shelly/pinecone thing going on.

924209 VALPOLICELLA RIPASSO FALASCO, 2000, $14.95, Cantena Valpentena.
Here is another wine that surprised me when I checked the price. Its nose has a meaty flesh tone that has been covered with fresh thyme leaves. There are plenty of blueberry, damson and dark berry hues in the background. The tannins are tight, but not unpleasant. I would say that it's a deal, at this price.

718999 HÉCULA, 2001, $, 13.95, Yecla, Bodegas Castaño.
Right from the beginning, all I get from the nose of this is alcohol. Sure, it has some pretty plum, cassis and maraschino cherry aromas, but I think I might skip on this year's offering. In previous vintages I have tried to purchase this by the truckload. In the Vintages catalogue, the eminent Mr. P. highly touts this wine, so maybe you should pick up a bottle and judge it for yourself.



February 21 Release


713057 'ZEBRA' ZINFANDEL, 2001, $43.95, Harrison Winery.
I must confess to have never heard of this producer, or of their Zinfandels. It is very fragrant on the nose, with an array of toasted Moroccan spices, plum and dark rich blackberry. It is quite viscous, slightly tannic, round and fairly full bodied.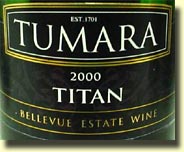 922211 'TUMARA', 2000, $, 18.95, 'Titan', Cabernet Sauvignon/Merlot/Malbec, Stellenbosch, Bellevue Estate Wine, South Africa.
I rarely get excited about wines form this part of the world, but this will certainly be on my shopping list. It is full of rich and silky cooked berry fruit, a touch of mint, floral tones, nutmeg and chocolate. In the mouth, it feels rich and ripe. It is well balanced with a long finish.

994186 CHÂTEAU JUGET, 1998, $32.95, Saint-Émilion.
This boasts a pretty ruby garnet colour. It has the classic upfront lead pencil, forest floor, and blackcurrant aromas one often finds in Bordeaux. There is a secondary layer of moss, dried tobacco leaf and toffee. The dark fruit is noticeable on the tongue, but so are the tannins. It needs time to mellow. It should age with grace.

918664 NUITS-SAINT-GEORGES, 2001, $54.95, Vieilles Vignes, Domaine Michel et Patrice Rion.
In contrast to the Mondavi Pinot, this is so much more subtle and refined. It's nose is full of sweet strawberry, rhubarb pie and cranberry juice. I found the balance to be in good form, with a pleasing texture, but it is lighter than I would have hoped on the finish.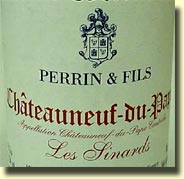 926626 CHÂTEAUNEUF-DU-PAPE, 2001, $29.95, Les Sinards, Perrin.
This wine is a light garnet colour, and looks quite pale in the glass. However, this is deceiving as its hefty nose is full of ripe cherry, pipe tobacco, bacon fat and lavender. It is medium in weight, clean and well structured. Reasonably priced too, considering the appellation.

707372 HERMITAGE 2000, $84.95, E. Guigal.
Here lies an immensely full-bodied and incredibly dense wine, omitting aromas of chanterelle mushrooms, blackberry, juniper berry, roasted venison and Provincial herbs. It comes across the palate as being a bit clumsy and really tight, but the finish is stunning with a rich streak of ribena, and traces of vanilla and minerals.

981191 'SAN LORENZO', 2000, $14.95, Marche, Rosso Conero, Umani Ronchi.
This creation is fleshy, plumy and spicy. It has notes of balsa, chocolate, leather and a dusty tannin. It contains a decent finish featuring black pepper and plums.

713354 GATTINARA 1998, $30.95, Giancarlo Travaglini.
A whiff of medicinal cherry lozenges jumps out of the glass, as do the aromas of freshly brewed coffee, dark berry and rubber tires. It has a sweet, plush mid palate, but shows mostly one dimensional cherry fruit.

908079 NEBBIOLO 2001, $17.95, Langhe, Batasiolo.
The nose gives of hues of dark cherry, sawdust, raspberry and cola. The tannin is at a level best described as gripping; perhaps time will help it develop.

972588 PRIMITIVO 2001, $13.95, Puglia, A Mano, Fusione.
I liked this wine a lot. It expresses lots of forest floor aromas, some wild mushroom, Christmas cake spice and dark velvety fruit. Its finish is dusty, fruit laden and quite long. A must have bargain for me.

946731 ROSSO DEL CONTE 2000, $37.95, Conte Tasca d'Almerita .
I expected this wine to be priced much lower. Yes, it has tones of pleasant Zin berry fruit, a little blueberry and some dried herbs, but possesses little else. The finish is a little sweet and rather dull.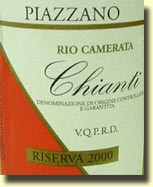 923722 CHIANTI RISERVA 2000, $24.95, Rio Camerata, Fattoria Piazzano, Fattoria Piazzano/di Bettarini.
This possesses aromas of polished fruit, red licorice, blackcurrant and mint. Traces of eucalyptus can also be detected. I believe this to be a new world style Chianti that is well constructed and harmonious. Although there are tannins present, it is easily drinkable in its present state. The long finish offers flavours of anise, cherry and caramel.

981506 CARMIGNANO 1999, $21.95, Villa Artimino.
Time is the essence for this wine. It shows hues of pleasing red cherry and raspberry fruit on the nose. However, it is highly acidic, and the tannins are just so tight right now that all the fruit on the palate is totally masked.

983312 'VERTIGO' 2000, $22.95, Merlot/Cabernet Sauvignon, delle Venezie, Livio Felluga.
Here is another wine that shows lots of rich ripe and jammy dark fruit flavours. The cassis in particular just oozes out of the glass. The colour has a dark ruby garnet tone, forewarning that it will be quite full bodied. The finish is chewy, and full of dusty tannin. One also detects hues of sweet berry pie, followed by previously undetected earthy notes.

479766 RIPASSA VALPOLICELLA SUPERIORE, 2000,$21.95, Zenato.
How strange, this wine is different from start to finish. There is an initial sweetness on the nose yet the finish is surprisingly dry. There are nice rich fruit flavours of plum and blueberry, combined with dark salty Dutch licorice, dark cherry chocolate candy, and a layer of creamy dark toffee. I think for the money, there is a lot going on with this wine.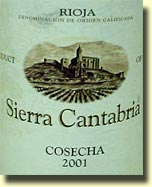 983841 'SIERRA CANTABRIA' 2001, $12.95, Rioja, Sierra Cantabria, Spain.
I did not intend to save the best for last, but hey that's the way it goes. If you have read this far, you are in for the deal of the month. Its initial profile is that of being meaty and fleshy. However, beneath the brawn hangs a layer of dark berry coulis, coffee and dark caramel. I need lots of this!

Cheers,
CZ

Alan Kerr's Home Page and Main Index