Alan's February 2002 Vintages Release Tasting Notes
Release date February 9, 2002
Vintages sale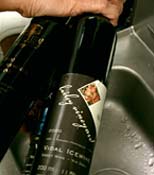 A date to note, Vintages is having an in store bin end sale on the 23 rd of February that looks like it may well be worth getting out of bed and lining up. My store in Byron is getting quite a good percentage of what is on the list. There are some deals to be found. For example the 97 Leoville las Cases originally priced at $199.00 is reduced to $99.00. More in the area of my pocket book is the Yalumba Barrrosa Cab/Shiraz, down from $22.95 to $14.95. Torres Barrel Fermented Chardonnay is being moved out for $9.95. There seems to be many great deals so contact your local consultant to see what they have coming in.

Currently Vintages has some of the wines scheduled for release on their web site but it is not complete. Later on next month many wines from the classics catalogue will be on sale and I had a chance to quickly browse through the list. There are some deals here for sure. One that caught my eye was a double magnum of Leoville Poyferre down from $288.00 to $180.00. There are some great reductions in wines from the Rhone valley and a few decent California wines too. I will post more information on this sale when I review the March's line up of wines. There is no information yet about this sale on the Vintages web site.

This months release has nothing really stellar to justify lining up in front of your local store to be the first to enter to grab the goodies but there are a few wines, in the QPR category, that are worth being on time for. Several of these are from the land down under and are all priced well under twenty bucks. There are umpteen Ice wines being released this month too and they do vary in price and quality. Once again much of the higher end stuff was missing from the pre release lineup. How can a consultant do a "sales pitch" when they have not tasted the wines sitting on their shelves? In all honestly, if I were a "special occasion shopper", I would not drop $50.00 on a wine based on second hand speculation no matter what. Maybe that is why umpteen bottles of Geyserville and Lytton Springs are still gathering dust around these parts! Ok enough of my whining; on to the real wines!

542415 CHARDONNAY 1998 $ 17.95, 'Terroir', Strewn Vineyard, Niagara Peninsula, Strewn
Med straw/green colour. Lovely ripe aromas of hazelnut, marzipan, lamp oil, baked pears and toffee all leap from the glass. It is a mouthful of wine, well balanced, full bodied and creamy. The ripe cooked pear, canned pineapple and apple fruit is backed up by a core of lemon/lime zesty acidity. Very nice.

718270 CHARDONNAY 1998 $ 19.95, 'El Niño', California, Calera
This is 100% barrel fermented, barrel aged with a few oak chips tossed in for good measure. The nose was marked with a touch of sulfur. There was layer after layer after layer of toasty oak. The Sulfur blew off but the oak is there for duration I think. Longer than the fruit will ever be I am sure. Even the finish had the bitter woody flavours. Best avoided!

715896 FUMÉ-BLANC 1999 $ 15.70, Washington State, Covey Run
Med straw colour, a delicate hit of "kitten pee" that had departed by the second sampling. Somewhat light bodied with noticeable acidity. Mid palate was full of simple syrup flavours and little fruit. A bit astringent in the finish too

727198 SAUVIGNON BLANC 2000 $ 15.40, Marlborough, South Island, Framingham, NZ.
A wine to put away for summer time sipping. Lots of peach stone, rose petal, gooseberry and grass flavours. Acidity was of the cheek puckering caliber and the slightly spritzy finish was that of a tart lime sorbet. Enjoyed it!

723924 SAUVIGNON BLANC 2000 $ 10.35, Firefinch, Robertson, Springfield Estate. South Africa
This dull, flat and lackluster wine needed some acid to bring the simple fruit and citrus flavours together.

976233 CHARDONNAY 2000 $ 13.60, S.I. Estate', Casablanca Valley, Viña Casablanca, Chile
Pale straw colour, sweet apple juice and lime were the principal focus on the nose. A little cloying but being low on oak aging allowed the fruit to shine. Clean, simple and quite refreshing in the finish.

745091 GEWURZTRAMINER 2000 $ 17.65, Domaine Aimé Stentz et Fils, Alsace
Green toned, fairly well structured medium body showing a pleasant waft of lychee, sweet spice and toasted almonds. Good length to the finish although I did detect a trace of bitterness but really worth trying nonetheless.

712885 CHÂTEAU DE RULLY 1998 $ 24.75, Comtes R. de Ternay, Rully, Antonin Rodet
Initial aroma gave some balsawood, matchstick and mineral. Later on it showed mellow fragrances of peach and green apples but they were struggling to get through! Fruit flavours were much the same. Finish was short and sweet!

555607 CABERNET SAUVIGNON 1997 $ 36.95, Frei Vineyard, Dry Creek Valley, Sonoma County, E & J Gallo
This dark ruby coloured, and very viscous Cab immediately coated my teeth with gripping tannin. Lots of plum, black raspberry, cassis and cola made it worth fighting through the dense cloak. It finished strong with heaps of chewy chocolate and spicy plum. Showed much better than its roomie, the Frie Ranch Zin, also a participant on this release.

314252 PINOT NOIR 1999 $ 24.55, Vintner's Reserve', California, Kendall-Jackson
Yikes, the notes I scribbled down on this Pallid Pinot were a far cry from the accolades of James Laube. He called it elegant, round and fruit laden. I honestly found it short, weedy and any fruit that was apparent was a far cry from being elegant. If anything it carried a one-dimentional jammy quality that did little for me. Go figure, huh?

571646 ZINFANDEL 1998 $ 18.95, Old Vines, California, Villa Mt. Eden
The fruit, mostly red currant and raspberry were very vibrant in the nose but subtle, or toned down a notch or two on the palate. It was pleasant, the fruit carried through to the finish but did not last long. The touch of cracked white pepper is what I could taste after the fruit had faded. It is now rare to find a reasonable Zin priced under $20.00 in Ontario. This may be worth putting a couple away and see what happens.

355289 ZINFANDEL 1997 $ 34.90, Frei Ranch Vineyard, Dry Creek Valley, Sonoma County, E & J Gallo
Oh I did not care for this one bit. Very deep, almost oxidized, garnet colour. Over ripe fruit and medicinal aromas and on the palate it tasted tired and dried out. Bad bottle? Maybe!

965756 PINOT NOIR 1999 $ 29.95, Willamette Valley, Amity Vineyards, Oregon
Bright and vibrant mauve colour. Sweet aromas of cherry, strawberry and crushed black fruit. Nice clean mouth feel but a little stemmy in the finish.

948992 RED 1999 $ 19.45, Columbia Valley, Hedges
This was really shut down and tightly closed. The rich chocolaty tannin masked the berry, clove, leathery and tobacco flavours that lurked beneath. On the palate the fruit was quite intense but the finish was shaded from the dryness of the tannins. I think a year or two and this could be really nice.

969774 CABERNET SAUVIGNON 1999 $ 15.00, High Country, King Valley/Kiewa River Valley, North East Victoria, Miranda Wines
Tons of eucalyptus, black fruit and plum were the focus of this well-balanced medium bodied Ozzie offering. For fifteen bucks, one really can't go wrong.

511600 CABERNET/SHIRAZ/MERLOT 1998 $ 15.95, Coonawarra, South Australia, Wynns Estate
Lots of jammy fruit but a trifle cloying for my tastes. There was no shortage of wood here either! Again that eucalyptus came through only this time there was a pleasant hint of mint into the mix. Good long finish for the price.

980631 'FAITH' SHIRAZ 1999 $ 18.80, Barossa Valley, Australia, St. Hallet
Medium bodied Shiraz that focused on plum, blackberry and pepper. Again this wine has seen its fair share of the inside of an oak barrel but it was not over the top. Finish was rich, maybe a little hot but the fruit did linger long.

738203 SHIRAZ 1999 $ 18.85, Reserve Selection, Western Australia, Goundrey Wines


Full of perfumed and polished fruit, raspberry, blackberry and sweet cassis. There was a herbaceous character that exhibited mint and Asian star anise. It was peppery and finished well carrying an interesting nuance of violet candy well into its finish.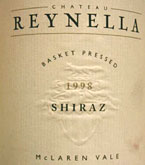 510628 SHIRAZ 1998 $ 27.45, Chateau Reynella, Basket Pressed, McLaren Vale, Australia
This maybe a little more costly than the previous wines but it is worth the extra cash. It was full bodied, with loads of ultra ripe fruit and carbolic soap, (childhood memory I guess), that leaped right out of the glass. It was tannic but not in a manner that distracted from the fruit. The wine was red fruit driven from start to finish. My friend Marty believes on sitting on Reynella's wines for several years. Maybe I will talk him into opening one of the "elders" and see what we can learn form it!
743526 SHIRAZ/PINOTAGE 2000 $ 14.60, 'Reserve', Western Cape, Lyngrove, South Africa
This wine won approval from several of the tasters present. Well maybe I am allergic to Pinotage, who knows, but this was not a wine for me. It is that certain shellac "funk" in the nose that throws me off. It has its fair share of plum fruit, floral aromas and mineral but it is that hit of stale cloves, cigar box and rancid cocoa powder that I simply do not like. The price is reasonable and as I said, people did enjoy it.
562918 CABERNET SAUVIGNON 1998 $ 28.85, Terrunyo', Maipo Valley, Viña Concha y Toro, Chile
Wow, this was a mind-blowing bouquet after tasting the Ozzie stuff. Really earthy, borderline barnyard manure actually with lots of tar, rotting leaves and green tea. However, there was obvious fruit aromas too, mostly plum, damson and blackcurrant. I liked this a lot except for the astringent green taste in the finish. Went back and tried it a second time and that astringency had declined a bit or maybe I had.
716944 CHÂTEAU DE ROCHEMORIN 1998 $ 24.50, Pessac-Léognan, Bordeaux
A really dark glistening deep ruby purple colour. Earthy, cigar box and leathery aromas bowed to allow the cherry and cassis to come through. Excellent balance. Needs some time to let the dusty tannins that controlled the finish a chance to soften. I enjoyed this in its current state of maturity but it should develop really nicely in a few years time.
131672 CHÂTEAU LOUDENNE 1998 $ 23.95, Cru Bourgeois, Médoc
Also another well priced Bordeaux. Quite full bodied, full of sweet fruit, a pleasant trace of vanilla and a long creamy finish.
717132 CHÂTEAU FOURCAS HOSTEN 1996 $ 32.35, Listrac
A nice mature claret colour that showed a slight amber hue at the rim. Ready to drink, this offered a pleasant blend of fruit, mostly cassis, cigar, lead pencil and cedar. A good opportunity to taste a Bordeaux close to maturity.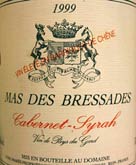 712174 CABERNET/SYRAH 1999 $ 14.80, Mas des Bressades, Vin de Pays du Gard
A contender for deal of the month! It had a solid structure, concentration of red and black fruits, a lovely kick of vanilla and nice spice. Oak was creamy; tannins were present but unassuming. Finish was long, clean and focused.
933366 CÔTES-DU-RHÔNE-VILLAGES 1999 $ 13.85, Jaboulet Aîné
I liked this a lot and fully intend to buy some for drinking today, tomorrow and even a year or two down the road. It was medium bodied, well rounded and quite generous with its flavours of plum, black cherry and blackberries. Pleasing touch of licorice and pepper to close. Any of my students competing in the Cotes du Rhone Sommelier challenge, who just happen to read this, are well advised to grab a bottle or two and practice!
728733 GIGONDAS 1998 $ 21.75, Romane-Machotte, Pierre Amadieu
A little funk here showing, wild mushroom, a touch of garrique and black cherry. It was medium bodied, fruit did show well and the tannin was soft and clean. Finish was peppery with a touch of vanilla. It seems ready to drink to me.
366062 'FARNITO' 1998 $ 32.95, Cabernet Sauvignon, Toscana, Casa Vinicola Carpineto
I liked this until I noticed the price! It was well balanced offered good fruit and a leathery texture. Enough said.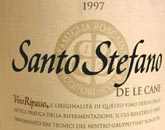 476127 'SANTO STEFANO' 1997 $ 14.75, de le Cane, Vino Ripasso, Boscaini
Lovely rich and creamy, fruit was mostly cherry and red currant. A touch of pleasing herbaceousness on the mid palate. Finished quite long and chewy. Really interesting!
976662 'FAUSTINO I' 1994 $ 25.90, Gran Reserva, Rioja
Appeared a little over ripe on the nose. Touch of amber/brown on the edge. Fruit had developed that sweet and spicy character that older Spanish wines often do. Past its peak maybe but still interesting enough to try with friends!
725911 'QUADERNA VIA' 1998 $ 14.35, Crianza, Navarra, Viña Ebro, Spain
This has to be one of the most acid focused Spanish wines I have tried. The soft red fruit was jammy and pleasing. The finish was acidic, slatey and redolent of sour cherries.
976670 'MARQUÉS DE CÁCERES' 1991 $ 34.75, Gran Reserva, Rioja, Marqués de Cáceres, Spain
I think this had held up better than the Faustino. The colour was still quite deep, the fruit and mineral elements were still very harmonized. The flavours I found were sandalwood, blackberry, chocolate and crushed strawberries. Drink it soon though!
There are several Ice wines offered in this release. I had to take a breather and try to refresh my palate. I may not have done these wines the justice they deserve but I did wait about an hour between the reds and the Ice wines. Many of the other tasters were disappointed with what was available.
CABERNET FRANC ICEWINE 2000, Niagara Peninsula, Kittling Ridge Estate Wines
This was my first chance to try an ice wine made from a red varietal. I realize if it were not for experimentation, new world winemakers would be crafting wines based on European tradition. However I really think Cab Franc should hold its status as being a full bodied herbaceous red. The colour was pretty but its aroma reminded me of something that one finds in a very large format screw top bottle for an extremely low price. It was sweet and medicinal with a meager hint of berries. On the palate it showed a heart of candied fruit with a touch of milk chocolate.
729954, GEWÜRZTRAMINER ICEWINE 2000, 200 ml, $29.95, Niagara Peninsula, Pillitteri Estates
Not much in varietal character showing here but these wines are still young. Some floral character on the nose. Peach and candy apple flavours in the mid palate and a finish that had a touch of spicy pepper.
593970 RIESLING ICEWINE 2000, 375 ml, $62.95, Proprietors' Grand Reserve, Niagara Peninsula, Jackson Triggs
Good med to full boded wine, flavours redolent of canned fruit cocktail, some orange marmalade and a little earthiness. Even found a touch of coffee bean and tea. Nice acidity needs time to soften the cloying elements.
590133 RIESLING ICEWINE 2000, 375 mL $44.95, Niagara Peninsula, Lakeview Cellars
Lots of baked apple, lemon zest and canned peach aromas. Furry peach skin flavours with a hint of vegetation. Indications of honey and fruit flavours that need time to develop and gain complexity. Well balanced and the finish was clean.
522672 VIDAL ICEWINE 2000, 200 mL $18.95, Niagara Peninsula, Lakeview Cellars
I liked this! The colour was deep leaning towards a golden hue. Lots of dried fruit and baking spice aromas. A toffee/cappuccino texture. A few odd elements such as potato peel and licorice but the power of the fruit and honey, especially in the finish renders them barely noticeable. Price is attractive too!
591503 RIESLING ICEWINE 2000, 375 mL $ 52.95, Niagara Peninsula, Inniskillin Wines
Currently this is not showing to well. Its balanced flavours of peach and spiced apple are subdued. This is a winery that put Ontario on the map as far as Ice wines are concerned. Their wines need time to develop and when they do, they can be truly wondrous. I am afraid I am not qualified to say if this will be one of them.
728253 RIESLING ICEWINE 2000, 375 mL $39.95, Limited Edition, Merrit Road Vineyard, Niagara Peninsula, Magnotta Winery
The nose showed some complexity already. Reduced apple juice, citrus, vanilla and spice. Quite full-bodied, very long finish and well balanced. Again well priced!
594010 VIDAL ICEWINE 2000, 375 mL $45.95, Proprietors' Reserve, Niagara Peninsula, Jackson-Triggs
Medium yellow/ coppery colour, apricot and brown sugar aromas, a little cloying but there was plenty of peachy acids to mellow it, Needs time to harmonize.
591438 VIDAL ICEWINE 2000, 200 mL $24.95, Niagara Peninsula, Lailey Vineyard
Nice depth of yellow/gold colour. Initial aroma of "cat pee' and a mustiness took a while to disperse. Some pleasant orange, dried fruit flavours, nice baking spice flavours but a touch bitter in the finish
592287 VIDAL ICEWINE 2000, 375 mL $43.80, Niagara Peninsula, Peninsula Ridge Estates
This was different, nice deep yellow colour, sage and herbaceous aromas but lots of skin fruits too. Very meaty, good concentration, finish strongly with servile orange, fig and rich honey.
Cheers
CZ
Alan Kerr's Home Page and Main Index