Alan's February 2003 Vintages Release Tasting Notes
Release date February 8th, 2003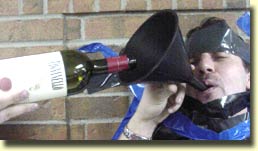 Hopefully all the bills and credit cards have been paid off from the recent holiday season, as February has a few gems that could be worth maxing the cards out again! My hour of power tasting was productive, thanks to the consultants who know my tastes and consequently put a few wines aside for me. Hey I even managed to sip a couple of whites! This month's selection is back to the one time release date which is this Saturday, February 8th. On a cautionary note, there are several pricing errors and misquoted vintages in the catalogue. One should be wary and make sure what you think you are going to get is really what you want! Although these notes were taken in haste, speedy or not, there were several wines that will get me out of bed early on Saturday before the good stuff flies out the door.
978163 VIOGNIER 2001 $ 18.75, 'Clay Station', Lodi, Delicato Family Vineyards.
I am really starting to love the uniqueness of Viognier and this is one that I thought will be particularly worth buying. Being free of oak, the lovely scents of baked apple, peach and honey flowed at will. Nice rich and spicy feel to the mouth and decent length on the finish.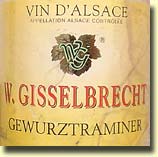 960419 GEWURZTRAMINER 2001 $ 16.55, Réserve Spéciale, AC Alsace W. Gisselbrecht & Fils.


All the desired aromas of an Alsace Gewurz and them some. Rich yellow gold colour, sweet tones of litchi, canned fruit cocktail and cake spice. Quite a big wine for a minimal price.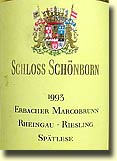 960500 RIESLING SPÄTLESE 1993 $ 19.95, Rheingau. Erbacher Marcobrunn Domänenweingut Schloss Schönborn.


It is rare for me to scribe notes on a German Riesling but I was told I should not pass this one by. The colour was a vibrant yellow/green to light gold. The nose was a wonderful mix of tree fruits, mostly peach and pear, spice, nutmeg, earthy flint, and that petrol thing that people always talk about. It was sweet with out being cloying, beautifully balanced and held a good clean finish. Now the bad news. This wine is in limited quantities and every store that ordered it in London received none! If you can find it in the Province of Toronto, I recommend you buy it as drinking a ten year old nicely matured wine at this price is a exceptional treat.

982504 PETITE SIRAH 2000 $ 22.95, Bogle Vineyards, California.


Dark inky colour, lots of pepper, cooked black fruit and blackcurrant. Quite viscous, tight and chunky on the palate. Although brimming with fruit, the tannins did rule the roost. Quite the kick of vanilla on the finish. Should be a winner in a few years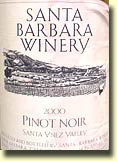 942946 PINOT NOIR 2000 $ 22.60, Santa Ynez Valley, Santa Barbara Winery.


If I had tasted this blind, Pinot would not be the first "cepage" to spring to mind. Nonetheless, it was well structured, rich and very satisfying. I look forward to trying this again. Nose was sweet, plush and plumy with hits of cedar/sawdust, violets and cooked black cherry. Palate was spicy, full of the cherry from the nose, with traces of cinnamon and cola! This too will benefit from some short term aging.

982439 ZINFANDEL 2000 $ 39.85, 'Sonoma Station', Ridge Vineyards.


Some sweet raspberry, blueberry, rhubarb were buried behind a healthy whack of vanilla and cracked black pepper. There were earthy tones/dried leafy things going on too. Flavour had lots of berries, a noticeable sweetness and a nice creamy texture. Not a big Zin though and for my money here I would certainly want more. Another reason I will not buy this on Saturday is 'cause I know the base price south of the border is considerably less.

990713 ZINFANDEL 1999 $ 33.75, Napa Valley, Robert Mondavi.


Lively and full of fleshy plums, blackberries, black cherry and sweet floral aromas. Lovely wine that danced around the palate leaving traces of nicely integrated tannin, black fruit and a refreshing kick from the acid.

506659 ZINFANDEL 1997 $ 39.85, Barelli Creek, Alexander Valley, E & J Gallo.


The bottle that was shipped for the tasting was the 96 vintage instead of the advertised 97. It displayed a solid core of rich and vigorous fruit. A touch smoky, with sweet perfume on the nose. Ripe and fleshy red berry flavours, rich and chewy on the palate. Finish was lackluster but I had to keep in mind the bottle had been open for several hours.

614818 SHIRAZ 1999 $ 29.95, Orange Vineyard, Orange, New South Wales, Rosemount.


Oh this stuff just rocked, I could have stopped tasting right here. Sometimes I find Ozzie Shiraz to be overly sweet and excessively laden with one dimensional fruit that can be overwhelming. Not this puppy! Its was deep dense, packed with Christmas pud spices, blackberry, lavender, maraschino cherry and ton of freshly ground black pepper, especially on the tongue. The finish didn't want to give up for several minutes. Close to the top of my shopping list.

983700 MALBEC 2001 $ 14.90, Reserva, Mendoza, Bodegas Nieto Senetiner. Argentina.


This was fun, full of all sorts of funky stuff! Saddle leather, star anise, blackberry coulis, black licorice candy, lead pencil and dirt. Not an earthy or mineral toned terroir, just plain old top soil type dirt. Lots of plumy fruit, fairly full bodied and very interesting. Worth trying at this price.

980144 MERLOT 1999 $ 18.95, Select Reserve, Aconcagua Valley, Viña Porta, Chile.


Good initial concentration of fruit from this robust and fleshy wine. Lots of blackberry, blueberry, dark bitter chocolate, hints of vanilla all bound together by a solid layer of tannin. Mid palate was nice, tasty and chewy but the wine paled on the finish. The acids seemed to almost disappear rending the wine dull and dreary.

720706 CHÂTEAU DUCLA 2000 $ 23.80, 'Permanence VI', Bordeaux Supérieur.


was not a fan of this as the tannin seemed to overwhelm anything else that might have been present. I did find pleasant hints of currant and other dark fruits but they were suppressed by a heavy layer of oak. Having little experience at critiquing recently bottled wines from highly touted vintages, maybe I am just overlooking or missing something.

979179 BOURGOGNE ROUGE 2000 $ 28.95, Domaine Bachelet.


I had the privilege to taste three Burgundies from this release and as much as I liked this I am not sure I could justify the asking price for a generic "Bourgogne" It had all the pleasantries of a well made pinot; in fact I noted elegant as one of my descriptors, but sweet perfume of red berry, raspberry and floral tones just was not enough to warrant the price.

993121 NUITS-SAINT-GEORGES 1998 $ 49.95, Joseph Drouhin.


This wine actually tendered the least aroma of the three Pinots. However, I found much more depth and concentration once I took a sip. The lively acids awoke my palate. It was quite fleshy, full of plum, raspberry and mineral with subtle traces of violet and sweet cherry. It was good, that there was no doubt, but the price! Ouch.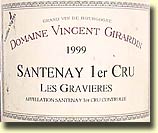 940825 SANTENAY 1ER CRU 1999 $ 38.90, 'Les Gravières', Vieilles Vignes, SARL Vincent Girardin.


This was the "Jimmy Durante" of the three. Quite the schnozzola on this little bomb! I rarely invest in Burgundy anymore but due to the price and variable quality but I will happily contribute to the Provincial tax bag on Saturday to acquire a bottle or two of this. Gorgeous nose laden with red currant, plum, coffee grounds, Asian spices and blueberry jam. It seemed to be a little disjointed but I really think this will be a winner. I always believed Santenay to be a lighter commune but this shows exactly what premier cru fruit, in the hands of a skilled artisan, can produce.

946871 CHÂTEAU LA BARONNE 2000 $ 15.30, Montagne d'Alaric, Corbières.


A likely candidate for best QPR of the release. An alluring and multidimensional nose laced with vanilla, mushroom, tea, licorice, ripe raspberry, coffee and a huge layer of ultra ripe berry. There was a slight bitterness on the finish but it was of little concern as the fruit was the major contributor.

968594 BARBERA D'ALBA 1999 $ 26.80, 'Castellinaldo' Russ' di Sergio Marchisio.


Pleasing mix of nature's best. Forest floor, pine cones, touch of wild mushroom and bacon all blended nicely with bright cherry and black fruit.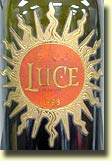 710046 'LUCE DELLA VITE' 1998 $ 99.00, Marchesi de'Frescobaldi/Robert Mondavi.


Wonderful stuff, it was spicy, full of chocolate, blackberries, almond fudge, anise and red fruit. Quite delicious, drinking nicely now but with a firm grip to the finish. To bad about he price, especially going head to head with signor Tignanello on the same release.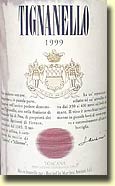 512368 TIGNANELLO 1999 $ 89.70, Toscana, Marchesi Antinori.


This had so many different things going on, it truly was hard to describe in such a rush. There was vanilla for sure, with plum, cherry and heaps of rich red berries. It was leathery, pruney, with tones of roasted meat or marmite, an English snack type paste often spread on bread. Solid from the start to the exquisite finish which was dominated by a surprising amount of sweet red fruit.

315838 'MAS LA PLANA' 1997 $ 39.00, Gran Coronas, Penedès, Miguel Torres.


My palate might have been tiring when I tasted this. I found it tight and really closed save for a little tease of currant, plum and coffee aromas.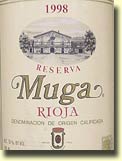 177345 'MUGA' RESERVA 1998 $ 22.85, Rioja, Bodegas Muga.


A very pretty wine showing a sweetness of fruit, marzipan, coconut and ripe strawberry. On the other side I found an herbaceous tone with touch of the forest floor, Asian spice and lavender. People did comment that this was a lighter version compared to previous vintages! I liked it but it was by no means a classic.

Cheers,
CZ

Alan Kerr's Home Page and Main Index