Alan's December 2003 Vintages Release Tasting Notes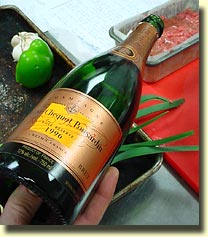 December is always a busy time for me. Even after I lied to my students, telling them I had to cut out of class early for a meeting, by the time I got to the tasting, all of the red wines had already found their way into London's sewerage system. Consequently my brief collection of notes this month is all whites and bubblies. All of the wines for this month are to be released on December 6, allowing one plenty of time to stock up for the holidays.

591347 CHARDONNAY 2001 $ 19.95, Niagara Peninsula, Lailey Vineyard.
This bold Chardonnay poured out its subtle toasty oak, canned pineapple, baked spiced pear and candied lemon zest aromas as soon as it hit the glass. Although the mouth feel was full and well balanced, it was quite tight and should benefit from a little short term cellaring. I really was impressed with this complex bottling.

906818 CHARDONNAY 2001 $ 14.95, WO Franschhoek, Chamonix Winery, South Africa.
This had nice notes of hay, pear, wood shavings and lime candy. It was pleasant on the palate, but those wood shavings turned a little too heavy on the finish for me!

918078 GEWURZTRAMINER, 2001, $ 39.95, Wintzenheim, Domaine Zind-Humbrecht.
By the time I got to this wine, there were slim pickings only left in the bottom of the bottle. Ordinarily this is a sign of the wines popularity around the room. However, the mouthful I had came across as overly flabby and very low in acid. It had the spiciness and baked pear aromas one expects from a Gewurz, but all I found on the finish was a cloying sugar candy texture. I was told that earlier on it showed really well and I have to attribute my contrasting opinion to the fact that the little that was left had been open so long.

909341 CHÂTEAU LAMOTHE DE HAUX 2002 $ 14.95, Bordeaux.
As it is currently snowing, I think I might stick a few bottles of this mostly sauvignon blanc based wine away and dream about next year's barbeque season. It had lovely grassy and citrus notes on the nose. A full and zesty streak of well balanced acidity and a decent fruit laden grapefruit-y finish.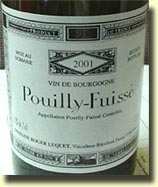 907931 POUILLY-FUISSÉ 2001 $ 28.95, Domaine Roger Luquet.
Another interesting Chardonnay that initially offered up intense floral aromas followed by slate, mineral, lemon bar mix powder and celery seed. The flavour profile was interesting and actually more fruit forward then the nose suggested.

993493 CHABLIS PREMIER CRU 2000 $ 36.95, Mont de Milieu, Domaine Simonnet.
Sad to say, I found this to be rather disappointing. Its aroma teased at first with delicate notes of tart kiwi, nectarine and oyster shells. However, the mid palate showed little body or structure. The finish was pleasant, but faded way too fast. Given the price of this wine, I really expected more.

179556 CHÂTEAU DE CHAMIREY BLANC 2000 $ 22.95, Mercurey, Roger de Jouennes.
Now this wine had more oomph and boasted a much more fruit forward nose. Playing second fiddle to the fruit were some earthy and damp hay aromas that melded with the clean and refreshing citrus elements. The colour was rich and almost golden. The mid palate and finish were loaded with baked apple, Asian spice and roasted pear.

250696 'PRINCIPESSA GAVIA' 2002 $ 17.95, Gavi, Banfi.
Another wine I quite enjoyed and one I rarely get the chance to try. It showed pretty peach, mineral, apple sauce and under ripe honeydew melon aromas. The finish showed the fruit, but there was a trace of an herbaceous factor as well. It certainly could be another wine to hold for the summer and pour as an aperitif.

Notes on a few sparklers. Please take into account all of the sparkling wines and Champagnes had been open about six hours before yours truly was able to get to them.

733824 BRUT CHAMPAGNE $ 49.95, Premier Cru, 'Venice-Simplon Orient Express', Cuvée Speciale, Lechère à Avize.
I did like this a lot as it offered the most appealing nose of the bunch. The heavy mousse gave out enticing aromas of lime leaf, cider apple, barnyard straw and rhubarb. The pleasing finish, that featured the citrus and lime peel notes, came across as being ever so slightly sweet.

588475 ROSÉ RESERVE BRUT CHAMPAGNE 1996 $ 74.95, Veuve Clicquot-Ponsardin.
My first sip left me wondering "what am I missing here?" It appeared light in comparison to the other sparklers. There were pretty notes of cherry, red currant and apple on the palate and the nose, but they were moderate at best. The colour had an alluring bronzy tone. The finish was clean and quite tasty.

384529 CHAMPAGNE 'SPECIAL CUVÉE' $ 62.95, Champagne Bollinger.
This was rather pleasant too. Lots of lovely peach and nectarine aromas leaped from my glass. It was the spiciest sparkler of the bunch showing a touch of prickly pepper. The mid-palate displayed dried apple ring, citrus fruits, parsley and mineral tones.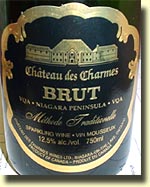 207944 CHÂTEAU DES CHARMES BRUT $ 19.95, Méthode Traditionelle, Niagara Peninsula, Ontario, Château des Charmes.
Delicate is not a word I would use to describe this wine. Don't get me wrong, it was good, especially given the price. It was upfront and bold. The frothy mousse carried toasty aromas and showed thyme, apple and ripe Anjou pear. The finish had dryness, but the overall profile of the wine came across as being somewhat sweeter.

957894 CRÉMANT DE BOURGOGNE BRUT $ 18.95, Blanc de Blancs, Domaine Roger Luquet, France.
This had a yeasty and an odd rotting apple skin component on the nose that frankly overpowered the pleasant citrus and tart apple flavours that I found on the palate. I didn't care too much for this. In my opinion it was not well balanced and it was really sharp on the finish.

909762 CRÉMANT DE LOIRE BRUT 1996 $ 28.95, 'Quadrille de Langlois-Château', Loire, France.
I noted aromas of sawdust and dank swampy waters that at first was unappealing. It did open up to reveal some pretty baked peach and clove notes, but overall the finish was kinda bitter.

718130 PRIMITIVO DI MANDURIA 2001 $ 22.95, 'Pichierri', 'Tradizione del Nonno'.
This wine from Puglia, which just happens to be the wine of the month, was the only red in the room that did not meet a premature demise. If someone poured this and told me I was drinking a Zin, I would have no reason to disbelieve them. It was really very ripe in style and showed lovely sweet and creamy black fruit with a trace of liquorish and toffee. Quite sweet, almost port like, on the finish.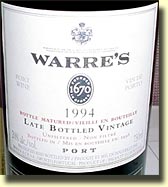 578146 'WARRE'S' LBV PORT 1994 $ 29.95.
On the subject of Port, If you like them, then I suggest you buy this. It was so tasty, full of chocolate, clove, black fruit and raspberry. I think it is a steal at this price to be honest.

963587 'DELAFORCE ' VINTAGE PORT 1985 $ 69.95.
This was somewhat deceiving, the aromas were youthful, but the red brick colour was that of mature Bordeaux. Although it was hot on the nose, there were plenty of whiffs of cinnamon, coffee grounds, raspberry, pepper and stewed fruit compote to wet the appetite. The balance was fine, the finish was pleasant, showing more of the stewed fruit component plus a trace of lead pencil.

924258 VINTAGE PORT 1987 $ 83.95, Martinez Gassiot.
Having all but a second to swig and spit before the doors were to be locked, I would say this Port still needs time to come around. It was very full bodied with heaps of chocolate, black liquorish candy and layer of layer of rich and silky tannin.

Cheers and all the best for the season,
CZ
Alan Kerr's Home Page and Main Index