Alan's December 2001 Vintages Release Tasting Notes
Release date December 1, 2001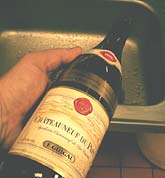 Last month I was disappointed, having missed the pre release tasting; all I heard was rave reviews about all the wonderful stuff I missed. Unfortunately, the general feeling about December's release was that it seemed lackluster in comparison to November's. Quite a few of the premium wines were missing from the line up and from what was available, there really was not too much to get excited about. There were a few wines that I would classify as really good stuff but sadly there were several that really should not be made available to the unsuspecting public.
Best wines? Well I thoroughly enjoyed, the 1997 Ch. Souverain for it's luscious, rich and well balanced texture. It was loaded with sweet ripe blackberry fruit, cassis, plum, coffee and tongue teasing creamy dark chocolate.
Another wine I enjoyed was Guigal's 98 Chateauneuf du Pape Initially I did not see what all the hype over this wine was all about, especially after reading Parker's glowing reviews. However tasting several times, I found some of the expansiveness and concentration of flavours that elated the eminent Mr. P so much. It displayed lots of funky tarry elements, really polished fruit, heaps of pepper and masses of tannin. It will need time to come together and soften.
533315 CHARDONNAY 1998 $ 17.95, 'Triomphe' Niagara Peninsula, Southbrook Winery
A rich and voluptuous wine showing vibrant aromas of butterscotch, toast and canned pineapples. Creamy texture in the mouth. Lots of polished apple and pear flavours that move into a long finish of pineapple juice and acid. An interesting style of wine that would be fun to slip into a blind tasting.
322057 CHARDONNAY 1999 $ 23.50, 'Pinnacles', Monterey, Prod. & Btld. Estancia
With this I expected an overblown Chardonnay that would reek of oak and nothing else. Well fortunately I was wrong. It displayed good solid varietal fruit, focused well-integrated oak and well focused balance. Lovely flavours of sweet apple and tart honeydew melon that lingered long. The downside of this is I have purchased this wine south of the border for less than ten bucks.
722686 SAUVIGNON BLANC 2000 $ 10.90, 375 ml, Sonoma County, Kenwood Vineyards
The parent-sized version of this mini me wine was released last October. I like it now as much as I did back then. It is convenient have a few infant sized bottles of decent wine around to crack at lunch or as an aperitif before dinner.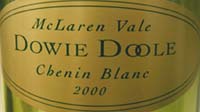 709246 CHENIN BLANC 2000 $ 13.95, Tintookie Vineyards, McLaren Vale, South Australia (Dowie Doole)
This was noticeably different from the rest of the pack. It's initial floral, leafy, and vegetal aromas blew off to reveal those of Asian pear and grape juice. The balance was fine-tuned, the finish long, quite full and grapey! The solid flavours and the perceptible sweetness will make this a prime candidate to quaff with some Thai food. A very fair priced wine.
742783 PINOT GRIS 2000 $ 13.60, Marlborough, South Island, Babich Wines, N.Z.
In all a very clean, sound and silky smooth wine. There were noticeable earthy mineral tones Pleasant tree fruit aromas and clean flavours of apple and pear. Again I hit a touch of residual sugar in the finish.
957761 SAUVIGNON BLANC 2000 $ 16.95, 'White Label', Hawkes Bay, North Island, Morton Estate, N.Z.
If you don't like cats, this may not be for you as the litter box factor was initially pretty overwhelming. There were plenty of other things here to get the taste buds salivating however, including a healthy dose of limejuice and citrus peel aromas. High acid, most refreshing, good length, a good wine that maybe needs food!
562900 CHARDONNAY 1999 $ 26.95, 'Terrunyo', Casablanca Valley, Viña Concha y Toro, Chile
'Terrunyo' is Concha y Toro's high-end wine. I was surprised as I expected, judging from the bright yellow gold colour this wine had taken on, a wine full of buttery oak and tropical fruit. Not at all, it displayed aromas of gentle oak, ripe melon, cooked pear and a trace of steely pineapple. Plenty of citrus acid and Northern spy apple flavours. It was full bodied and enjoyable but I have drank better Chilean Chardonnay at much lower prices.
993352 GEWURZTRAMINER 1999 $ 34.75, Herrenweg, Domaine Zind-Humbrecht, Alsace
Oh my god, this was one of the most exotic and harmonious wines as I have tasted in a while. It was a classic and a joy to sample. I really wanted to grab it, sit down in a corner and keep it all to myself! The toasty fresh baked shortbread aroma was memorizing. Loads of super sweet lychee fruit, roasted almonds and cinnamon were also evident. It was sweet without being cloying. Acids were soft and perfectly balanced. Finish was not as full as I hoped for but it was elegant with a kiss that keeps one wanting more. Wow!
733030 CHABLIS 1ER CRU 1999 $ 23.80, 'Les Fourneaux', Robert Nicolle, Prop.-Récolt
This contained all the usual elements of really good Chablis and them some. For a premier cru wine, this is reasonable price to pay. The chalky mineral aromas combined nicely with the crisp biscuit, marzipan and hazelnut tones that hung around in the background. A little richer in colour, pale yellow green, than other Chablis I have crossed paths with but I guess that is part of the being a Premier status wine. I would certainly take this in place of the Concha Y Toro given it's price is three bucks less.
938399 SANTENAY 1ER CRU 1998 $ 35.45, 'Clos de Beauregard', Domaine Vincent Girardin
The Burgundies just kept getting better and better. This one had a butteriness with some flinty notes underneath, a strong whack of vanilla, but not enough to be annoying. Loaded with rich ultra ripe Bartlet pear, banana peels, creamy, toffee, honey and baking spice aromas. It was full bodied and its flavours echoed all the aromas found in the nose. There was a slightly oily, chardonnay feel, in the mouth that gave an impression of a slight bitterness in the finish. The nice crisp acidity, solid fruit and flinty undertones did last longer in the finish and masked the minimal bitter flavour.
722041 EDESHEIMER ROSENGARTEN 1999 $ 13.75, Siegerrebe Spätlese, Gutsabfüllung, Weingut Werner Anselmann
I think this may be my first tasting note on a German wine. Amazing is one word that really came to mind when I inhaled the rich scent that protruded from the glass. This was thick, full bodied and loaded with flavours of peaches, nectarines, honey, raisins and grapefruit all bound together by a bond of super smooth acidity. A bargoon at this price I would have to say.
977132 VERNACCIA DI SAN GIMIGNANO 2000 $ 13.95, 'Tradizionale' Sono Montenidoli, DOCG, Elisabetta Fagiuoli
The deliberate omission of oak in the production was noticeable as the earthy mineral elements of this Tuscan village are the focus of the wine. Acid is high but some pleasing flavours of furry tree fruit skins and citrus make it interesting.
724138 CONDE DE VALDEMAR 1999 $ 15.40, Fermentado en Barrica, Alto de Cantabria, Rioja DO, Bodegas Martinez Bujanda S.A.
Not being overly familiar with the Viura grape, I had no idea what exactly to expect. I found it to be ripe and quite toasty until the raisiny almost oxidized taste over powered my entire palate!
551036 OLD VINES FOCH 1999 $ 19.95, Ontario, Malivoire
The vines for this Maréchal Foch, having just enjoyed their twenty fourth birthday, have been producing some dynamic wines for years. The multidimensional nose reeled me in and teased me with an array of smoky cured meats, proscuitto, espresso and cocoa beans. Beneath all this lay solid fruit flavours of plum, blackberry some Dutch black licorice and sweet chocolate. This is a winner.
943076 CABERNET SAUVIGNON 1997 $ 29.95, Estate Bottled, Mendocino County, Brutocao Vineyards
Given the asking price of this wine, I was disappointed. There was some nice slim cabernet fruit that emerged but for the most part all I could taste was an herbal and plum character. Even the finish was mostly stewed rhubarb and a faint hint of sour cherry. An ok wine but with little depth and a touch to acidic for my tastes.
301218 CABERNET SAUVIGNON 1997 $ 36.85, Alexander Valley, Chateau Souverain
This rocked. What else do I need to say?
982413 LYTTON SPRINGS 1999 $ 49.90, California, Ridge Vineyards
The board for some reason decided not to include this wine in the tasting. Having consumed this on as many occasions as I could in California last summer, I say swallow the price ( if you can finds it south of the border, expect to pay $33.00-$35.00 US) and buy as much as you possibly can. Rumor says Paul Draper claims this wine to be one of the finest Lytton Springs he has ever made. From what I remember it was laden with ripe blackberry, black raspberry with excellent balance, lots of glycerin, super concentration and ultra smooth tannin. I have regrettably drank every damn bottle I bought back with me but I will be sure to get some more as enjoyable as this wine is now, it is a keeper!
720243 MERLOT 1997 $ 39.90, Estate Grown, Napa Valley, Ballentine Vineyards
A big full-bodied and slightly sweet wine that upfront, was medicinal and herbaceous. There were lots of fruit flavours lurking mostly red currant, after dinner candy and sweet cranberry. Not really my style.
502336 ZINFANDEL 1999 $ 34.95, Rockpile Road Vineyard, Dry Creek Valley, Sonoma, Rosenblum Cellars
I happen to love these fleshy, somewhat sweet styles of Zinfandel and this was no exception. Floating around in the mix of heady aromas were raspberry, black cherry, blueberry and red fruit. The finish had good crisp acidity a tangy blend of fruit and a creamy mouth feel of Basset's liquorish allsorts and spice.
232793 CABERNET SAUVIGNON 1997 $ 23.95, Columbia Valley, Château Ste. Michelle
At first all this offered was tannin and earth. However there soon appeared lots of black cherry, spice and plum. It did finish spicy and quite hard. Not sure about this one as it was so tightly wound when tasted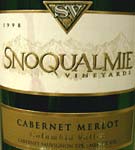 930321 CABERNET/MERLOT 1998 $ 16.95, Columbia Valley, Snoqualmie Vineyards
This too was deeply coloured and contained more tannin than I expected for a blend with Merlot as a component. It was a little herbaceous at first but there was plenty of fruit lurking in the background. Good value and worth trying at this price.
431999 CABERNET SAUVIGNON 1999 $ 11.95, 'Southeastern' Australia, Milburn Park Wines
Many people find this wine to be very good especially given the price. I found it to be one dimensional, slightly sweet and unexciting.
575092 SHIRAZ 1999 $ 22.95, Limestone Coast, South Australia, Greg Norman Estates
I would stick to playing golf.
741439 SHIRAZ 1999 $ 17.80, McLaren Vale, South Australia, Shottesbrooke Vineyards
This was an elegant Shiraz that offered more than just a face full of fruit. There was some juniper berry, plum and Thai basil in the nose. A good solid core of fruit flavours with a kiss of spice in the finish.
700815 SHIRAZ 1999 $ 19.95, Bendigo, Victoria, Water Wheel Vineyards
Again, a trifle sweet for me but it was brimming with fruit, mostly plum and cherry with a good long pleasing finish that teased with a hint of mint.
971606 SHIRAZ 1998 $ 16.00, Australia, Geoff Merrill
This was my pick for the best of the Oz category this month and I was surprised to see that it was one of the cheaper offerings available. It excelled with lovely ripe red fruit, a touch of lavender, eucalyptus, and violet candy in the finish. Well worth trying.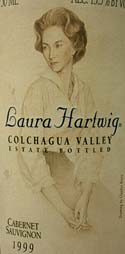 727495 CABERNET SAUVIGNON 1998 $ 15.95, Laura Hartwig', Colchagua Valley, Santa Laura S.A.
This was interesting to say the least. The nose was heady and overpowered by its eagerness to display the degree of local terrior. It was dense in flavours of plum, cassis and finish strong with dusty tannin and silky chocolate
562892 CARMENÈRE 1999 $ 31.95, 'Terrunyo', Peumo Valley, Viña Concha y Toro
This wine was the densest I had all day. It will need time for all the funk, lead pencil, mushroom and forest flavours to settle down and come to some agreement on which will become the prominent flavour. I liked it but I did question the fruit component, as I couldn't really detect any!
358309 CABERNET SAUVIGNON RESERVE 1998 $ 15.50, Unfiltered, Valle del Maipo, Viña Carmen
This was a fun wine. I picked up aromas of grilled steak, peppercorn, plum stewed almost jam like black fruit, tobacco and vanilla. If you believe the smorgasbord of foods the Vintage's catalogue suggests it could be consumed with, it will pair well with almost anything. I would stick to simple grilled meats.
726760 MERLOT RESERVA 1999 $ 13.00, Rio Claro, Curico Valley, Aresti Family Vineyards
This was very good considering the relatively low price. A little funky initially but there was lots of red fruit, briar, tobacco, cherry and plum to keep it in tune. Very plush and silky in the mouth with a decent finish of chocolate and spice. Good stuff.
516385 DINGAC 1998 $ 17.80, Dalmatie Central AC, Vinarija Dingac
Whoops, in a blind tasting I might pick this as an over ripe and fleshy Zin until the barrage of tannins emerged. They quickly stuck the inside of my cheeks together and adhered my tongue to the roof of my mouth. Time for a major rinse.
717223 CHÂTEAU LAROSE-TRINTAUDON 1996 $ 32.80, Haut-Médoc
Full of sweet jammy flavours, mostly blackcurrant and cherry, a touch of smoke and some heavy chocolate centred tannins. I remember paying so much less for this wine a few years back, it is hard to get excited when I see today's price.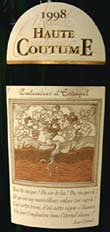 990937 'HAUTE COUTUME' 1998 $ 17.95, Calcaires d'Estagel' Tautavel, Côtes du Roussillon-Villages, Vignerons Catalans
This crept up out of nowhere to grab the title for best QPR wine of the release. It expressed aromas of dark couvature chocolate, cola, plums and red berries. It holds a strong cloak of tea based tannin and it is pretty tightly wound at the moment. However underneath all the structure those massive fruit flavours are just waiting to come forward.
727503 CHÂTEAUNEUF-DU-PAPE 1998 $ 38.85, E. Guigal
Really good stuff. However, I am concerned about making an acquisition as I have had some wonderful C.N.P's, from the same vintage, priced in the mid twenties, that have given me equal enjoyment!
972281 CROZES-HERMITAGE 1999 $ 21.45, Les Meysonniers, M. Chapoutier
This forward medium bodied Rhone had a wonderful blend of terroir and fruit. Hints of blueberry, raspberry and plum peeped from the glass. The explosion of chocolate, raspberry flavours were tamed by a grind or two of white peppercorn noticeable in the finish
711077 BAROLO 'SORANO' 1996 $ 34.85, Podere di Sorano, di Serralunga d'Alba, Cantine Giacomo Ascheri
Tasting this I realize I have much to learn about the wines of Barolo. To me it appeared dry, austere and gamy. There was a suggestion of cherry fruit but it was masked by the leathery texture and unappealing dryness.
579862 'ALTANO' 1999 $ 10.45, Douro, Silva & Cosens, Portugal
A little heavy on the fresh ground pepper here but there were some interesting flavours of mint, slate, cassis and star anise. At the price it is worth buying at least a bottle or two.
237834 'COSME PALACIO Y HERMANOS' 1998 $ 17.80, Rioja, Bod. Palacio
Some very clean and simple flavours of chocolate, raspberry, plum and Thyme.
323345 'PESQUERA' RESERVA 1997 $ 39.95, Ribera del Duero, Bodegas Alejandro Fernández
Really closed down even after being open for several hours. It smelt rich and meaty with a solid concentration of blackcurrant, cherry, black olives and forest floor. This is a dense wine nicely structured and worth cellaring.

958413 'MILLESIMATO TALENTO' BRUT 1996 $ 14.60, Metodo Classico, Veneto, Italy, Carpené Malvolti
Good grief, this was the most unusual wine I have "nosed" in a long time. It was redolent of vegetation, mushroom soy, spent yeast and dank potato peelings. Needless to say I did not go any further!
725747 ALIANÇA RESERVA BRUTO 1998 $ 13.80, Método Clássico, Bairrada, Portugal, Caves Aliança
A fairly full-bodied racy wine that offered pear and apple flavours.
Cheers
CZ
Alan Kerr's Home Page and Main Index