May 21st, 2003 Vintages Classics Catalogue Tasting

Close to one hundred and forty folks gathered at the London Club last Wednesday evening eager to taste great wines, consume fine food and engage in conversation with other glass swirling members of London's band of wine enthusiasts. Area LCBO consultants had convened to assist some of the reps with pouring, as Vintages previewed some fifty wines from the next liberation of their Classics catalogue. There were many great wines. I wish there had been more from France, notably Burgundy and the Rhone, but all told it was an eclectic assembly of fine fermented grape juice. There was maybe an over abundance of muscular monster Cabs and big brawny Shiraz wines from Oz, but my personal choice for wine of the show was among them. The London club staff was on high alert and performed their tasks attentively and professionally. It was difficult to maneuver around carrying pen, paper, camera, glass, and spittoon and of course the odd sliver of melt in your mouth beef tenderloin all at once, so some of my notes are brief.

The order deadline for wines from this catalogue is May 28th. There are no guarantees on availability of any of the wines. A bonus for those who attended was that they could take advantage of the pre order booths that the LCBO had set up during the evening.

However for everyone else, here is a link to the order form on the Vintages web site.

From conversations I had throughout the duration of the evening, the event was a success and with any luck, Vintages will make this an annual event.

L'ENCLOS GALLEN 2000, Margaux, Château Meyre, 747121 $59.
Quite plush, lots of nice sweet blackberry, and currant, little black olive, solid tannin but fruit was the prevailing flavour.

CHÂTEAU CLAUZET 2000, Saint-Estèphe, 931220 $36.
Tight and the most austere wine of the night, floral and black fruit aromas were detectable but the drying tannins overpowered them on the palate.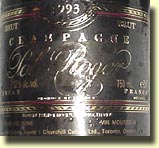 CUVÉE SIR WINSTON CHURCHILL 1993, Pol Roger, 156042 $147.
A true delight and strategically located near the entrance. Whiffs of toast, baked apple, hints of red fruit and Asian spice. Little sweet "brassy" flavour in the ultra long and luscious finish.
NINE POPES, BAROSSA, CHARLES MELTON 2000, 969501 $47.
Little dust on the nose, mint, eucalyptus and sweet cherry, mid palate was lighter than the nose suggested it should be. Nonetheless it showed strawberry coulis, hints of chocolate and cherry. Although it finished light, there was a little kick from the tannin.
GEWURZTRAMINER ALTENBOURG 2000, Albert Mann, 716696 $33.
Nose was incredibly floral. Also offered a ripe grapy aroma along with peach pie, baked spiced pear and rambutan. Mid palate had that delightful chewy texture, perfect degree of sweetness and finished long.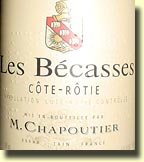 CÔTE-RÔTIE LES BECASSES 2000, M. Chapoutier, 939777 $79.
One of the few Rhone wines poured, big rich dark red colour, lovely aromas of lavender, sweet cinnamon, a trace of white pepper and an alluring hint of funk. Fabulous concentration of black fruit on the palate, some chocolate, a little tarry and leathery but silky tannin smoothed it out. Nice balance on the finish. Built to last but its youthfulness was certainly enjoyable.
CHÂTEAUNEUF- DU PAPE CUVÉE EXCEPTIONELLE 2000, Domaine du Vieux Lazaret, 957274 $42.
Another great Rhone, this one showed violet, Herbes de Provence, plum and mineral on the nose, flavour profile was full of, damson, strawberry, blackberry and sweet spice. Finish had a rich and chewy texture, which I really liked.
SHOWCASE MERLOT GLENLAKE 2000, Niagara Peninsula, Hillebrand Estates, 900456, $40.
This is the high-end stuff from Niagara's Hillebrand winery that is only produced in what is considered a classic growing season. Rich garnet colour, lots of currant, plum, no offensive matchstick and cedar on the nose. Nice level of fruit concentration of fruit, cherry, plum on the palate, finished surprisingly tannic.
SHOWCASE CABERNET SAUVIGNON GLENLAKE 2000, Niagara Peninsula, Hillebrand Estates, 900449 $40.
Remarkable and complex nose, full of pepper, earthy, little funk, fruit strap candy, lots of red fruit, blackcurrant and wild mushroom. Palate did not match the nose. Although it was quite disjointed at this stage and needs time to come together, it was an interesting wine.
PINOT NOIR ESTATE SELECT 2000, Okanagan Valley, Cedar Creek, 712125 $23.
Lovely fragrant nose showed plum, coffee, red fruit and cinnamon. Med bodied palate echoed the red fruit and raspberry. Lovely Pinot for the price.
LE CORTON 2000, Bouchard Père & Fils, 973834 $99.<
This showed a deeper concentration of aromas, and it should considering the price; saddle leather, clove, sweet cooked strawberry and a touch of earthy beet. Nicely balanced and quite tannic on the finish. Needs time to come around.
VOSNE-ROMANÉE LES BEAUX-MONTS 2000, 1er Cru, Daniel Rion, 715011 $84.
Deeper colour than the Corton, aromatic, very spicy nose gave way to a layer of pretty floral scents. Rich palate showed good fruit concentration, plum, thyme, olive and an appealing touch of terrior to the finish.
ALFROCHEIRO 2000, Vidigueira, Alentejo, Sogrape/Herdade do Peso, 727867 $29.
Mixed bouquet of lavender, cooked sweet red fruit, rhubarb and plum. Velvety texture, nice sweet finish.
QUINTESSA 1999, Napa Valley, Quintessa/Franciscan, 494245, $179.
Surprisingly light nose, touch of Rutherford dust, baked vanilla cookies and a layer of nicely harmonized red and black fruit. Flavour showed heaps of ripe blackcurrant, chocolate, coffee and soft silky tannin. Surprisingly ready to drink.
ZINFANDEL LIVE OAK 2000, Contra Costa, Cline, 985127 (XD) $39.
Little heat to the nose, blackberry red currant, cherry cola, baking spice and a trace of mint. Rich and full on the palate with plenty of blackberry and peppery notes on the finish
CASTILLO YGAY EARLY RELEASE 1991, Rioja, Marqués de Murrieta, 976225 $44.
Little hint of burnt rubber along with stewed rhubarb, lead pencil, coconut and over ripe currants on the nose. Mid palate was that of mostly stewed red fruit and it finished with a drying astringency that I did not care for.
MERLOT 2000, Stag's Leap District, Napa, Shafer Vineyards, 346262 $68.
Plush aromas of mushroom, plum, sweet red liquorish and dark chocolate. Lots of dark berry and rich chocolate on the palate. The long finish had integrated all the flavour components nicely.
AMARONE CLASSICO 1997, Della Valpolicella, Giuseppe Lonardi, 726067 $64.
Gamey, ripe aromas also showed cooked apple, violets and chocolate. Palate was a harmonious meld of red and black fruits, nicely complimented by chocolate and creamy black liquorish. Nice but I have drunk better Amarone for the money.
CABERNET SAUVIGNON ESTATE RESERVE 1999, Coonawarra, Penley Estate, 701821 $59.
Rich ripe and sweet aromas; liquorish root, blackcurrant and quite floral. A little "globby" feel on the mouth, nice fruit but finished a bit too sweet for me. Many people did like this wine a lot.
CABERNET SAUVIGNON THE COPPERMINE ROAD 2000, McLaren Vale, d'Arenberg, 943399 $49.
Absolutely without any hesitation, I bestow this as my wine of the night. So dense yet at the same time elegant and seductive. Full of Asian Spice, black and red raspberries, coffee, spearmint, back currant and plum. The finish was laden and complete. Incidentally after just returning from a trip to the US last weekend, I noted all the d'Arenburg wines are priced about thirty-forty percent higher than in Ontario.
CABERNET SAUVIGNON ESTATE 1995, Niagara Peninsula, Reif, 304162 (XD) $39.
An unexpected little fruit bomb that showed no sign of being in the bottle for five years. Lots of raspberry, blackberry, trace of cardamom, nice background of toasty oak and refreshing acidity.
YACOCHUYA 2000, Cafayate, Michel Rolland, 715037 $79.
Every single bottle opened was corked so didn't have a chance to try this. Please draw you own conclusion!
WINEMAKER'S RESERVE 1999, Maipo Valley, Viña Carmen, 547117 $32.
Pure cassis, Ribena, mint, hint of red pepper, very creamy and cloying. Finish was dull, a little grapey, seemed structurally low in acid.
CABERNET FRANC 1999, Niagara Peninsula, Thomas & Vaughan, 727669 $49.
Not the biggest Canadian wine of the night but I would say certainly the most elegant. Aromas of stewed plum, raspberry, lots of underlying blackcurrant tones worked nicely with the touch of sweet vanilla oak.
CHÂTEAU LÉOVILLE-LAS CASES 1999, Saint-Julien, 983486 $179.
The initial nose of blackberry fruit gave way to show a little aquarium, black tea, mocha, sweet black liquorish, shoe polish and I swear I picked up some honeysuckle too. Finish was fruit driven with accents of chocolate, mineral and cigar box. My second sample, different bottle, twenty minutes later showed further development on the mineral components and the last bottle opened was corked
FUSION V 2000, Stellenbosch, De Toren, 709428 $35.
Nice funky earthy aromas, good concentration of fruit, little moss, forest floor and morel. Creamy texture and pleasing finish.
TERRA ROSSA FIRST GROWTH 1998, Coonawarra, Parker, 737676 $99.
Holy cow, a blockbuster! Enticing mix of cooked rhubarb, blackcurrant and blackberry followed by lavender, cake candy, mocha, black Dutch liquorish and dark chocolate. So harmonious on the palate spitting was never an option. Excellent finesse and balance on the finish.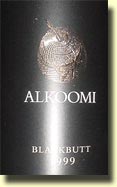 BLACKBUTT 1999, Frankland River, Alkoomi, 963876 $49.
I felt odd saying "can I have a little more Blackbutt please" but it was worth the blushing cheeks for a second pour. Nose was sweet mint and eucalyptus, lots of blackcurrant, dark black raspberry, big on the palate and a decent finish that showed the tannins are there to age.

BRUNELLO DI MONTALCINO 1997, Caparzo, 711036, $69.
I found this herbaceous at first showing pleasing whiffs of thyme and sage. Yet a couple of swirls showed red liquorish, cherry, cedar and vanilla aromas. Acids were in perfect harmony with the fruit, finish was full but slightly astringent, still quite tannic I think.

EXCELSUS 1998, Toscana, Banfi, 983916 $69.


A possible runner up for wine for the night. Appealing nose of coffee, cassis, cedar, black cherry and plum. Rich and filling on the tongue it left a pleasing coating of dark chocolate and red berries.

BRUNELLO DI MONTALCINO RISERVA POGGIO ALL'ORO 1995, Banfi, 443267, $107.
Not as big and pronounced as I though it would be. However, the lovely tones of blackberries, raspberries and lilac were nicely complimented by anise seeds, mushroom and puffball. Mid plate was wonderfully harmonized and the finish was mostly dark cherry and rich earth.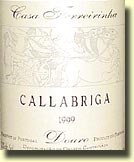 CALLABRIGA 1999, Douro, A. Ferreira, 716613 $34.
The meaty and fleshy nose was backed with Xmas pud spice, red cherry, pinecone and chocolate. Well balanced and well priced.

CABERNET SAUVIGNON 2000, Coonawarra, Majella, 725788 $39.
Initial blast of oak gave way to a mostly fruit driven nose that had pretty aromas of cured meat, dried green peppercorn and sage. Still tannic but well balanced.

SHIRAZ/CABERNET LIMITED RELEASE 1997, Barossa/Coonawarra, Jacob's Creek , 590885 $59.
A blend of 71% Barossa Shiraz and 29% Coonawarra Cabernet Sauvignon.

A full blown, sexy shiraz, touch of olive, big mint candy and sweet chocolate, on the nose, tingly mouth full of plum, pepper and dusty tannin.

Cheers,
CZ

Alan Kerr's Home Page and Main Index