Alan's August 2003 Vintages Release Tasting Notes
Release date August 9th, 2003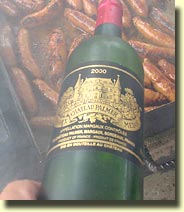 I'm back after from my summer adventures which started with a road trip from Detroit, onto Cleveland then a long hot drive through the Southern part of the United States. Amazingly enough, my car did close to 5000 km problem free; although I must confess air conditioning might have made the trip a little easier at times. I hooked up and drank wine with a lot of great people. I also had the chance to visit a few former students who are working at "Sea Pines" on Hilton Head Island.

In July I was invited by the Cuban government to teach a series of international cooking classes at a tourism schools in Havana and the oldest city on the island, called Trinidad. "Hmm Cuba" you say "must have been tough in the land of beaches, sunshine and salsa parties". Well believe me it was tough, from an emotional standpoint at least. This last bastion of hard line communism has to be seen first hand. Imagine for a moment if you were a doctor, a teacher, a bus driver or whatever profession you like and you only earned the equivalent of about $17.00 a week. Food is scarce in Cuba other than a few basic staples, rice, beans, oil, salt and these are only available to you in the ration shops and they are far from being cheap. However, Cuban people are the most wonderful, kindhearted and friendly people I have ever met and I do consider myself privileged to have been given the opportunity to spend time in there and make new friends.

Now I am home and it is back to reality. Time to cast away the rum, at least for a day or two, and taste again that beverage I remember from long ago called wine.
August release looks good to me!!!


467704 RIESLING 1997 $ 12.95, Niagara Peninsula, Strewn.
Comments floating around room said this was the most Germanic of all the Riesling present. Lovely aromas of diesel, funky earth, and apple and pear compote all bound together by enticing red grapefruit. Decent finish displayed good fruit and a kiss of lime peel. Not being Riesling's number one fan, even I will buy some of this for hot summer afternoons.

971754 SAUVIGNON BLANC 2001 $ 18.95, Sonoma County, Kenwood Vineyards.
The wine of the month. Behind the noticeable layer of oak I found some pretty aromas of what one would expect in a Sauvignon Blanc. The nuance of Oak stole the mid palate too. Such a shame.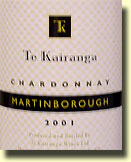 727024 CHARDONNAY 2001 $ 23.95, Martinborough, North Island, Te Kairanga, NZ.
Oh wow, given my limited time, this is a wine I would normally pass on but I glad I was convinced not to. Full bodied, great extraction of flavour. Melon, lychee fruit, pear and apricot from start to finish. Oak was subtle enough just to aid the structure and not to overpower.



734095 SAUVIGNON BLANC 2002 $ 15.95, Marlborough, South Island, Clifford Bay, NZ.
Leave the Kenwood alone and seek this out. Bright and vibrant nose almost made me salivate. Oozing with citrus, lychee and grapefruit. All you want in a sauvignon and at a great price too.

724898 SAUVIGNON BLANC 2002 $ 15.95, 'Private Collection', Stellenbosch, SA.
Pleasant but I picked up some odd aromas of burnt matches and canned veggies. It seemed dull but after the latter wine many wines would. Clean finish of tart apple and laurel.

86264 PINOT BLANC 2001 $ 16.50, Alsace, Hugel Blanc de Blanc.
Simple and balanced flavours of citrus and tropical fruit. Not a big wine, noticeable acid on the finish. A good candidate for lunch.

199141 CHABLIS 2001 $ 15.95, Joseph Drouhin.
The low price here made me skeptical. Nose was floral with hints of slate, honeydew melon and apple. Not a lot of fruit on the palate, light to medium bodied, finished tart with under ripe pineapples and nectarine. However when one considers the price of many Californian imports, with a plate of poached whitefish and a simple cream sauce, this wine would be my choice any day. Cut price Chablis indeed.

739896 SCHEUREBE KABINETT 2001 $ 17.95, Halbtrocken, Grosskarlbacher, Burgweg, Gutsabfüllung, Weingut Lingenfelder, Pfalz.
I know I have little experience with German wines but I swear I took a hit of cat pee on the nose. (I even made a point of going back to try it later and found the same) I did like this wine, lively peach, currant aromas, and a touch of cooked vegetable too. It was most refreshing, rich and very spicy especially on the close. A couple of bottles of this should find their way downstairs to add some much needed diversity to my collection.

712778 RIESLING KABINETT 2002 $ 24.95, Trocken, Gutsabfüllung, Schloss Vollrads, Rheingau.
Seemed lackluster in comparison to what I just drank. Simple flavours of apple and guava, good acidity and a clean finish. I would take the Strewn in place of this.

905125 RIESLING KABINETT 1990 $ 11.95, 'Rüdesheimer', Weingut Schloss, Schönborn, Rheingau.
Although listed in Vintage's manual as dry, I perceived more than just a touch of sweetness especially on the finish. A nice musty (wrong word I am sure), nutty petrol laced nose. Pleasing flavours of lemon and apple sauce, just before it has been sweetened. Candy apple finish was long and quite cloying. This too seems a deal considering it is coming close to its thirteenth birthday.

953703 MOSCATO D'ASTI 2002 $ 16.95, 'Bricco Quaglia', Az. Agri. La Spinetta/Rivetti, Piedmont.
Sizeable whiff of the Muscat grape with hints of toffee, rose petal and sweet citrus. It was really fruit driven. As always, I love this style of wine but none of my friends do! It makes a wonderful aperitif on a mid summer afternoon especially given the low alcohol content at 5.5%.

978676 SAUVIGNON ZEMONO 2001 $ 12.80, 'Lanthieri' Agroind Vipava, Slovenia.
Sauvignon Zemono is apparently a clone of Sauvignon Blanc. If you are happy and whistle while you clean and polish with Lemon Pledge, odds are you will enjoy this wine. Peach and apricot aromas were trying to peek through the massive cloud of lemon essence that exploded from the glass. There was decent concentration but it is not a wine I would sit and drink on its own. However, whip up a quick green Thai fish curry, laden with lemon grass, lime leaves and cilantro and you would be hard pressed to find a better wine to match it. Interesting stuff.

586297 CABERNET SAUVIGNON 1999 $ 24.95, Klose Vineyard, Niagara, Inniskillin.
Just had seconds to rescue a glass of this before it hit the sink. Multidimensional nose showed coffee, dark chocolate, black olive, black fruit and green tea. Good structure but rather tannic at this stage. Although it was aged in American oak, the oak did not overpower.

308999 'BIG HOUSE RED' 2001 $ 17.85, California, Ca'del Solo/Bonny Doon.
The red wine of the month.
At first I found this to be ho hum and uninteresting. However, as other tasters spoke well, I thought I should revisit it. I had after all just tasted the lovely red Bordeaux wines only moments before. I tried it again and this time I found the sweet nose to have some nice red and black fruit aromas, but still I found little else to please me.

555615 CABERNET SAUVIGNON 1999 $ 38.00, 'Barrelli Creek Vineyard', Alexander Valley, Sonoma County, E. & J. Gallo.
Very hard, needs time, appealing mint and currant nose showed little of the monster tannin that lay beneath. Some great flavours, fairly elegant with considerable structure, just needs years I think to come around.

733758 SYRAH 2000 $ 17.95, Cline Cellars.
Sweet and cream soda style nose, mid palate showed complexity with good dark fruit, thyme, plum and cleansing acidity. Showed only hints of the sweetness I expected given the nose.

353565 CABERNET SAUVIGNON/MERLOT/CABERNET FRANC 1999 $ 47.95, Pyrus', Coonawarra, South Australia, Lindemans.
This was a big wine, I could almost chew the nose. Eucalyptus, mineral, blackcurrant and redcurrant aromas. Fruit driven on the palate but some peppery spiciness to the well balanced finish. Just enough sweetness and acid to provide a mask to the underlying tannin.

353573 SHIRAZ/CABERNET 1999 $ 47.95, Limestone Ridge Vineyard, Coonawarra, South Australia, Lindemans.
Similar profile to its cousin, only this needs time. It's quite backward, not austere but more in limbo at the moment. The rich ripe flavours of blackberry and currant were there but rarely surfaced.

607796 SHIRAZ 2001 $ 18.55, Coastal Cellar, Franschhoek, Graham Beck.
On of the most interesting wines of the day, and certainly one I will buy. Dense aromas of plum, cedar, pepper, cured meat, white pepper and blackberry. Pleasing and full on the palate with none of the funky earthy flavours I had anticipated!

903526 CHÂTEAU BEAUMONT 2000 $ 25.90, Haut-Médoc, Cru Bourgeois.
Nice depth to the ruby/purple colour. Coffee, currant, tobacco and canned green peppercorns on the nose. Well-rounded palate, sweet tannins and decent finish.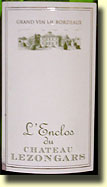 729145 L'ENCLOS DU CHÂTEAU LEZONGARS 2000 $ 23.85, Premières Côtes de Bordeaux.
As much as I liked the Beaumont, this is what I will buy. The nose was full of spearmint, ripe currant, plum and vanilla custard. Tannins were stronger and flavoured chocolate. An excellent finish of rich fruit and vibrant acidity.

979567 CHÂTEAU DE PLASSAN 2000 $ 18.55, Premières Côtes de Bordeaux.
Another good wine! A little more traditional than the Lezongars, showing cigar leaf, pipe tobacco, red currant and plum. Again well balanced but not as much depth as the others.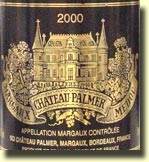 942730 CHÂTEAU PALMER 2000 $ 289.00, Margaux.
Holy cow. It was massive and the full aromas offered up mint, damson, dusty soil, mineral red berries, toasty oak and creamy blackcurrant. Sweet, elegant yet at the same time austere due to the rich dark tannin than should hold this wine together for decades. So full and so balanced. Sadly the price compared to south of the border is ridiculous. As much as I loved the Palmer, a case of the Lezongares for less money seems to offer much better value.

713693 BOURGOGNE HAUTES-CÔTES DE NUITS 2000 $ 27.95, A.-F. Gros.
Dusty straw, heaps of red currants, raspberry and sage. Medium bodied, nicely oaked and refreshing finish. Good Pinot.

950196 SASSELLA VALTELLINA SUPERIORE 1998 $ 29.95, Lombardy,'La Castellina', Fojanini.
Very pale light colour, quite floral but other tones of mint, damson, thyme and berry were noticeable. Quite medicinal on the palate featuring cough syrup candy, cherry and currant. The finish faded quite quickly leaving only a bit of a bite on tongue.

722298 ROSSO PICENO SUPERIORE 2000 $ 14.55, MARCHE, Leo Guelfus, San Giovanni.
A little harsh but nothing a year or so won't cure. Lovely sweet fruit coulis flavours of blueberry, raspberry and currant combined with stony mineral and coal dust.


901090 BAROLO 1997 $ 59.55, 'Bofani', Beni di Batasiolo.
Although the brick red rim showed its age, it was actually quite tannic. Lovely aromas of Thai basil, liquorish, toffee, leather and cola. Quite spicy on the palate with a strong plum caramel flavour. Dusty milk chocolate tannin on the close demonstrates who the boss still is.

627901 BARBERA D'ASTI 2000 $ 17.55, 'La Luna e I Faló', Terre da Vino S.p.A.
Sweet and floral tones on the nose, decent level of red fruit with liquorish and cinnamon. A pleasant sipper but nothing more.

744623 DOLCETTO DI DOGLIANI 2001 $ 16.50, Az. Bricco Rosso.
More of that cough syrup aroma coupled with lavender and geranium. Red fruit and cake spice on the palate. Good balance, decent length to the finish.

962969 GATTINARA 1997 $ 33.50, 'Molsino', Luigi Nervi.
An inviting mélange of coffee, clove, cocoa powder, violets and stewed rhubarb. It was full bodied, full flavoured and although tannin did prevail on the finish, it was wonderful to drink right now.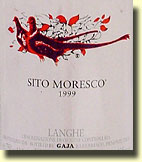 976043 'SITO MORESCO' 1999 $ 54.95, Langhe, Gaja.
This blend of Nebbiolo (35%), Cabernet (30%) and Merlot (35%) was possibly the wine of the day for me. Pricy but……..well the red and black fruit (big maraschino cherry actually) base harmonized beautifully with the organic aromas of black truffle, mineral, peat and mushroom. Still evidence of tannin but so well balanced.

977413 'RIPA DELLE MANDORLE' 2000 $ 21.95, Toscana, Tenuta Vicchiomaggio.
Lively nose full of anise, red cherry and varnish. Good fruit, blackcurrant and cherry, quite silky but dark chocolate tannins do suggest time will only benefit this wine.

986786 'TIGNANELLO' 2000 $ 89.95, Marchesi Antinori.
Dense dark inky colour, nose of damp leaves, black raspberry, plum, caramel (almost prune like), chocolate, pepper, thyme and sage. Spicy and teeth coating tannins suggests it will be years before this one starts to evolve. At this stage it was tiring to drink!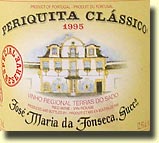 726679 PERIQUITA CLASSICO 1995 $ 23.50, Special Reserve, Vinhos Regional Terras do Sado, José Maria da Fonseca, Portugal.
Vibrant colour and rich aromas of cherry, smoke, shoe polish, blueberry, lavender and cola. Just as many flavours danced around the tongue. Loads of currant and mint on the finish. Good stuff.

930610 'CARTAXO' RESERVA 1998 $ 12.95, Ribatejo, Bright Brothers Vinhos.
A great QPR quaffer. Rich port-like chocolate aromas with plum, berry and leather. Quite full bodied and good length on the finish.

949982 QUINTA DA TERRUGEM 1999 $ 35.95, Alentejo, Caves Aliança.
Very soft and plush and yet still fairly assertive. Lively dark fruit mixed well with coffee, lavender and herbs de Provence. The assertiveness is clearly detectable on the finish showing this wine needs time to rest.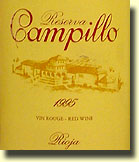 982280 'CAMPILLO' RESERVA 1995 $ 29.95, Rioja, Bodegas Campillo.
The good people of Rioja in Spain will be saddened when they wake to learn they have been invaded by their neighbours from West. At least that is the impression they would get if they read the Vintages catalogue this month over breakfast as it lists this wine, inadvertently I am sure, as being from Portugal. Well this lovely Spanish red offered up aromas of sawdust, fresh meat, coffee, clove, sweet cherry and raspberry. The mid palate was soft, quite mature, and pleasingly herbaceous. It seems to have reached its peak. A treat to drink.

908293 GRAND CRU CHAMPAGNE BLANC DE BLANCS 1998 $ 47.55, Franck Bonville Champagne.
Toasty, peach, sourdough, rich cider apple nose. Good structure and body. Decent finish, well balanced and crisp.

587691 SPARKLING BRUT 1999 $ 24.95, 'Grand Proprietor's Reserve', Méthode Classique, Niagara Peninsula, Jackson-Triggs.
Fresh baked vanilla cookies, biscotti and spice were the principal aromas. Pear, cinnamon and apple were also lurking. Great clean flavours, tangy and well balanced.

723429 'VINTAGE' 2000 $ 19.95, Pinot Noir/Chardonnay, Australia, Wolf Blass.
Try squirting shaving foam on your tongue, drinking a glass of sparkling mineral water then jumping up and down on the spot for several minutes and you will have saved $19.95. Never before have I sampled a wine so overly effervescent. Too much foam!!! Once my mouth was lathered up, I did find a few simple flavours of lime peel and tree fruit but little else. Hell it even continued to foam up in my spittoon!

Cheers,
CZ
Alan Kerr's Home Page and Main Index