Alan's August 2002 Vintages Release Tasting Notes
Release date August 3, 2002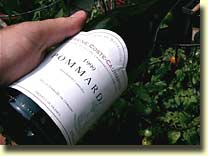 Maybe it was the intense heat outside the tasting room or possibly it was because the red wines from this month's release had little appeal to me but for whatever reason, I found the white wines to be far superior and generally offer better value this month. There was only one red from Australia and a couple from the states submitted for evaluation so consequently, that steered me to sample some of the Italian offerings that I must confess to often passing by. Well all I can say is "Italy to the rescue!" Several of the Tuscan wines were well priced and simply charming.
Those collectors with excessive amounts of wines tucked waiting for the rainy days might be interested in lessening the load via Ontario's first official public wine auction. This heralded event is to be held on November 9, under the direct supervision of Vintages of course, in Toronto. Click here for information.
Just to avoid any confusion, the "two releases per month" system introduced by Vintages a few a months ago has been put on the back burner for the month of August. The board has decided to go with just one release for this release only. As a result, all the wines this month will be available on August 3!
500975 AUXERROIS/PINOT BLANC 2000 $ 10.95, Niagara Peninsula Cave Spring Cellars.
Great value here from this medium bodied, flavour packed fruit bomb. A lovely mix of apple, pear and sun ripened peaches went right from the nose through to the finish. Little overtones of mineral and stone rounded this out beautifully. Truly a steal at this price.

253278 RIESLING RESERVE 1999 $ 12.95, Niagara Peninsula, Inniskillin.
This is the white wine of the month and it certainly was not a style to suit my tastes. Way too much high-octane petrol and paraffin with little if any fruit to back it up. Incidentally, most of the Riesling geeks present held similar opinions.
963124 SAUVIGNON BLANC 2001 $ 18.95, Marlborough, South Island, Jackson Estate, NZ.
Aromas of citrus, anise and gooseberry dominated the nose. Good solid fruit/acid balance on the palate that featured tropical mango, pear and lime oil. Had a lovely long lingering finish. Very good stuff.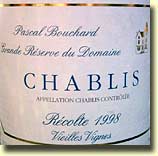 744730 CHABLIS 1998 $ 21.90, Grande Réserve du Domaine, Vieilles Vignes, Pascal Bouchard.
Not your everyday Chablis here. The nose showed banana peel, crab apples and some barnyard funk. Quite opulent on the palate, classic apple and pear combination one expects but with noticeable pineapple and passion fruit flavours too. The texture was cloying with an overall sensation of canned fruit cocktail on the finish. All in all a lovely Chardonnay.
179556 CHÂTEAU DE CHAMIREY 1999 $ 27.95, 'Marquis de Jouennes d'Herville', Mercurey, R. de Jouennes.
Very appealing lemony gold colour. Lemon furniture polish and butterscotch aromas, good extraction full of apple juice, mineral, tree fruit and citrus flavours.
711325 POUILLY-FUMÉ 2000 $ 19.95, 'Les Cocques' Domaine Patrick Coulbois.
I detected a touch of sulphur on the nose, which detracted from the underlying and pleasing lemon and apple aromas. It was not apparent on the palate but personally I would take the NZ Sauvignon given the price.
712265 CHAPELLE SAINTE-MARIE 2001 $ 9.90, Minervois.
This traditional Rhone blend of Marsanne, Roussanne and Grenache Blanc has to be the most unique wine of the release. The nose was laden with honey, preserved lemons, apricot, sweet peach and ripe cantaloupe. Quite full-bodied and beautifully balanced the fruit, almost cloying at times, went right through to the finish. A wonderful aperitif and a steal at this price!
711341 PICPOUL DE PINET 2001 $ 10.80, Domaine de la Mirande, Coteaux du Languedoc, M. & Mme. Albajan Joseph.
Another summer sipper brimming with lemon acidity, lime peel, Anjou pear and melon. Medium bodied with refreshing acidity in the close. If you are tired of the onslaught of Chardonnay and Sauvignon Blanc, try this. It is a fun wine.

737957 CHÂTEAU DE LA JAUBERTIE 2000 $ 11.80, Bergerac, Ryman.
Quite spicy and aromatic on the nose. Hints of gooseberry, citrus, peach and fennel. Pleasing mid palate and crisp lingering finish.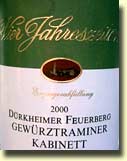 701565 GEWÜRZTRAMINER KABINETT 2000 $ 14.95, Dürkheimer Feuerberg, Erzeugerabfüllung, Coop Vier Jahreszeiten.
Medium to yellow gold colour, aromas of liquorish, flower petals and lichee fruit. It had a lovely creamy toffee texture on the full bodied mid palate that echoed long into the slightly sweet finish. I loved it and how often do I rave about German wines?

432096 CABERNET FRANC RESERVE 1999 $ 19.95, "CEV" Lake Erie North Shore, Colio Estate Vineyards.
Light to medium body that seems over shadowed by the memory of the magnificent 98. Aromas of mushroom peelings, tobacco, leather sweet toffee and black raspberry. Well balanced but it finished with a touch of gaminess that overpowered everything else.
307173 CABERNET SAUVIGNON 1999 $ 24.95, Niagara Peninsula, Lakeview Cellars Estate Winery.
Dark ruby purple colour. Spicy and earthy aromas combined well with the thick veil of black and red berry fruits, coffee and leather. Dusty tannin, lead pencil and black olives were also lurking in the background. Just a touch of astringency on the finish that should decline with time.
448340 CABERNET SAUVIGNON 1999 $ 24.95, Lailey Vineyard, Niagara Peninsula, Southbrook Winery.
Unquestionably for me, the best Canadian red of the release. Full and toasty on the nose, brimming with blackcurrants, blueberry, game, chocolate and notes of Earl Grey tea. At this stage of its maturity it appears quite clumsy but it shows so much potential to be a fabulous wine in a few years once the massive fruit component harmonizes with the mineral elements and teeth coating tannin.
965913 MERLOT 1996 $ 43.95, 'Winemaker's Grand Reserve', Sonoma County, Rabbit Ridge.
If you want a chance to try an American Merlot close to full maturity then try this. It age was evident from the deep garnet colour that showed a touch of orange and amber at the rim. Based on prior experiences with this producer I expected to be whacked in the head with a two by four but to my pleasant surprise the aroma displayed perfectly harmonized fruit, oak and acid. The flavour profile was dark chocolate, rich ripe cherry, thyme, cola and black fruit. Drink soon though!
567933 SHIRAZ 2000 $ 14.85, 'South Eastern' Australia, Amberton.
Hints of cinnamon, spice, blackberry and mint. Quite chewy and thick textured. Good length and a touch of sweetness on the finish.
718163 SYRAH 1999 $ 13.65, 'Robles', Mendoza, Bodegas Trapiche, Argentina.
Oh yeh, another candidate for best QPR of the release. Interesting combination of dead leaves, black fruit and sweet coconut aromas. Dark intense colour with a purple rim. Very concentrated, cooked fruit flavours, blueberry, cherry and plum. Subtle hint of sweetness on the lengthy finish
519306 CHÂTEAU PUY CASTÉRA 1998 $ 21.75, Cru Bourgeois, Haut-Médoc.
Somewhat light and uninteresting showing mostly medicinal cherry cough syrup with little hints of funk and toast. The fruit was tart and faded quickly on the finish.
725804 CHOREY-LÈS-BEAUNE 1998 $ 29.70, Louis Jadot.
Nice medium ruby colour, sweet cherries, funky vegetation and a touch of cola on the nose. Mid palate offered up a pleasing mix of acids and fruit combined with a pleasant hint of a balsamic quality. Flavours faded to quickly on the finish.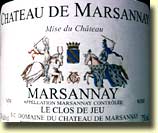 735530 MARSANNAY 1998 $ 26.40, Les Clos de Jeu, Château de Marsannay.
This appeared to be a fuller wine than the Chorey les Beaune. Nice whiffs of sweet cherry, floral notes, and cooked berry compote. Good grip on the mid palate but some of the fruit flavours appeared sour as they finished
708230 POMMARD 1999 $ 38.30, Domaine Coste-Caumartin.
Certainly the most elegant and refined of the Burgundies released. Lovely deep garnet colour, lots of raspberry, chocolate and cherry aromas with a faint hint of liquorish. Mid palate displayed full flavours of cherry, red fruits, plum ands spice. Quite full bodied, the finish was long with a tannic grip. Needs a little time to soften.
734616 DOMAINE LA COLOMBETTE 1999 $ 10.95, 'Puech d'Hortes' Vin de Pays des Coteaux du Libron.
All I detected from this was wet sweaty horse fur and compost that masked any fruit that may have lain beneath. I didn't fancy tasting it to be honest!
937771 GRAND CUVÉE 1999 $ 19.95, Corbières, Soc. Coop de Vini. Castelmaure.
Ruby/purple colour, aromas of cocoa, plum skin, milk chocolate and coffee. Some pleasing fruit flavours mostly that of red berry and cherry. No great length to the finish.
936542 CHÂTEAU HAUT-MONTPLAISIR 1999 $ 19.85, AC Cahors, 'Le Prestige'.
Pleasing wafts of tea, lead pencil and plum were the initial aromas until the huge blackcurrant essence kicked in. Quite firm and fairly tannic as the essence of chocolate took over the mid palate. Should be worth laying one or two away for a while just to see what develops.
965988 CHIANTI 2000 $ 12.95, DOCG, Az. Agric. Poliziano.
This ruby coloured Sangiovese offered lots of cherry, blackberry and mineral on the nose. Soft on the palate with hints of pepper and coffee. Good QPR.
606541 CHIANTI CLASSICO 1999 $ 22.00, DOCG, 'Peppoli', Marchesi Antinori.
Rich and vibrant scented wine loaded with spicy plum, nutshells, cherry, clove and an almost raisiny structure. Lovely rich chewy texture evolved into a long jammy finish. Wines like this could turn me into a Chianti fan! Incidentally this will also be available in half sized bottles priced at $12.50
741769 CHIANTI CLASSICO 1998 $ 14.95, DOCG, Rocca delle Macìe.
Another well made Chianti that displayed sour cherry and milk chocolate on the nose. Medium body, lots of chocolate and coffee bound with sweet blueberry fruit. More good stuff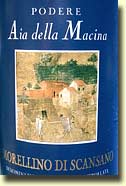 970822 MORELLINO DI SCANSANO 2000 $ 14.50, DOC, 'Podere Aia della Macina'.
Solid structure showed blackberry and black raspberry flavours. Nice acid fruit balance with a good long finish.
744284 'GRUMELLO' VALTELLINA SUPERIORE 1998 $ 16.90, DOC Valtellina.
Ruby garnet colour with aromas of black fruit, forest floor and moss. Seemed to be further aged than the vintage suggested but nonetheless a pleasing wine with a well-balanced mouth licking finish.
931758 CABERNET SAUVIGNON 2000 $ 8.95, AOG Beni M'Tir, Morocco, El Chergui Vineyards.
A candidate for the most interesting Cabernet of the bunch. Imagine a bowl of Melba sauce sprinkled with grated dark chocolate with a drop of maraschino cherry juice added for good measure. It was a little sweet and cloying especially on the finish but worth buying at this price as a ringer.
Cheers,
CZ
Alan Kerr's Home Page and Main Index