Alan's April 3rd and 17th, 2004 Vintages Release Tasting Notes

To be honest, there were few wines that hit the "wow" level from April's release. However, the good news is the London's Classics Catalogue Tasting is scheduled for May 4th, at the London Club on Queen St. For more info I would suggest checking the Vintages web site. As of April 2nd, there was nothing posted on the tasting in the "events' or "Classics" links of the site.



Wines from the April 3 Release


422014 MERLOT 2000, $37.95, 'California Selection', Sonoma County, St. Francis Winery & Vineyard.
The first impression of this wine is simple black fruit and vanilla. It opens up to reveal sweet berry fruit along with some red licorice. The palate comes across as cloying and the finish echoes the toasty vanilla plus sweet toffee candy.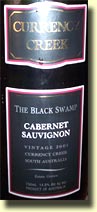 919571 CABERNET SAUVIGNON 2001, $22.95, 'The Black Swamp', Currency Creek, South Australia, Currency Creek Estate Wines.
The dark thick and opaque centre suggests this wine is a monster. Its nose is sweet, meaty, polished and quite aromatic. The rich layer of fruit is mostly composed of blackcurrant, with notes of blueberry, tobacco leaf and mineral coal dust. Its finish holds the fruit beautifully, and shows hints of mint and eucalyptus. This is tough to beat at this price.

995969 SANTENAY 1999, $32.95, Michel Colin-Deléger et Fils.
This is a fine and delightfully perfumed Pinot. It is clean, simple and precise with its classic nose of red cherry, beetroot, stone, mineral, mushrooms and red currant. It is well balanced and quite silky on the finish.

712224 BEAUNE 1ER CRU 2001, $59.95, Champs Pimont, Domaine Jacques Prieur.
Considering this is listed as the "Vintages cellar selection" I found its composition to be quite light, especially when compared next to Vincent Girardin's Pommard, to be released on the 17th of the month. It offers a pretty strawberry and cherry nose, but it is medium bodied at best. Elegant yes; well structured, I would say not.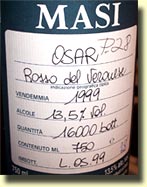 580233 'OSAR' 1999, $64.95, Rosso del Veronese, Masi.
This wine offers so much initial upfront pleasure from its mysterious and complicated nose. I note, from the immensely concentrated mix of aromas, some honey, damson, blueberry jam, blackberry, cake spice and marzipan. The palate contains a wealth of sweet and sour black fruits with hints of moss, mushroom and raspberry chocolate bars. A great bottle of wine.



Wines of the April 17 Release


744250 CABERNET SAUVIGNON 2000, $89.95, Napa Valley, Duckhorn.
This appears to shut down. All I can detect from the nose is layer of layer of dark chocolate tannin that masks the fruit completely. On the palate I clearly found evidence of plum, red fruit, bay leaf and blackcurrant. The mid palate lacks great depth at this stage and the finish was mostly tannin. I would love to try this again in a year or two, but it is not for current consumption.

704619 MERLOT 2000, $49.95, Carneros, Napa Valley, Cuvaison.
Here is a nose of smoky tobacco, cooked plums and raspberry/strawberry coulis. On the palate a little tannin creeps up, but nothing offends. The fruit on finish has a bit of a cooked note to it. Overall, it is nicely balanced and pleasing, except for the price that is!

531228 'BUSH VINE' GRENACHE 2000, $19.95, Barossa Valley, South Australia, Yalumba.
If you like wines that offer immediate pleasure and are full of sweet plush polished fruit, then this is for you. There is zero evidence of tannin. The fruit on the palate is quite full, and is balanced by some spice and pepper. However, the finish has the sweetness of maraschino cherry.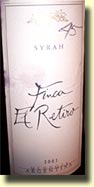 928283 SYRAH 2001, $11.95, 'Finca el Retiro', Mendoza, Tittarelli.
Once I got home I had to check to make sure I had the right notes on this wine. It packs a ton of pizzazz for the price. It is bold, inky and full of blueberry, cherry, and swampy earthy aromas. The palate tones down a little to show some sweetness, but it finishes well with blackberry and dark chocolate. Its overall profile is surprisingly well balanced given its lowly price.

994343 CHÄTEAU DE SAINTE-GEMME 2000, $34.95, Haut-Médoc.
This has solid aromas of mocha, lead pencil, wet clay and dark fruit. Its palate shows solid fruit, but it does lack that certain oomph to allow it to age.

961672 CÔTE-DE-BROUILLY 2002,$18.95, 'Domaine de la Roche St Martin' Jean-Jacques Béréziat.
A light violet colour leads to a floral rose petal and red cherry nose. It is medium bodied, clean and simple.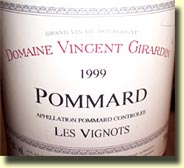 978270 POMMARD 1999 $49.95, 'Les Vignots' Domaine Vincent Girardin.
Holy cow, Batman, this is one big Pinot you have in your hand! It is dark and inky in the glass, and exudes an aroma of dark black cherry, plum, earthy notes, wet leaves, crème brulee and blackberry. This clearly needs a little time to come together, but when it does, it should be a classic.

424226 CHÂTEAUNEUF-DU-PAPE 2001, $36.95, 'Grande Garde' Domaine Saint Benoit.
This is another solid impressive wine that shows balance and great structure. The nose is full of pipe tobacco, geranium leaves, pepper, kirsch and sage. It is full on the palate, and at this stage, quite tannic. It is a little hot, but I am sure some time on its side will settle that down.

930305 BAROLO 1999, $79.95, Az. Agr. Azelia.
This has an enticing nose of balsamic, cedar, lavender, chanterelle mushrooms, nutmeg, blackberry, tomato and stewed rhubarb. It garners a silky texture on the palate, but still has a bite on the finish.

718122 CHIANTI CLASSICO RISERVA 1999, $25.95, Castello di Gabbiano.
The glass appeared dark and slightly murky. My pour is close to the bottom of the bottle, usually a sign of popularity. It gives out anise and fennel seed, red raspberry, stewed plum and floral notes on its nose. Its flavour profile has a pleasing mix of sweet and sourness, and the slick finish offers plenty of rhubarb, red currant and black cherry. I did like this, but because of the high degree of acidity, this wine needs a little food to help it down.

941468 'SAN GIORGIO' 1995, $47.95, Cantine Lungarotti.
There is sweet red berry jam on the nose combined with some raspberry and plum. The finish comes across as acidic and leaves a coat of drying tannin on the roof of my mouth. The Vintages catalogue suggests serving this with spaghetti and meatballs. It is a given fact that pasta and tomato sauce works well with wines with a high degree of acidity. However, I for one can't drop fifty bucks every time I peruse my cupboards in pursuit of a can of Chef Boyardee!

985804 AMARONE 1997, $64.95, della Valpolicella Classico, Ca' de Loi, Boscaini.
The nose on this dark and glistening wine shows cardamom seed, juniper berry, cola, strawberry, raspberry, salted meat and liquorish root. The excellent balance and gentle tannins provide a wine that is just approaching its prime. Good stuff.

Cheers,
CZ


Alan Kerr's Home Page and Main Index