Alan's April 2003 Vintages Release Tasting Notes
Release dates April 5th & 19th, 2003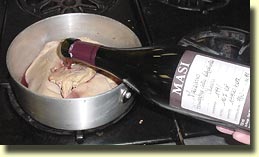 Due to the success of last years event, Classics Catalogue is hosting a "taste before you buy" evening at the London Club. The scheduled date is May 21st. The cost of admission has increased over last year to $95.00. Apparently there were complaints from folks last year who felt there was not enough food served during the event. The London Club Chefs will be making sure there will be more than ample victuals this year for everyone. At this price it is still a deal. Last year most of the wines were great, and let's face it, the opportunity to taste wines of this caliber in London is slim. Best way to get hold of tickets is to call 1-800-266-4764.

People in and round London that have dined at La Casa and the Black Trumpet restaurants will miss the presence of owner Syl Bassaco. His dedication to providing fabulous food and incredible ambiance never waned. Syl passed away last Wednesday. I have fond memories of sitting discussing the merits of many a wine with him. When I open the fabulous Roberto Voerzio Dolcetto I will drink a glass for my friend.

As usual I was pressed for time, but due to other commitments, I spent my power hour of tasting in the early morning just minutes after the corks were popped! Fans of Ozzie juice should enjoy the d' Arenburg release; the reds of Chateau des Charmes in Niagara showed nicely too.

Wines from the April 5th. Release

395855 CABERNET/MERLOT 1999 $ 24.95, Niagara Peninsula, Henry of Pelham.


This seemed to be more focused and a much happier wine than when I tasted it last November. Now it showed dusty cocoa, mushrooms, faint hints of dill but the principal aromas were blueberry, redcurrant and cassis. The finish showed good grip and it should hold well for a while.

586412 PINOT NOIR RESERVE 2000 $ 16.95, Niagara Peninsula, Inniskillin.


Decent ruby tone, oak seemed to overwhelm at first but sweet spicy cola, strawberry and raspberry notes shone through. Well structured, a little tingly on the finish.

346270 CABERNET SAUVIGNON 1999 $ 79.95, Napa Valley, Shafer.


A rare treat to sip this solidly contrasted plush and velvety Cab. Again the oak seemed overwhelming at first, maybe I am not used to tasting this early in the day, but the massive aromas of coffee, plum and the hint of eucalyptus soon stifled the wood. Wonderful flavours of black cherry and chocolate left a warm and fuzzy feeling on the palate.

963256 CHÂTEAU LYNCH-MOUSSAS 2000 $ 49.95, Pauillac.


This was my first taste of the "big boy" 2000 Bordeaux wines. Quite an impressive nose, full of lead pencil, damp leaves and layers of blackcurrant, black cherry and raspberries. The fine teeth coating tannin left a dusty chocolate finish.

954156 CHÂTEAU VILLEMAURINE 2000 $ 49.95, Saint-Émilion.


If I was to start collecting 2000 Bordeaux, I would take the latter over this somewhat lackluster bottling. It was pleasant, hints of tobacco, chocolate and berry aromas. Medium bodied on the palate and the finish was tight.

971341 'LES GRANDS AUGUSTINS' 2001 $ 15.95, Unfiltered, Vin de Pays d'Oc, Tardieu-Laurent.


I picked up several bottles of this from the 2000 vintage and tasting one recently proved it was a wise investment. At this price I'll stick a couple from this vintage away too. A sweet heady aroma of blueberry and blackberry gave way to a smoky layer of spicy plum and mushroom. It was meaty, fleshy and tannic but the fruit outlasted all other components on the finish.

981761 BAROLO RISERVA 1995 $ 69.95, 'Rocche', Cantina Terre del Barolo.


The color of this middle aged Barolo depicted that of one much older. The rim had an orange/brown tone to it. The nose was a treat, full of cheese wax, dried mushroom, coffee grounds, dried tangerine peel, balsawood, lavender and sage. Under this barrage of funk the sweet red fruit opened up across the palate to offer a very pleasant wine. Earthy flavours coupled with noticeable tannin on the close. The premature colour puzzled me.

719591 DOLCETTO D'ALBA 2001 $ 19.95, Roberto Voerzio.


My textbook says Dolcetto is soft, light, fruity and fragrant. My textbook in this case is wrong. This had superb depth to the inky purple colour. There were multidimensional aromas of plum, damson, green peppercorns, burnt almonds and black raspberry. It was chewy, echoing all the fruit flavours and finished long with chocolate and licorice candy. This I gotta buy!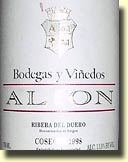 707166 'ALION' 1998 $ 54.95, Ribera del Duero, Bodegas y Vinedos Alion.


This is one wine I would have liked to taste had it been open for twenty-four hours. It was tightly wound offering hints of dark plum, blueberry and sweet red cherry. Its outcome on the palate was slight as it was really closed and tight. I imagine this will do great things in years to come.

976670 MARQUÉS DE CACERES 1992 $ 34.95, Gran Reserva, Rioja.


The fruit was still holding but barely. I noted a touch of oxidization, which others present did not. It was a mixed bag of currant, grilled sweet pepper, sandalwood, saddle leather and chocolate. Still some dusty and spicy tannin to guide the pruney fruit through the finish

.

April 19 Release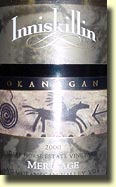 597039 MERITAGE 2000 $ 24.95, Dark Horse Vineyard, Okanagan Valley, Inniskillin.


A fleshy nose full of lively sweet cherry, dark fruit, plum and herbs de Provence. It was fairly full bodied and offered up lots of fruit flavours. A racy streak of dark couvature chocolate laced tannin took control on the finish. Should be a really nice wine when it comes around.

382325 CABERNET SAUVIGNON RESERVE 1998 $ 39.90, Sonoma, Rodney Strong.


Lots of sweet vanilla, plum and leathery notes on the nose. Spicy minty blackcurrant fruit was overwhelmed by the hard and slightly astringent finish.

948240 SYRAH 2000 $ 23.65, 'South Ridge', Paso Robles, Prod. & Btld. J. Lohr.


Warm and welcoming nose of sweet cake spice, lavender, violet and blackberry. Meaty and mouth filling. The long sweet blackberry jam style finish gave plenty of bang for the buck.

945279 CHÂTEAU LA CROIX ST-ANDRÉ 2000 $ 35.30, Lalande de Pomerol.


Rich deep and shiny dark colour, pleasing nose of red and black fruits, touch of smoke and lead pencil. Dry full finish of fuzzy plum skin and raspberry.

961755 'LES HAUTS DE BOUISSET' 2000 $ 15.70, La Clape, Coteaux du Languedoc.


This opaque and concentrated wine was one of the darkest of the day! Lavender exploded from the herb-laden nose. It also showcased mineral, cigar leaf and morels. There was lots of fruit buried beneath the earthy aromas that took the lead on the palate and carried well into the wonderful finish.

975052 CHÂTEAU DE BEAUCASTEL 1999 $ 64.95, Châteauneuf-du-Pape.


Wow, holy sheep *&%@ batman! I would not recommend this to a newbie or the faint of heart. Once the wicked "les mémoires de mouton" blew off, aromas of blackberry, cinnamon, green tea, morels and leather became evident. I noted a touch of sulfur but it too diminished after a few swirls. Lovely texture, thick and incredibly rich, red berry on the finish. This is also released in half bottles for $ 32.95

735407 CHÂTEAUNEUF-DU-PAPE 2000 $ 59.95, Château la Nerthe.


Heaps of vanilla, milk chocolate and red fruit on the nose. Creamy texture, finished with red cherry and cola.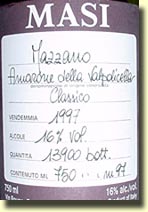 545129 'MAZZANO' 1997 $ 97.50, Amarone della Valpolicella Classico, Masi.


Almost port like, an inky hedonistic wine laced with lead pencil, lavender and dark satiny chocolate. It was luscious on the palate showing red cherries, wild mushrooms, cardamom, almonds, dark fruits and a raisin sweetness. The palate was full rich and complex. It was work to drink this. Try poaching a lobe or two of Foie Gras in a cup or two of this wine. Once cooked, skim the rendered fat from the pan and mix the remaining wine with a little caramelized sugar. Slice the Foie gras and serve it on braised fennel. Coat with the caramelized Amarone and you have a treat!


The wines of Chateau des Charmes -
Part of the April 19th Release

453415 CABERNET FRANC 1999 $ 24.95, St. David's Bench, Niagara Peninsula.


Deep ruby colour, shoe leather, sage, red sweet peppers and chocolate on the nose. Lovely texture with solid fruit tones and good balance on the close.

935957 CABERNET SAUVIGNON 1999 $ 24.95, St. David's Bench, Niagara Peninsula.


Again a good deep ruby hue, nose full of earthy and sage aromas. Sweet black currant and leather soon became of note. Both dusty chocolate and a touch of bell pepper on the finish.

453431 MERLOT 1999 $ 24.95, St. David's Bench, Niagara Peninsula.


My favourite of the group. Loads of cigar leaf, tobacco, forest floor, red cherry and mushroom. Great flavour profile of ripe raspberry and strawberry. Great balance, fruit took the lead well into the finish.

The wines of d'Arenberg -
Part of the April 5th Release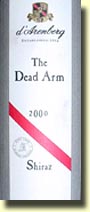 981183 'DEAD ARM' SHIRAZ 2000 $ 42.50, McLaren Vale, South Australia.


Possibly my favourite wine of the morning. Fabulous extraction, blackberry coulis, black olives and cassis on the nose. A monster on tongue, lively and concentrated but so well balanced. Finished lingered long.

943456 'HIGH TRELLIS' CABERNET SAUVIGNON 2000 $ 19.65, McLaren Vale.


Tasted corked to me.

974816 'IRONSTONE PRESSINGS' 1999 $ 42.65, Grenache/Shiraz/Mourvedre, McLaren Vale, South Australia.


There were lovely hints of black licorice, sandalwood, blueberry and medicinal red raspberry. Well rounded and clean on the mid palate and a lengthy prickly finish.

942904 'THE D'ARRY'S ORIGINAL' 2000 $ 18.95, Shiraz/Grenache.


Lots of sweet ripe red fruit. Hits of nutmeg and spice, red currant and sweet red cherry on the close. Best QPR deal of the group.

984021 'THE FOOTBOLT' SHIRAZ 2000 $ 18.95, McLaren Vale, South Australia.
Nose was complex, offering notes of mineral, thyme and chocolate. Lighter bodied than the latter finishing with a jammy note chocolate. Maybe a little on the sweet side for my taste.

Cheers,
CZ

Alan Kerr's Home Page and Main Index