Alan's April 2002 Vintages Release Tasting Notes
Release date April 6, 2002
April's release features wines from Lake Erie's North Shores new kid on the block, Grape Tree Winery. Steven Brook, winemaker and co-owner is a dedicated entrepreneur with many years experience as both a grape grower and winemaker. Steven really puts the expression of the regional terrior elements into his wines. He studied the soil types in Essex County and local weather conditions thoroughly before venturing into the winemaking business. For twelve years prior to the preparatory work involved with opening Grape Tree, Brooks held a position with the LCBO as product consultant. This time spent with the board gave him a sound fundamental knowledge of wines in general. April's release offers several decent wines that are worth acquiring. On a down side, we are feeling the affects of our ever-deflating dollar and consequently this has added quite a premium to the price tag on many American wines. There are still tickets to be had for the prerelease tasting of wines from the classics 2002 spring/summer edition catalogue to be held at the "London Club" in downtown London on Wednesday, May 8. The time slot has been changed to 7:00 p.m. to 9.30 p.m. Tickets can be had by calling VINTAGES Customer Service at (416) 365-5767 or toll free at 1-800-266-4764.
Wines of Grape Tree Estate
609792 CABERNET FRANC 2000 $ 12.95, Lake Erie North Shore, Grape Tree Estate.
Medium ruby colour, the bouquet was clean and clearly focused on tobacco, hints of green pepper, red currant and clove. The palate was lighter in style than the aromas suggested. Nice acidity and the red fruit took the spotlight in the finish.
605782 CABERNET/PETIT VERDOT RESERVE 2000 $ 19.00, Lake Erie North Shore, Grape Tree Estate Wines.
This appeared to be a little shut down and tight when I tasted it (it had been open for several hours by the time I got to it). The colour was more intense than the Cab Franc. This combined with the veil of tannin shows it could age for a while. There was a noticeable earthiness to the nose that bound nicely with the fragrance of green tea. The fruit seemed content to stay behind the curtain. On the palate the red fruit came to light along with a spicy herbaceous tone that echoed sage and thyme! A definite crispness on the fairly lengthy finish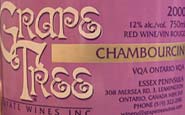 605774 CHAMBOURCIN RESERVE 2000 $ 14.00, Grape Tree Estate Wine.
This was my favourite of Grape Tree's reds. Bolder flavours of red fruit dominated the nose while the vegetal components, tomato and beet, lurked in the background. The palate was fruit driven, stewed plum, cranberry, strawberry and vanilla. There was a touch of gaminess as well as the fruit in the finish.

609776 'HEXAGON' SPARKLING CUVÉE 2000 $ 16.00, Blanc de Blancs, Grape Tree Estate Wines.
This demonstrates the alchemist's contribution to winemaking by the six grapes that are blended to create this bubbly. Riesling, Chardonnay, Pinot Noir, Pinot Gris, Pinot Blanc and Viognier. The medium mousse allowed all sorts of flavours to dance and tease the palate. It had citrus notes, tree fruit, peach, apple and apricot. It finished with a pleasing toasty yeasty note.


563460 PINOT GRIS 2000 $ 14.95, Niagara Peninsula, Vineland Estates.
Light pink straw tone with a touch of rust at the rim. Quite spritzy and biting on the palate. Simple peach and floral flavours. Finished with a tart dose of grapefruit. Needs food I think.

563361 SAUVIGNON BLANC 2000 $ 11.95,

Niagara Peninsula, Vineland Estates.
I did prefer this to the Pinot Gris. There was a little clamshell and beeswax on the nose along with some pleasant peach and pear aromas. Good medium body, although a little cloying. Not really a classic Sauvignon style but well priced and pleasing.

946665 VIOGNIER 2000 $ 17.55, California, Ironstone Vineyards.
This exhibited a myriad of floral, vegetal and spice aromas. I found a hit of ginger, cake spice, hazelnut, raw white mushrooms, peach and honey. Everything seemed to have come together on the palate but all the fruit was tucked away in the background. The finish was lengthy if a little cloying.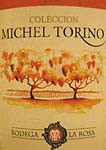 727685 TORRONTES DE CAFAYATE 2000 $ 13.45, 'Coleccion Michel Torino', Cafayate Valley, Bodega La Rosa/Michel Torino. Argentina.
Imagine the aromas created from mixing Muscat and bath oil together and you would get something maybe close to the perfume from the nose of this wine. There were strong aromas of sweet fruit, rose petals and spice. Flavours of almond paste, peach, apricots and lime peel danced across my tongue. The slight level of sweetness was only noticeable in the finish. Good stuff!

427054 LATE HARVEST SAUVIGNON BLANC 1999 $ 12.75,

Casablanca Valley, Viña Errazuriz.
This was de-listed from the board's regular stock and is now a Vintages only wine. Too bad as it was always a decent staple for dessert. Well balanced, good citrus based acidity, sweet flavours of tangerine, lime and dried apricot.

744995 RIESLING SCHLOSSBERG 1999 $ 19.90,

Grand Cru Classé, Domaine André Blanck et Ses Fils.
I found this to be dull and somewhat lackluster but several of the others present had much more favourable comments to make than I did.

955849 RULLY BLANC 1999 $ 26.40, Premier Cru, Joseph Drouhin.
The enticing nose of peach, pear, mineral, slate and spiced apple were not detectable on the palate. All I found were the earthy elements and a hint of tree fruit on the finish.

738864 CHÂTEAUNEUF-DU-PAPE BLANC 1999 $ 34.75, Clos du Roi', Château Gigognan,
Lots of funky things happening in the glass with this wine. Slightly bitter coffee grounds, Anjou pear, crab apple and licorice. The flavours offered on the palate were equally as interesting. Full bodied, spicy, solid fruit and pine cone. The finish lasted long, lingering with anise and honey.

976803 ERBACHER HOHENRAIN 1990 $ 18.70, Riesling Spätlese, Gutsabfüllung, Weingut Schloss Reinhartshausen.
A twelve-year-old Riesling at this price makes me highly suspicious. Although the depth of the rich yellow green colour was absorbing, it was a bit of a let down on the palate. A splash of baked apple, some mineral and hints of oily petrol mouth feel was all this wine had left to offer. The low level of acid left it dull and one-dimensional. The catalogue suggests another five years of aging but IMHO, I really don't see how that would benefit this wine.

701631 CABERNET SAUVIGNON 1998 $ 74.90,

'The Montelena Estate', Chateau Montelena.
Good intensity and depth of inky/ruby colour, nose was brimming with layers of berry, chocolate and cherry cola. Mid palate had a wonderful balance of firm acids, sweet chocolaty tannin, blackcurrant, plum and a touch of leather. Finished long and creamy. It took time to open up and display these qualities but it was worth the wait.

721415 CABERNET SAUVIGNON 1998 $ 74.65, Vineyard Georges III, Rutherford, Napa Valley, Clos du Val.
Upfront this gave off some lovely currant and stewed fruit aromas. These followed through on the palate but that was as far as they went. The fruit on the finish fell quickly revealing some harsh tannins. Right now I would pay the extra twenty five cents and buy the Montelena.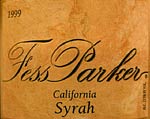 942136 SYRAH 1999 $ 29.80, Fess Parker Winery. California.
This was an "in your face" style of wine that had complexity and character as well as incredible harmony and balance. The nose exhibited roasted portabello mushrooms, leather, licorice, stewed plum, black cherry and vanilla laced cappuccino. All these flavours echoed through the palate and on into the opulent finish.

561811 ZINFANDEL 1999 $ 25.00, Sonoma County, Geyser Peak.
Not your regular run of the mill Zin but nonetheless it's medium bodied frame held flavours of lavender, cranberry and cassis. Zippy on the finish with decent length

405605 ZINFANDEL 1998 $ 9.95,

Baja California, L.A. Cetto, Mexico.
Ouch, I liked the Petite Syrah from this producer from last months release but this was just way too of the park for my tastes. Surprisingly light bodied displaying hints of cooked berries, cola and white chocolate. The finish had an earthy vegetal leafy essence that I did not relish.

744300 PINOT NOIR 2000 $ 16.95,

Yarra Valley, Victoria, Ironbark Wines. Oz.
Although this rich and savoury Pinot was a fruit bomb, it showed some complexity and a little whiff of Aussie terroir. Aromas of blueberry jam, plum, dark cherry and Asian spices. Solid and refreshing on the flavour level and it finished clean but a bit chunky.

468637 'OLD VINE' 1998 $ 28.60, Shiraz/Grenache/Mourvèdre, Barossa Valley, South Australia, Penfolds.
Quite a deep opaque purple colour. Whiffs of eucalyptus, blackberry, cherry, herbs, sage and thyme on the nose. Thick and chewy mouth feel, nice balance and spicy aniseed captured the finish.
959882 CHÂTEAU HAUT-SARPE 1998 $ 39.95,

Saint-Émilion.
It has been a while since I have purchased a Bordeaux wine but this I will not pas up. It was a deep ruby coloured bottle of wine that had all classic tell tale aromas of blackcurrant, shoe polish, mineral, tobacco, cedar and raspberry. It is tannic, as expected, but the chocolate/fruit and spice flavours all showed well on the palate.

713693 BOURGOGNE 1999 $ 26.45, Hautes-Côtes de Nuits, A.-F. Gros.
If you want to introduce a friend to experience the taste sensation of "la goute de terroir" this is the wine to use. To the novice its sewer-centered soul may even prove offensive. Along with the barnyard funk, aquarium, and forest floor traits lay aromas of plum, anise, cherry, tobacco, beet and tomato. Excellent balance to this multidimensional, medium bodied wine. Decent Pinot here for $26 and change.

966200 LADOIX 1998 $ 25.45, Joseph Drouhin.
This paled in comparison to A-F Gros's offering but nonetheless it was a pleasing, light bodied and graceful wine. Simple aromas of cherry, medicinal candy, strawberry coulis and rhubarb. The mid palate fell flat and the finish was light

722454 DOMAINE DE L'AURIS 1998 $ 14.30, Côtes du Roussillon.
This wine rendered my inner cheeks joined to one another. My friend Mark Handleman, whose palate I respect most highly, suggested I do not pass this one up. I suspect Mark had tried it much earlier in the day because when I got to it, It had totally shut down. Through the mask of coffee, charcoal, walnut shell and inky tannin, I could smell some pleasant plum, cherry and berry fruit. The finish was big with mostly pepper and dark bitter chocolate.

738054 DOMAINE LE COUROULU 1998 $ 18.50, Cuvée Classique', Vacqueyras.
I missed this one on the table but from my understanding, it will be worth buying.

981787 GIGONDAS 1999 $ 25.90,

Domaine du Grapillon d'Or.
It is not surprising this was not shipped to London to taste. It usually has a brief resting period of maybe two minutes on the shelves once the stores open on release day. Based on previous experience, If you find some, buy it.

733634 COPERTINO 1998 $ 10.85,

Riserva, Viti. Francesco Colucci, Puglia.
Lots of interesting aromas to the nose for the price, roasted beet, thyme, cloves, pepper, blueberry and ripe red fruit. A little clumsy in the mouth but a great wine for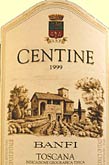 summer afternoon barbeques.

947440 'CENTINE' 1999 $ 16.80,

Toscana, Banfi.
Another great QPR wine that exploded with aromas of cassis, licorice, blackberries and damson. On the tongue it was creamy and rich. The finish was equally paralleled.

937714 'DON JACOBO' 1998 $ 14.95,

Rioja DOC, Bodegas Corral, Rioja, Bodegas Corral.
A light brick colour that was already showing its age at the edge, very herbaceous, smelt like a dill pickle actually. Flavours of chocolate and diluted cherry brandy.

725762 'EL ALBAR' 1998 $ 19.90, Toro DO, Bodega J. & F. Lurton, S.A.
Last but certainly not least this wine deserves an honorable mention. Its dark colour suggested it is a power packed wine and it was. The nose was leathery, dusty and full of chocolate, raspberry and black fruits that were solid right across the palate and into the long finish.

Cheers,
CZ

Alan Kerr's Home Page and Main Index