This release focuses on Burgundy and Rosé wines. Unfortunately I did not have the opportunity of tasting the latter, but if you are a white Burgundy fan, there are one or two good wines to be found.

This year we had a beautiful spring here in Niagara. The 2007 reds are stating to be released. Here are a couple of notes on some wines from the local front.



130245 TAWSE SKETCHES OF NIAGARA ROSÉ 2008 Niagara Peninsula $12.50
"Sketches" is a series made by Tawse with specific designs of appealing to the restaurant market. The price point of these wines is deliberately lower, but quality is still given high priority. This Rose has great weight, cropped at 1.5 tons per acre and made using the Saignee method, is clean, bone dry, and bursting with red fruit flavours, a touch of mineral and the right degree of acidity. It is made primarily from Pinot Noir and Cabernet Franc with a touch of Merlot and Cabernet Sauvignon. No need to wait, pop the cork and enjoy, especially at this price. Find this wine

112151 ROSEWOOD ESTATES RENACEAU VINEYARD CHARDONNAY 2007 Beamsville Bench, Niagara Peninsula $17.95
The decision to not age in oak allows the aromas of apple, white tree fruit and sweet pear to show well. It has quite the luscious texture on the palate with plenty of solid fruit and the acidity is spot on. The finish is pristine, well balanced and surprisingly long. Find this wine

112169 ROSEWOOD ESTATES SEMILLON/SAUVIGNON BLANC 2007, Niagara Peninsula $17.95
The apple aromas dominate the nose at first. It shows some floral Semillon character along with a touch of honey and canned tropical fruit. The palate has a pleasing sweetness, but I find the finish a little too cloying and lacking acidity. Need to try this again perhaps. Find this wine
112177 ROSEWOOD ESTATES PINOT NOIR 2007 Twenty Mile Bench, Niagara Peninsula $17.95
Wismer Vineyard, home of the fruit for this Pinot, is gaining a great reputation for producing quality fruit. Rosewood's Pinot at this price, offers great value for the dollar. It is elegant, beautifully balanced carrying silky layers of red fruit, limestone and gentle tannins. It will last a couple of years, but it is showing very nicely right now. Find this wine

Some wines from the Burgundy release.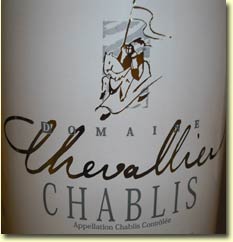 112227 DOMAINE CHEVALLIER CHABLIS 2006 $23.95
There are plenty of interesting aromas from this complex wine that include wet stone, baked apple, clove and lemongrass. Well balanced, not a long finish, but tasty and clean. Find this wine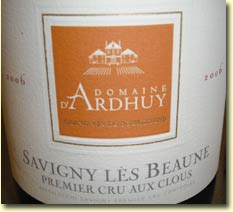 122515 DOMAINE D'ARDHUY AUX CLOUS SAVIGNY-LÈS-BEAUNE 1ER CRU 2006 $39.95
I really enjoy the wines coming out of Savigny Les Beaune of late and this bottle is no exception. The nose offers up sturdy aromas of earth, cured meat, plum, dark berry juniper and sweet spice. The palate is a mix of sweet creamy red fruit, rhubarb and milk chocolate. Somehow the palate falls short of the promise of the nose, but maybe some bottle aging will bring it together. Find this wine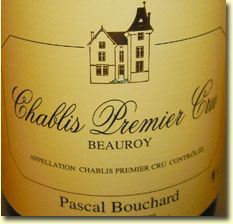 994350 PASCAL BOUCHARD BEAUROY CHABLIS 1ER CRU 2007 $36.95
Good concentration of dried tangerine, lime leaf, stony mineral and white tree fruit aromas. The palate is full of luscious baked apple and pear notes, steely acidity and good concentration of flavours. Find this wine

110395 ANTONIN RODET GIVRY 2007 $21.95
Notes of lavender, blackberry and fresh cut flowers give way to a palate of silky red fruit and black cherry. The acids are crisp, there is good fruit, the finish is at a lower level, but so is the asking price. Find this wine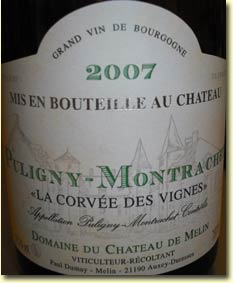 42093 DOMAINE DU CHÂTEAU DE MELIN LA CORVÉE DES VIGNES PULIGNY-MONTRACHET 2007 $59.95
A dessert laden alluring nose of crème brulee, baked apple crumble and hazelnut praline. It is beautifully balanced; the citric acids keep the white tree fruit alive and focused. The finish has that certain Burgundian earthy mineral note that sets it aside. Find this wine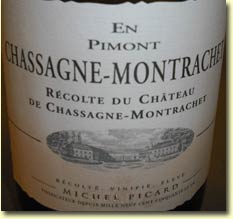 110213 CHÂTEAU DE CHASSAGNE-MONTRACHET EN PIMONT CHASSAGNE-MONTRACHET 2003 $49.95
The age on this wine has allowed some interesting aromas of tropical fruit, linalool and butter roasted pear to develop. Its mid palate is quite sleek, packed with flavours of mature fruit, an earthy character and mineral. It is starting to reach its prime time for drinking. Find this wine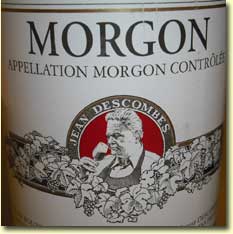 946186 GEORGES DUBOEUF JEAN DESCOMBES MORGON 2007 $18.95
Not being a fan of Beaujolais, I am surprised by how the floral nose also bursts with Asian spice, black pepper, sweet red fruit and cherry cough candy. It has a creamy note on the palate, plenty of acids as blackberry becomes the dominate fruit. Its finish is clean, not as long as I expected given the expanse of flavours on the palate, but all in all a good bottle of Gamay. Find this wine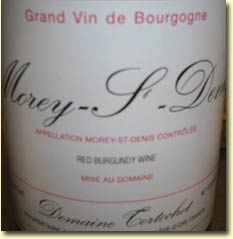 714634 DOMAINE TORTOCHOT MOREY-SAINT-DENIS 2006 $44.95
Chock-full of dark fruit, Middle Eastern spice, beet, thyme and mushroom. The palate is rich, chewy, full of dark fruit, but tight. There is enough tannin to let it sit for a few years and once rested, it should show well. Find this wine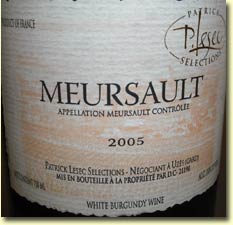 84533 PATRICK LESEC MEURSAULT 2005 $49.95
The initial egg and lactic aromas are bold and off putting. Not being one to give up, I let it sit for a while and after a few minutes the funky notes start to dissipate while allowing peach, apple, pear skin and smoky mineral components to show. The oak is subtle and the mid palate has great structure, yet that weird little funky note reappears on the finish. Perhaps an odd bottle, but that sour note takes away from what could be a good bottle of wine. Find this wine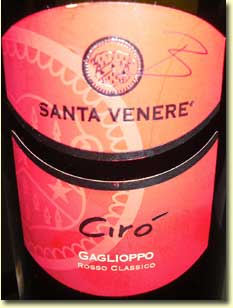 52332 SANTA VENERE GAGLIOPPO ROSSO CLASSICO CIRÒ 2007 $19.95
Plush fruit, licorice, mineral, anise, tar are all vying for the number one spot until the layers of blueberry and blackberry take the lead. The palate is balanced, the fruit is powerful and the texture is creamy. A little hit of chocolate tannin and black raspberry on the finish. Find this wine
21329 QUINTA DE VENTOZELO RESERVA DOURO TINTO 2003 $24.95
Heady notes of sweet oak, dusty tannin, caramel and blueberry complement the lovely sweet fruit on palate. It is a touch flabby especially on the finish, but it is an interesting wine. Find this wine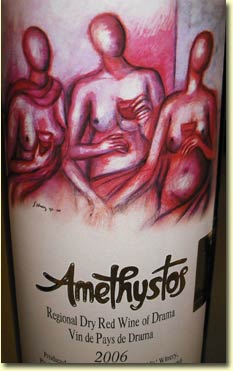 724831 DOMAINE COSTA LAZARIDIS AMETHYSTOS RED 2006 Dry Wine of Drama, Greece $24.95
Plenty of cooked fruit aromas combined with earthy mineral notes and an array of baking spices. It has a "murky" feel on the palate, the fruit is decent, but the acidity is low. Find this wine

107078 SEMELI RESERVE NEMEA, Greece 2005 $18.95
A lighter coloured wine that shows off pretty aromas of plum, fresh flowers, damson and blackcurrant. It has a good mouth feel, a creamy sweet texture, the finish starts out with plenty of dark cherry and spice, but it does dry out. Find this wine

108472 TERRA ANTIKA MAVRUD 2007 Bulgaria $15.95
Like a black fruit milk shake with bacon. Find this wine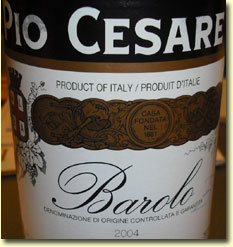 736587 PIO CESARE BAROLO 2004 $74.95
An ethereal nose of sweet spice, violet, red cherry, licorice, black shoe leather and dried morels. The layers of fruit are bound together tightly; the tannins have a strong presence and a stern grip. Although destined for greatness, this wine isn't going anywhere too quickly. The tannins are really austere and as with great Barolo, it may need a decade at least in the cellar. Find this wine

114421 DIVINICA RED 2006, Douro, Portugal $17.95
This blend of Touriga Nacional, Tinta Roriz, Touriga Franca and Tinta Barroca has become a rustic and vigorous wine full of underbrush, chocolate, balsa and sweet cherry aromas. The palate bursts with red berry and dark chocolate flavours that carry well right through the finish.
Find this wine


Cheers

CZ
Alan Kerr's Home Page and Main Index