Having missed the last Vintage's tasting due to a busy summer schedule, I am happy to report that I was able to get up to London to sample some of the wines being released on August 15th.

The feature of this release focuses on the wines of Chile. I chose to leave those wines until the end, then as I was about to embark on the flight, my palate crashed and all the wines started to taste the same. However, much of what I tasted prior to that tragic occurrence was decent and there are some good value wines to be found.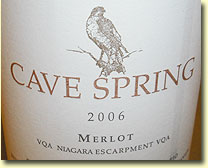 235051 CAVE SPRING MERLOT 2006, Niagara Escarpment $16.95
The 2006 vintage in Ontario was bloody horrible with all the rain at harvest and consequently I must confess to having a tendency to avoid local reds from this year. So why is this wine showing so well right now? It has lovely aromas of black fruit, dried herbs, mocha, mineral and forest floor. The palate is elegant, well balanced offering flavours of red fruit laced with a touch of anise. Find this wine

122283 TRUMPOUR'S MILL PINOT NOIR 2007, Prince Edward County $19.95
This is one of the wines featured as "Wine of the Month." It has a nose of strawberry Jelly and sweet red fruit. The palate carries much of the same nuances, with a faint touch of stony mineral in the background. Very one dimensional and it does little to stimulate any interest. Find this wine
000612 MONTES ALPHA SYRAH 2007 Colchagua Valley, Apalta Vineyard, Chile, $22.95
Always a winner with me, this Chilean Syrah has big toasty notes of blackberry ripple, mocha, cherry and sweet oak. A little clumsy now on the palate, but it has plenty of black fruit acidity that refreshes nicely. Find this wine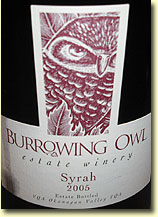 73072 BURROWING OWL SYRAH 2005, Okanagan Valley, British Columbia $48.95
Having tasted several older vintages of Syrah from this winery, located in the heart and heat of Okanagan's veritable desert, I think the potential for greatness in this wine, several years down the road, is dead certain. The power of the nose is second to none. It oozes intense aromas of black berry fruit, black cherry, coal dust, black liquorish toffee, Szechwan peppercorn and cedar. The palate is luscious, full of ripe, but not over the top, sweet fruit. The texture is chewy, the acids refresh and the mineral earthy notes deliver a pleasing secondary note. The tannins are there and although it is years away from being at its best, I would have no problem popping the cork tonight. Stellar stuff. Find this wine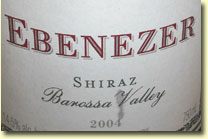 971705 BAROSSA VALLEY ESTATE EBENEZER SHIRAZ 2004, Barossa Valley, South Australia $39.95
Full of eucalyptus and dried herb, this Shiraz, at first, is reluctant to show its wares. The polished aromas of blackberry and black cherry show themselves as they break through the layer of toasty vanilla and oak. After a while in the glass, I find aromas of violet, lavender and underbrush starting to appear. The palate has a jammy consistency and there is a touch of heat in the finish. Find this wine

71043 BAROSSA VALLEY ESTATE E-MINOR SHIRAZ 2007, Barossa Valley, South Australia $17.95
This mini me rendition of the previous wine shows more chocolate, dark fruit, wet soil and earthy notes on the nose. It has nice blackberry and blue berry fruit flavours, a creamy texture and gentle tannins. A similar style, but built for current consumption. Find this wine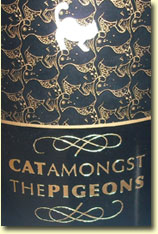 93138 CAT AMONGST THE PIGEONS NINE LIVES SHIRAZ 2006, Barossa Valley, South Australia $21.95
I like this wine a lot. The fruit is pure and unadulterated. It has a secondary layer of Middle Eastern spice and a barely noticeable touch of sweet oak. The palate has impeccable balance; there is a lovely note of soil that blends with the super fruit flavours on the finish. A great bottle of wine. Find this wine

107904 GEORGE WYNDHAM FOUNDER'S RESERVE SHIRAZ 2005, South Australia, Cuvée du Maître $22.95
This wine has a strange plasticine and clay note on the aroma that eventually gives way revealing a hefty dose of pure black fruit essence and sweet oak. For me, the palate is too sweet and cloying. Find this wine

501437 CHÂTEAU LA SERRE 2005, Saint-Émilion, Bordeaux $58
This darkly coloured wine offers a nose of sweet new world fruit, with a hefty dose of oak and milk chocolate. The palate is full bodied and laden with minerality and some pretty fruit flavours that soon are subdued by the onslaught of tight and astringent tannins. The finish shows some blackberry flavours, the acids are very low and that tannin is going to need plenty of time to resolve. Find this wine

125666 CHÂTEAU ROQUETAILLADE LA GRANGE VIEILLES VIGNES 2005, Graves, Bordeaux $21.95
A simple wine showing plenty of pleasing fruit, some mineral notes and a touch of wet earth. It too is tannic now, but those tannins are silky and the wine is not meant for the long haul. Try after a year or two and it should reward well. Find this wine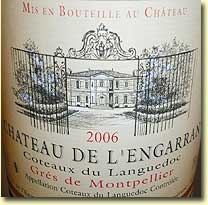 76299 CHÂTEAU DE L'ENGARRAN GRÉS DE MONTPELLIER 2006 Côteaux du Languedoc $18.95
Enticing aromas show plenty of ripe plum, with just the right amount of prune character, some dried herb and stony mineral. The blackcurrant and black liquorish flavours meld beautifully on the palate. It's tannic, but the tannins are soft and I think it can be drunk and enjoyed now or it will hold for a few years to come. Best thing is the price; it is good value for the buck. Find this wine

724674 COPPI PEUCETICO PRIMITIVO 2001, Puglia $13.95
A simple wine full of sweet black raspberry and white pepper aromas with lots of chewy dark fruit, tangy acids and floral flavours on the palate. The finish is sweet, but has enough acidity to please. Good for simple summer barbeques, if and when summer arrives. Find this wine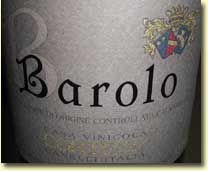 119677 CASA VINICOLA CORTESE BAROLO, Piedmont 2004 $31.95
Bargain basement Barolo that is tasty, well balanced and ready to drink is a rarity at Vintages. This bottle is more fruit forward than traditional Barolo, but the layer of Mediterranean spice beneath the fruit is quite charming. The palate is focused on plum and decidedly heavy with the flavour of cardamom. Tannins hang around a little, but they do not interfere with the fruit or enjoyment of the wine. Find this wine


974394 MARCHESI DE' FRESCOBALDI TENUTA DI CASTIGLIONI 2006, Tuscany $21.95
Earthy and full of sweet Moroccan spice, black fruit and milk chocolate. Blackcurrant hits the palate first followed by a layer of spicy and some tannin. Should be quite tasty in a year or two. Find this wine

969469 RENZO MASI CHIANTI RISERVA 2005, Tuscany $15.95
Unlike the Barolo, this Chianti, although designated a Riserva, just doesn't quite make the grade. It is has some damson, black cherry and tomato nuances. The palate is clean, but very light bodied. Find this wine

650713 CORTE ZOVO SA' SOLIN RIPASSO 2007, Valpolicella, Veneto $17.95
Smoky, full of tar, pepper and leather until a swirl or two of the glass releases the layers of black fruit and herb aromas. It is nicely balanced with just the right degree of sweetness. There is little if any tannin and the finish does have decent length. Find this wine

117242 VILLALTA RIPASSO VALPOLICELLA 2006 Veneto $14.95
Another good Ripasso laden with notes of green tea, black cherry, forest floor and mushroom. Cherry and blackberry flavours race across the palate and are balanced by a streak of pure black fruit acidity. I like this a lot! Find this wine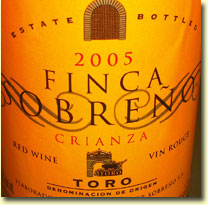 40360 FINCA SOBREÑO CRIANZA 2005, Toro, Spain $18.95
This other "Wine of the Month", aged in American oak is also very good. It has that appealing bouquet of cedar, coconut dried fruit and black olives that only Spanish wines can do. The palate shows a chocolate and spicy component with plenty of fruit and powdery cocoa on the finish. Find this wine

The next release features wines from the Cote Du Rhone most of which were quite spectacular. There are several Zinfandels in the release as well.
Please stay tuned.


Cheers

CZ
Alan Kerr's Home Page and Main Index