586099 SHEPHERDS RIDGE VINEYARD PINOT NOIR 2006 Marlborough, South Island $24.95
A little heavier than I expected, this wine is full of plum, damson, sage and creamy toffee notes. The palate is a little clumsy while the finish shows notes of minted candy. Find this wine

060079 SPINYBACK PINOT NOIR 2006 Nelson, South Island $18.95
Tasting blind, I might pick this as a South African Shiraz based on the funky animal aromas on the nose. The palate shows aggressive fruit with a little tobacco leaf flavours and black fruit acidity. The finish is sweet and over the top for my tastes. Find this wine

060061 LOWBURN FERRY PINOT NOIR 2006 Central Otago, South Island $37.95
Lots of cherry, sweet spice and red fruit coulis aromas on the nose. Although it too comes across as sweet on the palate, the red fruit acids do well to tame. There are some tannins and plum skin notes on the finish. Perhaps a year or two tucked away will allow this wine to show its best. Find this wine

062398 PISA RANGE ESTATE BLACK POPLAR BLOCK PINOT NOIR 2005 Central Otago, South Island $44.95
Cote de Nuits is my first thought, the mineral and earthy notes are quite prominent. They give way to allow the plum, black cherry, black salty liquorish and toffee aromas to make their presence known. Don't be in a hurry to open this as it is still tight and dark chocolate tannins are quite discernable.
Find this wine

683342 WAITIRI CREEK PINOT NOIR 2006 Central Otago, South Island $37.95
A well balanced wine featuring stewed plum, cake spice, red currant and creamy milk chocolate. It should age a year or two, but it is far from unpleasant right now. Find this wine

061242 WILD ROCK CUPIDS ARROW PINOT NOIR 2006 Central Otago, South Island $22.95
Some cherry and plum notes with beet and earthy notes. The palate has sweet stewed red fruit; there is a hot note on the finish. Find this wine

060038 VILLA MARIA PRIVATE BIN MERLOT/CABERNET SAUVIGNON 2005 Hawkes Bay, North Island $17.95
Being a fan of Villa Maria's general list Sauvignon Blanc, I have high expectations from their Bordeaux blend. I am impressed; it is spicy, meaty, and full of red raspberry and blackcurrant fruit. The degree of oak is subtle, the acids refresh and the finish is quite long. Find this wine
Rose wines for summer sipping:
055046 TRUMPOUR'S MILL ROSÉ 2006 The Grange of Prince Edward County, Ontario $14.95
An earthy and mineral laden wine showing some red fruit and a metallic note. Find this wine

078394 VINELAND ESTATES GAMAY NOIR ROSÉ 2007 Niagara Peninsula $14.95
An initial blast of sulphur does blow off revealing earthy notes along with light cherry and strawberry aromas. There are red berry flavours up front that are mellowed quickly by an astringent aftertaste.
Find this wine

071712 WILDASS ROSÉ 2006 Niagara Peninsula $19.00
Aromas of bubblegum, blackcurrant and sweet red berry. Nice acidity, a drier style and good structure. Perhaps a little to soon to be drinking as there is note of tannin. I still have some of the 2005 version of this and it is now drinking really well. Find this wine

059865 PINK TRUCK ROSÉ 2007 California $12.95
This is simply way too sweet for my tastes. There are nice red fruit flavours, but the syrupy texture is overpowering. Find this wine

034298 PETER LEHMANN ROSÉ 2007 Barossa, South Australia $15.95
A drier style, loaded with red berry, lovely mineral notes and good acidity. I like this a lot. Find this wine

650325 KIM CRAWFORD PANSY ROSÉ 2007 Gisbourne, New Zealand $16.95
Another good wine here from a producer that rarely disappoints. It shows heaps of raspberry and red cherry notes, refreshing acidity and spiciness on the finish. Most rose wines tend to be lighter styled summer sippers. The 14 degrees of alcohol found in this wine are cleverly masked by the concentration of fruit. Find this wine

030445 CABRIZ ROSÉ 2007 Dão, Portugal $13.95
The earthy slate element comes from Portugal's Touriga Nacional. It has intriguing dark fruit flavours, but the acidity level comes across lower than I would prefer, rendering it cloying on palate and sweet on the finish. Find this wine
Wines from the regular release: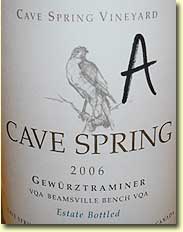 302059 CAVE SPRING ESTATE GEWÜRZTRAMINER 2006 Beamsville Bench, Niagara Peninsula $19.95
Cave Spring recently took top honours at Cuvee with this wine. One glass and one can see why. It has everything one finds in a quality Alsatian Gewurztraminer except of course the hefty price tag. Its nose displays floral, tropical fruit, canned lychee finishing with aromas of vanilla crème brulee. The texture on the mouth is fantastic; the acidity is low, but just enough to balance the touch of sweetness. It has great depth and a stellar fruit laden finish. I can't recall drinking a better Ontario Gewurztraminer.
Find this wine

352682 MARYNISSEN CABERNET/MERLOT 2002 Niagara Peninsula $14.95
There are mixed reviews about this wine. Several tasters believe the fruit to be in decline. I think it is holding quite well, but it is clearly not one to cellar. The colour is still vibrant. There are aromas of mineral, blackcurrant cordial, clove, cinnamon, plum and slate. It shows well on the palate too. Best bet is to crack one and see. It is the VQA wine of the month, it's cheap and there should be plenty to go around. Find this wine

059113 KLINKER BRICK OLD VINE ZINFANDEL 2005 Lodi, California $22.95
This rich and fleshy hot climate wine offers lots of sweet perfume, black raspberry and spice. It has a creamy texture, a touch of heat and plenty of fruit flavours. Find this wine

993824 FINCA EL RETIRO MALBEC 2004 Mendoza, Argentina $12.95
A mix of plum, currant, milky chocolate, spice, pinecone and dried sweet fruit. The palate is rich, the acids balance, sadly the finish drops off too soon. Hey what can one expect for thirteen bucks? I am going invest in it. Find this wine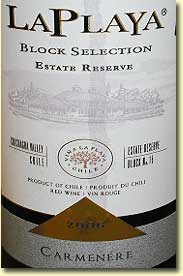 059410 LA PLAYA BLOCK SELECTION ESTATE RESERVE CARMENÉRE 2006 Colchagua Valley, Chile $13.95
Another sweet deal, only this one exhibits powerful notes of black fruit, earthy notes, and dried herbs. Blackcurrant rules the palate; the acids are lively and refreshing and the finish is harmonious and tasty. Find this wine

694224 DORNIER MERLOT 2005 Stellenbosch, South Africa $16.95
An odd wine wandering far from the confine of Merlot, very stinky with notes of wet straw, wet fur and pig poo. Beneath all this lie aromas of black raspberry, portobello mushroom and chocolate. The palate has a high degree of acidity and plenty of tannins to resolve. Find this wine

069401 DOMAINE Y. CLERGET VOLNAY 2005, Burgundy $43.95
Quiet full bodied, with floral, black fruit and wet soil aromas. The palate is strange, full of black fruit acids, plum and a "Kool Aid note". Not typical for a Pinot, tasty, but different. Find this wine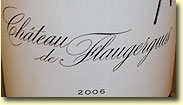 065896 CHÂTEAU DE FLAUGERGUES CUVÉE SOMMELIÈRE 2006, Coteaux du Languedoc, $17.95
Ample layers of appealing dark fruit, chalky dusty texture on the palate combines with black raspberry and blackberry flavours. It is meaty, full of mineral and so nicely balanced. Find this wine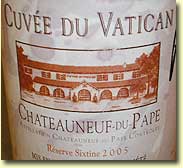 740639 CUVÉE DU VATICAN CHATEAUNEUF-DU-PAPE RESERVE SIXTINE 2005 $56.95
An old style gutsy Chateauneuf brimming with aromas of lavender, essence of black fruit, nutmeg, wet stone, thyme and pepper. The palate is enormous, full of back berry, bitter grapefruit zest, dried meat and mocha. Don't be in a rush to drink this; it needs to do some serious time before this bad boy is ready to enjoy. Find this wine


735779 DOMAINE DE FONT-SANE GIGONDAS TRADITION 2005 $24.95
A backward monster that reveals layers of pepper, lavender, blueberry, floral and clay pot aromas. The palate is hot, spicy, and the presence of black fruit toffee suggests it will be worth the wait.
Find this wine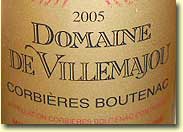 017194 DOMAINE DE VILLEMAJOU CORBIÈRES BOUTENAC 2005 $20.95
A mix of white pepper, carbolic soap, lavender, green pepper and cedar. Its palate has a silky texture that showcases the spice along with plum, black fruit and Camp coffee essence. It has fruit and earthy notes on the finish. Find this wine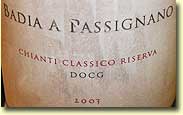 384552 ANTINORI BADIA A PASSIGNANO CHIANTI CLASSICO RISERVA, Tuscany 2003 $39.95
Plenty of dark soil, metal, iron and black fruit aromas lead to a palate of plush fruit, green tea, almond biscuit and firm tannins. It has great structure and impeccable balance. Find this wine

072371 CASTELLANI CAMPOMAGGIO ROSSO, Tuscany 2003 $20.95
It's brimming with aromas of sweet and creamy black fruit, lavender and purple bubblegum. Sweet and chewy on the palate, has good acidity and length. Find this wine

930651 VIGNAMAGGIO CASTELLO DI MONNA LISA CHIANTI CLASSICO RISERVA 2003 $34.95
This wine just blows me away; it is full of sweet spice, cigar box, wet soil, black tea and dark fruit. The palate shows balanced flavours of red fruit, plum clove, black liquorish and anise. The best wine I have tasted all day. Find this wine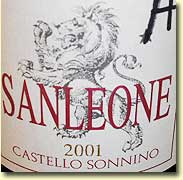 066043 CASTELLO SONNINO SANLEONE, Tuscany 2001 $46.95
This spicy blend of Merlot, Sangiovese, and Petit Verdot shows off ripe aromas of anise, mineral, slate, damson, tea and tar. It leads to a concentrated palate of sweet ripe red fruit, cappuccino and dusty chocolate tannin. Another lovely well made wine. Find this wine

353201 RUFFINO CHIANTI CLASSICO RISERVA DUCALE ORO 2004 $43.95
This is very tight right now and is showing little. There are hints of black berries creeping from the glass, the tannins are soft and none offensive, but they prohibit the wine from showing its potential. Find this wine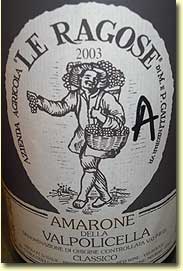 700872 LE RAGOSE AMARONE DELLA VALPOLICELLA CLASSICO 2003 $61.95
A mix of treacle, dark chocolate, laurel leaves, mocha and black raspberry. The level of sweetness on the palate is gentle, it has great acidity, the dark fruit shines through and the finish has great length.
Find this wine

708552 CHÂTEAU MUSAR 1999 Bekaa Valley, Lebanon $54.95
The light orange tinge on the rim of this ruby wine shows age. The nose is primarily red berry fruit, with a backdrop of cured meat, iodine, lavender, sage, leather and dried fruit. The palate is smooth, with notes of stewed red fruit, fig, a touch of mocha and some dusty cocoa tannin. Find this wine

It is going to be an expensive month!
Cheers
CZ
Alan Kerr's Home Page and Main Index