Admittedly one or two of the prices are with full case discount. Some wines were marked down with the "Premier Customer" discount card, but that takes only thirty seconds to apply for and there is no charge. My bottle of 2005 Sobon Estate Fiddletown Zinfandel went from $25.00 to $20.00 using this handy piece of plastic. Also one has to consider the New York state tax of 8.75% added at the checkout.

Even with the retail tax, is the wine buying public of Ontario getting screwed? You be the judge.

The first price listed on the following wines are the Premier's prices and the second is what the LCBO charges for the exact same wine.

| | | |
| --- | --- | --- |
| | Premier | LCBO |
| Ravenswood Vintners Cuvee | $7.99 | $19.95 |
| Rosenblum Cellars Vintners Cuvée XXIX | $9.99 | $18.99 |
| Cline Ancient Vines | $13.00 | $18.95 |
| Frog's Leap Cellars | $27.00 | $37.95 |
| Ravenswood Mendocino | $14.99 | $25.00 |
| Ridge Geyserville | $31.00 | $47.95 |
| Ridge Lytton Springs | $29.99 | $48.95 |
| Ravenswood Barricia Vineyard | $22.95 | $45.95 |
| Beringer Founders | $9.00 | $19.95 |
| Renwood Granmere | $22.00 | $37.00 |
| Sebastiani | $12.99 | $20.95 |
Did I mention the prices of Bordeaux and Burgundy that this store carries? No, let's save that for another time.

The good news is there are some tremendous wines to be found in this release scheduled for October 13th. Do read on.

Wines from Bordeaux

45658 CHÂTEAU CÔTE MONTPEZAT 2001, Côtes de Castillon $19.95
The nose shows notes of oatmeal and vanilla with a nice layer of pure black fruit and red cherry. It has lively acids, a trace of tannin and lots of cassis on the finish. Find this wine

671792 CHÂTEAU CERTAN MARZELLE 2004 AC Pomerol $65
Made from one hundred percent Merlot, this wine features delicate aromas of black fruit, damson, plum and coffee with a touch of underbrush. The wine kicks into gear on the palate with a solid concentration of cassis, good acidity and a high degree of oak. It is fashioned in a new world style, full of fruit, along with plenty of harsh tannins that should soften with time. Find this wine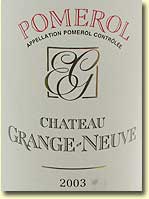 43745 CHÂTEAU GRANGE-NEUVE 2003 Pomerol $39.95
Earthy aromas with a little walnut shell, red raspberry, red currant and blueberry. It shows the red fruit on the palate and it finishes with a taste of sweet red liquorish. Tannins are soft and unobtrusive. Find this wine

43802 CHÂTEAU HAUT-COLOMBIER 2005 Premières Côtes de Blaye $17.95
Freshly pressed fruit coulis, tons of blackcurrant and black fruit acids. The palate shows a creamy texture, with coffee, black berry, vanilla and toast. It is a little clumsy now, but the price is right and I think it will be worth sticking a bottle or two away for a year or so. Find this wine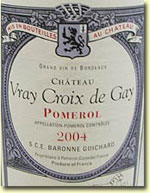 672204 CHÂTEAU VRAY CROIX DE GAY 2004 Pomerol $62
Lots of earthy forest floor aromas, a touch of dried mushroom and a mix of both red and dark fruit. The flavour profile is black berry fruit, tea like tannin, plum and dark chocolate. The tannins show on the finish delivering an astringent stewed green tea taste that should dissipate with time. Find this wine

459973 DE VALANDRAUD 2003 AC Saint-Émilion Grand Cru $56.95
The third wine of Chateau Valandraud shows some pretty notes of smoke, blackcurrant and leather. It is a concentrated wine full of lively acids, with a creamy texture, but it is tight and shows little of its potential. There is a touch of heat on the finish that I don't care for. Find this wine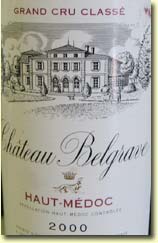 712836 CHÂTEAU BELGRAVE 2000 Haut-Médoc, 5e Cru $49.95
At last, some nice earthy poo aromas along with mineral iron, bitter chocolate and plenty of fruit. The fruit does taste mature on the palate, the tannins are resolving to reveal a wine close to its best. This is a stunner vintage and the complexity of the nose is proof. Find this wine

43851 CHÂTEAU COLOMBIER - MONPELOU 2003 Pauillac, Cru Bourgeois Supérieur $37.95
Blackcurrant, wet grass, lead pencil and moss with plenty of fruit lurking in the background. It is well balanced and finishes with a kiss of red fruit and cocoa. Find this wine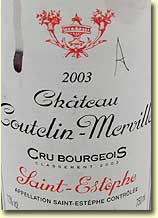 902965 CHÂTEAU COUTELIN-MERVILLE 2003 Saint-Estêphe, Cru Bourgeois $34.95
An herbaceous nose of pine needle, dried mint, sage and mineral. It has plenty of tasty black fruit and cranberry flavours; high acid and layers of tannin that render an astringent finish. Time will tell. Find this wine

966473 CHÂTEAU DE CRUZEAU 2003 Pessac-Léognan $25.95
A medium bodied and reasonably priced Bordeaux that has notes of damson and black fruit with wisps of potato peel and black soil. There are plenty of red raspberry and currant flavours, the tannin is silky and unassuming.
Find this wine

682617 CHÂTEAU LA GARDE 2000 Pessac-Léognan $44.95
A great expression of dried mint, coal dust, wet leaves, black soil, iron and dark fruit. The aromas are duplicated on the palate with creamy fruit, good acidity and a note of tannin. Two more years and this should be really tasty. Find this wine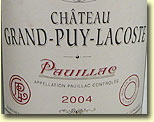 669622 CHÂTEAU GRAND-PUY-LACOSTE 2004 Pauillac, 5e Cru $65
A heady aroma of cigar box, leather, pure dark fruit and vanilla bean. It is solid, well balanced and fruit laden on the palate. The finish boast layers of black cherry and chocolate, but the tannin soon shuts it down. Give it a few years and it will reward handsomely. Find this wine


43893 CHÂTEAU LALANDE 2003 Saint-Julien, Cru Bourgeois $38.95
The initial blast of ethyl acetate fades to reveal notes of walnut shell, lavender, compost, forest floor, cassis and black raspberry. It is youthful, but shows a good layer of fruit, along with some coffee and chocolate notes. Find this wine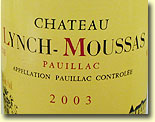 963256 CHÂTEAU LYNCH-MOUSSAS 2003 Pauillac, 5e Cru $53.95
Wow, mineral, potato peel, damson, plum, coffee bean, flint and thyme come together to create an impressive and seductive nose. The palate is full of ripe cherry, Ribena, liquorish and toffee. The velvety tannins are huge and suggest years in the cellar or hours in a decanter. Find this wine


998377 CHÂTEAU PATACHE D'AUX 2004 Médoc, Cru Bourgeois Supérieur $22.95
Dark and inky, the nose is hot and alcoholic with notes of balsa, pine needle and red fruit. It is ripe and creamy on the palate, but it does little to excite. Find this wine

670109 CHÂTEAU SAINT-PIERRE 2004 St-Julien, 4e Cru $59
Lots of coffee and chocolate aromas with black fruit, prune, mineral, cola and leather. It runs with streaks of dark fruit, liquorish and red cherry. The tannins are soft, but the wine is a long way from showing well. Find this wine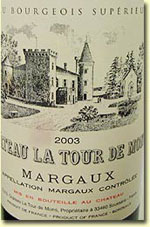 43794 CHÂTEAU LA TOUR DE MONS 2003 Margaux, Cru Bourgeois Supérieur $41.95
A fruit laden wine that is simple, clean, shows good acidity and the right amount of creamy oak. Blackcurrant dominates the palate and the finish is equal. It is tasty, although it lacks the regional character I like to find in my glass of Bordeaux. Find this wine
47217 DOMAINE DE CANTEMERLE GRAINS DU TERROIR 2003 Bordeaux Supérieur $18.95
There is not really much to make of this wine. It has plenty of red fruit coulis aromas and a palate to match. The acids are focused and the finish is clean.
Find this wine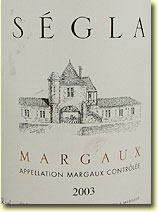 713263 SÉGLA 2003 Margaux, Second Wine of Château Rauzan-Ségla $51.95
Tar and smoky notes give way to aromas of blackcurrant, juniper and hay. The palate is well balanced, showing lots of mature fruit flavours, some sweet spice and fruit compote on the close. Nice wine. Find this wine




Other wines


719211 CLINE ANCIENT VINES ZINFANDEL 2005 Contra Costa County $18.95
The 2005 Ancient Vines Zinfandel is upfront, fleshy and in your face. It has aromas of red currant fruit, raspberry, blackberry, instant coffee, cardamom and red liquorish. It is sweet, but the acids tone it down, there is plenty of nice black fruit and creamy toffee notes to keep me happy. Find this wine


47720 FRANCIS COPPOLA SILVER LABEL PINOT NOIR 2006 Diamond Collection, Monterey County $27.95
This Pinot is brutally bad. It has sweet fruit and lots of upfront oak, the palate is thin, and the flavours of cooked raspberry and root beer do not excite. Find this wine

555599 GALLO FREI RANCH ZINFANDEL 2003, Dry Creek Valley, Sonoma $34.95
Oh this is one tasty and solidly composed Zinfandel. It offers smoky cured meat notes, ground peppercorn, black raspberry and briar. It is full, in harmony and simply splendid. Find this wine


693903 RED TRUCK 2004 Cline Cellars $15.95
A cuvee of Syrah, Petite Syrah, Cabernet Franc, Grenache and Mourvedre that shows Asian spice, black fruit, tangerine peel and black cherry. It is nothing special, but it is cheap, making it a great wine to pop anywhere at anytime. Find this wine

45153 VALDIVIESO RESERVA SYRAH 2005 Central Valley, Chile $17.95
At first the nose of sewer and pinecone are a bit off putting, but they soon blend with the aromas of pipe tobacco, leather and milk chocolate. There is fruit here too in the guise of blackberry and currant. The palate emphasizes the fruit flavours only. It has a fair dose of oak that gives it that ripe and creamy texture. It is pleasant enough to warrant trying a bottle again. Find this wine

936971 D'ARENBERG THE LAUGHING MAGPIE SHIRAZ/VIOGNIER 2006
McLaren Vale, South Australia $27.95
Lots of mineral and earthy notes with layers of dark sweet fruit, a touch of tobacco, pepper and black olive. The blueberry and dark fruit flavours skip across the palate and mix with dark silky chocolate on the long and well balanced finished. Nice wine. Find this wine

976423 ELDERTON BAROSSA ODE TO LORRAINE CABERNET SAUVIGNON/ SHIRAZ/MERLOT 2002 Barossa Valley, South Australia $39.95
An impressive blend of peppery mint and black fruit flavours, enough sweet toasty oak and cedar. It is very tight on the palate showing little of what it potentially might offer in a few years to come. Find this wine

448241 LEASINGHAM BIN 61 SHIRAZ 2004 Clare Valley, South Australia $25.95
A full bodied, but smooth wine that gives off notes of mint, lavender, dark berries and dark chocolate. It has the expected hit of toasty oak, but it does not over power. The acids are in tune and the tannins are silky. Find this wine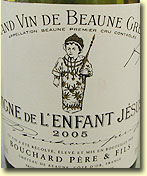 43257 VIGNE DE L'ENFANT JÉSUS BEAUNE PREMIER CRU 2005, Burgundy, Bouchard Père & Fils $104.95
I have never been a fan of the wines of this producer, simply too many disappointments. This one however, is an exception. The colour is dark for a Pinot. Its nose teases with whiffs of fresh cut flowers, lavender, roasted beet, caraway seed, black cherry and plum. The spicy palate is intense and far from being ready. It is harmonious and sensual. The price is the only downside as it is too high for my wallet. Find this wine


41921 DOMAINE BELLE CROZES-HERMITAGE LES PIERELLES 2004 Rhône Valley $23.95
Here is a wine with plenty of fleshy meaty notes, some thyme, damson, sweet black fruit pie and lavender. The palate shows a softer side with clean flavours of black fruit, pepper, mint and coffee. Find this wine

42952 LES CAILLOUX CHÂTEAUNEUF-DU-PAPE 2004 Lucien et André Brunel $45.95
A rustic Châteauneuf full of heady notes of black soil, dark fruit, mineral and seaweed. It is fruit laden on the palate with streaks of damson, blackberry and blueberry followed through to the finish by layers of mint and mineral. Good stuff. Find this wine

736587 PIO CESARE BAROLO 2003, Piedmont $62.95
Red currant, rhubarb, red cherry, Thai basil, rose petal, mushroom and anise. The palate has good intensity, plenty of fruit, depth and finesse. There is plenty of silky tannin to let it last, but it is showing really well. Find this wine

972406I CASTEI COSTAMARAN VALPOLICELLA CLASSICO SUPERIORE RIPASSO Veneto 2004 $16.95
Lots of rich earthy and dried fruit aromas, a layer of dark chocolate, spicy red fruit acids and a solid concentration of red fruit on the palate. A great price for this quality of wine. Find this wine

1677 JUAN GIL TINTO 2005 Jumilla, Spain $21.95
This shows more wood than a bunch of sixteen-year-old guys high on Viagara at a Maxim photo shoot. It is so overpowering that any fruit on the nose is stifled. The palate is full of creamy blackcurrant, spicy oak and tannin. There is too much heat on the finish. Not may favourite wine of the day! Find this wine
Cheers
CZ
Alan Kerr's Home Page and Main Index