An hour or so later I nailed the Zin I wanted. Eight bottles of "Seven Deadly Zins", a cooperative wine from Lodi that the on duty consultant recommended. It was priced at $17.95, although with my just acquired Premier discount card, I ended up paying $14.95.
My euphoria was soon shattered as I tried to negotiate the border. The purchase that totaled $120.00 required an additional $94.50 tax grab. I pleaded my case to the nonchalant customs officer as he calculated my fee. "It is for educational purposes" I said. That was pointless, it did not even warrant a verbal acknowledgment, just a slow shake of the head and a slight contraction of the chin told me my pleas where in vain.

Actually, the 78.75 % tax is not duty, thanks to NAFTA, duty is non existent. A large percentage of my money collected by federal customs falls into the ever accepting pockets of the Provincial liquor board. And that's what bothers me the most. The only reason I needed to cross border shop in the first place was because my "Provincial liquor control system" let me down due to the miserable amount of Zinfandel one finds in the LCBO.

Consequently I presented seven wines instead of eight:
Pedroncelli Zinfandel Rose 2005

Primitiva di Manduria Gladiator 2004

Artezin, Hess Collection, Napa, Amador and Mendocino Counties 2003

Seven Deadly Zins, Lodi 2004

Pedroncelli Petit Sirah 2003

Ravenswood Dickerson Vineyard 2004

Ridge Three Valleys 2004
The Pedroncelli Rose was surprisingly nice, not overly sweet, great acidity and certainly a wine to sip, well chilled, on a warm summer night. I loved the Gladiator the first time I tasted it and it showed just as well here. Find this wine

The Artezin however, did not show as well as when I first tasted it. This time the 15.5 % alcohol was over the top and the wine was unbalanced. Find this wine

No disappointment with the Seven Deadly Zins. It was full bodied, sweet, but balanced, full of dark ripe fruit and very well received. Find this wine

I chose to serve the Pedroncelli Petit Sirah as it is a blending grape often used to bolster Zin. Pedroncelli's rendition was fruit laden, tannic and solidly constructed. Their wines are good value. Find this wine

The Dickerson from Ravenswood also showed really well and opened up nicely in the glass. It could use a year or two more to gain complexity, but it tasted pretty damn fine to me. Find this wine

The Ridge Three Valleys did not pale either. It is after all made from the fruit of young vines from such benchmark names as Lytton Springs, Geyserville and Pagani. It too was well balanced, with plenty of spice, dark and red fruits and perfect acidity. Find this wine

The wines to be released on Saint Patrick's Day, March 17th.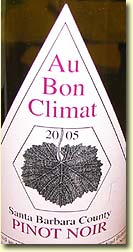 027417 AU BON CLIMAT PINOT NOIR 2005 Santa Barbara County $28.95
On the nose I find layers of dark fruit, fat plum, dried mushroom and cooked beet. The palate is more fruit focused especially in the red fruit division. The balance is spot on. Find this wine

346270 SHAFER CABERNET SAUVIGNON 2003 Napa Valley $73.95
This mix of cassis, chalk, blackberry and zingy acidity starts out well on the palate by showing lots of mint and plenty of fruit, but the combination of a dense layer of silky tannin and a discernable note of oak subdue and over power. As with most Shafer wines, times will soften the astringent components and there is ample fruit for this wine to show well in a couple of years. Find this wine

009084 ECHEVERRIA CARMENÈRE 2005 Central Valley, Chile $12.95
Earthy aromas, much like Bordeaux, shoot out along with cassis, clove, tree bark and green bell pepper. The cassis flavour is dominant on the palate. It is quite tight at first, but it does open quickly producing a wine of surprising intensity, given the low asking price, that is certainly worth investing in. Find this wine

024646 BALGOWNIE ESTATE SHIRAZ 2003 Bendigo, Victoria, Australia $27.95
This wine carries an intense black robe. The nose shows floral notes, some coal dust, cured meat, mineral, black pepper and dark fruit. Actually it is a bit of a power house. The palate offers layers of black cherry, black berry and liquorish. There are plenty of sour acids to pair with the fleshy fruit. It is seriously disjointed now and does warrant time away in the cellar. Find this wine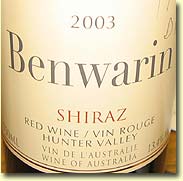 022103 BENWARIN SHIRAZ 2003 Hunter Valley, New South Wales $20.95
Along with some appealing red fruit, this has a background of earthy, iodine, leather and seaweed aromas that again remind me of Bordeaux. The palate is light, but well focused and the finish shows best of all. Find this wine

014464 R.L. BULLER & SON LIMITED RELEASE MERLOT/CABERNET SAUVIGNON/CABERNET FRANC 2001 Rutherglen, Victoria $27.95
Lots of spicy mint and deep black fruit, some peppery salad greens, raspberry and cola combine on the nose. Although this wine carries 15 degrees of alcohol, you wouldn't know it. It is pleasing on the palate, the acids are prime and the finish is decent. Find this wine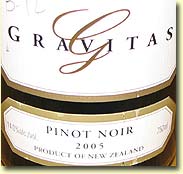 020719 GRAVITAS PINOT NOIR 2005 Marlborough, South Island, N.Z $31.95
Pinot is evident on the nose, but noticeably absent on the palate. The colour is a dark garnet. It reeks of intense black raspberry, cherry and plum. It has a well balanced palate, it is tasty, highly extracted, but has no Pinot characteristics whatsoever. I like it, but not the same way I like Pinot. Find this wine


949222 CUVÉE DES ARDOISES CHÂTEAU DES ERLES 2003 Fitou $16.95
Forest floor, murky fruit, lots of herbaceous aromas and a ripe and chewy palate. It is a fine wine at a fair price. Find this wine

735407 CHÂTEAU LA NERTHE CHÂTEAUNEUF-DU-PAPE 2004 $54.95
This wine has mostly light and slightly sweet notes of pale fruit, a little heat and none of the characteristics one expects of a Chateauneuf du Pape. It truly is a disappointing wine that I don't believe is going to ever amount to anything. Mr. P awarded this wine 92 points. He clearly sees something I do not. Find this wine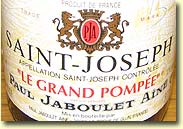 989277 PAUL JABOULET AÎNÉ SAINT-JOSEPH
LE GRAND POMPÉE 2004 $28.95
Now this is more like a Rhone with notes of white pepper, sewer drain, dark fruit and jammy black berry. The palate is rich and creamy and the finish is balanced. Find this wine



023291 DUCA DI CASTEMONTE SYRAH 2003 Sicilia, Italy $14.95
A nose of cedar, black fruit, and a little eucalyptus lurking in the background. Its palate shows nice fruit, but the finish is rather dry and cloying. Find this wine

922161 VALPENTENA AMARONE DELLA VALPOLICELLA FALASCO 2001 $49.95
Notes of roasted coffee bean, candied beets, coal dust, blueberry and coconut shell. The wine has great balance, tons of creamy fruit with a touch of dark liquorish and a long finish. Find this wine

739920 GIACOMO ASCHERI BAROLO VIGNA DEI POLA 2001 DOCG $39.95
Black cherry, leather and sweet fruit candy notes, the palate has sweet fruit, a lighter mouth feel and a touch of dusty tannin. Find this wine

987446 TRIACCA LA PALAIA CHIANTI CLASSICO 2003 $29.95
A funky wine with aromas of potato peelings, cured meat, plum skin and dark chocolate. It is a big wine showing fleshy plum flavours and solid tannin. Needs time. Find this wine

702761 MARQUÉS DE CÁCERES TINTO RESERVA 2000 Rioja, Spain $29.95
Pretty aromas of dark fruit, a touch of underbrush, tree bark and nut shell. The fruit is solid on the palate, there is a note of liquorish, some tannin, but it is silky and unobtrusive. Find this wine

Wines from the Merlot section of the release

653162 CHÂTEAU MOULIN DE CURAT 2003 Puisseguin-Saint-Émilion, France $18.95
Simple fruit and lots of tannin, way too much tannin, the fruit never really shows on the palate and probably never will. Find this wine


024430 CHÂTEAU CANTENAC 2003 Saint-Émilion Grand Cru $31.95
This is better as it shows a whiff of cigar box, some milk chocolate, black raspberry and damson. It has good structure; a well wound palate with just a touch of astringency on the finish. Find this wine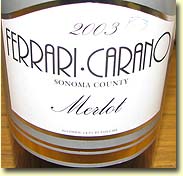 325597 FERRARI-CARANO MERLOT 2003 Sonoma County, California $39.95
A big and brassy Merlot that hits the marks with plenty of red and dark fruit aromas, Dutch liquorish, a hint of mint and sprinkling of Moroccan spice. The fruit is dominant on the palate and the finish shows a whack of creamy oak, spice and concentrated fruit. Find this wine

020313 GRGICH HILLS MERLOT 2002 Estate Grown, Napa Valley $58.95
A classic, notes of mineral, black raspberry, milk chocolate and cherry. The acids are pure perfection and the finish is so bloody good. Find this wine

022228 MONTES ALPHA MERLOT 2004 Colchagua Valley, Apalta Vineyard, Chile $23.95
A dark ruby coloured wine that offers plenty of mocha, cocoa, blackberry and smoky oak. The fruit is solid on the palate, round, but the finish is a little fat. Find this wine

Hey did you know a 20 ounce glass of skim milk has 212 calories while a pint of the black stuff, AKA Guinness only has 200. Happy St Patrick's Day!

Cheers
CZ
Alan Kerr's Home Page and Main Index