973727 CHÂTEAU LES CABANNES 2004 SAINT-ÉMILION GRAND CRU $23.95
This is a really closed and tight nose. There is a front of herbaceousness on the nose with some sweet red fruit, a touch of chocolate and coffee bean. The palate too gives offers little. It is medium bodied and loaded with dusty tannin. I really can't say how this wine will turn out, but I will say it's not for current consumption. Find this wine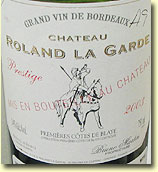 29652 CHÂTEAU ROLAND LA GARDE PRESTIGE 2003 PREMÈRES CÔTES DE BLAYE $26.95
This lively 2003 shows notes of sage, dark blackcurrant, blackberry, slate and earthy aromas. The palate has a silky texture, nice dark fruit acidity and an overall layer of dark fruit. There is a veil of tannin, but it does not take anything away from clean and fruit focused finish. Find this wine


31732 DOMAINE DE LA SOLITUDE ROUGE 2004, PESSAC-LÉOGNAN $32.95
Cured meat, wet black soil, cassis, black cherry and sweet spice blend nicely on the nose. The palate is fine, it is far from a big wine and the tannins are light. It's an acceptable wine, but nothing spectacular. Find this wine

29686 LA CROIX BONIS ROUGE 2003 ST-ESTÈPHE, $29.95
This wine, made at Château Phélan Ségur, with fruit purchased within the geographical boundaries of St Estephe, is composed of 90% Cabernet Sauvignon and 10% Merlot. It displays aromas of sandalwood, a little black fruit and cocoa. The palate is surprisingly acidic and the fruit is thin. There is absolutely nothing here to get excited about. Find this wine

10504 LES FIEFS DE LAGRANGE 2001 ST-JULIEN, $37.95
Château Lagrange's second wine shows aromas of blackberry pie, vanilla, red liquorish, anise and fennel seed. The palate is balanced, although a touch of tannin is still evident. The finish is round, fruit driven and pleasing. Find this wine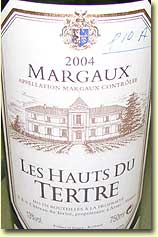 31013 LES HAUTS DU TERTRE ROUGE 2004 Margaux $28.95
The funk laden bouquet delivers wet horse fur, forest floor, lavender, damson, plum and blackcurrant. The palate is fleshy, almost sweet, showing notes of dark fruit, sage and mineral. Find this wine

A couple of wines from Burgundy

712281 COSTE-CAUMARTIN POMMARD 1ER CRU LES FREMIERS 2003 $59.95
At first, the notes of plum, violet, blackberry, wet stone and beet are enticing. However, the palate shows little if any of the fruit on the nose. It is overly acidic and the tannins are so intense they override everything else. I truly do not know if this wine will ever come around. I tasted it again two hours later and drew the same conclusion.
Bruce Sanderson, in the Wine Spectator claims, "Dense and supple at once, this 2003 red evokes licorice, blackberry and plum notes. It shuts down with stiff tannins, which are ripe and well-integrated. A baby, this will evolve well with time. Best from 2009 through 2020. Score - 92." Who knows? Find this wine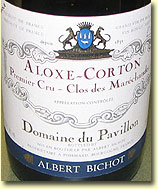 29504 DOMAINE DU PAVILLON ALOXE-CORTON 1ER CRU 2004 CLOS DES MARÉCHAUDES, MAISON ALBERT BICHOT, $54.95
A more back to the basics Burgundy showing tar, lively red fruit, strawberry, rhubarb and cranberry sauce on the nose. The palate offers sweet red fruit, a touch of cooked beet. It carries light to medium length and appears balanced on finish. It is a decent wine, but it lacks the pizzazz one expects given the price. Find this wine

Wines from the Rhone valley
17525 FRANÇOIS DE TOURNON SAINT-JOSEPH 2003 DELAS FRÈRES $32.95

The torrid heat of the 2003 vintage brings out sweet spices, like cardamom, clove, black pepper and fennel seed. Behind Delas's rendition of Chai tea lurks a layer of blackberry, currant, plum and coffee grounds. The palate is tight, but fruit driven, the mineral components of the wine come out in its tight, but well balanced finish. Find this wine

17806 JABOULET CORNAS LES GRANDES TERRASSES 2003 $44.95
A ripe and jam-packed nose backed up with layers of iron, tar, wet marsh, a trace of poo and tapenade. The palate is ripe and full, showing a lovely concentration of crushed black fruit, cured olive, salt cured meat and tongue smacking, but harmonious acids. Stellar stuff and note the price! $44.95 for Cornas is more than reasonable. A few years away in slumber and this should be quite brilliant. Find this wine

18812 YANN CHAVE CROZES-HERMITAGE 2005 $24.95
A youthful nose of mushroom, cedar, prune, smoked maple bacon, damson and black fruit coulis. The palate is medium bodied, fruit forward with a sweetness that runs through to the finish. The mineral and earthy flavours are discernable but masked by the dusty layer of tannin. Find this wine

Alsace

28100 DOPFF AU MOULIN GEWURZTRAMINER 2003 $24.95
This is packed with aromas of sweet pea, passion fruit, nasturtium leaves and banana cream. The texture on the palate is chewy and lush. Flavours of blanched citrus peel, guava and harmonious acids open up. It is dry at first on the palate, yet it finishes with a touch of sweetness. Find this wine

30593 ALLIMANT-LAUGNER CRÉMANT D'ALSACE BRUT HUBERT LAUGNER $19.95
Crémant d'Alsace can be a blend of Chardonnay, Pinot Blanc, Pinot Noir, Pinot Gris, Auxerrois and Riesling. This rendition shows notes of ginger, mineral, applesauce and cinnamon. It has a nice spritzy texture on the palate, but the flavours fall short too soon. Find this wine

The Midi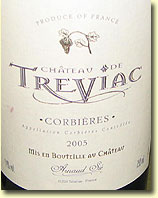 670505 CHÂTEAU DE TREVIAC ROUGE 2005, CORBIÈRES $14.95
A dark coloured wine exuding aromas of dried morel, tar, bacon, dried herbs, chocolate, damson and blueberry. The palate is surprisingly tart and dry. Although it echoes the dark fruit from the nose, adding a little blackcurrant and plum skin, it is leaner than I would prefer. There is an astringency of over steeped tea on the finish. The nose promises more than the palate delivers, but I will try this wine again as perhaps its youthfulness came into play. Find this wine


96685 POL ROGER CHARDONNAY BRUT CHAMPAGNE 1998 EXTRA CUVÉE DE RÉSERVE $79.95
This bubbly is full of gingery candy, apple, nectarine, pear and toast. I find the acidity on the palate highly aggressive. There is a note of unripe pineapple that distracts from enjoyment. It is tasty, but not my style. Find this wine

814723 TAITTINGER CHAMPAGNE BRUT RÉSERVE $59.95
I find Taittinger's release much more approachable with its earthy mineral, preserved lemon, baked apple and toasty nose. The mouth feel is creamy, well balanced and with just the right amount of spritz. Find this wine

The other wines from the release.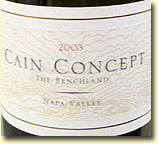 590299 CAIN CONCEPT 2003 THE BENCHLAND, NAPA VALLEY $57.95
The 2003 is comprised of 75% Cabernet Sauvignon, 10% Cabernet Franc, 9% Petit Verdot and 6% Merlot. Aromas of sweet cigar box, currant, mineral, cherry and plum. The palate is rich and chewy, but the low degree of acidity renders it uninteresting. Tannins are soft; there is red fruit in the finish, just not enough to get me excited. Find this wine

268235 CLOS PEGASE CABERNET SAUVIGNON 2003 NAPA VALLEY $53.95
Plenty of Asian black tea, some stony mineral, liquorish, iron and a layer of pure dark fruit. It shows good balance, a decent structure and although it is drinking nicely now, give it a year or two and see what happens! Find this wine

930206 GRGICH HILLS CABERNET SAUVIGNON 2002 NAPA VALLEY $83.95
This is a stunner, exuding pure dark chocolate, mint, cassis and slate. The balance is solid; the fruit concentration is powerful without being over the top. Although the tannins are silky and close to total integration, the wine should hold well for years. Sadly this wine is seriously overpriced in Ontario. Find this wine

26369 L DE LYETH CABERNET SAUVIGNON 2004 SONOMA COUNTY $17.95
Floral notes on the nose backed up with one-dimensional fruit. It delivers a forward sweetness on the palate. The finish rings with blackcurrant, and a touch of sweet oak. Find this wine

723072 RIDGE GEYSERVILLE 2004 SONOMA COUNTY $47.95
At first pour this is a little closed, but a few swirls reveal a briary and smoky nose laden with blueberry, blackberry, black cherry, lavender, currant, sandalwood and coconut oil. The palate is sweet and plushy, demonstrating the concentration of the black fruit. The finish is well balanced, peppery and full of spice, but the oak needs time to integrate. Its fruit is prominent, but not overly so allowing some mineral/earthy notes to show. At this stage of its evolution I would describe it as a wine with incredible depth having the potential to age gracefully. Down the road, it should show the elegance and structure Geyserville is known for. I like it now, but I will wait. (Editors note) Don't worry CZ, I have plenty to open when you come to Gang Central. Composition of this wine is 75% Zinfandel, 18 % Carignane and 7% Petite Sirah Find this wine

The rest of the world

947929 CASA LAPOSTOLLE CUVÉE ALEXANDRE CABERNET SAUVIGNON 2005 APALTA VINEYARD, COLCHAGUA VALLEY, CHILE $34.95
A tightly wound wine full of sandalwood and cedar with dark fruit, cocoa, sweet pastry and shortbread. The palate is very tight and tannic, yet there is plenty of currant and dark fruit flavours beneath the phenolic cloak. I am not sure this is up to the quality of the amazing 2003 vintage, a vintage that sadly is long gone from my cellar. Find this wine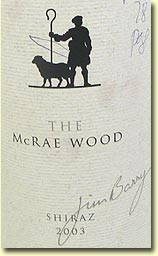 737817 JIM BARRY THE MCRAE WOOD SHIRAZ 2003 CLARE VALLEY, AUSTRALIA, $42.95
This is full of dark chocolate, rich ripe dark fruit, sweet oak and coffee bean all of which are in tune with one another. The palate jumps out with blueberry and blackberry flavours. It is silky, but it shows a touch of heat. The finish is long, full of fruit and sweet spice. Find this wine

724336 PETER LEHMANN MENTOR 2001 BAROSSA, AUSTRALIA $40.95
A youthful nose of medicine cabinet, spearmint, stewed plum, dark fruit, chocolate, mineral and iodine. The palate shows pure fruit and mineral. There is something to the finish that perplexes me, it is a touch metallic and the fruit fades faster than I thought it would. Maybe I need more! Find this wine

656405 GOVERNORS BAY PINOT NOIR 2004 SOUTH ISLAND, N.Z $18.95
A pinot under twenty bucks, that has balanced flavours of red raspberry, cherry, clove and moss. Not a monster by any means, but it is pleasant. Find this wine

606541 ANTINORI PÈPPOLI CHIANTI CLASSICO 2004, TUSCANY, ITALY $19.95
A nose of black toffee, liquorish, forest floor, mushroom, cola and black cherry. Nicely balanced on the palate, the finish shows red fruit, lively acidity and chocolate.
Find this wine

Cheers
CZ
Alan Kerr's Home Page and Main Index