The March 4th release focuses on wines from South Africa, two of which I tried and one I thought was particularly decent. Other than that, there are few wines worth getting out of bed early for on Saturday. Nonetheless, here are my impressions.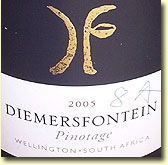 995241 DIEMERSFONTEIN PINOTAGE 2005, Wellington, South Africa, $22.95 Find this wine
Tasty and rich, this Pinotage delivers plenty of dark fruit on the nose with a secondary layer of canned corn beef, coffee, cedar, balsa, damson and hazelnut butter cream. The mid palate is like velvet, fruit laden and well balanced. Considering I am one of those folks that still struggle a bit with Pinotage, I would crack this puppy in a second.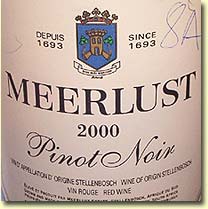 663401 MEERLUST PINOT NOIR 2000, Stellenbosch, South Africa, $37.95 Find this wine
Musty and damp cave aromas soon give way to forest floor, coffee and sweet cherry fruit. It is quite full and fleshy on the palate. It is a few years away from shedding the tannin, but the fruit is solid.
678680 CLAY STATION OLD VINE ZINFANDEL 2004, Lodi, Delicato Family Vineyards, $19.95 Find this wine
A sweet nose of crushed raspberry, zinberry and blueberry. The palate follows suite showing some over the top sweetness, some disjointed oak, black raspberry and a finish of fresh fruit mousse.

673764 MORGAN SYRAH 2002, Monterey, $29.95 Find this wine
Some funky mud and manure aromas along with black fruit, ink, coffee and vanilla. It is full, a bit clumsy right now, but there is lots of tasty fruit, dusty tannin, nice acidity and a creamy kick on the close.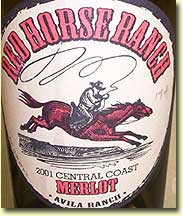 694505 RED HORSE RANCH 'AVILA RANCH' MERLOT 2001, Central Coast, Cloud Nine Wines, $27.95 Find this wine
This is one of those Merlots that, if it were put into a blind tasting, Merlot would be the last varietal to come to my mind. It is full of damson, blueberry, chocolate liqueur and redcurrant. It is way over the top for my tastes. There is plenty of refreshing black fruit acid and cedar notes on the finish. Not a wine for me.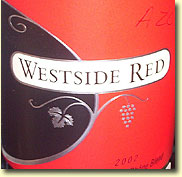 682831 'WESTSIDE RED' RHÔNE BLEND 2002, Paso Robles, Austin Hope Winery, $19.95 Find this wine
I rather like this blend of Mourvedre, Syrah and Grenache with its gutsy nose of dried herb, tea, sweet cherry and liquorish. The palate is spicy and full of black fruit. Tasty and fun.
661892 BLEASDALE 'MULBERRY TREE' CABERNET SAUVIGNON 2002, Langhorne Creek, South Australia, $18.95 Find this wine
A floral and lavender laden nose, with nice little whiffs of dark fruit, blackcurrant and cedar. The palate is ripe and creamy and well focused. The finish has plenty of fruit coupled with mouth coating silky tannin. Nice stuff for under $20.00.
606780 PETER LEHMANN 'THE FUTURES' SHIRAZ 2002, Barossa Valley, South Australia, $29.95 Find this wine
Lots of fleshy and powerful aromas of cassis, eucalyptus, plum and peppercorn. It is bold and spicy on the palate, tasting at first more like a spice cupboard than a wine. However, the fruit prevails showing a lovely array of plum, blueberry, cassis and couvature. The oak really hangs around on the finish, but it is not by any means overblown. It just needs time to resolve and come together.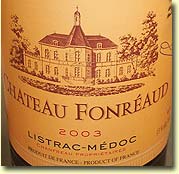 674218 CHÂTEAU FONRÉAUD 2003, Listrac-Médoc, Cru Bourgeois Superieur, $29.95 Find this wine
Here is a pleasant little wine showing leafy and earthy notes, with a core of dark fruit, lead pencil and coffee. It is well balanced given the extreme heat of the 2003 vintage.
748814 DOMAINE CLAVEL 'LES GARRIGUES' 2003, Terroir de la Mejanelle, Coteaux du Languedoc, $15.95 Find this wine
I have been a fan of this producer for several years and Pierre Clavel's wines rarely disappoint. This does have plenty of structured and creamy dark fruit, plenty of fleshy plum flavours, smoky oak and a nice layer of stony mineral, but the level of acidity is low and the degree of alcohol is high leaving a hot sensation on the finish. Maybe in a few years it will settle. I hope so, because I love these solid and value priced wines from Coteaux du Languedoc.
711317 CHÂTEAU DE BEAUCASTEL CHÂTEAUNEUF-DU-PAPE 2003
Find this wine
A fruit monster featuring a layer of bold black cherry, dark fruit confiture, lavender and blackcurrant. I struggle to find other flavours, but manage to come up with a touch of pipe tobacco and a sprinkle of Asian spice. The overpowering fruit, the harmonious acids and the layer of thick teeth coating tannin delivers a solid wine that clearly needs time to come around.
981787 DOMAINE DU GRAPILLON D'OR GIGONDAS 2003, $26.95 Find this wine
Oh this is so tight, the thick fruit is backed up with a layer of mineral, swamp water, slate and dried mushroom. If you are cautious about buying green bananas, leave this one on the shelf.
964221 'LE VOLTE' 2003, Tuscany, Ornellaia, $24.95 Find this wine
This blend of Sangiovese, Cabernet Sauvignon and Merlot offers a wine redolent of grassy meadows, chocolate, coal dust, black fruit and mineral. There is a sweet texture on the palate, the acids are balanced and the finish is really tasty.
958595 QUINTARELLI 'ROSSO CA'DEL MERLOT' 1997, Veneto, $69.95 Find this wine
To finish, I find a wine full of alluring aromas of swamp, moss, pig poo, almond oil and prune. Don't be concerned as there is plenty of fruit, mostly damson and plum on the palate. The finish has a wonderful mix of prune, balsa, dark fruit and milk chocolate. A mighty fine wine!
Cheers
CZ
Alan Kerr's Home Page and Main Index