Here are a few notes of some of the wines released on February 18th. The main feature of this release brings in a ton of wines from Spain. I also got lucky enough to taste a couple of really tasty Californian Cabernets. Speaking of Californian Cabs, last week I drank a bottle of Benziger, 2002 Sonoma County, Find this wine which sells for $27.95. It is one tasty bottle of wine. The CSPC number is 597237. I strongly suggest if you find it, buy one and try it!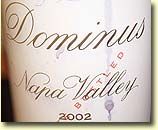 703850 DOMINUS 2002, Napa Valley, $109.95
I have never really understood the wines of Dominus, but this fine example is one I would like to get to know a little better. Earlier examples I have found to be austere, tight and tannic. This one is full of mocha, cough candy, cherry, currant and forest floor. The balance is amazing; it is powerful, elegant and packed with flavour. It is drinking nicely right now, but I would love to sit on this for a decade or so. Find this wine
346270 SHAFER CABERNET SAUVIGNON 2002, Napa Valley, $78.95
Another great wine from the Golden State, only this one is packed with aromas of spicy mint, blackcurrant, dark chocolate, moss, and cedar. The tannin on the palate is rich and silky and the finish has great length. Find this wine
731638 BROKENWOOD 'CRICKET PITCH' RED 2002, Australia, $22.95
Here is a wine a little closer to my budget, but it certainly "bowled me over" with its concentration of rich ripe flavour. It is a Bordeaux blend with a touch of Shiraz for good measure. There is a pretty mix of red and dark fruit, wet leaves, liquorish and sweet cherry. It leaves a creamy coating on the palate, right through to the well balanced finish. Find this wine
Some of the wines of the Spanish release
954560 'ALLENDE' 2001, Rioja, $28.95
A solid garnet hue with a touch of red brick at the rim. It teases the nose with plenty of coffee, sweet oak, cigar leaf and briar aromas. It is packed with dark berry flavours, noticeable spice, lively acids and dark chocolate tannin. Oh I think this needs time away in the cellar to be stellar and given the 93 point scoring bestowed upon this wine by the eminent, Mr. P, if one wants this wine, be quick, it will disappear. Find this wine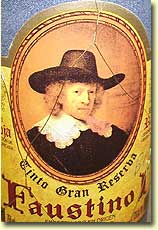 976662 FAUSTINO I' GRAN RESERVA 1995, Rioja, $29.95
I have fond memories of drinking several twenty year old vintages of Faustino when I was still living in England. I am not so sure that this vintage will ever match the quality of those earlier ones. The nose starts well by showing some nutshell, star anise, clove, cassia, green tea, stewed fruit compote and kirsch. The rim, however, is showing signs of age from its mahogany hue. The stewed fruit flavours on the palate are light and fade quickly on the close. Find this wine
707166 'ALION' 2001, Ribera del Duero, $64.95
This little bombshell shows a deep ruby garnet centre with a touch of rust at the rim. It is packed with a healthy dose of coffee, black fruit, plum and new leather shoes (hey that's what I wrote). It is fruit laden, mostly raspberry and blackberry, it offers secondary layers of mineral, stone and dried Chinese mushrooms. The balance and harmony are quite pristine. Find this wine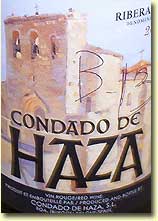 963348 CONDADO DE HAZA CRIANZA 2002, Ribera del Duero, $22.95
This one hundred percent Tempranillo wine is rather tight on the nose, but what aromas do escape from the glass, hints of dried morel, red currant, raspberry and dusty cedar, are pretty. The mid palate has lots of red candy fruit, a touch of mineral and it shows nice red fruit acidity on the finish. Not a blockbuster by any means, but it is tasty. Find this wine
678177 PAGO DE LOS CAPELLANES 'JOVEN ROBLE' 2004, Ribera del Duero, $20.95
Yikes, a rich and perfumed nose of sawdust, rose petal, cedar and vanilla ice. The palate offers plenty of dark fruit, sweet toffee and lots of toasty oak. The acidity levels seem a trifle low, yet it is rich and very New World in style. I believe it needs time to resolve and come together. It might be interesting in a year or two if that high degree of oak settles down. Find this wine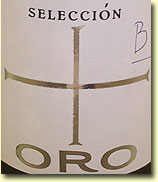 695866 'SELECCIÓN ORO' 2002, Toro, Bodegas Mähler-Besse, $15.95
Maybe this is not a wine for the novice, but I find the aromas of leather, meat, tree bark, sewer, dried mint and dark fruit quite enticing, especially given the price. The palate is not too shabby either featuring dark fruit, creamy "After Eight" mint and silky tannin. Find this wine
'GRAN TOC HILL' RESERVA 2000, Penedès, Cavas Hill, $18.95
At touch musty at first, but a few swirls soon reveal some berry, balsa, mineral slate and cherry aromas. The lighter styled palate has red fruit, strawberry and cola notes. It is 60% Tempranillo, 25% Cabernet Sauvignon and 15% Merlot. A pleasing quaffer. Find this wine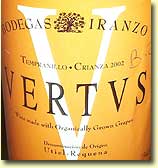 669598 BODEGAS IRANZO 'VERTUS' TEMPRANILLO CRIANZA 2002, Utiel-Requena, $15.95
This organic wine offers earthy mineral aromas along with coconut, coal dust, mushroom, blackberry and thyme. The palate is rich and creamy with lots of sweet cherry, blueberry, chocolate tannin and decent length. Find this wine
673582 '1707' VARIEDADES 2003, Almansa, Hacienda el Espino, $12.95
Given the low asking price, this is quite a tasty little wine. It features aromas of corkboard, beet, dark fruit and black cherry. The palate and finish both show nice fruit and a little couvature. Find this wine
664763 VALLE DE SALINAS CRIANZA 2001, Yecla, Bodegas y Viñedos de Murcia, $16.95
A fruit forward and New World styled wine showing plenty of damson, blackcurrant, black berry, caramel and good acidity. It is a mix of 40% Mourvedre, 40% Cabernet Sauvignon, and 20% Syrah. I think the touch of amber on the rim tells me it is not a wine to put away, but it should hold nicely for a year or two. A very pleasant wine at this price. Find this wine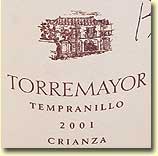 'TORREMAYOR' TEMPRANILLO CRIANZA 2001, Ribera del Guadiana, $14.95
An interesting mix of blackberry fruit, lead pencil, floral notes and lavender Tthe palate is nicely balanced yet the finish soon fades. Find this wine
672287 SCALA DEI 'NEGRE' 2003, Priorat, $21.95
A polished nose of varnish, geranium, fennel, anise and plum. It is a big tight wine with solid fruit flavours, a touch of liquorish, cake spice and a long creamy finish. Find this wine
Well there ya go.
Cheers
CZ
Alan Kerr's Home Page and Main Index