000109 MIKE WEIR ESTATE CABERNET/MERLOT 2004, Niagara Peninsula $17.95
Find this wine
A medium bodied wine offering aromas of red fruit, tobacco and coffee. Its palate echoes the fruit and adds a layer of cherry and vanilla. This is a pleasant wine with a clean and well balanced finish.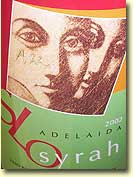 678532 ADELAIDA 'SLO' SYRAH 2002, Paso Robles, California $26.95 Find this wine
'SLO', the abbreviation for San Luis Obispo, is a blend of 81% Syrah with 12% Mourvedre and 7% Grenache. The nose is dense and full of the expected black fruit, but there is a nice smoky tarry note lurking in the background. The acidity bolsters the fruit on the palate, but it lacks complexity. For those that love a fruit bomb, this will work. I do think there is better Syrah on the shelves at this price.
964189 ARROWOOD MERLOT 2001, Sonoma County, California $54.95
Find this wine
Cocoa, vanilla, sweet cherry and black skinned plum aromas drift out of the glass. The palate is ripe and full as it leads to an astringent and tightly wound finish. It just needs time because the fruit is there.
942383 LIBERTY SCHOOL SYRAH 2003, Paso Robles, California $19.95
Find this wine
The "wine of the month" shows notes of sweet pastry, dried elderberry, coal dust, stale ground pepper and blackberry. The palate is rich and creamy, showing a nice centre core of sweet fruit. It is quite tasty.
678631 WHITE OAK MERLOT 2001, Napa Valley, $28.95 Find this wine
My first thought is, "this is not your everyday Californian Merlot." It shows some blackcurrant, black olive, sweet chocolate and red fruit. It is not a fruit bomb, rather it leans more to being an elegant style of Merlot.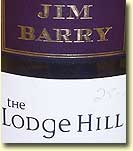 998476 JIM BARRY 'THE LODGE HILL' SHIRAZ 2003, Clare Valley, South Australia $24.95 Find this wine
Notes of pine, cedar, red berry jam and smoke tease my nose. The palate shows plenty of fruit and concentration. It is sweet, but the acidity controls. A layer of black fruit dominates the finish.
704429 CHÂTEAU LA NERTHE CHÂTEAUNEUF-DU-PAPE BLANC 2003 $51.95 Find this wine
As eager as I was to taste this white Rhone, I found little, if anything to excite me. There are some delicate scents of petals, citrus zest and tropical fruit, but at this price, I expect more. The palate is medium at best. I struggle to find the same nuances as the eminent Mr. P found. I quote, " It is an exotic, sensual effort revealing notes of orange marmalade intermixed with rose water, guava, and other tropical fruits". Maybe I just don't get it.
681635 ROGER BELLAND SANTENAY-GRAVIÈRES 2003, 1er Cru, Burgundy $31.95 Find this wine
A rather viscous wine with evident flavours of plum, black cherry, a touch of clove and nutmeg. Red fruit is focused on the finish. It doesn't really do too much for me.
681643 CHÂTEAU D'ARGADENS 2002, Bordeaux Supérieur $16.95 Find this wine
An overly tannic wine with low levels of fruit. Trying a second glass a little later reveals the same qualities.

920181 CHÂTEAU DE CARLMAGNUS 2002, Fronsac $31.95 Find this wine
This appears a trifle stemmy a first, but a few swirls of the glass lets loose plenty of mineral, lead pencil, coal dust, raspberry and blackcurrant aromas. The palate is surprisingly rich, creamy and nicely balanced. There are spicy and chocolate laden tannins on the finish. A keeper I believe.
920017 CHÂTEAU FAIZEAU 2002 Vieilles Vignes, Montagne-St-Émilion, $29.95 Find this wine
A subtle fruit focused wine with some sweet oak, red berry, a touch of cigar and wet leaves on the nose. It is medium bodied, quite tasty, but it lacks oomph on the finish.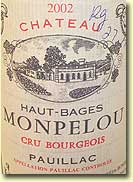 920199 CHÂTEAU HAUT-BAGES MONPÉLOU 2002, Paulliac, Cru Bourgeois $31.95 Find this wine
If I am to buy Bordeaux from this release, this would be my choice. It offers a mix of coffee, composting grass, lead pencil, walnut shell, blackberry and vanilla. The mid palate is solid showing mostly blackcurrant, blackberry and coffee flavours. The degree of acidity is spot on. Nice stuff.

981951 CLOS SALOMON GIVRY 1ER CRU 2003, Burgundy $29.95 Find this wine
Here is an interesting wine. It lacks the anticipated Burgundian terroir, but is does show lots of beetroot, cake spice, black cherry and plum on both the nose and palate. It is fruit driven through to the finish, where it displays lots of sweet cherry and cola notes. There is also a level of dusty tannin that suggests that, in a few years, this could become a nice bottle of wine. The price seems fair, given its status of a Premier Cru.
728451 CLOS MONTIRIUS VACQUEYRAS 2001, Rhone Valley $25.95 Find this wine
If I only buy one wine this release, then you are presently reading about it. It blows me away. Its nose oozes aromas of pond water, moss, black liquorish, leather, dark cherry and blackberry. The tannin grips my palate with force, but the dense layer of fruit ignores it by sailing right through. I really think this is spectacular. Enough said.
673590 CHÂTEAU HAUT-MONPLAISIR 2002, Cahors $13.95 Find this wine
A well price quaffer, loaded with lavender, violet, wet soil, blackberry and tobacco. Medium bodied and quite tasty.
353201 RUFFINO CHIANTI CLASSICO RISERVA DUCALE 'ORO' 2001 $44.95 Find this wine
Not a wine for the faint of heart. Its nose bestows such oddities as tar, sewer, black strap molasses, cinnamon and star anise. Beyond all of this sits a layer of dense berry fruit. Although tannic, it is wonderfully balanced, but it really does demand time.
Cheers
CZ
Alan Kerr's Home Page and Main Index