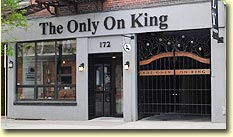 As petrol creeps close to $130.00 a litre, my jaunts to London are not as frequent as there were when I first arrived in Niagara. Now, other than visiting friends, there is another reason for me to make the trip. A new restaurant, "The Only on King," recently appeared on London's dining scene in a location that has seen several other eateries come and go. What makes this undertaking different is simple. Molecular gastronomy, mile high plate presentations and trendy reproductions from a corporate kitchen's interpretation of Southeast Asian food are not even a consideration here. Instead the restaurant's mandate is bold and clear. A much needed return to bona fide foods and heartfelt cooking.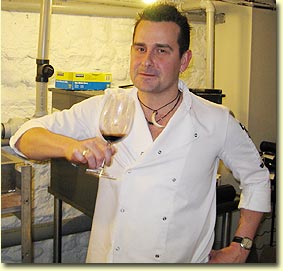 Local lads Paul Harding and Jason Schubert (right) made the transition from friendship to business partners late last year. I met Jason a few months back at a slow food movement dinner here in Niagara. Jason looks the part of a food fanatic. It's hard not to notice side of pork tattooed on his forearm.

Jason and Paul are dedicated to offering Londoners the chance to eat food grown or raised from on area farms or by local producers. Not an easy thing to do when winter temperatures stoop to minus twenty five, nevertheless local food is utilized when seasons permit. Cooking is done here under the influence of Italian and French techniques and cooking methods.
Growing up as teens in Arva, a small farming community on the outskirts of North London, Jason and Paul took part time jobs on local farms thus starting their appreciation and understanding of what it takes to work the land.

Although both decided to cook for a living, each went their separate ways to master their trade. Jason trained in Vancouver under Andrey Durbach at his first restaurant Etoile which garnered the status of being one of the top ten restaurants in Canada, as decreed by Gourmet Magazine. He moved on to Montréal to work the kitchens at the Cafe Melies before leaving the continent to work in the Channel Islands in Guernsey. To finish, Jason endured a summer stint at London's Mirabelle ruled by the infamous guru of hard line cuisine Marco Pierre White, the original "volatile bad boy" chef who believe it or not, makes Gordon Ramsey appear mild-mannered and polite.

Partner Paul went to Toronto's George Brown College to study the trade. After graduating he found a position at the cities renowned Auberge du Pommier restaurant. Paul went on to open, and work as sous chef, at Jov Bistro with chef Masayuki Tamaru.

The two hooked up years later in Toronto. It was during a bender in several of the cities finer drinking establishments, that the idea to open the restaurant was first conceived. Potential menu, contacts, locations were scribbled down on paper napkins and beer mats. A couple of months later the, the rest is history.

The restaurant's mandate is to support local producers and growers. Breads and pastas are made daily from flours milled at the Arva Flour Mill. Pigs, lambs and chickens are raised by Cheryl McLaughlin on her nearby farm. She drops the animals off at the local abattoir; where Jason picks them up and returns to the restaurant to processes them. "This way I know exactly were my animal has been and exactly what it's eaten," said Jason.

Consequently the menu changes daily. There is a four course tasting menu for patrons that choose to put their evening in the care of the kitchen. It sells for fifty dollars. Most items on the menu are in the mid to high teens and nothing exceeds twenty. The servers are equally excited about the whole concept and enthusiastically discuss the menu items suggesting potential wines to match.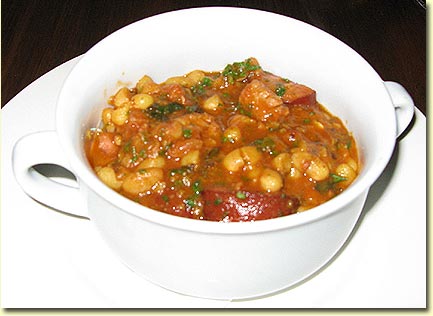 Although octopus is rarely fished from the banks of London's own Thames River, it was feature meat in a boldly flavoured "cassoulet" along with spicy chunks of chorizo, earthy leaves of kale and perfectly simmered tender white beans. It was deftly seasoned and its aromatic flavours paralleled well with the chosen wine.

1998 Domaine Lucien Barrot Chateauneuf du Pape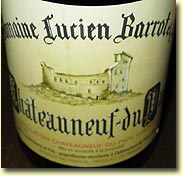 A ten year old wine just starting to show a note of rust at the rim, but there is no sign of oxidation. Although it is initially a little hot on the nose; there are plenty of aromas to mask it like cedar, lavender, wet leaves, dried herbs and game. Stewed fruit, black raspberry and cinnamon aromas appear after ten minutes or so in the glass. The palate is well balanced, the acids hold the red fruit flavours together, and it embraces a wonderful earthy feel. The finish shows a touch of silky tannin, still I think it was the right time to pull the cork as it has hit its peak and is tottering on the edge of decline. Find this wine

It was a marvelous match as both have earthy notes, the same degree of richness and weight. The red fruit acids enhance the oceanic component of the dish while the sweet spicy notes complement the chorizo.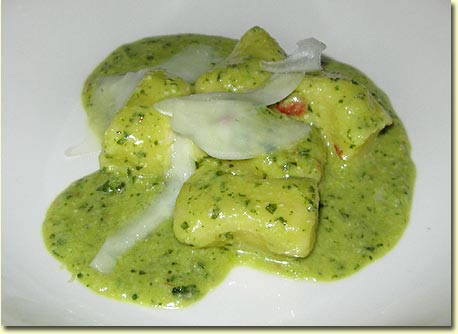 Handmade pillows of potato gnocchi came draped in a pesto cream sauce and had an unbelievably soft texture.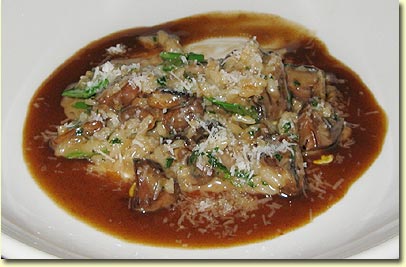 The flawlessly simmered wild mushroom risotto, cooked in a silky rich veal broth was so tasty it warranted licking the plate.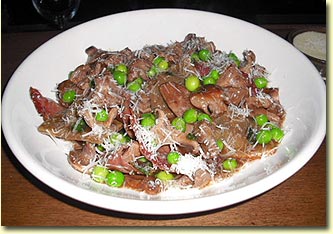 A porcini mushroom and beef cheek ravioli arrived in a sauce of concentrated meat stock with slivers of home cured pancetta and English peas, bound together with a knob of truffle and sage butter, topped with a dash of grated Grana Padano cheese.

A perfect partner for 1986 Chateau Gruaud Larose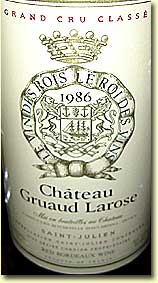 This was decanted and sat for fifteen minutes. The alluring aromas seeping from the decanter are simply too much to resist. Salty black olives, leather, wet stone, cedar, lead pencil, blackcurrant and faint notes of barnyard. In the glass it shows a surprisingly healthy solid garnet robe with a just a touch of bricking at the rim. The palate is full of cassis, cherry and black berry integrated with damp soil, slate and coffee. Tannins are still present, but concede to the pure flavours of the wine. It expands as it sits in the glass. Although excellent right now, if I had more, I would not be in a hurry to consume it. Find this wine

Artesian cheeses with walnut and raisin bread are a great conclusion especially when washed down with one of the several Ports, Madeira and late harvest wines available by the glass.
The restaurant is open Monday to Saturday from 5:30 – 12:00. The late hours fills tables with local hospitality workforce, tired and hungry for something unique. Up to date menus and information can be found at http://www.theonlyonking.ca/

Cheers
CZ
Alan Kerr's Home Page and Main Index