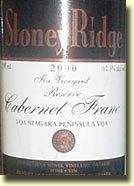 I recently had the chance to sample several wines from Stoney Ridge, one of Niagara's more established wineries. I must confess to not paying too much attention to this producer recently, as there has been so much new stuff happening in the area. Stoney Ridge has changed hands three times since its basement batch conception by local wine guru Jim Warren back in 1985. Warren is now back at the winery on a consulting basis. Giving this man Bench grapes is like giving Charlie Trotter or Thomas Keller a lobe of the finest Foie Gras available, great things will happen! The newest owner, Barry Katzman, was in London to sample a few of his current wares so I took the opportunity to see what type of wines they were making. Barry also opened a bottle from their library selection that is more than one hundred selections deep. A complete listing of all the older wines available can be found at www.stoneyridge.com.

Stoney Ridge, Gewurztraminer, Wisner Vineyard, Beamsville Bench, Niagara, 2000, 13%.


Pale yellow gold, pleasant aromas of rose petal and ripe pear. Medium bodied flavours of pear, lime peel and canned fruit with good length to the finish, which showed a touch of butterscotch.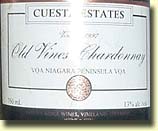 Stoney Ridge, Cuesta Series Old Vine Chardonnay, Lenko and Wismer Vineyards, Niagara, 1997, 13%.


Barrel fermented and eleven months in new French oak. Pale yellow showing a touch of gold at the rim. Nose was multidimensional showing almond/toasty hazelnuts, floral tones, straw, canned pineapple and lime peel. This was a mouthful of beautifully integrated toasty vanilla oak, pear, pineapple, peach tamed by a refreshing hit of citrus. The finish was long and very creamy.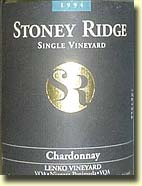 Stoney Ridge, Lenko Vineyard Chardonnay, Niagara, 1994, 12%, $29.95.


The age of this was evident from its deep yellow/gold colour. The primary aroma was of roasted nuts and oak but it showed no signs of oxidization whatsoever. Then after just a few minutes after pouring, wafts of grilled pineapple, carbolic soap, ripe Anjou pear and vanilla all became noticeable. Mid plate had a pleasing blend of tree fruit, citric acid and vanilla. The finish showed banana, crabapple, toffee and vanilla, which after the fruit faded was really the only component to stick around. It was a treat, but should be drunk up soon.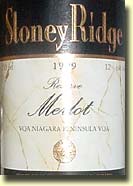 Stoney Ridge, Merlot Reserve, Niagara, 1999, 12%, $22.95.


Light to medium ruby red colour, enticing aromas of black cherry, sandalwood and sweet cherry. Quite surprisingly tannic, with good structure and thirst-quenching acidity. Finished with coffee, red fruit and chocolate. Still quite chunky right now, needs a couple of years to mellow but really good stuff!

Stoney Ridge, Cabernet Franc Reserve, Fox Vineyard, Niagara, 2000, 12.5%, $22.95.


Fox Vinerdard is a small parcel of land located on the curve of the Beamsville Bench.


Ruby garnet, nose showed some mineral, earthy components combined with mint, sage, lavender, sweet plum and blackberry jam. Med/full on the palate, quite spicy and fruit focused and held together by lovely silky dark chocolate tannin. Considering the year was by no means stellar, this is a superb wine that is worth putting away.

Cheers,


CZ




Alan Kerr's Home Page and Main Index