E very two years, Sopexa, an element of the French Tourism Board dedicated to promoting French wine and food, stages a competition to find the worlds best student sommelier. The event is focused on the wines and appellations of the Côtes du Rhône. Fanshawe College and ten other schools across the country were selected to participate and each was asked to teach a course on the Rhône Valley to students who have both the time and desire to participate. Although we started with about sixty hopeful candidates, the material we covered was intense and the sheer volume of work, given that exam week was not that far away, quickly brought our number down to a class of about fifteen. Every school received a selection of Rhône wines for the class to sample with the objective to eventually perform a blind evaluation. After several weeks of class, we were close to finding the one student who would represent us in the national finals to be held at George Brown College in Toronto. The winner of this event will go on to Avignon, in the heart of the Rhône Valley, to compete in the world finals in May.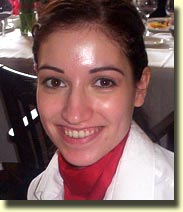 Our winning student was Marissa Scibetta (left), a second year student in Culinary Management Program. It was then up to Pascal Chambon aka Mr. Flippy and me to embark on a rigorous training program to instill the finer points of wine into Marissa's daily routine. In February, Marissa had taken first place in Fanshawe's in-house cooking competition. Given this, we knew that although she had less than one month to train, she would give it her best.

Pascal's extensive background in dinning rooms quickly paid off. In no time at all, Marissa was deftly opening and serving bottles of wine with the ease and poise of a seasoned professional. Marissa also took shifts at Magnolia Lane, a local restaurant owned and operated by a former student, as a "guest sommelier". This bolstered her confidence, as she was now opening wines to the paying public.

My job was to fine tune her palate. Part of the final in Toronto required an oral presentation to the judges on two wines that would both be poured blind. Marissa was a fast learner, and in no time at all, she amazed me with her ability to accurately describe the wines we tasted. We opened bottle after bottle, right up until the night prior to the competition.

The competition commenced at nine a.m. on March the 29th. There were nine students in total competing from College's across the country. Coaches wished their students luck as each made their way to the auditorium to view the event. It was quite nerve racking. Pascal and I both were close to passing out, but fortunately Marissa's composure was so much more controlled than ours.

Each student, hooked up to a microphone, had to present and serve a bottle of wine to a group of mock customers seated at a table while under the watchful eyes of the panel of judges. Once that task was complete, they had ten minutes to taste and evaluate two wines, while giving verbal commentary to the judges and the audience. Both wines were red Rhônes, but no one had any idea what they were. Each student described the colour, nose and the palate. Then they stated the ideal serving temperature, recommended a food and finally tried to identify the wine.

Once all the students had finished, everyone moved in the Siegfried's, George Brown's student operated restaurant for lunch. Before lunch commenced, we were invited to sample twenty nine Gigondas, all from the vintage of 2001. We were given a time limit of about forty five minutes, but with the help of Mr. Flippy and Marissa, I managed to get some power notes on every wine on the table.

As we were seated to dine, the remaining bottles of Gigondas were placed around the room and replenished if the need arose. The first course was composed of a goat cheese and tomato salad and was not a great match with the wines. However, the main course of roasted lamb loin with sweet potato mash and a red wine reduction sauce was the perfect match to the gutsy and forceful reds.

Once dessert was done, it was time to find out who would board the plane to Marseille to represent Canada in the finals. Out of nine students, Marissa came in second place. Considering the limited time she had to learn, she performed so well. As coaches, Pascal and I are so proud of what she had accomplished. Once the news got around to her peers, faculty and support staff, they only too were eager to pass on their congratulations to her.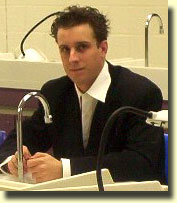 The overall winner of the competition, Jordan Harris (left), is a second year student in the Wine and Viticulture Technician Program at Niagara College. Jordan also studies food and beverage service in the Dining Room Service Course. I worked with Jordan's coach, Albert Cipryk, a few years ago. Knowing Albert's background, he will do his best to prime Jordon to take on the best in world!



2001 Vintage Gigondas Wines


The 2001 vintage has been getting some rave reviews, and what a great opportunity it was to taste so many of them all together in their youth. We were told the growing season was long and free of any hindrance from the weather. In fact growers in the region started to pick around the second week of September. The weather even warmed up in October, allowing the remaining, un-picked vineyards to achieve a nice level of ripeness. It is said those that picked as the sugar levels reached the "correct" degree of maturity may have harvested fruit with "green" elements, while those who waited found the real maturity in the fruit arriving later on. Yields in most vineyards were down. Syrah was reportedly off by about 30% and Grenache produced as little as half its normal yield in some areas.

There are no prices attached to these wines as many were bought in strictly for this event.

Pierre Amadieu, 2001, AOC Gigondas, Romane-Machotte, Pierre Amadieu, 13.5%: This has pretty notes of vanilla, hay, sweet lavender, strawberry and a touch of barnyard that hits on the back of the nose. Pure berry flavours on the palate; low acid finish makes it a little cloying.

Delas Frères, AOC Gigondas, 2001, Delas Frères: A big nose of plum, black raspberry, meaty fleshy aromas and white ground pepper. It is nicely balanced, and finishes with lots of stewed fruit and black liquorice toffee.

Domaine des Bosquets, 2001, AOC Gigondas, Famille Bréchet, 14%: This delicately perfumed and aromatic nose offers simple light fruit, a fresh squeezed grape aroma and pleasing hints of milk chocolate. The tannins are light, and the fruit, while also light, is showing well and it seems to be drinking quite nicely.

Domaine de la Bouïssière, 2001, AOC Gigondas, Gilles et Thierry Faravel, Propriétaires-Récoltants, 14.5%: This has a candy bag mix of red and black liquorice, strawberry fruit and thyme leaves on its nose. The mid palate is soft and features red cherry and some dusty cocoa tannins.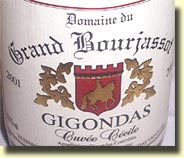 Domaine du Grand Bourjassot, Cuvée Cécile, 2001, AOC Gigondas, Pierre Varenne, Vigneron, 13.5%: An over ripe and borderline oxidised nose of bell pepper, coffee grounds, thyme, sweet red cherry, plum and cigar box. Oddly enough, none of the ripeness comes through on the palate, which shows some pristine red fruit and a touch of wild mushroom.

Domaine Brusset, Les Hauts de Montmirail, 2001, AOC Gigondas, SA, Vigneron, 13%: Very youthful aromas of cake spice, red cherry, black raspberry, herbaceous notes, fennel seed and anise. The palate and finish shows nice silky red fruit, some mint flavours and pleasing acidity. It seems to be on the lighter side, given the vintage, but maybe time will tell otherwise.

Domaine de Cabasse, 2001, AOC Gigondas, Domaine de Cabasse, Propriétaire-Récoltant, 14%: Again I picked up an earthy burnt rubber/oxidized nose with little fruit to back it up. The mid palate came across as being lean, and other than spice and heat on the finish, there is little else to really rave about.

Domaine de Cassan, 2001, AOC Gigondas, SCIA Saint-Christophe, Propriétaire-Récoltant, 14.5%: This has some dusty and milky aromas with a blast of concentrated fruit coulis in the background. Initially, it seems well balanced, but as Pascal notes, it is an uncomplicated and lacklustre wine that carries little other than fruit nectar

Domaine de Font-Sane, 2001, AOC Gigondas, EARL Domaine de Font-Sane, G. Peysson et Fille, 14%: I like this a lot. It exudes a rich pastry scented nose full of vanilla and butter, but without being overblown. There is plenty of red fruit, blueberry, leather tones and white pepper. The finish echoes the fruit and closes with Szechwan peppercorns.

Domaine Grand Romane, Sélection de Vieilles Vignes,2001, AOC Gigondas, Claude Amadieu, 14%: This too has a bouquet to stimulate the buds. It pours out aromas of red fruit, plum, dill, star anise, forest floor and rhubarb. All the latter components are driven through the palate, then bound sweetly together with lovely hit of dark couvature chocolate.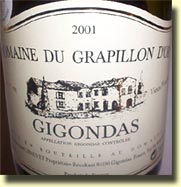 Domaine du Grapillon d'Or, 2001, AOC Gigondas, EARL Bernard Chauvet, Propriétaire-Récoltant, 14%: This wine just rocks, and those with the patience to let it age will be rewarded. The structure of dark fruit on the nose is enhanced by mineral stone, a sprinkling of manure, cocoa, Moroccan spice, blackberry, earthy potato skin, cherry cola and swampy notes. Already the balance is superb, the wine is dense and although the tannins are soft, it is really too young to appreciate today.

Les Hussonnières, 2001, AOC Gigondas, Vignobles du Peloux, 13.5%: Sweet blueberry coulis, green Madagascar peppercorn, red currant and plum all combine nicely to a offer a well balanced and solidly structured wine.

Laurus, Gabriel Meffre, 2001, AOC Gigondas, Gabriel Meffre, Négociant-Éleveur, 13.5%: A very sweet perfumed nose of red berry jam that finishes with low acid and black pepper; over all, it's rather dull.

Domaine de la Mavette, 2001, AOC Gigondas, EARL Lambert et Fils, Propriétaires-Viticulteurs, 13.5%: This nose renders layers of cured ham, bacon fat, liquorice and raspberry. The tannins are firm and the complex structure makes it tight for now, but it should show well down the road.

Montirius, 2001, AOC Gigondas, Christine et Eric Saurel, Propriétaires-Récoltants, 15%: Another disjointed initial aroma, but nonetheless, far from uninteresting. It has tons of freshly ground black pepper, garrique, red cherry and heat. The mid palate is surprisingly sweet showing red liquorice and damson. Tannins are soft, but discernable on the close.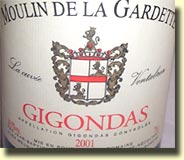 Moulin de la Gardette, La Cuvée de Ventabren, 2001, AOC Gigondas, Jean-Baptiste Meunier, Propriétaire-Récoltant, 14.5%: This has to be deepest and richest looking wine of the day. Its dark black hue shimmers in the glass. It teases with aromas of morel mushrooms, lavender, wood smoke and plum. Sadly there is that high degree of heat that shoots up the nostril, but again these wines are backward and should be left to snooze for many a year to come.

Domaine Paillère & Pied-Gu, 2001, AOC Gigondas, Frédéric et Nicole Stehelin, 13.5% : A lovely combination of dark couvature, red raspberry, blueberry and lavender explode in this appealing aroma. Excellent balance on the palate and the fruit laden finish is long and enjoyable right now.

Domaine du Pesquier, Ancien Vignoble des Princes d'Orange, 2001, AOC Gigondas, EARL R. Boutière & Fils, Vignerons, 14%: This too is fairly thick and looks to be quite viscous. Its nose is showing lots of toffee candy, liquorice root, aniseed and red currant. The fruit on the palate has a stewed texture, but given time, this too should be a winner.

Domaine du Pradas, 2001, AOC Gigondas, SC Domaine du Pradas, Propriétaire-Récoltant, 13.5%: A nose composed of mostly red berry and white pepper shows a backdrop of sage and thyme. The fruit on the palate is red currant and sour cherry. It all finishes with a slightly astringent note.

Jérôme Quiot, 2001, AOC Gigondas, Jérôme Quiot Sélection, Négociant-Éleveur, 14%: The principal note is black pepper with faint whiffs of red currant and plum, which echoes through to the somewhat spicy finish.


Domaine Raspail-Ay, 2001, AOC Gigondas, EARL Dominique Ay, 14%: This wine initially shows traces of that strangely desirable pond/green aquarium thing happening in the nose. A swirl or two of the glass reveals some pretty white pepper, strawberry, lavender and red currant fruit. I found just a touch too much acid, but nothing to offend. I liked this wine.

Domaine la Roubine, 2001, AOC Gigondas, Eric Ughetto et Sophie Boulet, Propriétiares-Récoltants, 14%: A blast of red raspberry is softened by a twist of black pepper and an underlying tone of curing meat. It is harmonious and fruit driven, but the tannin does let you know who the boss is, as it takes control on the finish.

Domaine du Roucas de St Pierre, Le Côteau de mon Rève, 2001, AOC Gigondas, Y. et D. Chéron, Vignerons, 14%: This is possibly the most interesting nose of the day. The cedar, cigar leaf, cinnamon, lead pencil and smoked bacon nose could fool the most ardent taster into thinking this is from Bordeaux. The palate that mostly features sweet fruit and some dusty tannin has a touch too much heat for my liking.

Château de Saint-Cosme, Valbelle, 2001, AOC Gigondas, Louis Barruol, Propriétaire, 14%: A solid wall of blackberry is enhanced by gentle notes of cardamom seed, thyme, tea, garrique, a touch of that funky green aquarium and some gamey notes. Its brilliant balance is echoed into its big and seductive finish.

Domaine Saint-Damien, 2001, AOC Gigondas, SCEA Joël Saurel, Propriétaire-Viticulteur, 14%: This is clearly made in a bold Californian style. This fruit bomb shows heaps of cherry cola, tar, red fruit and a red berry soda pop aroma. All very nice, but on the finish it comes across as being a little dull.

Domaine Saint Gayan, Fontmaria, 2001, AOC Gigondas, SCEA Jean-Pierre et Martine Meffre, 14%: The dusty dark fruit core shows plum, blackberry and raspberry. It is bolstered by a secondary layer of dark chocolate, mocha and mushrooms. Fairly well balanced and a pleasure to drink.

Domaine des Tourelles, 2001, AOC Gigondas, SCEA des Tourelles, Roger
Cuillerat, Propriétaire-Récoltant, 14.5%: This certainly exhibits the lay of the land. It exudes aromas of meat, game, Herbes de Provence, mushrooms, cinnamon and allspice. The only fruit I could find at the time was buried on the nose, but dark berry character manages to be quite noticeable on the finish.

Château du Trignon, 2001, AOC Gigondas, SCEA Château du Trignon, 14%: This has notes of strawberry, bacon fat, stewed rhubarb, white pepper and poo. Its mid palate is hot and the finish is short.

Vieux Clocher, Nobles Terrasses, 2001, AOC Gigondas, Arnoux & Fils, Vinificateur, 13.5%: A nose that shows gamey wet fur, forest floor and red fruit does manage to come together nicely in the glass. Yet for all the interesting aromas, the wine pales slightly on the palate, but the elegant finish offers red currant and sweet strawberry.

Cheers,
CZ


Alan Kerr's Home Page and Main Index