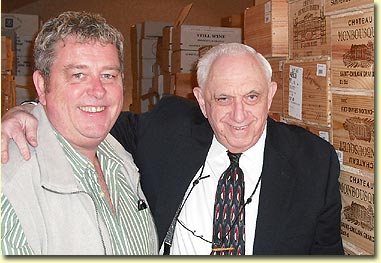 One thing that has not changed at Century is the charm and genuine warmth of Sherwood Deutsch (left, with Kerr). Sherwood founded Century Liquor back in 1967. In 2007 Nicole Wegman purchased the company keeping Sherwood and his nephew Michael Misch in place to take care of daily business.

The amount of money I have spent at the old location would never have made Sherwood rich, but nonetheless he always took time out of his day to sit with me, suggest wines, talk about buying strategies on new vintages and just basically catch up every time I was at the store.
Sherwood has a love of Burgundy wines and this trip to the new location was to partake in a tasting of wines from Remoissenet to be conducted by Pierre-Antoine Rovani. Rovani worked along side Robert Parker writing for The Wine Advocate for a period of ten years.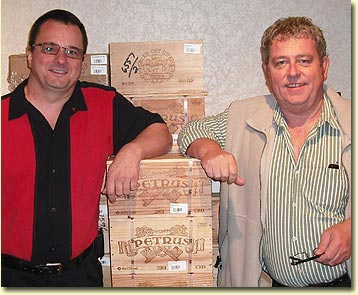 Although Rovani no longer works with Parker, they are still best of friends. Rovani told me he had to terminate his position as it was simply too hard to taste 10,000 wines over a 365 day period year after year. "Don't think about taking a day off at Christmas", Parker told him. "Miss a day and your ability to taste diminishes." Funny, I have worked with chefs that demonstrate that degree of intensity and passion.

We arrived at the new store with ample time to spare. My colleague, Peter Blakeman (right, in red shirt) and I decided to deplete the inventory of Century's older bottles of Burgundy by one and have a little pre sample of what was to come. Sherwood told us to go to a restaurant in the plaza called Tastings, a spiffy eatery operated by the Wegman's supermarket chain. Wegman's operation is stunning and puts any and all Ontario's supermarket chains to shame. Walking around the impressively stocked counters of dry aged meats, fresh fish, hot rustic breads out of the wood fired oven and the spectacular array of produce makes me wonder why the hell we can't have something like this in Ontario.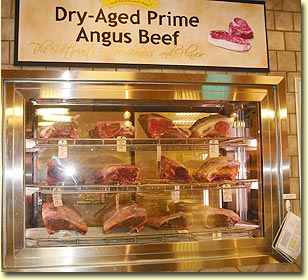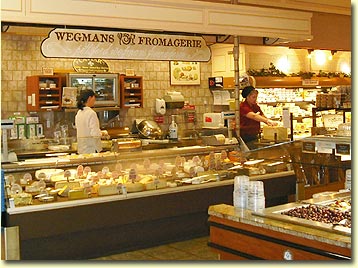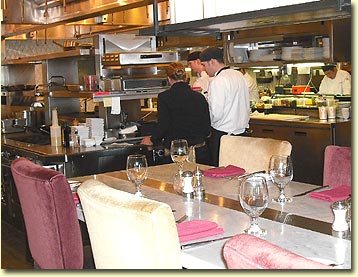 Josh Miles, the sommelier at Tastings, was happy to open the wine and set us up with a couple of impeccably polished Riedels. Corkage here is $10.00. The restaurant has a completely open kitchen where the team is orchestrated by C.I.A grad Chris Brandt. Customer tables at the front of the restaurant are actually lined along the open section of the pristine kitchen. The menu is American eclectic and the wine list is impressive.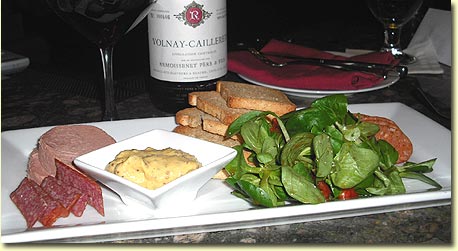 We sat at the bar, nibbled on a plate of charcuterie and slowly sipped…
Remoissenet Volnay Caillerets 1971 $145.00
Peter suggested Josh, recently relocated from Charleston South Carolina, join us for a glass. Once poured the wine shows a beautiful brick, amber rim with an orange light ruby core. Initial aromas of red currant and raspberry are supported by notes of chocolate and liquorish. It seems a little lean on the palate at first but there is plenty of bright red fruit and the finish carries a floral citrusy note. After twenty minutes, notes of hay and earthy white mushrooms appear and the fruit becomes bolder showing dried cherry and strawberry. The last glass emits aromas of cedar and smoked fruit; the fruit really sweetens and the balance is sublime. The complex finish carries warmth, not heat, pure mature fruit flavours and that wonderful earthiness that true old Burgundies support. It is such a treat to partake in a little bit of history. Find this wine

The main event.
Remoissenet, a relative newcomer when compared to some producers, was founded in the early 1800s by Pierre Remoissenet in the city of Beaune. The quality of wines under Roland Remoissenet, who had the helm for thirty years, had started to decline from its former glory days in his last few years of control. In 2005 the company was purchased by a group of investors led by the Milstein brothers of New York and Todd Halpern of Toronto with the objective of bringing Remoissenet back to its former lofty status.

The group's first move was to place the winery in the hands of Bernard Repolt, a veteran of Maison Louis Jadot. Bernard discontinued working with all but one of the previous grape suppliers and secured long-term contracts with 31 new growers. Winemaking is now in the hands of Claudie Jobard, who joined the firm just before the 2005 harvest. Claudie is the daughter of Laurence Jobard who was the winemaker at Joseph Drouhin for 30 years. As Pierre Rovani is President of Remoissenet Père et Fils, there would be no better person to lead the tasting of these exciting wines.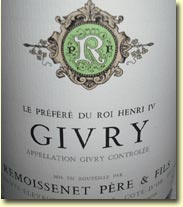 Remoissenet Givry Blanc Le Prefere du Roi Henry IV 2003 $15.95
The 2003 vintage was intensely hot across most parts of France, so hot that Remoissenet recorded their earliest harvest since 1848. This Givry, a favourite of Henry IV, is at its peak. It shows notes of honey, white tree fruit and a touch of caramel on the finish. The oak is pristine and balanced. Find this wine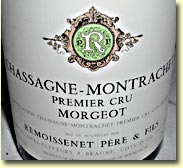 Remoissenet Chassagne Montrachet Morgeot Premier Cru 2005 $59.95
Thirty percent new oak used at first seems to overpower, but Rovani explained the clay soil in the village renders a fuller richer wine. It does carry a buttery texture, the fruit is solid and there is a touch of lime zest with a low degree of acidity. Best in 2-4 years. Find this wine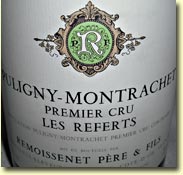 Remoissenet Puligny Montrachet Les Referts Premier Cru 2005 $64.00
Although the villages of Puligny and Chassagne are barely one kilometer apart, the soils in each are distinctively different. The composition of the soil in Puligny is limestone, thus creating a leaner style of wine. Even though this was aged in forty five percent new oak, it carries an elegant and leaner structure and is more focused and better balanced. It is concentrated with stone fruit and mineral flavours. The finish is long with white tree fruit and canned pineapple, with a refreshing crispness and great balance. Best in 5-7 years. Find this wine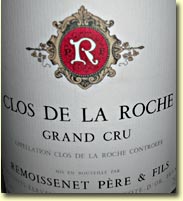 Remoissenet Clos de la Roche Grand Cru 2005 $129.95
A garnet coloured wine full of rich bold flavours of plum and black cherry with a nice backdrop of floral notes. It is spicy on the palate, the oak needs time to integrate and the finish is fruit laden with a hit of dusty tannin. Find this wine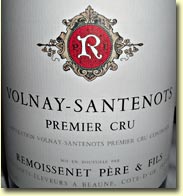 Remoissenet Volnay Santenots Premier Cru 2003 $36.95
A medium bodied wine with floral and rose petal aromas, a little touch of aniseed and layers of sweetness from dark fruit, a gift from the intensely hot 2003 vintage. It has a fleshy plumy palate, a spicy note; it carries a low level of acidity and plenty of dusty tannins. Find this wine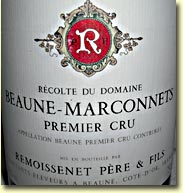 Remoissenet Beaune Marconnets Premier Cru 2003 $32.95
A little darker and a deeper structured wine than the Volnay. Aromas of black cherry, milk chocolate, tobacco and blackberry are upfront. There is a nice background of barnyard along with mineral and plum. It has a rich chewy texture on the palate, although the finish drops of sooner than I expected. Find this wine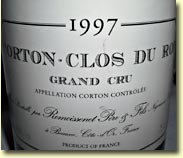 Remoissenet Corton Clos du Roi Grand Cru 1997 $49.95
Leaning more to the classic Burgundy nose that I recall, this wine emits notes of hay, a distinct barnyard aroma, forest floor, pure red fruit and caramel. There is a luscious sweetness on palate, the oak is perfectly integrated and the balance is exquisite. A very impressive wine. Find this wine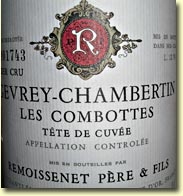 Remoissenet Gevery Chambertin Combottes Premier Cru 1978 $198.00
At first there is a tarry note with caramel and roasted nut. A few swirls of the glass bring out notes of dried cranberry, sweet cinnamon, dried cherry and a hint of black strap molasses. The fruit and secondary flavours all harmonize nicely. The finish shows plenty of sweet spice, but the fruit is starting to dry out. Not by any means unpleasant, but it needs to be consumed soon.
Find this wine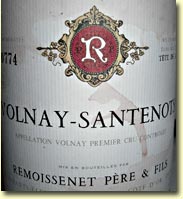 Remoissenet Volnay Santenots Premier Cru 1969 $235.00
Just about to hit its fortieth birthday, this wine emits a bouquet of vanilla scented crème brulee, sweet black liquorish, mineral, barnyard hay and mocha. There is layer after layer of dried fruit, the palate has a beautiful silky sweetness and the balance is impeccable. The finish is rock solid, showing no sign of decline. It has great length, a pleasing note of caramel rides with the beautiful touch of sweetness. This is Burgundy at its best. Find this wine
Rovani (far right) was both entertaining and humorous while at the same time demonstrated his passion for not only Remoissenet's wines, but for those of other producers, the ones he used to critique in the Cote D'Or.

We tasted some great wines from the past and I am sure there will be many great wines to come.

Cheers
CZ