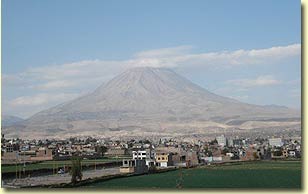 The majority of Peruvians either reside high up in the Andes Mountains, along the Pacific coastline or in small communities in the mighty Amazon Jungle. Arequipa will take your breath away. Not because it is nestled some two and a half thousand metres up in the Inca mountains, its sheer magnificence and beauty is awesome.

The sun shines down on the dusty baron landscape surrounding the city for ten months of the year. The air is bone dry, the skies are for the most part cloudless and temperatures constantly hover around a pleasurable twenty five degrees.

Being at a higher altitude and closer to the sun makes it feel warmer than it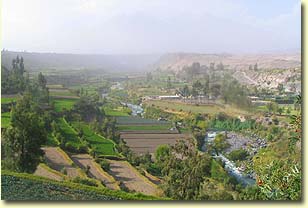 really is. A quick glance towards the snow capped peaks of El Misti, Chachani and Pichu Pichu, three mountains that surround the northern section of the city, does have a cooling affect. El Misti in particular is so extraordinary; it protrudes from the barren floor of the plateau on the north east side of the city to reach a height just shy of six thousand metres. The fast paced icy waters that run down the Chili River Valley from the mountains provide irrigation for the farmland and allotments in one of the driest areas in the world.

Arequipa has no ultra modern skyscrapers, office towers or fast paced freeways that would otherwise spoil the heart of this conurbation. People that have spent their lifetime in the white city, so named for the white volcanic blocks used in the city's construction, will tell you they are not from Peru, they are Arequipan, and the city is a legendary entity on its own.

On the outskirts of the city one can see terraces, built by the Incas, centuries before the Spanish arrived, that are still farmed today. Looking at this stepped landscape across flower covered white stone buildings enhanced by the backdrop of crystal clear cobalt sky; one understands why local folks believe Arequipa is a paradise.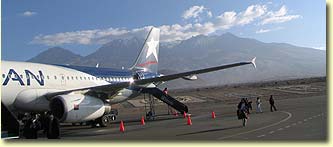 After many hours of somewhat boring and wearisome travel, my flight was about to touch down in the heart of the Andes. I was to see first hand what life in this beckoning part of the world is all about. My mission was to work with staff and students of the "Instituto de Sur", a hospitality College in the downtown core of the city. ISUR, was to be one of many industry participants in the debut of a festival promoting the foods and beverages of the area. The event was called "Festigloton", and yes, it translates exactly as it sounds.
My trip was put together thanks to Niagara College's International Education and Development Division's "Entry Points for Tourism Work" project. The project is financed in large part by CIDA and administered by the Association of Canadian Community Colleges.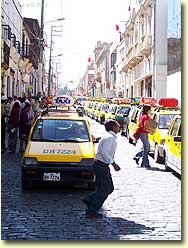 The drive from the airport to downtown was, well let's say a reality check. Peru is a poverty stricken country of some twenty seven million people, fifty four percent of which live in dire conditions. Neighborhoods on the outer perimeter of the city house people in homes constructed of corrugated iron and cardboard without running water or hydro.

Few people can afford the privilege of driving. Consequently taxis are plentiful, unbelievably cheap and do seem to take total possession of the roads. Picture a NASCAR race, only with thousands of participants all competing with one another through tiny narrow streets and intersections and you have an understanding of the routes throughout the core of city. (borrowed picture of cabs)

After only a few of the many cabs I would take, I concluded stop signs are an inconvenience, shock absorbers a rarity, police cars and speed traps are non existent, seat belts may or may not function and cab doors often do not fully close. On one such trip the driver had to run around to open my door as there was only a hole in the door where a handle had once been.

During one early morning trip to ISUR, my cab slowed down to a crawl
eventually sputtering to a complete stop. My driver, with a sheepish grin, jumped out and grabbed an "Inca Kola" bottle filled with gas from the trunk. After turning over the engine a dozen times, there was a deafening bang, followed by a cloud of black smoke. The cab was restored to life and off we went.

Having painted such a picture of peril, death and destruction on the roads, I have to say I never witnessed as much as a fender bender let alone a serious accident.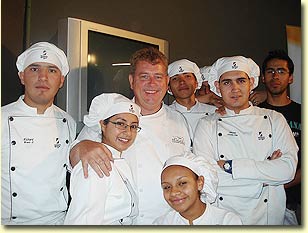 My purpose at the festival was to perform three demonstrations on fusion food using Arequipan recipes as the foundation. I must confess to being a little anxious, but after meeting the staff and student volunteers at the college, the warm and genuine welcome I received calmed my nerves completely.
For my first demonstration, I made Italian Gnocchi dumplings. Instead of the traditional tomato and basil, the sauce was laced with several Peruvian chilies, Rocoto and Aji finished with pulverized lettuce and a Huacatay, a Peruvian herb also known as black mint.

Going out for Ceviche is as common in this part of the continent as eating fast food is in the North. I employed the technique of preparing Ceviche for my second dish, serving the lightly cured mixture of ultra fresh fish on a Vietnamese glass noodle salad with mango and papaya laced with an Asian vinaigrette.

When I left Canada, I knew little about the foods of Peru other than a little last minute online research. Peruvian food is renowned as being the best in South America. What I ate here can attest to that statement.
Seven thirty pm was the scheduled time for my first presentation so we had plenty of time to relax and enjoy a leisurely lunch.

This was my first encounter with Pisco Sour, a much loved aperitif composed of seven parts local brandy distilled from Quebranta or Muscat grapes, with three parts lime juice, one part simple syrup, an egg white and a splash of Angostura bitters. Delicious!

My only request to my hosts was to eat authentic non tourist foods indigenous to the area. That was never to be an issue. Lunch started with a plate of fava beans with Aji pepper and peanut dipping sauce and some delectable cubes of fried Queso Blanco.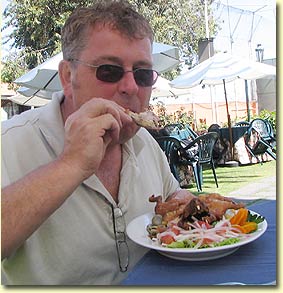 My main course was authentic, I chose to tackle a whole deep fried Guinea pig complete with liver, kidneys and other such dangly bits. It tasted similar to pork, only richer and more complex. I really enjoyed it.

Many restaurants have tables set in large grass covered courtyards where around two in the afternoon, patrons are entertained by a small Latino band and/or Peruvian dancers. I could have sat around all afternoon, sipping on Pisco Sours enjoying the merriment, but we had to get back to the college and get set up.

My student assistants proved to be invaluable and soon tray after tray of food was set ready to transfer to the Plaza de Yanahuara, the venue for the festival. The college does not have the use of a van for transportation so we piled into several taxis with our methodically set trays of "mise en place" on our laps.

Perhaps it was a combination of pre performance nerves, the taxi navigating the bumpy cobbled streets or the effects of one too many Pisco Sours, but I knew the little rodent I made acquaintance with some four hours prior was eager to leave by the fastest exit he could find. Not wanting to embarrass myself in front of the students in my cab, I spent the entire, seemingly endless, journey with my arse squeezed so tight I pulled muscles in my thighs that hurt for several days after.

Thanks to the skills of my wonderful interpreter, Vanessa Corlazzoli, the demonstration went off without a glitch. We had a small open booth about the size of a kitchen in an average home. There were some fifteen seats set up inside and plenty of standing room in front of the stoves. Despite the twenty foot long papier-mâché bull leading a procession of marching characters on stilts banging drums almost bulldozing its way through the pavilion, all went well.

Trips like this make me realize just how fortunate we are living the life style that we do. The average Peruvian does not have the Internet privileges that we have access to, libraries do not exist and good quality books are not cheap and are hard to find. The fact that my audience was taking note of every word that left Vanessa's mouth inspired me to do the best possible job I could.

It could not have been easy to translate for a chef; we tend to use culinary terms not used in everyday conversions and play around with ingredients not found on regular supermarket shelves. However, Vanessa was well prepared and performed the task commendably. Born in Uruguay, Vanessa moved with her family to Canada before she saw her teenage years. Fluent in both Spanish and English, Vanessa has been living in Arequipa for the past month working for the ISUR on a project designed to assist less fortunate people living in makeshift homes on the outskirts of the city.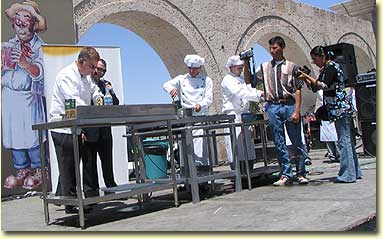 On the Saturday, day two, I was slotted to present a demonstration on centre stage to several hundred people. Chupe de Camarones is a specialty of Arequipa, a remarkable crayfish chowder brimming with chunks of Inca corn, potatoes, a poached egg, Rocoto peppers and rice. The key to the success of this soup is browning the crayfish shells complete with their coral, rendering a rich rusty brown stock that becomes the foundation of the chowder.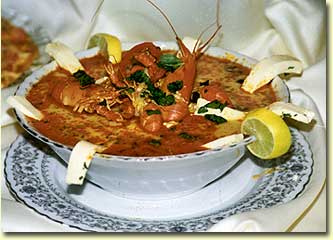 Crayfish are plentiful in this neck of the woods and it was fun to be able to cook with them. I had packed a number of my favourite Asian pastes and spices before I left Canada to use for the event. My fusion version of the Chupe borrowed techniques and flavours from the Bourride in France and South East Asia made its mark by donating red curry paste, lime leaves and lemon grass. Coconut milk replaced the evaporated milk used in the conventional recipe.

It was blisteringly hot, the wind wreaked havoc with my propane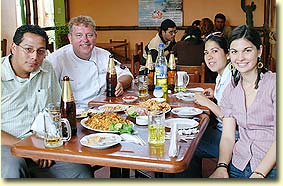 burners and the intense brightness of the sun made video reproduction difficult. All in all it went really well, people were appreciative and the bottle of icy chilled Arequipina beer slurped down immediately after was most welcome.

It was time for lunch. Vanessa, Marianna, a talented young pastry instructor and a few of our student helpers wandered out into the streets in search of some Ceviche. Good Ceviche is not that hard to find in this country. Having made Ceviche on many occasions, I now know I have been doing it wrong all these years.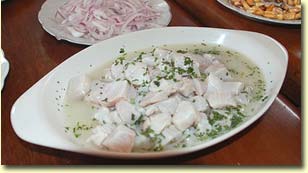 It is simple.

One: Start with ultra fresh fish (a no brainer)

Two: Marinate for a matter of minutes, enough to barely change the colour of the surface of the fish. It should just start to turn white, but remain translucent so as to see the original hue of the fish.

Three: Use the right limes. Peruvian limes have seeds and the juice is less acidic than the ones we are used to. Key limes are the closest substitute.

Four: Refresh the dish before serving by tossing a few ice cubes through the bowl for a couple of seconds then discard any cubes that remain.
We ate our way through platters of fish and cold steamed mussels in minutes. I can't describe the taste well enough to do it justice. It was just so perfectly balanced, the degree of citric acid was so precise and ultra refreshing. The minced red onion, Aji pepper and cilantro, assumed the backup role, teasing the taste buds. I have no idea what fish we ate and I don't care. It was simply sensational.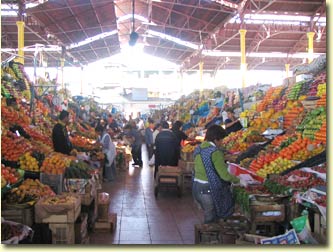 Juan Carlos, who works at the ISUR mentioned to me that as a chef, I might enjoy San Camilo, the daily downtown market. I was there as soon as its doors opened at 5 AM. This place is not for the faint of heart. It is full of vendors selling anything from animals still warm and bleeding, to vegetables, fruits and breads. One can find merchants selling dried creatures of all sorts destined to be part of medicinal potions.
I witnessed a short and muscular woman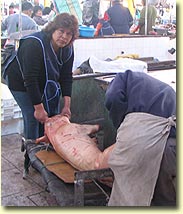 carrying a pig hustling through crowds passing tables strewn with poultry, mountains of fish and sides of aging lamb and alpaca. A leather skinned sun drenched man dressed in jeans and a blood soaked t-shirt butchers beef with professional ease as the potato vendor at another booth flaunts his wares with pride.

Peru has some six hundred and twenty three varieties of fruit. The best deal in the market has to be a pitcher of freshly blended mixed fruit juice for sixty Soles (65 cents). The kind lady perched behind papayas of immense magnitude cut slivers of them and whatever other fruits were within easy reach and juiced them all in a blender right out of a mid fifties Sears Roebuck catalogue.

Independent vendors take advantage of the market's proximity by setting up shop in doorways or simply huddled on the sidewalk selling anything from a few books of matches to a couple of bundles of herbs. It is a site to see. Click here to view additional market photos.

This is a magical land and there are so many wonderful reasons to be here, but being a chef, I really have to talk about pork! In Peru, pork tastes like pork should, unlike the bland tasting supermarket renditions raised to be low in fat and therefore low in flavour that we are subjected to.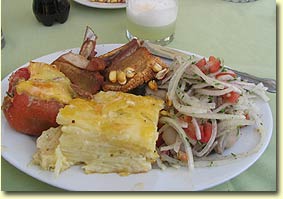 At one lunch I fought my way through a triple pork platter composed of a Ricoto Relleno, Chicharron, marinated Head Cheese and Pig's Trotters. The quintessential Peruvian pepper, the Ricoto, is the perfect size to stuff and offers the diner a layer of heat that is just perfect, spicy, but full of flavour. The top is removed and the capsule is stuffed with a mixture I would compare to a Bolognaise sauce only made with pork and the meat was diced not ground. Before baking it is topped with Queso Blanco cheese.

My doctor may not approve of Chicharron. Large hunks of pork, skin and fat intact are placed into open roasting trays and barely covered in water before spending hours in the oven. The idea is for the liquid to evaporate allowing the fat to render and become the principal cooking medium. As it slowly cooks the skin crisps and all sort of wonderful flavour and texture changes take place. The end result is similar to a confit. It tastes so bloody good and could easily become addictive. The head cheese was tender and tasty, but the little feet could have had more cooking.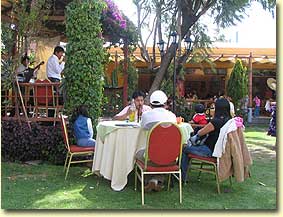 The ingestion of all that pork fat is probably not the best thing in what we consider to be part of a healthy well balanced diet, but I know when the inevitable onslaught of winter arrives, I will be wishing I was on a sun drench patio in Arequipa eating Chicharron and sipping Pisco Sours.

My stomach was once again about to explode. A local remedy to combat this potentially embarrassing situation is an Algarrobina. A smooth and creamy concoction that combines egg yolks, sugar, Algarrobita, a syrup made from the fruit of a Northern Peruvian desert tree, evaporated milk, cinnamon and a generous shot of Pisco. It tasted like drinking a liquefied combination of Tiramisu and Egg Nog and it did aid my digestion.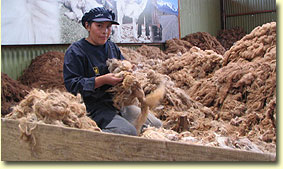 The alpaca is a domesticated species of South American camelid. Alpacas graze in the heights of the Andes of Southern Peru at an altitude of 3500 to 5000 meters above sea-level. While they may look like a sheep in appearance they are larger and have a much longer neck. They come in a range of colours and are prized for their wool, which has long helped to support Peru's excellent reputation as a fine garment manufacturer.

As it turns out, alpacas are also quite tasty. Local restaurants and street vendors offer the loin seasoned with salt and grilled, usually medium rare and served with an ample amount of French fries. The tender meat tastes like a cross between pork and lamb with a finish of well aged venison.

Peru's wine industry may not yet be in the same league as Chile and Argentina to the south, but it is starting to get noticed and I did have the chance to try some.

Tacama Special Selection 2006: A wealth of aromas include, balsawood, cream, black fruit, black pepper and black liquorish. After a while it starts to show notes of mineral, iron, cured meat, green onion, bacon and seaweed. The palate captures lots of ripe black fruit, almost too ripe, that play along well with the flavours of the liquorish, toffee, molasses and malt. There is a layer of silky tannin that coats the teeth. The finish is quite fruit laden, but a touch of metallic astringency creeps up to spoil.

For thirty Soles at most street vendor's stalls and forty five at Lima's duty free, it translates to a good value wine that for me is well worth the money. It might hold up well to a couple of years in the bottle. Maybe I need to go back to Peru and acquire some more.

One of the more rustic meals I ate was in one of several restaurants around the city that strive to keep time-honored authentic Arequipian food alive. These popular restaurants are called "Picanterías", derived from a Spanish word meaning hot. A Picante is a stew simmered in a Ricoto pepper sauce with vegetables and meat.

A Picante also means a "daily menu" composed of a three courses. The first course is hearty bowl of robust soup called a "Chupe." Each day of the week has a corresponding Chupe. On Monday, the day I ate, the Chupe was 'Chaque." Each day's soup has differing ingredients. Friday, for example, in Catholic tradition, one eats the Chupe de Camarone, the aforementioned crayfish chowder.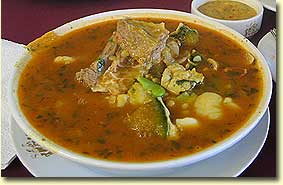 My bowl of Chaque arrived at the table brimming with chunks of stewed short ribs, tripe and vegetables in a rich pepper based broth that was good to the last drop. After I drained my bowl of the delicious and so substantial soup, I was hard pressed to believe my guest when they told me a main course would soon arrive. Nonetheless it did, I struggled and dessert was totally out of the question. The price for the menu was 7.50 Soles, about $2.50.
I found a website in Spanish that gave an overview of the seven days of Picante. Running it through an online translator produced the following explanation.
MONDAY (Broth): Chaque de Tripas: absorb with guts of meat of head of cattle, chicharrón, rocoto, vegetables and toasting. Matasca of meat, sarza of legs, parrots with ocopa, caucau and pie of Pope.
Parrots? Oh no, not again, my Gran had a pet parrot when I was a kid and I loved it almost as much as Brian.

Would I go back to Arequipa? Oh yes, in a heartbeat, I would be on a flight tomorrow if I could. There is so much more to this wonderful country that I hope to see one day. I met a lot of truly warm and wonderful people that I know would be happy to show me more of it.

Reporting from the Andes

Salud

CZ