To even consider their wines as age worthy was simply preposterous. How far from the truth is that? Most of these wines I tried were ace (impressive) and gee whiz (an expression indicating astonishment). A couple of them got the old fella (you figure out that one yourself) quite excited.
There is more to the whole re-corking process than I imagined. Penfolds re-corking events have only been offered to American collectors in San Francisco and New York. This was the first time the team has flown directly to Canada.

Steve Lienert and Andrew Baldwin, both assistant winemakers at Penfolds, explained the whole premise behind changing corks. Any wine evaluated is bestowed a log number for the purpose of identifying the bottle, should it ever end up on the auctioneers block. A representative from Christie's is present to witness the procedure and sign and date the identification certificate to be placed upon the neck of the re-corked bottle.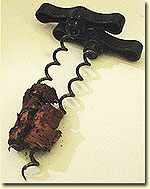 The first evaluation looks at the level of fill and state of the bottle. The cork is then removed using two "screwpulls" in tandem with one another. Once the cork is pulled the wine gets a blast of nitrogen, an occurrence repeated at several stages during the whole process. A small amount of the wine is sampled, with the customer of course, and if deemed in stable condition, it is topped up with "fresh wine" and the fill levels are readjusted. The Grange Hermitage is filled with 99 Grange and the Bin 707 is topped with the 2002 of the same wine.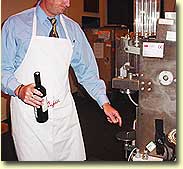 There is room I guess for discussion on whether the true essence of a great old vintage, such as the 1966 for example, has now been altered. However, if I was lucky enough to own such old wines (the 1951, Max Schubert's first recorded vintage, was recently auctioned for $35,000) I would want to make sure my wines were in the best possible condition. After all, vintage car collectors, in order to maintain their treasures, sometimes have to settle for parts other than the real McCoy.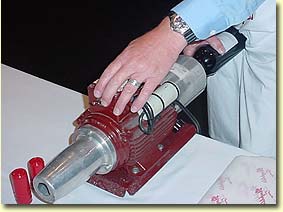 Any wine found to be corked or oxidized, will have a white dot affixed to the neck and will be sealed with a plain cork. Grange or 707 corks are placed into the newly filled bottles while at the same time the corking machine removes air to create a vacuum. Magnums and other large format bottles have to be re-corked by hand. A 707 or Grange capsule is placed and sealed on the bottle. Those folks lucky enough to own really old vintages, where the original capsule was white, will have to be satisfied with the present day rendition. The amount of equipment that these blokes travel with is comparable to a small band on a cross-country tour.

The wines of Penfolds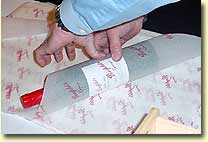 Penfolds owns vineyards in all of the principal grape growing regions of South Australia. These include locations on the Barossa Valley, home of the Kalimna and Koonunga Hill vineyards. Vineyards are also owned in the Clare Valley, the Eden Valley, McLaren Vale just south of Adelaide, and in Padthaway and Coonawarra in the far southeast of the state. Additionally, the company has developed vineyards and works with growers in the emerging premium wine regions of Robe and Bordertown, as well as the Magill vineyard surrounding the original winery.

Penfolds Reserve Bin Eden Valley Riesling 2003, $21.95
This starts with a nose of smoke, petrol and lime salsa. I find the mid palate a little flat, yet there are flavours of green apple skin, lime zest, mineral and roasted pear, but something is not quite there. The acids become noticeable and crisper on the finish.

Penfolds Bin 2 Shiraz Mourvedre 2003, $19.95
Originally known as Penfolds Shiraz Mataro, this is one wine I could not seem to enjoy. It has a sweet, tarry, cake spice and lavender nose. The black fruit on the palate comes across more like candy. It has a sweet blueberry/floral finish.

Penfolds Bin 128 Coonawarra Shiraz 2002, $29.95
1962 saw the first vintage of this wine, only back then it was known as Bin 128 Claret. It spends about 12 months in mostly French oak. This vintage has a dark ruby colour; the nose shows notes of sweet oak, black olive, dark perfumed fruit and a trace of mint. It is medium bodied, with lots of dark chocolate and black fruit on the palate. The acids do their job and with some cellaring, the heat on the finish should soften.

Penfolds Bin 407 Cabernet Sauvignon 2002, $29.95
Bin 407 is a relatively new addition to Penfolds portfolio, having been around since 1990. It too sees one year in French and American oak, about 30% being new. The colour seems more advanced, showing some brick red tones. The aromas are classic Aussie, with peppermint, blackcurrant and fruit flavoured cough syrup. There is a secondary layer of sweet spice and balsa. Medium body on the palate with plenty of ripe chewy fruit, some tarry notes and plenty of tannin on the finish. Good fruit and nice acidity. Good stuff.

Penfolds Bin 389 Cabernet/Shiraz 2002, $35.95
In its homeland, Bin 389 is often known as "Poor Man's Grange." Americans have dubbed it "Baby Grange." Whatever one wants to call it, Max Schubert's creation has, for forty-five years, been proving Penfolds wines do age. The 61 is apparently a magnificent old wine, according to James Halliday, that is. It sits in American oak for 12 months, which seems to be a house forte, including some barrels that previously housed the Grange. It has a spicy nose full of black raspberry, cherry and dark fruit, with a hint of liquorish and cured meat in the background. The palate blends creamy toffee with mineral and ultra ripe blackberry. The tannins are tight and need time to resolve. The fruit is powerful and so is the wood. Give this a few years before bringing it up from the cellar.



Penfolds Bin 389 Cabernet/Shiraz 1999, $50.00
Its age is somewhat evident, as the colour has turned to a lovely garnet that is showing some brick red hues. It has organic aromas of tobacco leafs, cigar box and cured meat. A quick spin in the glass releases a secondary layer of blackberry and blueberry fruit. It is pleasant and well balanced on the palate. Nothing to write home about to be honest.

Penfolds Kalimna Bin 28 1996, $35.00
Here is a wine that is just entered into the peak of its maturity and I think it will not be in a hurry to leave. They have been making this stuff since 1962 and I guess practice makes perfect. The colour is primarily ruby with a touch of amber at the rim. I detect aromas of blackberry, moss, iodine, funk, mocha crème brulee, and sweet spice. The palate echoes all of the above and the finish is blackberry combined with liquorish and dark chocolate. A deal at $35.00

Penfolds St Henri Shiraz 2001, $49.95
From 1953 to 1956, this wine was in its experimental stages. . The first commercial release was 1957. Labeled Claret until the 1989 vintage, it certainly is a wine based on fruit definition and flavour as it is aged 18 months in large 50-year-old oak vats.
Right from the start it is a fruit laden wine showing brilliant levels of concentrated blackberry, damson, plum and raspberry. The palate is plump, rich and still tight. It will need much time.
Penfolds Magill Estate Shiraz 2002,, $75.00
This wine hails from the 12 acre Magill vineyard where Dr. Christopher Rawson Penfold, well there's a bit of history, first settled. Production is small, usually somewhere between 1500 and 3000 cases. A dark ruby/purple colour shows its youth. It is a wine full of red fruit, Dutch liquorish, geranium, cinnamon and red cherry. Maturation took place in 90% New French and American oak for 15 months. The oak is already integrated quite nicely. The finish shows a sweet toasty element, along with sweet cherry and plum. Although not a monster wine by any means, it is clearly elegant.

Penfolds Bin 707 Cabernet Sauvignon 2002, $99.00
A wine referred to as the Grange of Cabernet. When Max Schubert returned from Bordeaux, Cabernet was to be the grape he thought he would use to craft the "Great Australian Wine." Well judging from this one, he could have been right. It has a dense opaque robe, the nose gives out teasing whiffs of briar, currant, cake spice, coffee grounds and sweet oak. The palate is chewy, concentrated and full of fruit. Oak works its way in nicely and the finish is big.

Penfolds Bin 707 Cabernet Sauvignon 1998, $125.00
It is very cool to be able to taste two vintages side by side. The 98 is much denser and darker and although four years older, it shows no sign of its age. The nose is full of star anise, coffee grounds, nutmeg, cola and a massive dose of currant. It's so rich and creamy on the palate, the tannins are there, but they're so much a part of the wine. It still can go years, but man, this is good stuff right now.

Penfolds Yattarna Chardonnay 2000, $100.00
100% barrel fermentation in new French oak is part of the reason for the hefty price tag and although it sits in mostly new French oak for 18 months, it does not deliver that overblown, in your face sensation that many Aussie Chardonnays do. It tastes like good white Burgundy, however, I know I can buy good white Burgundy for maybe a little less. Regardless, it is bloody good. It has beautifully melded aromas of lemon zest, mineral, pear, white peach and vanilla. The palate shows superb balance and the finish is starting to show that delicate touch of nutty almond good Burgs get from maturity. Fine stuff.

Penfolds RWT Barossa 2002, $109.00
This French oaked 100% Barossa Valley wine shows a dense colour and offers a nose of ripe dark fruit, red currant, bubblegum, some earthy mineral and toast. The palate is full of taste bud gripping tannin, but there are fruit and acids that will show down the road.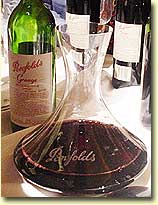 Penfolds Grange 2000, $ 299.00
First put out as an experimental wine in 1951, Grange has now become a " National Trust of South Australia Heritage" wine.
It is made with Shiraz and in certain years a small percentage of Cabernet is added. This vintage is one of those. It is matured in American Hog Heads for twenty months. The name Grange comes from the Penfolds cottage on the Magill Estate. The term Hermitage was dropped from the label in 1990.
This is tasted right from the bottle, as I am afraid my first glass from the decanter was corked. Its colour is not overly dark; it is more of a crimson/purple note. The nose, very closed I might add, shows raspberry, white chocolate, lavender and geranium. It is chock full of creamy oak, but mushroom and coffee flavours push to be noticed. The fruit is so suppressed. Another glass later on boasts lovely aromas of plum, lavender, cinnamon and milk chocolate. The palate is still creamy, showing more fruit flavours of raspberry and blackberry. It is a good wine, but I don't think it is destined for greatness.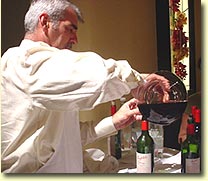 Penfolds Grange Hermitage 1998, $330.00
Oh, treat time! How nice to again compare two vintages together. These two are worlds apart. The 1998 still sports a thick opaque cloak that is unchanged from the centre to the rim. Bottle age produces a seductive and enticing nose of intense dark fruit, cappuccino, toasted cereal, black liquorish and loam/moss. It is classic on the palate, wow! The fruit and acids are in harmony, it is fleshy and once again the tannins are rich and silky.

The first vintage of Grange was the 1951; Max Schubert made 1,800 bottles, most of which he gave away. He continued to produce small quantities of this experimental wine, but in 1956 the Penfolds board of directors and management tasted the vintages of Grange Schubert had made, and far from congratulating him on his success, ordered him to stop. Grange, they announced, was unmarketable. Silly sods.
Schubert retreated, but convinced that his vision was attainable, made three vintages of Grange in secret; 1957, '58 and '59. These are called the "hidden" Granges. As the earliest examples of Grange developed in bottle, opinion began to come around to Schubert's side, and the wine was officially put "back" in production in 1960. Schubert died in 1994, after 27 years as chief winemaker at Penfolds and 20 years as winemaker emeritus. He had the satisfaction not only of seeing his idea for a great Australian red wine accomplished, but of seeing it become a collector's item. A bottle of the extremely rare Grange 1951 sold last year for $35,000; a complete set of Grange commands around $120,000. Peter Gago has some pretty big footsteps to follow.

Max Schubert once said "The acceptance of Grange Hermitage as a great Australian wine has proved that we in Australia are capable of producing wines equal to the best in the world."
I wish I had a bottle stashed in my locker for my boorish and opinionated wine teacher from back in my college days.


Cheers
CZ
Alan Kerr's Home Page and Main Index