No sooner had I taken off my coat when I arrived at work this morning, my boss, Peter Blakeman, pulled me into his office to meet with and to taste a couple of wines from Norman Hardie. Hardie, a trained sommelier turned winemaker, learned his trade in the vineyards of Burgundy before setting up shop in Prince Edward County, Ontario's fastest growing viticultural region.

Prince Edward County wines started appearing back in 2000 with just one commercial winery. Now there are more than a dozen and investors are poised to increase that number considerably over the next few years.

This was my first taste of wines from Prince Edward County and of the three wines I tasted, I was impressed.

Norman Hardie Cabernet Franc Prince Edward County 2005 $24.00
A youthful robe, not overly dense, but a good even ruby colour with a purple/mauve rim. Aromas of sweet red and black raspberry, black liquorish and dusty tannin are strong. The palate is ripe, chewy, fruit laden and the black fruit acidity keeps it lively and bright. It is a Loire Valley style of wine. Fifty percent was aged in second year oak and the reminder resided in stainless steel. Hardie believes in minimal intervention with his wines. Added sulphur is less than 100 parts per million. Although it is showing well, a year or two laid down will bring the wine together. 80 cases produced.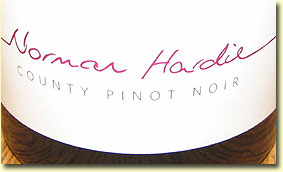 Norman Hardie County Pinot Noir Prince Edward County 2005 $35.00
Although these vines are only three years old, the resulting wine is elegant and full of promise. It exudes notes of sweet perfume, a touch of cured meat, vanilla, smoke glycerin and red fruit. The palate is soft and refined with notes of red fruit, red cherry and vanilla. 80 cases produced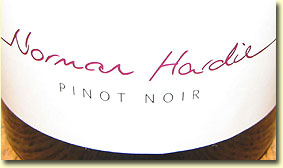 Norman Hardie Pinot Noir 2005 $39.00
A wine made from three year old vines and ninety six percent of the fruit is from the Park Vineyard in Niagara. When Hardie makes the decision to harvest this fruit, he arrives complete with sorting table and machinery to de-stem in the vineyard. The fruit is then packed on dry ice and transported back to the winery to begin fermentation. Prince Edward County is approximately two hours east of Toronto. The harvest occurred in the late fall where the cold temperatures allowed for a long slow fermentation. Malolactic fermentation did not commence until temperatures warmed in the spring and the wine took a light sulphuring in early June.

The Pinot clones are 25 % 7776 25% 113 and 50 % 115. The latter is designed to produce a lighter style of fruit that emphasizes the terrior. The wine was aged in French oak, two second year barrels and one new 500 litre barrel. Hardie believes aging in a larger barrel allows less contact with the wood which in turn promotes fruit forwardness in the wine.

It is a leathery and muscular wine showing dark fruit, plum, rhubarb and cranberry. It is gutsy, but beautifully balanced. The finish is tight, yet the powdery chocolate tannin appears to support the dark fruit flavours. 240 cases produced.
For more information on these wines be sure to visit Hardie's website.
I hope to get up to Prince Edward County to check out the new addition to the Ontario wine scene once the warmer weather arrives for good.

Stay tuned.
Cheers
CZ
Alan Kerr's Home Page and Main Index
© April 2007