Unfortunately I was not able to make the Vintages tasting for this month due to my fulltime employment. It takes priority. I did however, manage to head west to Cleveland and take advantage of an invitation from the household of Larry Meehan and family to enjoy a glass of wine or two and some deftly prepared culinary treats.

About a dozen or so of Larry's close friends showed up and low and behold, corks were popping and the merriment began. I scribbled down a few notes on most of the wines we tasted.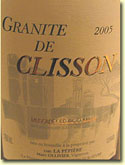 Granite de Clisson, Muscadet, Loire valley 2005

Generally I don't drink Muscadet. There is little to find at the LCBO and what the board does carry is high in acid and rather lackluster. Granite de Clisson is a total turnaround. The nose is full of appealing aromas of almond butter, guava, un-ripe honeydew and Meyer lemon. The degree of acid is lower than I expect, the palate is full and very tasty. Find this wine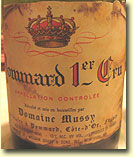 Domaine Mussy, Pommard, Premier Cru, Burgundy 1990

I picked this up at Century Liquor in Rochester soon after the "greatest vintage ever" in Burgundy, hit the shelves. I think this was the right time to open it. I believe it to be at its best. Larry commented it is beautiful now, but it might not be in an hour. The wine shows that seductive looking brick red hue of an aged wine with just a touch of amber showing at the rim. The nose touts hay, a touch of leather, red fruit, sweet perfumed Moroccan spice, a shave of milk chocolate and a whiff of smoked meat. It is silky and sweet on the palate with a touch of drying fruit on the finish. Glad I opened it when I did!
Find this wine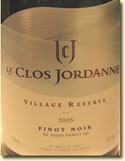 Le Clos Jordanne Village Reserve, Niagara, Ontario 2004

Clos Jordanne is a Niagara wine receiving kudos from critics across the continent. The wine is made by a union of Domaine Boisset of Burgundy and the mighty Vincor Corporation of Canada. Vincor, now owned by Constellation Brands, already has names such as Inniskillin, Jackson-Triggs, Sumac Ridge and Nk' Mip from Okanagan Valley, R. H. Phillips from California, Hogue Cellars from Washington and Western Australia's Goundrey as part of their portfolio. Jordan is a small town in the heart of Niagara's Beamsville Bench. Clos Jordanne only produces Pinot Noir and Chardonnay. These wines are marketed in Burgundy fashion. Their flagship wine is the "Grand Clos" a blend of the absolute finest barrels crafted by winemaker Thomas Bachelder. Find this wine

Next come three single vineyard offerings, similar to status of Burgundy's Premier Cru wines. The vineyards are Le Clos Jordanne Vineyard, Claystone Terrace and La Petite Vineyard.

To finish, any wine that did not find its way into any of the latter offerings ends up as a blend with fruit from the Talon Ridge Vineyard to create a cuvee known as "Village Reserve".

The first whiff exhibits Pinot true to its character with lively red currant, a layer of pure strawberry, notes of mineral, plum and nutmeg. The palate has a silky texture, oak is notable on the finish, but not enough to stifle the fruit. This wine has a $25.00 price tag and it is worth every cent.

Clos Jordanne is tough to find. As there is no tasting room at the winery, LCBO regulations forbid on site sales. There is a release scheduled for the end of November in Vintages, but don't expect these wines to stick around long as the previous allotment sold literally within minutes of release.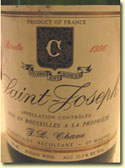 Chave St Joseph, Rhone Valley 1996

I just love that smoky blast of sweet spice and violets that older Rhone wines throw out. This wine is a treat. The only time I drink Chave is with Larry and I see why he loves them so much. The plum fruit and toffee flavours run across the palate. Its finish is full of fruit and black salty liquorish. The acidity is quite brilliant. Maybe this could go a while longer, but I for one am glad it didn't. Find this wine



Laurel Glen, Sonoma Cabernet Sauvignon 1991

Laurel Glen brings back great memories for me. It is one of the first Californian cabs I drank years ago that impressed me the spot. This sweet sixteen year old still has plenty of life in her, showing sweet fruit, green tea, vanilla, dried mint, cola, coconut shell and blackberries. The palate grips with chalky tannins, blackcurrant, blackberry and mint. Find this wine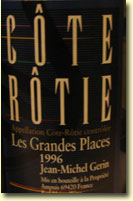 Cote Rotie Les Grandes Places, Jean Michel Gerin 1996

The nose is nice, full of sweet liquorish, aniseed, tar, beet and earthy smells. It grips the teeth, has good solid fruit, but still needs time. The finish shows a little heat. Find this wine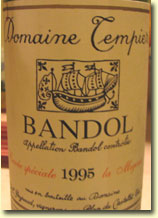 Domain Tempier, Bandol 1995

So inky, so black, so bloody tasty. The flavours of pure black fruit, toffee, treacle and plum are wild. Its finish shows all the fruit plus a hit of dried sage and thyme. Find this wine


Hermitage M Sorrel, Rhone Valley 1998

Earthy notes with lavender and cigar leaf. A great concentration of dark fruit runs across the palate. A dry woody note appears on the finish. Find this wine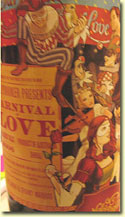 Carnival of Love, Sarah and Sparky Marquis, Mollydooker, McLaren Vale, South Australia 2005

This is the anti Christ of wine, a phenolic syrupy monster full of coconut oil, espresso bean, cough medicine, well hung meat and blueberry essence. The palate is possibly one of the most over extracted wines I have ever tried. Never mind the glass, a knife and fork would be more appropriate. It is a pure fruit bomb, with a twist of black pepper that coats the mouth and doesn't leave. There is no sign of any tannin other than the whack of cedar it deposits on the back of the throat. Will it age? Who knows? I feel privileged to be able to taste this wine. Although I am not sure what style of wine this is, I think it belongs in a category all by itself. Find this wine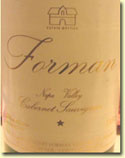 Forman, Napa Valley, Cabernet Sauvignon 1991

Holding well, showing good Napa currant fruit, lead pencil, with clingy tannins and dried mint. Nice wine, save for the note of plum skin astringency on finish.
Find this wine

El Nido, Clio Jumilla, Spain 2004

Oak spread with blackcurrant jam, spice and smoked maple cured bacon. Is this breakfast or a glass of wine? It has a fleshy palate with a full flavour profile that is masked by the dark and discernable tannins. Very tight, but good things will come to those that wait. Find this wine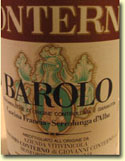 Barolo Giacomo Conterno, Cascina, Franciao, 1997

No doubt, I see the light; this is what great Barolo is all about. The nose of black toffee, creamy oak, porcini mushroom, lavender and dark chocolate is stunning. And then there is the fruit, still youthful with great concentration. One of my new colleagues loves Barolo and I can see why. Find this wine



Ojai Santa Barbara Syrah White Hawk Vineyard 2001

For some reason I expected another over blown monster, but not with this wine. It has a creamy oak note. Mint and Thai basil aromas combine with elegant layers of red and black fruit. It is creamy and chewy on the palate with a nice streak of acidity keeping it in tune. Find this wine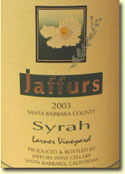 Jaffurs Syrah, Lasser Vineyard, Santa Barbara 2003

This is quite the mouthful, a bit hot, with some earthy notes of clay, iron and lots of tannin. There is fruit, but only time will release it.

Larry's array of grilled strip loin and tri tip cut through the tannins like an ice breaker churns up Hudson Bay on a bitterly cold winter's day. The vegetarian Cassoulet was lovely and salads were a treat. Find this wine


Cheers
CZ
Alan Kerr's Home Page and Main Index