Cyndi Vienneux and Bernie Cormier have been friends of mine ever since I originally moved to London. I consider our friendship solid and am most fortunate to have known them for this length of time. There were a couple of downsides moving to Niagara and leaving these guys behind is one of them. We have spent many a hot Sunday afternoon together swimming in the pool, popping the cork on a bubbly or two and smoking ribs on the smoker. About five years ago they both started to get serious about wine. Since then we have consumed many a great bottle together.

Cyndi and Bernie recently hosted a wine tasting party that focused on wines from France. It was a casual event that showcased a few regional wines along with a few vin friendly nibbles including a large bowl of plump steaming hot mussels Mariniere, a little Foie Gras, some grilled beef tenderloin and, of course some, cheese.

Here are some impressions of some of the wines we drank.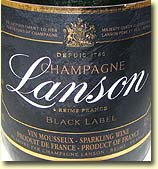 Lanson Black Label Champagne NV
A nice fruit laden nose of cooked rhubarb, with apple and citrus flavours on the palate. Light foam and a short finish.
Find this wine

Louis Roederer Brut Premier Champagne NV
Showing more complex and bready aromas of hazelnut, lime leaf, apple cider and honeydew melon. A little mandarin orange embellishes the palate and there is just a hint of sweetness on the close. Find this wine

Volnay Alex Gambal Burgundy 1999
A classic Volnay nose that focuses on sweet silky tannin, some cooked beet, tons of red berries and a layer of creamy raspberry that runs right through to the long and chewy finish. A great bottle of wine. Find this wine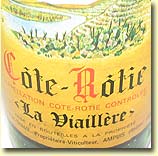 Cote Rotie A. Dervieux-Thaize Rhone Valley 1975
Once the cork was pulled a quick sniff shows no sign of oxidization or mustiness. In the glass the wine retains its colour surprisingly well. It offers up aromas of cigar leaf, sweet Moroccan spice, gunpowder tea, cinnamon, roasted parsnip and tomato. The palate is a little hot, but it has a layer of dark plumy fruit, just enough acid to keep it alive, a touch of sweet milk chocolate and caramel. An interesting wine and a pleasure to taste. Find this wine


Gigondas Le Primitif Rhone Valley 2001
Ripe and fleshy, full of red and dark fruits with a backdrop of anise, sage, balsa, cured ham and black olive. The palate is thick and viscous. It is drinking well now, but it will be so much better with more time, lots more time. Find this wine

Cadoulet de Beaucastel Rhone Valley 2003
A nose of sweet berry coulis, damson, red currant, lead, mineral and black pepper. The palate opens with red berries, a touch of chocolate, some spice and a little heat. The tannins are there, but they do not interfere. A year or two and this should be complete. Find this wine


Chateau de Beaucastel Rhone Valley 2004
The big brother shows darker denser fruit, blackberry, black pepper, toasty vanilla and thyme. The mouth feel is thick with stewed fruit, sweet cherry that leads to a cloying finish. Infanticide maybe, but nonetheless fun to try.
Find this wine

Chateau de Pez St Estephe Bordeaux 2000
Lovely spicy aromas of lavender, plum, cassis, cedar, liquorish root and tobacco. It is really tight right now, there is plenty of fruit on the palate, but it is buried. It has lots of potential to be a good wine in time. Find this wine

Chateau Coucheroy Pessiac Bordeaux 2003
This too appears to have shut down. There is a hint of the fruit in the form of plum, black raspberry and blueberry, yet it is astringent on the palate and will be in this state for sometime. Find this wine


Nuit St Georges Frederic Magnien Burgundy 2002
I have a couple of bottles of this wine in my cellar and if they taste anything like this, I will return them. It shows aromas of kerosene, petrol, bacon, pine needle, and coal dust. Not you're typical Burgundy. On the palate, there are notes of cooked tomatoes, tar, cured meat and way too much acidity. We have enjoyed several bottles of 02 Burgundies together and none of them tasted this bad. I really hope this was a flawed bottle. Find this wine

Domaine les Goubert Gigondas Rhone Valley 2003
Earthy notes of straw, mineral, coal dust, lavender and dark fruit. A little syrupy texture on the palate, but there is plenty of fruit and mineral flavours to keep it interesting. A well balanced wine that just needs a little time. Find this wine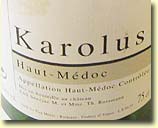 Karolus Haut Medoc 2003
I have never seen or heard of this wine and I had no idea what to expect. Apparently case production of this Haut Medoc Cru Bourgeois estate is a mere 400 cases. The 7.5 acre vineyard is planted with 47% Cabernet Sauvignon, 27% Merlot, 13% Cabernet Franc, and the remaining 13% is Petit Verdot. This vintage was made using 80% Cabernet Sauvignon and 20% Petit Verdot. It may well be the wine of the night for me. It is dark, full of deep aromas of black fruit, thyme, old leather, cigar leaf and pure cassis. The palate is ripe and rich, the acids are spot on and the finish is a monster. A great wine and a nice surprise. Find this wine

Thanks for a great night guys. I miss you both.
Cheers
CZ
Alan Kerr's Home Page and Main Index
August, 2007