As I was unable to get to the Vintages pre release tasting this month, I have no notes to post. However, I tried a few local wines that may be of interest so do please read on.

Last weekend my friends Maureen and Gary Bell popped down to wine country for a visit. Gary arrived, as he often does, with Pinot in hand - one that he had picked up en-route at Tawse, a two-year-old winery situated on the Beamsville Bench.

As Joni Ferrara, a friend of ours from Sonoma, was also visiting I saw no reason not to pull the cork. This medium bodied 2004 vintage Pinot is just starting to open and show what it is made of. We found notes of plum, mineral, rhubarb, potpourri and sweet spice. It is elegant and true to varietal character, with layers of stewed plum, cranberry, choke cherry and dark chocolate. The structure is well composed and the balance is spot on. The fruit is from Hughes and Laundry Vineyards. It sells for $28.00 and my first impression tells me I need to get some.

At dinner that night, hosted by other newly arrived St. Catherinites, John and Gabby Crawley, John opened a 97 Castel Giocondo, Brunello di Montalcino, Marchesi de' Frescobaldi. Dinner consisted of a Moroccan braised chicken packed full of sweet spices and a touch of chili pepper heat. The Brunello was showing really nicely, full of dark fruit, black raspberry acids, a touch of mossy terroir and plenty of oomph to match the simmered bird.

I cracked a 2000 Carlisle Zinfandel as a back up. It was big and sweet with plenty of fleshy fruit, and actually it seemed a little over the top for me. The 16.9 degrees of alcohol on this occasion stood out as the fruit was starting to fade a little. However, a bumble berry pie tamed the wine with authority, rendering a surprisingly tasty match.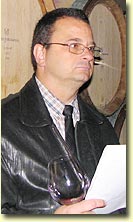 I had decided to head down the road at some point this week to acquire a couple of bottles of Tawse's Pinot as the production (a mere 2900 bottles) won't be around for long, given the reputation of the winery. My colleague Peter Blakeman (left), and I took advantage of a slow afternoon and headed west to the Beamsville Bench, a ten minute drive from the college. Much to our benefit, it was a slow day at the winery too. This is the calm before the storm, so to speak. Niagara is a popular spot for tourists and in another month or so, the wineries will be packed.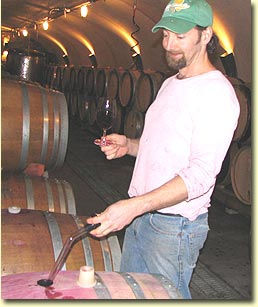 Wines at Tawse are steered by Pascal Marchand, a consultant winemaker from Burgundy. For the most part the wines are guided by Marchand's two assistants, Paul Pender (right) and Brian Hamilton. Paul is a graduate of Niagara College's in-house teaching winery and Brian is enrolled in Brock University's oenology program.

Peter knows these guys well and after a quick introduction, we were in the tasting room slurping and sipping away at the 2006 wines straight from the barrel.

Brian mentioned that the wines were sulphured four days prior and might suppress some of the fruit's flavour. The oak used here is one hundred percent French and most of the barrels are coopered by Damy of Burgundy. The wines are wild fermented and the malolactic fermentation too, is natural.

When I started teaching at Niagara College last fall, I recall my feeling of disappointment during what is traditionally harvest time for grapes. Driving in to work day after day through rainstorm after rainstorm, selfishly thinking to myself, "Well, this sucks, my first vintage here is going to be a washout."

Although the harvest was wet, the growing season was, for the most part, very good. I was truly impressed with most of the young wines we sampled. Harvest times differed and some varietals faired better than others, but diligent vineyard management at this winery seems to have paid dividends.

Most of the barrels will be blended, but one or two lots will be kept, as the quality is considered good enough to be labeled under single vineyard designation.

All barrel samples were from the 2006 vintage

Robyn's Block 26-year-old Chardonnay vines in two-year-old oak.
Full bodied, high acid, solid fruit, toasty and rich, notes of apricot, pineapple and sweet ripe crab apple.

Robyn's Block 26-year-old Chardonnay vines in new oak
Intense fruit on nose, buttery, masculine structure, fruit subdued on the palate. Vanilla overpowers now, the oak is noticeable, but not in an overwhelming fashion.

Pinot Noir using the 777 clone Laundry Vineyard Pinot Noir, Lincoln Lakeshore VQA
Red cherry, raspberry and cranberry, with flavours of mineral, iron and fleshy tannins. Harvested at 1.8 tons per acre at 23 brix.

Flatrock Vineyard Pinot Noir
Tawse gets this juice from Flatrock Cellars, a neighboring winery, in exchange for some of their Gewurztraminer. This shows spicy notes of aniseed, fennel seed, dark fruit, dried tangerine and plum. Tighter structure and darker colour than the Laundry Vineyard.

Hughes Vineyard Pinot Noir
Medium robe, notes of dried mushroom, plum, black raspberry and persistent tannins. A candidate for designated vineyard bottling.

Tawse Vineyard Pinot Noir "Remond" coopered new oak
Tight and very closed, sweeter jammy notes, touch of lavender, red cherry and raspberry. Great structure, rich acidity and a fruit driven palate.

David's Block Estate Merlot, new oak
Juice from 9-year-old vines delivering 24 brix shows blasts of vanilla, coffee, chocolate, cappuccino and blackberry. The concentration of this wine really amazed me.

David's Block Estate Merlot, two-year oak
This shows more of the black fruit notes along with cassis and smoke. It is of course tight, but shows great balance.

Hughes Vineyard Merlot, new oak
Layers of toast, coffee, clove, black fruit, raspberry, wet stone, mineral, and cigar leaf. It is massive and ripe on the palate. One barrel only and it gets my vote for a single vineyard designation.

Laundry Vineyard Southside, Cabernet Franc
Spicy, rich and herbaceous, higher degree of acid, a touch of bell pepper and a rich finish. The bell pepper is not over the top, but it is not something I particularly enjoy in a wine.

Laundry Vineyard North side, Cabernet Franc
Same vineyard, different story. Notes of blueberry, dark fruit and dried sage and thyme. It is fleshy, full of dark fruit on the palate; dusty tannins add support.

Laundry Vineyard Old Vine, Central Block, Cabernet Franc
The vines in this block of the Laundry vineyard were planted twenty years ago. Although the juice came in at 20.5 brix, the wine shows an elegance not shown in the other two. It has beautiful balance, showing notes of chocolate, thyme, dried Ancho pepper and dark fruit, with the longest finish of the three barrels.

Hughes Vineyard Cabernet Sauvignon single barrel lot
I have rarely been overly excited over an Ontario Cabernet in a great vintage, never mind one from a wet harvest. These grapes were picked on November 23 with an average brix of 23. The must underwent a seven-week fermentation undergoing daily rack and return, a process that allows the must some eight hours away from the skins, limiting extraction of tannin, before being vigorously returned to the tank. This wine is dusty and full of cedar, cassis, dark chocolate, slate and black fruit. I am so glad I live so close because I really want to see what happens with this wine.

In the tasting room we tried the following wines.

In the bottle, but not yet released, Wismar Vineyard Riesling 2006
More like a Sauvignon Blanc at first than a Riesling, with an assertive nose of ginger, cloverleaf, cinnamon, a blast of pink grapefruit, nectarine and cat pee. The palate shows flavours of peach, apple and a touch of honey. 18 grams of residual sugar makes this an ideal aperitif for the summer. Due to be released May 24 at $20.00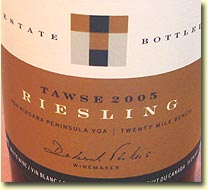 Tawse Carly's Block Estate Riesling 2005 $25.00
Plenty of mineral notes, good weight, palate leads to apple and white tree fruit, zingy acidity and a touch of honey.

Tawse Bench Reserve Chardonnay 2003 $42.00
Twenty-four months in the barrel, the fruit is from the Eastman and Kocsis vineyards. It is elegant and ripe, showing notes of canned fruit cocktail, ripe honeydew, kiwi and muskmelon. It finishes with a touch of caramel, great acidity and good length.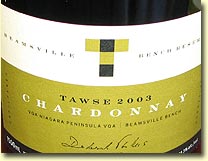 Tawse Estate Robyn's Block Chardonnay 2003 $48.00
This shows more upfront fruit, but it is not as complete as the Bench bottling on the palate. It shows nice notes of baked pear, caramel, crème brulee and almond. The secondary flavours are peaking, but the fruit is fading slightly. Still a very tasty wine though.

Terroir is clearly alive and well in the Niagara region. It is the key that elevates the region's great wines from the rest of the pack. I was amazed at the difference of flavours a few hundred metres can make.

Tawse's website is far from as impressive as their wines, but it does offer information on winery hours, inventory and directions.

The winery is located on 1955 Cherry Ave, Vineland, Ontario.

Reporting from the Bench

Cheers
CZ
Alan Kerr's Home Page and Main Index
© March 2007