According to Brian J. Helsaple's A - Z vinegar glossary of vinegar terms, the bacteria zoogloea appears at first as a transparent haze in the vinegar fluid. Undisturbed and relying on oxygen, the zoogloea forms on the surface of the vinegar to protect the contents underneath. As it grows it becomes leather like but upon touching it you discover a slimy, slippery yet solid rubbery mass of gelatinous something. If left undisturbed it can grow to a thickness of 1.25 inches per year. Allowing alcohol additions to wet the surface of the zoogloea cuts off oxygen. It will sink to the bottom lifeless allowing another to form to protect the contents.
Epicurious' food dictionary defines Mother of Vinegar as: A slimy, gummy substance made up of various bacteria — specifically mycoderma aceti — that cause fermentation in wine and cider and turn them into vinegar. Known as mère de vinaigre in French and sometimes simply as "mother" in English, its growth is best fostered in a medium-warm environment (60°-85°F). The mother should be transferred to a new mixture or discarded once the liquid has turned to vinegar.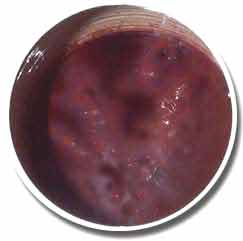 Seen on the left, the Mother is quite disgusting to look at and most people are not sure they would like to try the final results after they take a peek into the crock.
As stated by Epicurious, it is best to throw the old Mother away or better yet, fish it out and give a slab of it to a friend. I have given away pounds of this stuff to my friends here in Detroit as well as Internet wine geeks from all parts of the globe. The furthest location my Mother has been mailed is the Isle of Jersey off the coast of France.
Once the Mother has sunk to the bottom, I pour out the resulting vinegar and strain it through several layers of coffee filters. This technique of removing any sludge or bits of floating Mother works well. The vinegar, though cloudy, is dark and intense and better than anything you could buy in a store.
Over the years, my crock of vinegar has been blessed with the dregs of incredible wines left over from large tastings. Every time I dump a glass or empty the bottom of a bottle of Ridge into the crock I smile, knowing that the crock has thanked me.
To read some do's and don'ts and other comments on the fine art of making vinegar - click here.