Since joining Ridge's Advanced Tasting Program a year ago, we've not only had the chance to buy and/or taste some very interesting recent bottlings not available to the general public, but also some older selections as well, from both the Ridge library and califusa's cellar. Most ATP wines are made in very small quantities (thus their limited availability), and encompass a broad cross section of the red varietals grown in California. Many of these come from old vineyards still farmed by the descendants of the original owners. Whilst it might be in our selfish best interest to keep quiet with regard to this subscription program (for that's really what it amounts to), we just can't help but wax fondly over yet more great efforts from our favorite winery.
Here're some of the lovelies we've sampled over the last few months:
1987 Ridge Bradford Mountain Zinfandel ATP $24
1988 Ridge Bradford Mountain Zinfandel ATP $24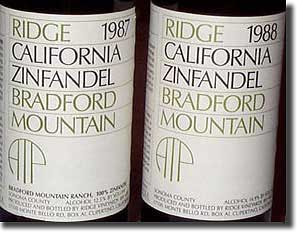 Canadian Zinfan, Zinchick and our friend Mr. E all happened to be in the neighborhood not long ago, so what better excuse to sample a couple of fine old Zins?
Ridge made several older vintages of their Bradford Mountain and Howell Mountain Zins available to ATP subscribers last summer, so I opted for these two (as well as the Howell Mountain bottles I took to the WayCool bash).
Bradford Mountain overlooks the northern end of Dry Creek Valley; the vineyard that produced the fruit for these is owned by Fred Peterson, who now bottles under his own label. All of 11 barrels of the '87 were produced, one more than in '88. The older model is a dark garnet with just a hint of rust. The mature nose shows an interesting marriage of "Draper perfume" and plummy leather, califusa's secondary phase Zin spice, hints of brett and chocolate. On the palate, there's plum, prune, cinnamon and a little mint towards the finish. Canadian Zinfan commented that it tasted "somewhat baked, like an Amarone," and Mr. E and I agreed. Indeed, it seemed stronger than the 12.5% alcohol listed on the label. The tannins and acidity are fully resolved, and if it doesn't finish quite as long as one taster thought it should, that is the only detraction, and a very minor one at that. I agreed with CZ's opinion that this was better than the Howell Mountain bottlings from the '80s that we had at WayCool. Mr. E expressed surprise that Zins could age this well and called it "gorgeous." Big wows all around.
The '88 is another dark garnet with nary a hint of brick, and is even nicer that the previous vintage. It is also at full maturity, with more perfume, spice and black zinberry on both nose and palate. (Apparently more alcohol as well; the label says this is 14.9%.) E got more leather from this, but for whatever reason, I got less. Another absolute beauty, this continues to open and open and open. My notes read: "Almost perfect; …just lovely."
1985 Ridge Geyserville Zinfandel Trentadue ATP
1987 Ridge Geyserville Zinfandel Trentadue ATP
These were from the cellar of califusa. The '85 is a dark garnet with, again, nary a hint of brick. It shows spicy Draper perfume that includes notes of cedar, leather, Brasso, plum, prune, and plenty of Bree's secondary spice. On the palate, the fruit is sweet and leathery, with tannins and acidity that will carry it down the road for a while yet. Just a gorgeous wine.
The '87 has more fruit and perfume and less cedar and leather on the nose, with a lovely lavender, spice, black raspberry, black currant bouquet. Notes of cedar and leather do come out in the flavors however. This has nicer aromatics than the '85, but the flavors are a bit less bumptious. It too is a beautiful wine, and will also drink nicely for some time to come.
1989 Ridge Paso Robles Zinfandel Dusi ATP: Bree greeted us with this upon our return to Cloudy Bay. It's a rusty ruby garnet that at first seemed to be more in the "intellectual" than the "sensual" realm, but with air it resuscitated very nicely, showing mature flavors and aromas of sweet plum, bing cherry, bigtime secondary spice, leather, cedar, briar/bramble and hints of chocolate and game. There is also a bit of the barnyard here, and some licorice that reminded Bree of Good 'N' Plenty candy. This kept opening and opening, getting better and better; I found it somewhat reminiscent of a Croze Hermitage, though the fruit is sweeter than any Croze that I've had. Another fine example of the fact that Zinfandel can indeed age well, and of course, another terrific Mr. Ridge!
1992 Ridge Paso Robles Zinfandel Dusi ATP $22: A few nights after Bree opened the '89, I pulled this from my stash to see what was what. It's a dark garnet that seems to be in an in-between phase right now, at least when we first opened it. Showing only hints of secondary spice over a distinctive jammy zinberry bouquet, it takes on added flavors of soft leather, game, tar and licorice, but the sweet fruit seemed to be dropping off. However, after a few hours of air, it really blossoms, revealing a smooth texture and big, dark extracted black raspberry, mulberry and spicy nutmeg that Bree described as having "a lot of balls." Give this beauty a few more years in the cellar if you have any, or if you must drink it now, at least 2 hours in a decanter.
1984 Ridge Napa Petite Sirah York Creek Devil's Hill ATP: The color of this wine is so inky, it could be described as "squid-y." It only got 20 minutes in a decanter before we tried it, so at first, we didn't get much on the nose. The bouquet did emerge slowly over the two hours that we sipped it, with flavors and aromas of rich sweet plum, prune, tar, leather, olives and subtle cedar. This is still deep, dark and mysterious, and doesn't seem 15 years old. Very pretty and very sweet, this is still overwhelmed by tannins; Bree described it as "an elegant monster." It may be years from maturity, as he pointed out, but I still like it really well right now.
1990 Ridge Zinfandel Park-Muscatine ATP: 75 % Zinfandel, 20 % Petite Sirah, 5% Carignan, 13.9 % alcohol. A gift from the esteemed califusa. My first reaction upon whiffing this was "Wow! Draper perfume!" (Wonder where THAT came from?) It has a big intense overripe jammy raspberry, black raspberry, lavender, white chocolate bouquet, but whilst the flavors echo, they aren't as ebullient. It's very claret-like, and seems a little flat. The mid-palate and finish are somewhat lacking, and though it wasn't corked, it had a wood-y/mellow leather quality to it. Smells much better than it tastes, but still nice enough, especially with Kim's fab mushroom risotto.
Ridge purchased fruit from Bill and Besty Nachbaur's Alegria Vineyard for seven years, between 1990 and 1996. I thought it might be fun to compare the final two vintages of their ATP bottling with the innaugural effort from the Nachbaur's own Acorn label, and a visit from the Canadian contingent provided the perfect opportunity.
And the Lytton Grenache? Well, like Mallory's Everest, it was just there…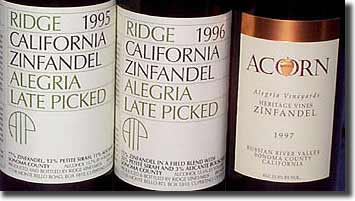 1995 Ridge Zinfandel Alegria Late Picked ATP $20: 77 % Zinfandel, 12 % Petite Sirah, 11 % Alicante Bouschet, 15.7 % alcohol. This dark garnet is somewhat closed on the nose initially, but opens to show pretty perfume and all sorts of red fruits, according to Canadian Zinfan. These include raspberry, black raspberry, red currant, with a whiff of dust. On the palate, the fruit has a creamy quality and echoes the nose; CZ mentioned added notes of "fungal mushroom, slate and anise seed," while Zinchick chimed in with "charcoal and nice caramel on the finish." Though this is very enjoyable already, the tannins and acidity will take it five years or more down the road.
1996 Ridge Zinfandel Alegria Late Picked ATP $18: 75 % Zinfandel, 22 % Petite Sirah, 3 % Alicante Bouschet, 15.6 % alcohol. This is a deeper purple garnet than the '95 model, and much denser, with lots of Draper perfume that reminded CZ of "bubble gum wrap," and a note of alcohol that didn't really detract. Not surprisingly, this is more tannic and acidic than the older model, and needs time in the cellar. Still, it shows beautiful sweet mullberry and black raspberry, and will reward with five years and more in the cellar.
1997 Acorn Alegria Zinfandel $19: 78% Zinfandel, 11% Alicante Bouschet, 9% Petite Sirah, with the remaining 2% including Carignan, Trousseau,
Sangiovese, Petit Bouschet, Negrette, Syrah, Muscat Noir, Cinsault, and
Grenache, 15.8 % alcohol. This ruby dark garnet is more approachable than the '96 Ridge, in a sweeter, fatter style. It has lovely flavors and aromas of black raspberry/gum/sweet anise/pepper/sweet almond. The acidity and tannins are there to take this at least a few years down the pike, and we wouldn't disagree with CZ when he described it as "stunning."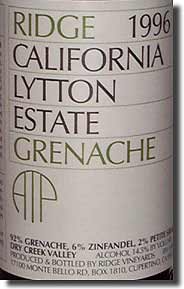 1996 Ridge Lytton Estate Grenache ATP $18: 92 % Grenache, 6 % Zinfandel, 2 % Petite Sirah, 14.5 % alcohol. Ruby garnet in color, this shows strawberry, bubble gum, red pop overtones on the nose with that big Draper signature. CZ described "thick sticky chocolate like you wouldn't believe; black raspberry, honeycomb, pepper, big alcohol…, ho!" Good tannins and acidity don't hide the pretty fruit here; it has the intensity of a southern Rhone and the brightness of the new world emotional style. It is also the most food friendly of the four wines tasted. Terrific stuff!
1996 Ridge Sonoma Zinfandel Nervo Vineyard ATP $20: 88 % Zinfandel, 8 % Petite Sirah, 4 % Carignane, 14.3 % alcohol. This little pretty exhibits clean, warm sweet oak, raspberry, black cherry flavors and aromas on a medium full-bodied frame. It has a bit of a youthful tannic/acidic byte to it, and if it's not a blockbuster, it is smooth and delicious now, or a few years down the road.
1996 Ridge Sonoma Mazzoni-Home ATP $18: 65 % Zinfandel in a field blend with 23 % Carignane, 12 % Petite Sirah, 14.5 % alcohol. Dark garnet with a bright clean black cherry, raspberry with a hint o' chocolate nose that follows through on the palate, this has a creamy mouthfeel. Another very nice Mr. Ridge, even if it doesn't have the depth and complexity of Geyserville or Lytton Springs.
1996 Ridge Pagani Alicante Bouchet ATP $18: This is another "squid-y" garnet, for lack of a better phrase; it's very inky. It shows an immediate note of barnyard over perfumed plum, raspberry, strawberry, bubblegum, spice and pepper on the nose, but the fruit is much harder on the palate, with added earthy chocolate tones. It's chewy, with plenty of tannins and acidity, along with an astringent finish. It tastes like something right out of southern France; it opens slowly like one as well. After three hours of air, it takes on dark chocolate, plum, coffee and black cherry characteristics and shows some real charm. I finally came to enjoy this a great deal, but be warned; it needs a minimum of four hours in a decanter now (it's good with a grilled N.Y. strip). It'll be much better with five years in the cellar.
1996 Ridge Petite Sirah Geyserville ATP $20: 14.5 % alcohol. Dark garnet in color, this shows pretty perfume, all raspberry, plum, chocolate and pepper on the nose and the palate. This is remarkably smooth and approachable already, unlike its counterparts from York Creek. It opens and gets even smoother with extended air, but has the tannins for a minimum of five years in the cellar. Another winner from Mr. Ridge!
1996 Ridge Contra Costa Mataro Bridgehead $18
1996 Ridge Pagani Mataro ATP $18
We tried these together, reasoning that they'd be a good comparison to add to a WCWDG group tasting.. We were right!
The first glasses of the ruby garnet Bridgehead were poured straight from the bottle, and we were immediately struck by a funky sulfur nose that Kim likened to freshly cracked hard boiled eggs. The funk blows off after 40 minutes, gradually revealing nice red currant, chocolate with a hint o' cinnamon/nutmeg and moderate Draper perfume. This doesn't seem to see any new oak, as the fruit isn't what you'd call "bright;" still, the plum, cherry, red currant flavors are nice, and it grew on me as I sipped on it. It has fairly low acidity, and a fairly long finish. An interesting wine that went well with mushroom risotto.
The dark garnet Pagani ATP shows some funky sulfur too (Kim called it "an underlying egg-y thing…"), but this is the nicer of the two wines. The fruit's a bit brighter with sweet oak, spicy red currant and raspberry flavors and aromas, but the funk takes two hours to blow off. This has good concentration and more acidity than the Bridgehead, but doesn't seem quite up to the standard set by the lovely '95 Pagani.
The fruit in both of these wines seems less sharp and focused than your average Mr. Ridge, but then we're talking about Mourvedre here. I'll wait another year before trying either again.