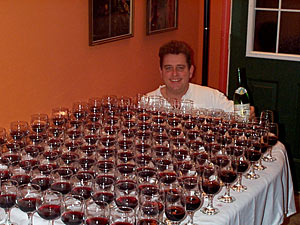 Canadian Zinfan at the tasting table
A most excellent tasting was held on the evening of February 6th, 1999 at Chateau Zin Can in suburban London, Ontario. The event was especially notable for several reasons. Not only was this was the first gathering of most the Gang that invaded Sonoma summer before last (only Botrytis Boy was absent, due to a prior commitment in a recording studio), but we had the pleasure of Saaz's company again, as well as that of her husband, Stacy AKA, Port Pig, whom we'd only heard rumors of to that point. Also present were Canadian Zinfan, Zinchick, Ridge Kid, Mr. Flippy, Mr. Gumby, Ras Lass, Joe Grygier AKA Bordeaux Boy, The Director and this taster. (And yes, we often DO refer to each other by these names.)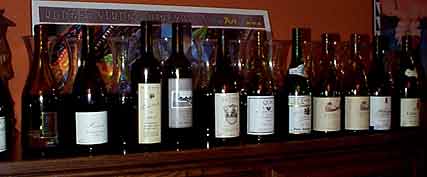 A total of 12 Syrahs were tasted blind; we rated and attempted to identify the wines, with varying degrees of success. We began the evening with a pair of aperitifs, along with CZ's incomparable chicken Satay.

1997 Stony Ridge Niagara Peninsula Viognier Lenko/Puddicombe Vineyard: Another fine effort from a solid Canadian producer, this pale straw shows very subtle honeysuckle over fruit reminiscent of pear/canned peaches. Full flavored, with a touch of toasty oak to pretty things up nicely. A geo t. 84.

1997 Arrowwood Sonoma Viognier: Wow! Flavors and aromas of Safeway apple pie/strudel/cloves/peach schnapps/nutmeg explode from this pale straw beauty. There's a hint of sweetness on the finish and the low acidity makes it soft and appealing. A geo t. 90.

Finally, we were ready for the main event. Most of us tasted the wines in reverse order, because that's how they were presented.

12. This inky garnet shows a huge nose of sweet plum/black currant/pepper that sadly doesn't impress nearly as much in the flavor department. The fruit really drops off on the mid-palate and finish, though it does gain notes of cedar and dark chocolate. Madame called this a "saliva sucker." A geo t. 82. 1994 Wynn's Michael Coonawara Shiraz.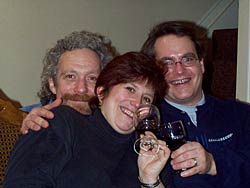 geo t., Saaz and Port Pig
11. A ruby/dark garnet, this has a tight nose that grudgingly shows some metalic plum aromas. It picks up nice sweet oak/vanilla/plum/raspberry flavors, but these die on the finish. Madame described a note of chocolate covered cherries. This has low acidity, and with air, it improved nicely; coming back to it, I upgraded my score by a few points. A geo t. 85. 1996 Hamel Russian River Syrah

10. This ruby dark garnet was corked, though there did seem to be some nice black cherry/red currant character. Bummer. 1996 Qupe Santa Barbara Syrah Bien Nacido Vineyard Reserve.

9. Everyone was impressed with the schnozz on this dark garnet, with its big aromatic aquarium/mint/eucalyptus bouquet, which follow through on the palate with added sweet plum/black cherry/raspberry flavors. Mr. Gumby mentioned oaky buttery coconut. Beautiful, sleek and sexy, my only complaint was that it could be a little bigger, but that is a minor point. It was correctly named by a number of participants, and was my third favorite. A geo t. 89. 1993 Hardy's Clare Valley Shiraz Eileen Hardy.

8. CZ correctly noted that this dark garnet smells and tastes much like a Zinfandel, with its lovely jammy spicy black raspberry/black cherry/white chocolate/toast/aquarium characteristics. This was the favorite of most tasters. CZ and I both figured that this was one of the Terre Rouge bottles. A geo t. 89-90. 1996 Terre Rouge Sierra Foothills Syrah.

7. Several opinions initially had this dark garnet as a French wine, but I didn't think so. The pretty plum/red currant/chocolate flavors and aromas did show notes of leather and a hint of the barnyard, but it's a bit too fruit forward to be a northern Rhone. CZ described impressions of rotting leaves/pooh/sea air. The wine is very smooth, and I correctly guessed that it was the 1988 Taltarni Shiraz, because of its maturity. A geo t. 87.

6. Madame described this ruby/dark garnet as smelling and tasting like Dr. Pepper/rock & rye soda pop, and she had a point. It has spicy toasty oak that brightens the black cherry/red current flavors and aromas, and good acidity. A geo t. 87. 1996 Terre Rouge Shenandoah Valley Syrah Sentinal Oak Vineyard Pyramid Block.

5. Ruby garnet with a touch of rust, Madame noted an element reminiscent of ketchup, saying it's a little sour. There is a slightly vegetal tinge to the plum/prune/pepper flavors and aromas; added hints of Provencal herb/underbrush/barnyard/leather are in perfect proportion to the fruit. Soft, elegant and fully mature, there was no doubt in my mind that this lovely wine was the 1985 Paul Jaboulet Aine Hermitage La Chapelle, and it was my favorite of the 12 Syrahs. A geo t. 90.

4. Another ruby/dark garnet showing more plum/prune/pepper/Provencal herb/leather flavors and aromas, but just a touch less class than the previous selection. It has good acidity, but I was surprised that it wasn't more tannic, since I correctly identified it as the 1995 Chapoutier Cote-Rotie. A geo t. 87.

3. A dark garnet with a sweet red currant nose that gains a whiff of smoke along with plum/game/chocolate on the palate. Smooth and not too tannic, with low acidity, this is a nice one that CZ and Mr. Gumby correctly called the 1996 Pezzi King Dry Creek Syrah Olsen Vineyard. A geo t. 88.

2. Dark garnet, with red currant/black cherry/pepper/sea air/hint of smoke flavors and aromas; rather thin and short. Disappointing. 1996 Arrowwood Russian River Syrah Saralee's Vineyard. A geo t. 83.

1. Ruby garnet with a lot of dust on the nose, this shows a note of aquarium over watery red currant flavors. Out of its league here; sorry JFO. 1995 Castello Banfi Colvecchio Syrah. A geo t. 80.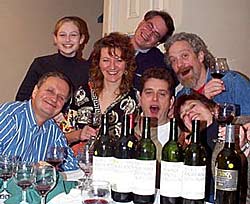 Front: Mr. Gumby, Zinchick, Zinfan, Saaz, Back: Ridge Kid, Port Pig and geo t.
This was an enjoyable tasting and it was terrific to get together with old friends again, but I kept wondering if my palate wasn't having an off night, since few of these wines seemed as substantial as I like my red wines to be. Mr. Gumby answered that question for me when he started pulling out the Ridge Zins to accompany CZ's grilled steaks.


Ridge Kid
1992 Ridge Geyserville: The wine of the evening, this dark garnet is huge and jammy, with "all that Draper perfume," and none of the barnyard that has been noted in previous bottles tasted. Comments included "serious reduced raspberry," "sweet, dense and wonderful," "port-like nose," and "extracted-in-your-face." There's lots of toasty black raspberry/raspberry/black cherry here, and still some tannins and acidity to carry it further down the road. Perhaps it's unfair to compare the Syrahs to this, but I don't really think so. They can't all be Geyservilles, but still, this is the epitome of what red wine is all about for this taster. A geo t. 95-97.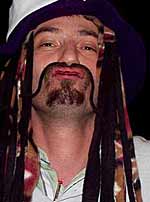 Mr. Flippy, it's getting a little late in the evening, don't ya think?
1993 Ridge Lytton Springs: A ruby/dark garnet that typifies the vintage for Ridge Zins with its pretty feminine qualities. Draper perfume raspberry, spice, lavender, cinnamon flavors and aromas that aren't as deep as the '92 Geyserville, but impressed nevertheless. A geo t. 90.

1994 St. Francis Sonoma Valley Merlot Estate Reserve: This dark garnet is a favorite of Mr. Gumby's, with its red currant, cassis, raspberry flavors and aromas that don't show that much oak at this point. Notes of game, anise seed, tea leaves emerge with air. A very nice wine that had the misfortune of following the Ridges. A geo t. 88.

1992 Ridge Lytton Springs: Gumby returned to Mr. Ridge with this beauty, and wondered if it wasn't even better than the Geyserville. There wasn't a lot to choose between the two, that's for sure. Extremely intense and concentrated, with the obligatory dark garnet color, Gumby immediately commented upon a "screaming lead pencil" quality to this. Mr. Flippy described a chalky note over the "very ripe cherry" flavors. CZ and Gumby added nuances of slate/flint over big plums and dense concentrated blackberry/sweet red raspberries. Gumby felt that this was jammier, with more fruit than the Geyserville. Wonderful stuff. A geo t. 93.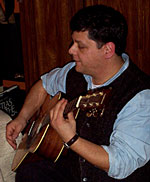 Joe jammin'
1995 Ridge Pagani Zinfandel: When asked why he kept pulling these out, Mr. Gumby replied, "I'm a wine slut!" This one's a little tight right now, but it still shows ample charm. Saaz remarked that it reminded her of her cousin's wild black raspberry pie, and that's a good description. I got a bit of yeasty sulfur on the nose, but that was a minor detraction.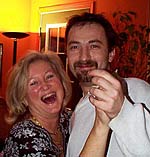 Ras Lass and Mr. Flippy
The Ridges really made the evening, no offense to the Syrahs. Everybody was oohing and aahing over them, and the spirit got quite festive. Mr. Flippy and Ras Lass danced while Joe jammed some blues on guitar. Madame and Saaz surfed the web, posting a note regarding the evening. And this taster finally succumbed to the rapture that is Mr. Ridge, dancing around the house singing "The Ridges blew everything else away!"