Storyline: Mark Overberg
Photos: Mel Hill, Mark and Teresa Overberg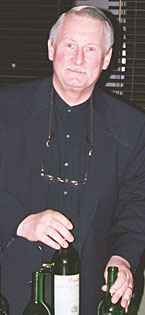 John Wocher

We had turned down one too many off-line invitations. Olivia had just turned a year old. She had yet to let go of Mommy long enough to allow me to spirit her from her daily tasks for a night of fun in a city that doesn't sleep (well, not till 6am anyway). A lull in an otherwise overwhelming workload and an invitation from esteemed West Coast Wine Net board regular John Wocher (logging in from Japan) to enjoy a fabulous meal in one of my favorite cities with a passel of epic Aussie Shiraz was the straw that broke the camels back. John would be in town to check on his "Chicago cellar", and fellow winegeek and Cleveland Party Animal extraordinaire Larry Meehan rose to the challenge (bait?) to arrange the details.

We decided to breeze into the Windy City aboard the Amtrak. We enjoyed our early morning train ride in, sipping on Heidsick and Monopoles '85 Diamant Bleu and munching on golden fried Caribe cheese wafers (The Atkins Cracker) with Crème Fraîche, chopped boiled egg and onion, and topped with Sevruga Caviar. We've done this before, and find it much more appetizing than the Amana Radar-Pastries and bottled latte that the dining car offers. The trick is avoiding the rueful stares of the less well-provisioned fellow passengers. As I munched, I mused on the irony that we were a couple of gangsters smuggling booze in to Chicago, and found myself wishing I had packed the wine in an empty violin case.

With a timely theme of Stellar Aussie Shiraz and rumors of Petrus, we were already hooked, but the proposed venue of Chicago's MK restaurant added to our excitement. MK is the celebrated restaurant of Chef and restaurateur Michael Kornick. Michael is a 1982 Culinary Institute of America graduate. He has worked with Barry Wine of the Quilted Giraffe in NY, and served as Chef at notable restaurants in New York, Boston, New Orleans and Chicago, receiving many awards and much critical acclaim for himself and his restaurants along the way. The setting of MK is a very tastefully and cleverly renovated paint factory in Chicago's exciting River North gallery district. Although we dined in the private dining facilities on the 2nd floor, we did spend some time upon arrival in the inviting lounge/reception area. It had a splendid view of the spacious but elegant dining area and loft. Business was booming. Not being shy, we chatted with a few of the lounge guests. The crowd was friendly, smart, good looking and had obvious good taste. We were directed upstairs to the private facility where we encountered a group of even finer folk.
In attendance
John Wocher
Larry Meehan
Gary and Connie Sharp
Mel Hill
Scott Manlin
Kelly Sallaz
Brian Colfac
Dan Gordon
Rowen Bell
Edward Robinson
Mark & Teresa Overberg
97 Rochioli River Block Chardonnay 
90 Charles Heidsick Champagne 
81 Penfolds Grange
93 Penfolds Grange
94 Penfolds Bin 707
94 E&E Black Pepper Shiraz
94 AusVetia Shiraz
96 Clarendon Hills Astralis
96 Barossa Shiraz "The Malcolm"
96 Charles Melton Barossa Valley Cabernet 
     Sauvignon
96 Parker Coonawarra Terrarossa First Growth
97 Fox Creek Reserve Shiraz
98 Fox Creek Reserve Shiraz
89 Chateau Gazin
94 Chateau Petrus
90 Sean Thackrey Taurus Mourvedre