Memorable Michigan Offline - December 29, 1998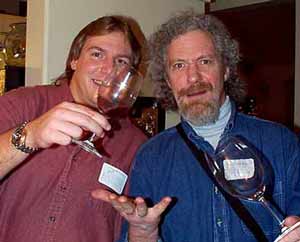 Jeff Cuppett and geo t.
A while back, Jeff Cuppett posted on WCWDG/WLDG that he'd be in the Lansing Michigan area during the holidays and wondered if anyone would be interested in getting together for an offline. Of course, Mike Brenton, Mark Overberg, Kim and I raised our hands, being the gregarious winos that we are. Emails were exchanged, Mike did some behind the scenes maneuvering, and finally, everything was set.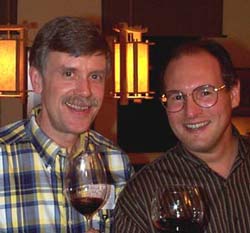 Mike Brenton and Ed Groves
The tasting/grazing was held at the beautiful home of Ed Groves and Heidi Grether in Williamston, not far from Lansing, Michigan. They're friends of Mike's and are very warm and gracious folks. (Ed is a fellow picker as well, and though there were several guitars lying about, somehow, we just never got to them.)
In attendance were Mike, his partner Deborah (Wine Syrahn), Mark O (Bored Doughnut), Jeff C., Alan Kerr and Kim Miller (Canadian Zinfan and Zinchick), Mo'Cool operatives Joel and Sally Goldberg, Mike and Deb's friends Terry and Linda Hagan, and several nice folks whose names escape me now. A wonderful time was had by all, with great food, superb wines, and the kind of camaraderie that we've come to expect whenever we meet fellow wine lovers.
| | | |
| --- | --- | --- |
| | | |
| Alan Kerr and Kim Miller | Mark Overberg | Kim Adams |
Following are my notes on the wines that I tasted.

1990 Domaine des Baumard Savennieres Trie Speciale: Joel and Sally brought this, and it's a beauty. A medium straw with a canned peas character that dominates all other elements of the nose (Zinfan described this as asparagus, and Jeff agreed). On the palate, there are lovely peach/pear flavors; with air this continued to open and open, taking on subtle floral qualities. Sally described this as smelling like "ocean fresh oyster/seaweed/waves crashing over rocks." Wonderful stuff.

1993 Rafanelli Dry Creek Valley Zinfandel: Ruby garnet, with smoky raspberry/black cherry flavors and aromas; CZ got a little charcoal and anise seed on the finish. This is maturing with low acidity, and isn't as fruit forward as we expected. I wouldn't let this go much longer if I had any in the cellar.

1996 Kathering Kennedy Lateral California: Jeff brought this ruby garnet; it has a bright red currant nose (like Santa?) that follows through on the palate with added cherries, but finishes a little short. He says he'll wait a few years before opening another.

1995 Siduri Anderson Valley Pinot Noir Rose Vineyard: Joel and Sally brought this, my very first taste of Adam and Diana Lee's wares (though we have some in the cellar). It's a dark garnet with sweet oak/black cherry aromas that have an almost fortified high alcohol aspect to them. The flavors don't have that aspect though; instead there's plenty of elegant smoky black cherry Pinot character that we found to be "gorgeous," as the Zinfan put it.

1995 David Bruce Russian River Valley Pinot Noir: Another dark garnet with smoky oak/black cherry flavors and aromas and fairly low acidity. Nice enough, but not as intense as the Siduri.

1982 Chateau Branaire-Ducru St. Julien: Still a ruby garnet with the barest hint of brick; it shows a slight hint of barnyard over the cassis/red currant flavors and aromas that the 'deauxnut found a little off-putting, but he was a minority of one on that account. Hints of leather/cigar box add interest and complexity. A lovely claret that's in great shape.

1996 Edmunds St. John Syrah Durrell Vineyard: Another offering from Mr. Cuppett, this inky garnet shows big sweet oak/dark plum/black cherry flavors and aromas. The Zinfans noted smoky bacon and wild mushrooms and they had a point. It opens nicely in the glass, but is young, tannic and acidic and needs time in the cellar. Very nice.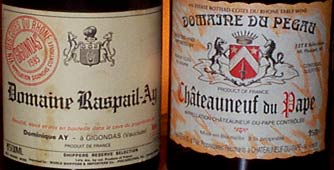 1996 Domaine du Pegau Chateauneuf du Pape Reservee: I brought this in a magnum, reasoning that 750 ml bottles wouldn't go very far with 12-16 tasters, but that never seemed to be a problem. An inky purple garnet, this got a few hours in a decanter at Gang Central due to its youth. Initial notes of dark fruit over strawberry/Grenache are somewhat reticent on the nose, but this opens nicely with air. It shows bright cherry/strawberry/smoke/pepper flavors, but it isn't a long ager. (A '95 Pegau sampled a few months ago tasted like the younger wine; '96 wasn't that great a vintage in the southern Rhone.)

1985 Domaine Raspail-Ay Gigondas: The Zinfans' contribution, also from a magnum, was probably my favorite wine of the evening. Joel wondered if this slightly cloudy hint o' brick ruby garnet wasn't slightly corked, but no one else thought so. Perhaps he just tasted the essence of the foudres that this was undoubtedly aged in. I got notes of plum/prune/hints of barnyard and leather from this, along with a quality that reminded me of nail polish remover, but in a good way. This is drinking wonderfully, and may not be at its peak yet. Just one more reason that this is one of my favorite wine regions in the world.

1996 Martinelli Russian River Valley Zinfandel Jackass Vineyard: Mike brought this, and it's one of the weirder Zins I can remember tasting. A ruby garnet with cherry/cola/strawberry flavors and aromas and an element that Zinchick finally correctly identified as pomegranate. The fruit is very sweet and the alcohol is quite high (15.8), and if I wouldn't purchase this, I still find it a very intriguing Zin.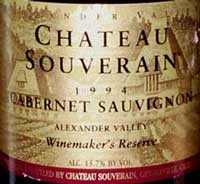 There were other selections that I never got to. I passed on a 1997 Pascal & Nicolas Reverdy Sancerre "La Coute" only because it has already been noted twice in previous Gang pages. I also understand BD's '85 Niebaum-Coppolla Rubicon and Mike's '94 Chateau Souverain Library Reserve Cabernet Sauvignon were quite enticing, but we had to saddle up and ride before I got to them. Nevertheless, we had a great time and wish to thank Mike, Ed and Heidi profusely for organizing and staging this great offline. Many thanks also go to Jeff for suggesting that we do something like this; we're looking forward to seeing him again at ZAP!