A CELLAR FULL OF DOMINUS AND OTHER DELIGHTS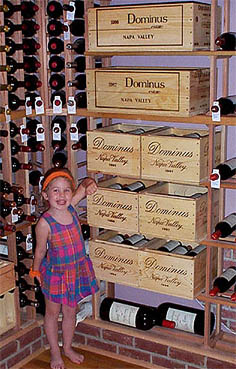 Gab's new and improved attitude!
Apparently, the Bored Doughnuts had enjoyed their first encounter with our wacky little Gang (The Flower Party and The Varieties of the Sauvignon Experience), because a few weeks later they invited us to visit their beautiful home in Bum Fork Oakland County. So The Director and I took a drive up 696 one bright Saturday afternoon.
We arrived at around 3:30 PM, to be greeted by not only Mr. and Mrs. B.D., but also their delightful four year old daughter Gabrielle, as sweet and precocious a little lady as you'd ever want to meet. (At one point, The Director told her what a nice girl she was, and she replied, "That's because of my new and improved attitude!")
While renewing acquaintances, we sipped what would be the first of a succession of wines.
1995 Louis Jadot Puligny-Montrachet
1995 Brocard Chablis Les Clos
1995 Talbott Monterey Chardonnay Sleepy Hollow
B.D. had no sooner purchased a few bottles of the Jadot Puligny-Montrachet, when he read a less than glowing review in its regard. Upon tasting this medium straw however, we found it to be quite enjoyable, with pretty aromas of pear and butter, and subtle hazelnut, pine and maple syrup nuances. Though less ebullient on the palate than the nose, it was crisp, refreshing and quite dry, with tart green apple/mineral flavors.
After a glass of this, we adjourned to our hosts' speedy inboard runabout and took a ride and a swim in the pretty little lake out back. We sipped on the '96 Chablis Les Clos during this time, and it was even more crisp, clean and refreshing than the first selection. A pale straw, with flavors and aromas of green apple and the barest hint of detergent, it was rich yet dry, with unmistakable notes of peanut butter as it opened. Both wines were quite nice for summer sipping, with baguettes and creamy cheeses, and would benefit with a few years in the cellar.

Just before we pulled anchor to return to Chateau Doughnut (not to be confused with The Doughnut Chateau), B.D. popped the cork on a '95 Talbott Sleepy Hollow Chardonnay, which he felt would show well in comparison with the first two. And show well this medium straw did, with pretty pear/butterscotch/vanilla flavors and aromas that were very well balanced. It was thicker, with more viscosity than the Burgs, but without any of the fat flabbiness of so many low acid, over-oaked Californian models. It was a lovely expression of pure Chardonnay with a pretty kiss of oak, and this taster preferred it slightly to its predecessors.
1986 Dominus Estate Napa Valley
1987 Dominus Estate Napa Valley
1993 Caymus Napa Cabernet Sauvignon
1994 Caymus Napa Cabernet Sauvignon Special Selection
B.D.'s Cellar
Back at the ranch, B.D. and Gabrielle took us down to see "the cellar," and what a beauty it was! The 'deaux-nut's had spent months constructing it , and it is a little shrine to their effort and love for fine wine. Filled with Bordeaux of noble pedigrees (SURPRISE!), Cal Cabs and various other delights too numerous too mention, it was a wondrous thing to behold.
The most obvious feature about this cellar, besides the fine craftsmanship, was the preponderance of Dominus Estate stored in it. B.D. reckons it to be fully 20% of the contents, and he cherishes each and every bottle. He seemed surprised when I confessed to never having tasted Christian Moueix's California venture, and immediately pulled an '86 and '87 from their resting places. These were taken upstairs and poured immediately, without benefit of decanting, starting with the older model.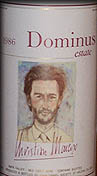 The 1986 Dominus Estate (80% Cabernet Sauvignon, 12% Merlot and 8% Cabernet Franc) is a dark garnet with nary a hint of brick; the nose shows BIG mint over cassis/black currant, and is much more in the Bordeaux style than the Californian. In fact, one WSBB regular compares these to fine St. Estephes, and there's something to be said for this observation. Flavors echo the bouquet, with less mint and added notes of coffee/plum. Madame L'Pour got a "vegetal" note from it, while B.D. described "leather, first and foremost." There's a little oak apparent, but it's very much in the background, and silky tannins bode well for further cellaring. This showed long, slow legs down the side of the glass.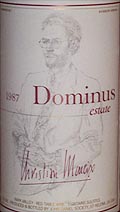 We then moved on to the '87 (86% Cabernet Sauvignon, 5% Merlot and 9% Cabernet Franc); it too was a dark garnet showing no brick as of yet. More floral than the '86, with prettier fruit, this showed an otherwise similar spectrum of flavors and aromas that included cassis/black currant/hint o' vanilla and even more mint, in the same Euro-style. Mrs. 'deaux-nut described the nose as "like sex in a glass; … intoxicating just to breath." It also has some tannins yet to resolve, more of those loooong, slooooow legs and a somewhat astringent, lip-smacking finish.
Now, truth be told, we at Gang Central don't drink as much Cabernet Sauvignon as some, especially the high enders, so treats like this are rare. Some controversy has been noted regarding Dominus on the Wineboards; some people really like them, while others really don't.
(Even Canadian Zinfan told me in a later message, "I don't know why I don't like it. Every time I have drank Dominus I found it to be too tannic, closed and very austere. Even got this from the older vintages that I have tried. Had one, the '87 in fact, in the most relaxing of situations at a friends home (sorry huge f*@#ing mansion) after a simple catering. He also opened an '85 Meyney and I preferred it hands down. Oh well that is what makes our hobby, sorry, obsession so interesting, right?")
Personally, I could see no good reason whatsoever to hold the fact that these didn't TASTE like Cal Cabs against them. They might not show well in a tasting against Caymus, but then, they're different animals. We found both to be very enjoyable ; I preferred the '87 for its prettier qualities, while the 'deaux-nut likes the '86 for its "in your face fruit."
While we were sipping these lovelies, I happened to mention to our host that the only taste of the aforementioned Caymus we'd ever had was three ounces of the '94 at the winery last June. He looked at me with some surprise, as though wondering how in the hell wine lovers such as ourselves had been deprived from ever really tasting Caymus??!! (What can I say? It must have been a case of being in the wrong place at the wrong time!) He quickly disappeared into the cellar, returning with a '93 of Chuck Wagner's regular Cab bottling.
Holy spit!!!
A big dark garnet with a big aquarium nose that showed pine/dill notes, this immediately impressed as being just gorgeous. Lovely flavors and aromas of cassis/plum/black raspberry/ black cherry/bit o' dark chocolate/blue/boysenberry emerged as it opened in the glass, and the extremely silky tannins seemed to melt in the velvety mouthfeel. Yes, it can sit some years in the cellar, but it's so nice right now.
As I gushed over this, 'deaux-nut got a twisted glint in his eye, and squirreled back down to his cellar, returning shortly with what was revealed to be the '94 Special Selection!
I was speechless…
Another dark garnet (of course) that again showed an immediate note of dill on the nose, this was even more lovely and refined than the last. Beautiful notes of black cherry/blueberry/tobacco/ cola/maple syrup mingled in this, producing a mesmerizing effect on the senses.
The Wineboards have also been full of contrary opinions regarding Caymus lately. While I can relate to the dismay expressed regarding the drastic price increases (and wouldn't THINK about paying $70 for the '95 Napa), complaints of "overoaked" just didn't wash with these. There was obvious oak, yes, but it was extremely well integrated in both wines, complimenting rather than dominating the greater whole.
As much as I enjoyed the Dominus (and B.D. may well disagree here; after all, they ARE different animals, as are we), the Caymus were even better. It's just not fair to compare the differing styles presented here, but since we did, I couldn't help but respond to the sensuous qualities of Mr. Wagner's babies.
I have to hand it to these "Bordeaux-nuts;" they've got some special not-so-little trump cards tucked into their cellar. We can't thank them enough for sharing them with us.